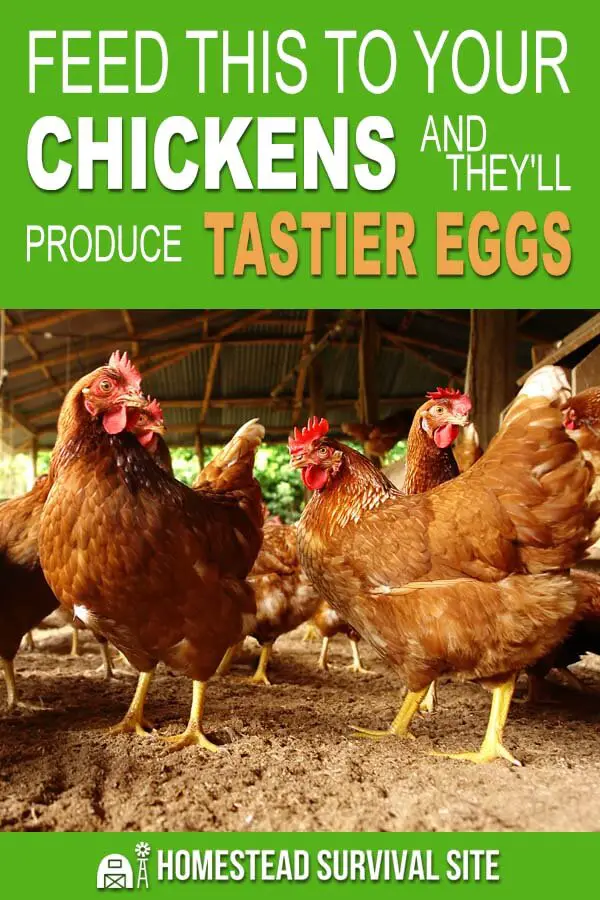 The foods you feed to your chickens have a huge effect on their overall health and the quality of their eggs in both taste and durability. The old adage, "You are what you eat," definitely holds true when it comes to poultry flocks.
Want to save this post for later? Click Here to Pin It On Pinterest!
Chickens, just like people, require specific amounts of fiber, protein, and vital nutrients in their diets to remain healthy. Free range chickens can garner all the needed requirements for their diet via pecking the ground and wandering around during the warmer months of the year.
But during the early spring, late fall, and winter, even free-range chickens could use a little extra help. Whether your birds are free-range or cage kept, introducing some specific foods and herbs into their diet can help harden egg shells, produce stronger chicks, tastier eggs, and healthier birds.
Scratch Grains
Scratching and pecking at the ground is natural chicken behavior. Unfortunately, many chickens sold at agriculture stores and even the ones that come from some breeders, no longer easily possess this once ingrained habit.
It is not cruel to toss scratch grains onto the ground for your chickens to eat instead of pouring feed into a tub. By tossing scratch onto the ground instead of putting pellets or crumble into a tub, you are encouraging a natural behavior that helps keep both their beaks and feet trimmed, preventing potential snagging type injuries and health issues.
Scratch grains are typically comprised of wheat, corn, oats, and barley. While the feed will not give the birds all of the nutrients they need, it will provide them with a good base diet to build upon with supplements of human food, herbs, and even some pellet or crumble feed.
Caged chickens must also be provided with grit to allow them to properly grind up and digest scratch grains. Free range birds can almost always discover enough grit on the ground from small rocks to help them process scratch feed.
Protein-Rich Foods Create Tasty Eggs
To increase the chances of producing eggs with a rich and delicious golden yolk, infuse some extra barley and wheatgrass into the diet of the chickens. Protein is a key ingredient in both chicken health and egg taste – wheatgrass and barley are both prime chicken-safe sources for the nutrient.
Rotate some good quality grass and alfalfa hay into the chicken coop during the long months of winter. This practice will increase the protein intake of the birds as naturally as possible when they cannot get outdoors and forage for themselves. And it makes a nice insulator bedding, as well.
Mix some oats into the chicken feed, especially during the winter, or combine it with safe snack foods for a nice fiber boost. Some forms of fiber can be difficult for a chicken's digestive system to break down, but oats do not typically cause any ill effects on the bird's constitution.
Garlic and oregano (either fresh from your apothecary patch or powdered) also help increase the taste of eggs. Not only will the spices help with egg quality issues, they also serve as natural medicine preventatives for the chickens – and their human keepers.
Garlic has immune system booster an antibacterial properties.
Oregano contains anti-inflammatory components. Some herbalists consider both garlic and oregano to be wonderful all-natural antibiotics. You can toss the spices onto feed or snacks or directly into the waterer for general flock consumption. Chickens are often susceptible to respiratory issues, and oregano could be part of a strong and natural treatment for such disorders.
Parsley is an herbal all-star. It is a substantial source of iron, selenium, calcium, zinc, as well as vitamins A, B, C, E and K. Parsley can also enhance egg-laying quantity and help with the development of strong blood vessels.
Lavender has natural antiseptic properties and can help increase blood circulation. This will be especially beneficial during cold weather months when frostbite can occur. Place some lavender flowers or leaves into nesting boxes to help keep insects and parasites away from your laying hens. This will also keep the coop selling fresh.
Mint placed in the flock waterer or sprinkled onto feet can help reduce body temperature during the summer months when heat stroke becomes a concern. Mint may also be helpful if you have a sick bird that is running a fever.
Sage boasts powerful antioxidant properties and can help fight or ward off serious diseases such as salmonella.
Chamomile has antiseptic properties which can help keep a chicken's fragile lungs clear and healthy. The herb also helps ward off chicken mites, fleas, and lice when consumed or placed around the coop and run.
Chives are rich in iron, a vital nutrient for healthy birds.
Lemon balm also possesses antibacterial properties and can serve as a stress reducer.
Dill can help promote digestive health and contains antioxidant properties.
Healthy Snacks
If you keep chickens, you should never throw away the surplus from your garden, orchard, or herb patch. Create a compost pile inside the chicken run and routinely throw any of the items in the following list onto it for the chickens to peck at and consume, after sprinkling them with the beneficial herbs noted above.
The healthiest snacks for chickens should be greens or calcium  based. Such treats can help the hens not only lay larger quantities of eggs but better quality eggs as well. Laying hens require far more calcium than breeder or broiler birds, that is if you want them to produce eggs that are fully formed and are housed inside shells that are not so thin that they break or crack before you can collect them.
Apples – Always remove the seeds before tossing into the chicken coop. They contain trace amounts of cyanide. Applesauce is almost always a favorite healthy snack for poultry birds.
Asparagus.
Bananas – Always remove the skins before feeding.
Beet Root.
Brewer's Yeast – The yeast offers both a rich source of calcium and niacin and is an excellent supplement to a laying hen's diet. The yeast may also help ward off frostbite of the feet and combs of the birds during the winter months.
Broccoli.
Cabbage.
Carrots – Chop the carrots into small bits or shave to avoid choking incidents.
Cauliflower.
Cherries – Only fresh cherries after the pits have been removed are safe for chicken consumption.
Cooked Beans – Raw beans are toxic to poultry, always boil the beasn first and offer only in moderation as a slight snack.
Corn – Chickens can eat corn either raw or cooked and right off the cob – as can all poultry birds with a beak. Ducks, because they have a rounded bill, cannot eat corn off the cob. There is simply too much danger of ingesting parts of the cob and choking.
Cucumbers.
Eggshells – These are a superb source of calcium that will also help to harden eggshells.
Kale.
Lettuce – All types of lettuce except iceberg are filled with beneficial nutrients. It is virtually impossible to offer too many green leafy vegetables into a chicken's diet.
Peaches – Always remove the pits, they are toxic.
Peas.
Pumpkin – The seeds are not safe for ducks to eat unless they are ground or chopped.
Strawberries – Poultry birds typically have small amounts of red coloring in their droppings for several days after eating strawberries. Do not be alarmed if this happens.
Squash.
Turnips – They must be chopped or shredded to avoid potential choking.
Homemade Flock Block
Ingredients
6 cups of chicken scratch and/or feed
1/2 cup of flour
1 cup of pumpkin or sunflower seeds
2 cups of oats
1 cup of molasses
1 teaspoon of cayenne pepper – another great immune system booster
½ teaspoon of ginger – a powerful and natural antibacterial source
½ of a cup of eggshells – crushed
2 teaspoons of cinnamon – a natural antibacterial and anti-inflammatory source
1 cup or coconut oil or vegetable shortening
Directions
Preheat your oven to 325 degrees.
Mix all of the wet ingredients together in one bowl.
Mix all of the dry ingredients together in a second bowl.
Combine all of the ingredients together in a large mixing bowl and knead them together.
Knead out any excess moisture and pour it out of the bowl.
Place the mixture into a baking dish.
Poke a hole into the loam style mixture with a pencil or similar object so a string can be hung through it later. This step is optional.
Bake for 30 minutes.
Remove from the oven – poking the hole back through if necessary.
Allow the homemade flock block to dry overnight. Trying to remove it from the baking dish before it is dried completely inside and out will cause it to crack.
Run a knife around the edges of the pan to help prepare the block for release. Carefully turn the block upside down and place it on the counter to release it.
Tie a piece of rope or baling twine through the hole and hang inside the chicken run or simply place directly onto the ground for the chickens to peck.
Fruit and dairy products (cottage cheese and plain yogurt) can be given in moderation only and should never make up more than 15 to 20 percent of a poultry bird's diet. Dandelions, marigolds, and mealworms also make nutrient-rich and healthy dietary supplements that your flock will surely love.