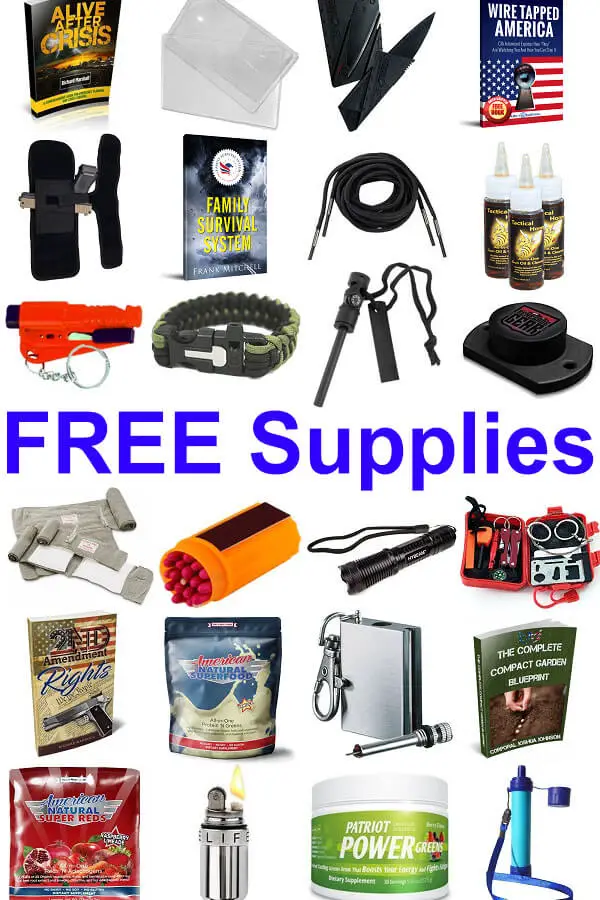 Over the past few years, certain companies have started giving away free survival supplies. If you're skeptical, I don't blame you. Technically, they're not 100% free. Usually, you have to pay a few dollars to cover shipping and handling. But other than that, they really are free.
So why would anyone give away free survival items? Because they're trying to generate leads. They figure that if you order one item from them, you're far more likely to order another item from them.
Oftentimes, they'll try to sell you a survival book or course in addition to the free item. However, you don't have to buy anything if you don't want to, and you can opt out of their mailing lists at any time.
Anyway, I scoured the Internet and found dozens of free offers from various survival companies such as Ape Survival, Survival Frog, and Survival Life, and listed them on this page. For your convenience, I organized the products by category and included brief descriptions.
Full disclosure: I do get a commission if you order one of the items below, but the cost is the same to you either way. Now on to the list…
Books
• 2nd Amendment Rights – Take advantage of the second amendment loopholes that allow you to legally acquire firearms without any paperwork.
• Alive After Crisis – Learn how to survive after any crisis, no matter how severe. This book is especially great for beginner preppers, explaining everything you need to get started.
• Avoiding The Eye – Nowadays, you don't have a single bit of privacy on the Internet… unless you know how to "avoid the eye." This book teaches you how to be a ghost online.
• Compact Garden Blueprint – Want to grow a lot of food but don't have a lot of space? Follow this brilliant 4×4 blueprint so you can grow pounds and pounds of food.
• Firearms Survival Guide – It's only a matter of time before the government attempts to repeal the second amendment. Learn how to protect your gun rights and gain ammo independence.
Fire
• Everstryke Match – This match is always ready to start a fire, even after being soaked. Good for up to 15,000 strikes!
• Everstryke Pro – This solid stainless steel is 100% waterproof and generates a 600 degree flame. Comes with free bonuses.
• FireKable – This paracord bracelet has a built-in ferro rod and striker. When unraveled, it has 80 feet of paracord, and it comes with the book, Ultimate Survival Skills.
• Fire Striker – This 4-in-1 striker not only starts fires, it has a built-in compass, emergency whistle, and a small saw.
• Optic Fire Starter – As long as the sun is shining, you can start a fire with this optic fire starter. It fits in your wallet, and it can be used as a magnifying glass.
Flashlights
• Ghost Vapor Flashlight – This heavy-duty flashlight is incredibly bright and has three modes: medium, high, and strobe.
• Hybeam Tactical Flashlight – Has an authentic YAG bulb which produces a blindingly bright light. It can also be used for self-defense.
• Military Torch Flashlight – This high-tech waterproof flashlight has five preset modes: high, medium, low, strobe, and SOS.
• Q5 TacLite – This flashlight is stainless and rust-proof, made of aircraft grade aluminum, and has an adjustable zoom up to 1100 feet.
• Torch Flashlights – These flashlights are completely waterproof and nearly unbreakable. They're incredibly bright and come with a pocket clip.
Food
• 72 Hour Kit – This kit has everything you need to survive away from home for three days, including some delicious survival food.
• American Natural Superfood – This shake is delicious, nutritious, has no GMO's, no allergens, no sugar, and is loaded with antioxidants.
• Patriot Power Greens – A health-boosting mix of 40 organic fruits and vegetables, 10 probiotic strains, and 6 digestive enzymes.
• Super Reds – A healthy dose of beets, fruits, vegetables and roots for vibrant energy, healthy sexy drive, and a strong immune system.
Knives
*NEW!* • 6-in-1-Tactical Knife – This heavy-duty knife includes a bottle opener, LED light, fire starter, seatbelt cutter, glass breaker, and more.
*NEW!* • EDC Coin Knife – It looks like a keychain accessory but it unfolds into a sharp knife.
• Instablade – A knife that fits in your wallet. It's the size of a card, but it unfolds into a sharp, sturdy knife.
• Latin Machete – A 23″ heavy-duty machete with a stainless steel blade. Great for chopping through brush or self-defense.
*NEW!* • Midnight Stiletto Tactical Knife – The spring-assisted open and needle-like blade make this a very deadly knife.
*NEW!* • Money Clip Knife – This is the most discreet way to carry a knife. It has a chrome finish, a folding blade, and a razor sharp edge.
Miscellaneous
• 7 in 1 Survival Whistle – This whistle also has a light, a compass, a thermometer, a signal mirror, a magnifying glass, and a storage container.
• Bullet Bottle Opener – If you're a gun enthusiast who likes beer, this is a must-have. It also makes a great gift.
• First Aid Kit – Includes basic first aid supplies like bandages, scissors, alcohol wipes, medical tape, etc.
*NEW!* • Gun Magnet – This allows you to hide a gun under a desk or table so you can quickly grab it in case of a home invasion.
• Israeli Bandage – This is a must-have item for every first aid kit. Very effective at stopping blood flow from traumatic hemorrhage wounds.
*NEW!* • NASA Survival Blanket – Extremely lightweight yet provides lots of warmth and protection from wind and rain. Can fold up and fit in your pocket.
*NEW!* • Pistol Bag – A black tactical bag with a strong handle, adjustable strap, metal zippers, a side bag, and tons of storage space.
*NEW!* • UltraStash Wallet – This practical tactical wallet is perfect for carrying EDC gear light a mini flashlight and firestarters.
Tools
*NEW!* • All-in-One Multitool – Folds up small enough to hide in your fist, but it unfolds into pliers and knives.
• Auto Safety Tool – This tool could save your life after a car accident. Use it to cut seatbelts, break glass, or call for help by blowing a whistle.
• EDT Tool – Just fill out a survey and get a 5-in-1 multitool. Includes pliers, wire cutter, screwdriver, and a can opener.
*NEW!* • StrikePen – This tactical pen is also a knife, bottle opener, a HEX wrench, a flat head driver, and an LED flashlight!
• Survival Business Card – This metal card fits in your wallet and includes several tools such as a knife, a wrench, a saw, a can opener, a screwdriver, and a bottle opener.
• Survival Saw – This portable saw can be used to cut down even fairly large trees or to chop up wood for fire.
• Survival Straw – Drink directly from the water source with this water filter. Clean up to 1500 liters. This is perfect for bug out bags.
• Tool Kit – This master tool kit only weighs 7 ounces yet it has 26 separate functions! Shipping and handling is a lot, but it's still a good deal considering how much you get.