This post may contain affiliate links.* As an Amazon Associate I earn from qualifying purchases. Click here to read our affiliate policy.
Estimated reading time: 4 minutes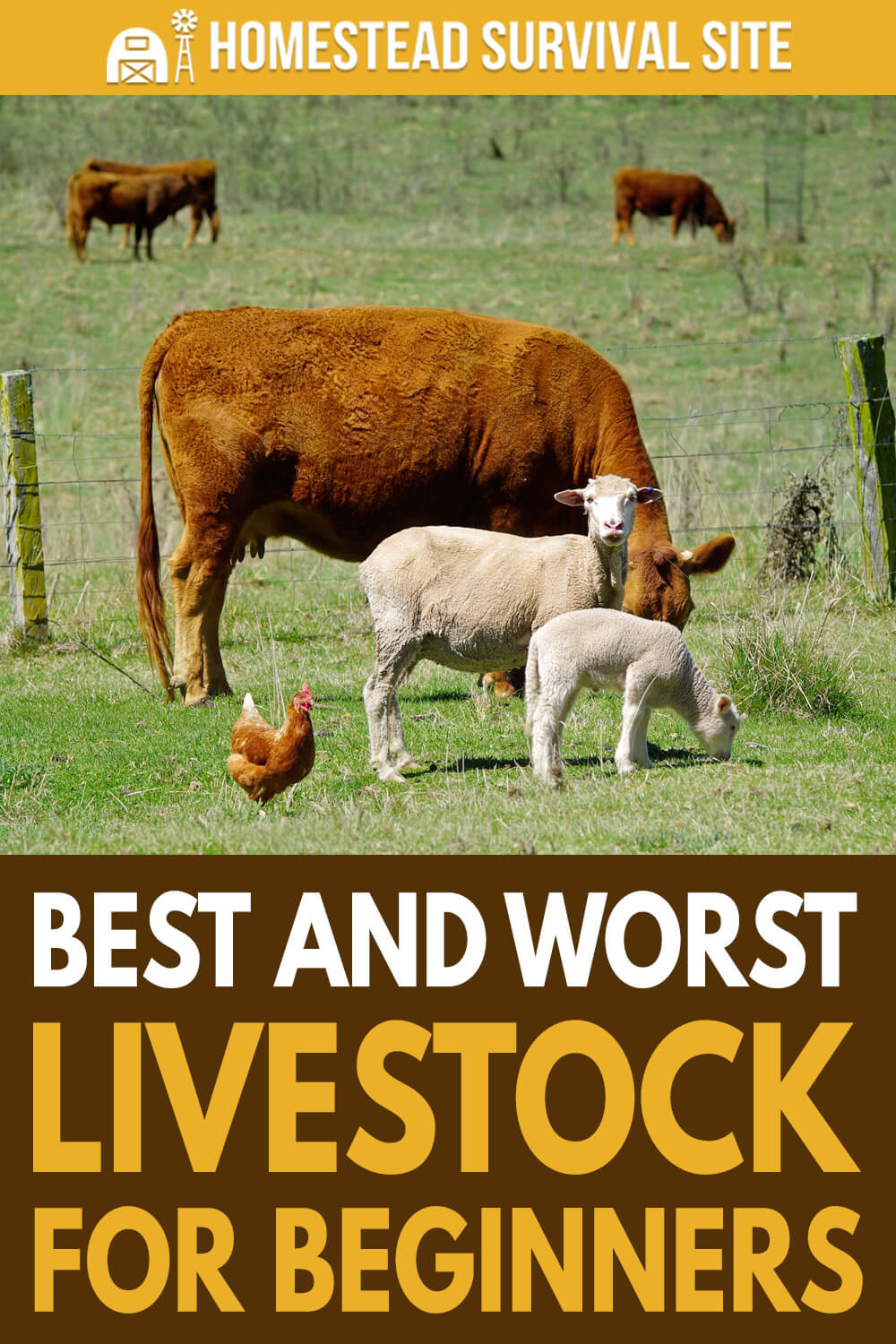 If you're new to homesteading, you might be wondering which livestock to get first. That is the topic of this video from the Youtube channel, Homesteady.
He breaks down the livestock into three tiers: beginners, medium level, and expert. We'll start with the easy tier.
Want to save this post for later? Click Here to Pin It On Pinterest!
Easy Tier Livestock:
This category is for people who have zero experience and are not sure if animals will fit into their lifestyle.  These animals are easy to:
Source
Manage
Breed
Feed
Rehome
1.   Chickens
Chickens are the best option for your first livestock.
Pros:
Can start small
Order online, quick arrival
Can feed slop from meal leftovers, resulting in more chicks and eggs
Easily sell chickens on craigslist in as little as a week, if needed
Not too dirty or disease prone
Tend to be hearty and thrive without difficulty
Meat chickens can be harvested in 8-weeks
2. Ducks
Ducks share many similarities with chickens but have a few cons to consider.
Pros:
Produce more eggs than chickens
Grow more meat with less food
Tend to do better in bad weather
Cons:
Tend to be messy
Butchering them can be tough
3. Rabbits
Rabbits are one of the best self-sufficient options to choose for a first livestock.
Pros:
Easy to have a doe and buck breed
They are inexpensive, making them easily replaceable
Cons:
Possible to make mistakes in breeding
4. Fish
If you have a pond or body of water, fish yield a high reward with minimal effort.
Pros:
Simple Care
Unending source of protein
5. Worms
Worms can be added to any homestead.
Pros:
Feed kitchen scraps
Worm casings can add nutrition to gardens
Great chicken feed/fishing bait
Cons:
Medium Tier Livestock:
Medium tier is for people who like owning livestock and are ready to try something more complicated.
1. Mini Jersey Cows
The best middle-tier option for livestock is the Mini Jersey Cow due to their docility and ease in managing, with high reward.
Pros:
Stays in simple fence
Eat grass
Great milk production with flexible milking schedule
If cows birth a bull, it's a great meat source
Not dangerous
Easy to artificially inseminate
2. Pigs
Maybe surprising to see pigs early in the line-up, but all you need is good fencing and steady feed.
Pros:
Grow with solid fencing
Good meat
Pigs survive until butchered
Cons:
Can get worms
Can get sick
3. Bees
Bees are not always conventionally thought of as livestock but should be considered.
Pros:
Require minimal attention
Seasonally self-feed
Honey
Cons:
Stings
Technicality
You can lose an entire hive
 4. Turkeys, Quail, Guinea Fowl, Pigeons and other fowl
Not as easy or domesticated as chickens and ducks, but a great mid-level choice.
Pros:
Cons:
More difficult than chickens
Less domesticated
Expert Tier Livestock:
For people who have experience with livestock and are ready to take on breeding, difficult veterinary procedures and escape artists.
1. Nigerian Dwarf Goats
Nigerian Dwarf goats have a leg up on other goat varieties. Dairy goats are the most challenging, they're a wild animal that has been domesticated. Meat goats can be hardy.
Pros:
Hardier than regular dairy goats
Small, easy to fence
Cons:
Will forage on poisonous plants
Worms
 2. Sheep
Although there can be benefits to having sheep, they are a difficult animal to manage on the homestead.
Cons:
Hard to fence
Shearing
Worm issues due to intense grazing
3. Beef Bulls/Dairy Cows
Full-size cattle are an investment of resources, time and energy. It's a challenging animal to raise, best for the expert homesteader.
Pros:
Cons:
Dangerous
Harder to contain
Require commitment (3+ years)
Dairy cows need to be milked 2x per day
Additional Livestock:
1. Horses, Camelids, Donkeys
There are many benefits to these larger animals but they require expert attention and care.
Cons:
Large to accommodate
Unique veterinary needs
Every person can benefit from livestock. It will make you a better person, teach you about yourself, sustainability, they'll work your land and enrich your homestead.
For a much more detailed discussion of these animals, be sure to watch the video. Also, take note of the additional resources for each of these animals found at the end of the video.
You May Also Like: