This post may contain affiliate links.* As an Amazon Associate I earn from qualifying purchases. Click here to read our affiliate policy.
Estimated reading time: 11 minutes
Do you really feel like driving to the store every time you run out of dish soap? And do you really feel like spending $10 on name-brand deodorant that you could make at home for $3? Wake up, people! A self-sufficient lifestyle is so much more rewarding (and inexpensive)!
Once you know how to make everyday cleaning products and your favorite kitchen condiments, you'll save yourself tons of trips to the store, reduce your carbon footprint with less plastic waste, save heaps of money, and remove tons of chemicals from your day to day life.
With more money in your pocket and less reliance on store-bought products, you are free to live the self-sustainable life you've always dreamed.
So, let's stop buying and start making with these easy tutorials, recipes, and how-to guides! Below you'll find a list of 60 household items you should stop buying and start making. For each one, I included a link to a tutorial where you can learn how to make it. Now on to the list!
Want to save this post for later? Click Here to Pin It on Pinterest!
Skin & Beauty
1. Perfume & Cologne – Ladies and Gentlemen: Those $100 bottles of fragrance you buy at the department store are nothing more than a combination of essential oils and binders. Make your own dream fragrance for a fraction of the price!
2. Wrinkle Cream – Honey, eggs, sour cream… No, we're not making Super Bowl appetizers; we're making wrinkle cream that can smooth out those laugh lines with a simple combination of organic ingredients.
3. Deodorant – Calm your pits with this organic concoction that reduces odor and sweating.
4. Mouthwash – Here is a mouthwash that kills bacteria and freshens your breath with household ingredients. Involve your kids in the process to promote healthy habits!
5. Body Butter – These two simple words combined allow big name brands to slap big price tags on this simple product. Skip the prestige and create your own silky skin body butter for cheap.
Related Article: How To Make DIY Lotion Bars
6. Hair Mask – Reduce split ends, nourish heat-damaged locks, and help your hair grow faster with these DIY hair masks that you can sleep in or simply add into your weekly washing routine.
7. Leave-in Conditioner – Keep your tresses shiny and smooth all day long with a quick spray of water, coconut milk, and whichever essential oils brighten your day.
8. Everyday Conditioner – Hair conditioner is one of the most expensive beauty products us women buy. But why, when you can make your own nourishing conditioner at home?
9. Toothpaste – Toothpaste is quite simple to make. However, when you're feeling ambitious, you can formulate teeth whitening variations with coconut oil and breath-freshening variations with herbs.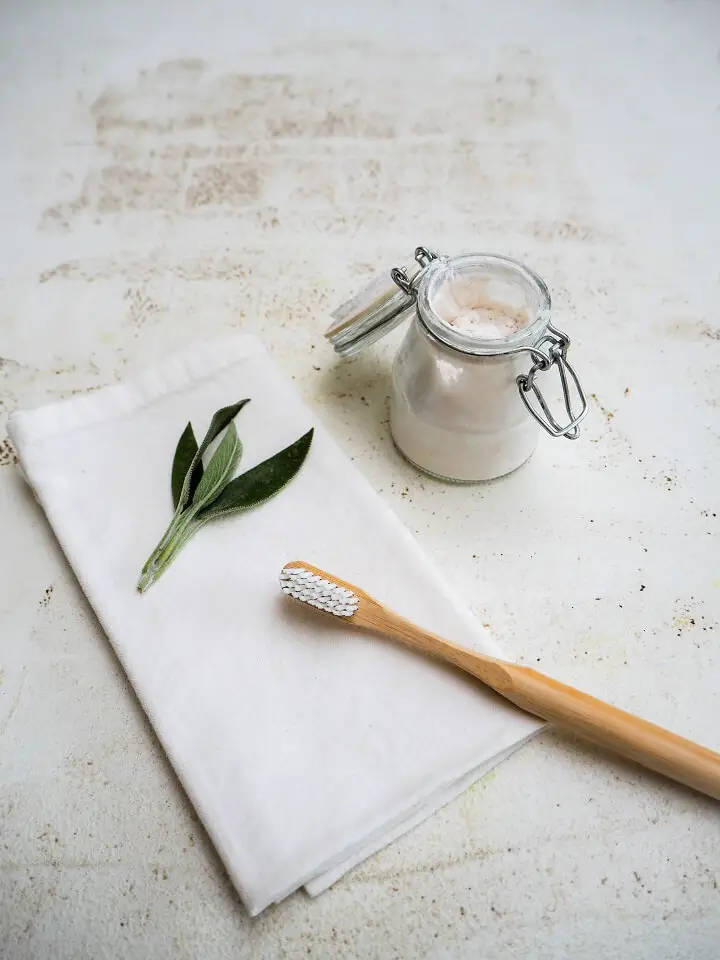 10. Diaper Rash Cream – Keep that baby bum smooth and free of irritation with a homemade diaper rash cream made. Store in a small jar with an airtight seal for easy access.
11. Sunscreen – Although many sites claim that carrot seed oil and red raspberry oils have an SPF of 25-50, it turns out this is a myth. However, you can make a halfway decent sunscreen from diaper rash cream, coconut oil, cocoa butter, aloe vera gel, almond oil, and beeswax.
12. Shaving Cream – Eliminate razor burn and save some money with this DIY shaving cream that will leave your legs feeling silky smooth.
13. Skin-Nourishing Body Soap – Amazing for allergy-prone or sensitive skin, homemade luxury soap will help you avoid chemical reactions while leaving you supple and soft.
14. Body Wash – Lather up in the shower with an organic body wash that will wash off sweat after your workout and nurture your skin in those dry winter months.
15. Body Scrub – If you're not already exfoliating as a part of your daily routine, then you are missing out on that gorgeous celebrity glow! Slough off the dead skin to reveal a bright, fresh complexion that never goes out of style.
16. Shampoo – While you can make your own DIY shampoo that lathers and foams, consider trying the No Poo Method. Simply replace your shampoo & conditioning routine with baking soda and apple cider vinegar for amazing results.
Related Article: How To Make All-Natural Shampoo And Conditioner
17. Makeup Brush Cleaner – Makeup Brush cleaner runs for $7-$10 in the store. But why?! It's such a simple concoction made with household ingredients.
18. Scented Bath Bombs – There's this store in the mall where they sell bath bombs for around $8 each. What a rip off! For $8, you can make a dozen bath bombs that smell and feel just as amazing.
19. Face Mask – The skin on your face is super thin and thus, super sensitive. Slow the aging process by giving your skin some deep moisturizing treatments with this homemade face mask.
20. Bug Spray – Deet is bad for you. Like really bad for you. But have no fear, here is a natural way to keep bugs away and bites at bay.
21. Antiseptic Ointment – When it comes to cuts, scrapes, and scratches, you can avoid infection with by using an antiseptic ointment.
22. Lipstick – Seriously! You can make your own moisturizing lipstick using spices from your kitchen to create gorgeous, vibrant color.
23. Lip Balm – Protect against chapped lips and cracked creases with this easy to make DIY lip balm recipe!
Household Cleaners & Necessities
24. All-Purpose Cleaner – Countertops, muddy shoes, sticky spills–they can all be cleaned up with this homemade pet-safe cleaner on hand. No chemicals here!
25. Toilet Bowl Cleaner – Drop one of these little fizzy toilet balls into the toilet bowl and let it go to work removing stains and odors without you having to lift a finger.
26. Dish Soap – Big families run through their supply of dish soap like nobody's business. Save your pennies by creating a way cheaper version that cleans just as well for a fraction of the price.
27. Carpet Cleaner – Kids tracking mud in the house, pets having accidents, and the occasional tipsy red wine spill can all be remedied when you have a DIY carpet cleaner on hand.
28. Wood Polish – Citrus wood polish not only keeps your furniture and floors looking shiny and smelling clean but also helps fend off bugs and rotting fungus.
Related Article: 10 Cleaning Products You Can Make Yourself
29. Window Cleaner – Windex is over-rated and over-priced. Get yourself a spray bottle and start making your own window cleaner that leaves no streaks or residue behind.
30. Reusable Swiffer Sweepers – Do you have a Swiffer Sweeper? They're amazing for cleaning dog hair and crumbs off of tile, linoleum, and hardwood, but the throw-away pads are expensive! Just make your own.
31. Dust Cloths – Keep the house looking tidy, smelling bright, and free of allergy-causing dust and dandruff with these homemade dusting cloths.
32. Silver Polish – Odds are, you don't actually need to buy new silverware and those old picture frames are totally salvageable. Take a little DIY silver polish to them for a 'good as new' luster.
Shoes & Clothing
33. Laundry Detergent – What happens when you mix a tub of OxyClean, some essential oils, and a few home ingredients? You get a long-lasting supply of fresh, effective, and low-budget laundry detergent.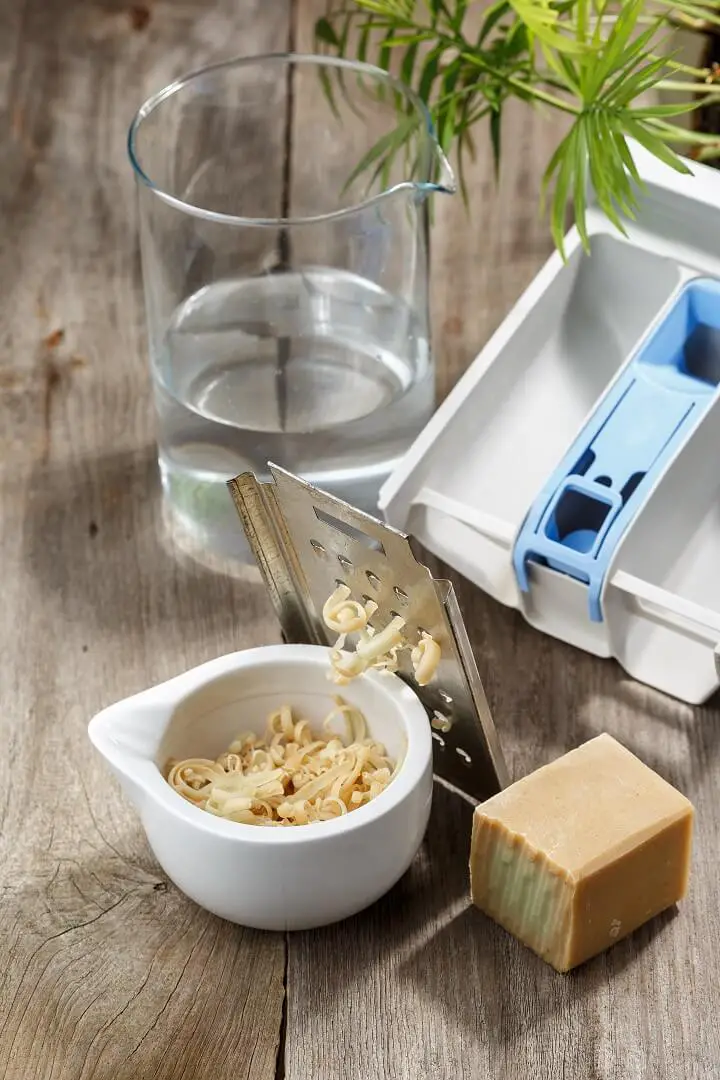 34. Reusable Dryer Sheets – Genius! You can make your own dryer sheets at home with just a couple drops of (you guessed it) essential oils mixed with vinegar.
35. Stain Remover – Kids are messy. We know this. Always have a stain remover on hand to quickly lift those heavy stains and you'll save tons of money on new clothes.
36. Boot Socks – You can still be fashionable on the homestead! Cute and cozy boot socks are so simple to make with recycled sock material.
Related Article: 40 Surprising Uses for Old Socks
37. Shoe Deodorizing Spray – After a wet winter or a sweaty summer, you might be tempted to toss out your smelly shoes. Instead, keep them fresh all year round with this simple essential oil spray.
38. Leather and Shoe Polish – When you do invest in high-quality products, you want to make them last. Shine and protect your leather products with an easy-to-make polish.
Food & Condiments
39. Granola Bars – These healthy snacks are actually really simple to make, and you'll avoid filling your family with preservatives and unnecessary sugar.
40. Ice Cream – Start copying your favorite Ben & Jerry's Ice Cream flavors at home. Once you know how to make the base of an ice cream, you can get as creative as your taste buds please.
41. Ranch Dressing – All things are possible with an herb garden, even homemade ranch dressing. Get ready for the creamiest, most satisfying Ranch Dressing you've ever had.
42. Mozzarella Cheese – It was time to start a new hobby anyway, right? Take a look in the mirror and say hello to your new resident cheese maker.
43. Pickles – What homesteader doesn't love pickles?! You can pickle tons of veggies in your garden, especially cucumbers.
44. Spaghetti Sauce – Utilize your garden and canning skills by making tons of pasta sauce that you can use on more than just noodles! Use as a dip for zucchini bites, in your chili recipe, or as a marinara on pizza!
Related Article: 50 Staple Foods That Should Be In Every Cook's Kitchen
45. Buffalo Sauce – Create your dream buffalo sauce with homemade ingredients that allow you to customize how zingy, tangy, or spicy you like it.
46. Hummus – Clean eating starts with clean ingredients. Get a balance of nutrition and flavor with easy-to-make homemade hummus.
47. Taco Seasoning – This Taco Seasoning recipe will have you wondering why ever bought pre-mixed taco seasoning in the first place.
48. Salsa – What is taco night without salsa? Start with some tomatoes and grab some herbs from your garden for gourmet salsa.
49. Salad Dressing – Zesty Tahini, Cilantro Lime, Balsamic Vinegar…need I say more? These homemade salad dressings are so simple, so cheap, and so healthy!
50. Hot Sauce – Here is an opportunity to save money and to make money! If your hot sauce creations are tasty enough, bottle them and sell them on ETSY!
Pets & Animals
51. Dog Treats – Once I started making these coconut oil dog treats for my 4-legged family member, his coat became so shiny and healthy with less shedding.
52. Cat Toys – Recycle cardboard, strings, and old fabric to create cat toys that will keep both your and your feline entertained.
53. Puppy Sweaters – Pet parents that live in cold climates like to keep their animals nice and snug with some extra insulation. Reuse some old t-shirts for cute and cozy pet sweaters.
54. Chicken Feed – Depending on how many chickens or ducks you've got in the coop, you can supplement or totally replace their feed by farming your own bugs!
Related Article: Medicinal Herbs for Chickens? Yes!
55. Dog Toys – Have some old t-shirts or rags lying around? Give them a good wash and then follow this DIY toy tutorial to make some puppy toys that won't devastate you when they're eventually ripped to shreds.
56. Dog Food – Homesteaders who live off the land often find themselves with an excess of produce. Don't let all that nutrition go to waste! Instead, try making organic dog food.
57. Cat Food – Cats can be picky! But this DIY cat food recipe is a hit with the felines and much healthier than store-bought cat food.
Fun Stuff for Home & Play
58. Festive Holiday Décor – You can be frugal and festive at the same time! Make your house a home with DIY holiday décor made from upcycled materials.
59. House Rugs – A rug for the kids' bathroom, a rug for the kitchen, a rug for the foyer…when you hand-make your own rag rug, you can customize the colors and the size to fit any space.
60. Kids Toys – Sock Puppets, race cars, and toy guns are all items that your kids will eventually outgrow, so what's the point in spending $20 a pop? Instead, upcycle materials around the house to entertain the troops.
As you may have noticed, the majority of these DIY recipes and projects require many of the same staple ingredients like essential oils, coconut oil, vinegar, old t-shirts, cardboard, and so on.
Buy those staple ingredients in bulk and save upcycle-friendly materials that you can repurpose later. This will save you an insane amount of time and money in the long run.
Your biggest problem now? Figuring out what to do with all that extra cash left over at the end of the month.
Like this post? Don't Forget to Pin It on Pinterest!