This post may contain affiliate links.* As an Amazon Associate I earn from qualifying purchases. Click here to read our affiliate policy.
In my family, we all have itchy skin. It's kind of a family curse. All sorts of things will cause our skin to itch: Not drinking enough water, direct contact with grass and bushes, or using store-bought laundry detergent. This is why I started making my own laundry detergent a long time ago. It's also why I started making my own bar soap.
Nowadays, even basic bar soap is full of strange, caustic chemicals and perfumes. I don't need any of that. I just need something that will clean my skin and leave it feeling nice and soft. Something made with coconut or olive oil, perhaps… or both!
Want to save this post for later? Click Here to Pin It on Pinterest!
Which is why I absolutely love this soap recipe I found at Becky's Homestead. Here are the ingredients:
29 ounces of coconut oil (liquid).
51 ounces of olive oil
11.8 ounces of lye.
29.5 ounces of distilled water.
3.3 ounces of organic rosemary oil (optional).
Organic pink coloring (optional).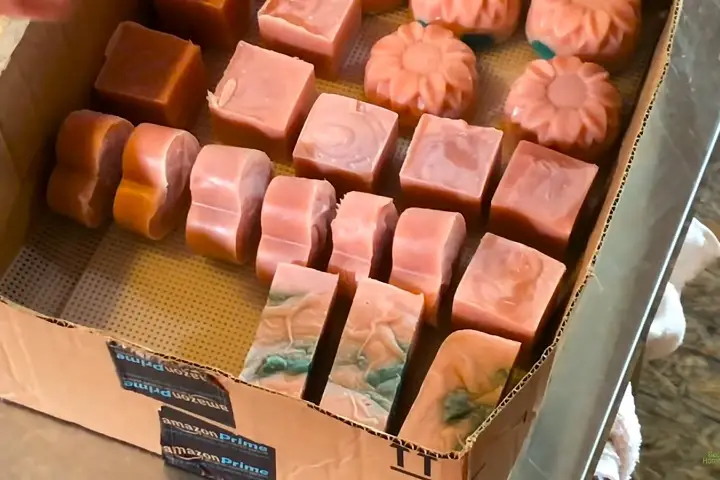 You'll also need the following supplies:
Soap molds.
Electric mixer with stainless steel blades (or you can use a large, stainless steel spoon).
Safety gloves.
Mask.
Safety glasses.
Vinegar (in case you get any of the solution on you, vinegar will neutralize a skin burn).
Kitchen scale.
Thermometer.
Plastic cup.
Container for lye crystals.
Container for the water.
Large, stainless steel bowl for the oil.
Watch the video below to see her make the soap (she starts that part at 3:12).
Like this post? Don't Forget to Pin It On Pinterest!