This post may contain affiliate links.* As an Amazon Associate I earn from qualifying purchases. Click here to read our affiliate policy.
Estimated reading time: 7 minutes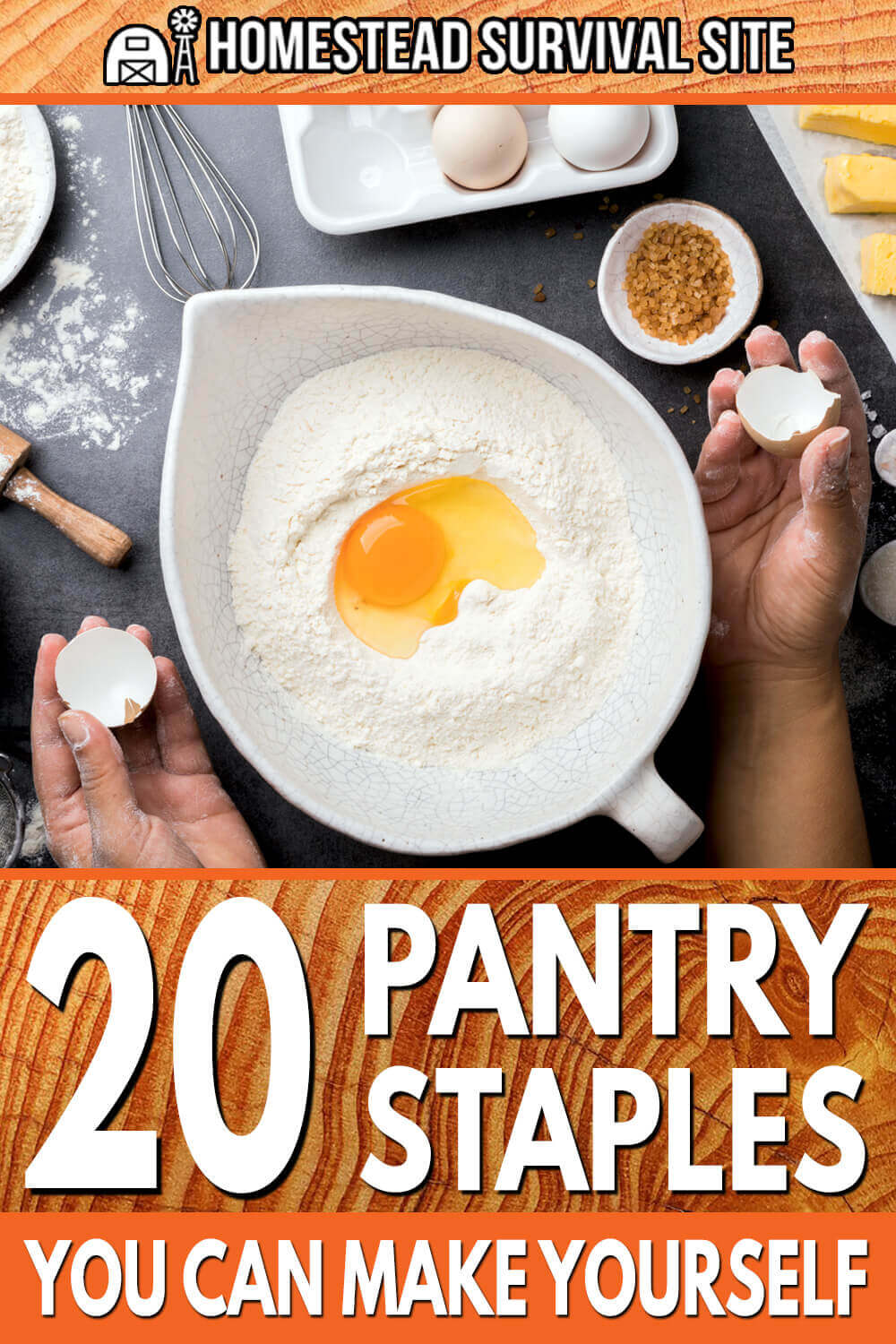 We all appreciate the difference between homemade foods and storebought food. Homemade always tastes better. And yet, even though most of us have the ingredients to make our own food, we often choose not to. Sure, it's time-consuming, but not only does homemade food taste better, it also costs less!
If you're looking to save money by making pantry staples at home, here's a list of the first twenty you should start with:
Want to save this post for later? Click Here to Pin It On Pinterest!
1. Barbecue Sauce
Chefs enjoy tinkering with their own barbecue sauce recipes for a unique flavor. Here is a DIY recipe to get you started. The ingredient list includes ketchup, brown sugar, molasses, apple cider vinegar, Worcestershire sauce, liquid smoke, dry seasonings, and onion flakes.
2. Bread
We've all heard the phrase "the best thing since sliced bread," but we all know that we are sacrificing taste and freshness each time we buy bread from the store. Yet, it is surprisingly easy to bake bread at home (and you can't bead the smells that will waft through your house).
The simple list of ingredients includes active dry yeast, bread flour, sugar, salt, oil, and water, but sometimes you need more depending on the type of bread. Here's an easy easy French bread recipe, and here's how to make Amish white bread. But if you really want to become a pro at making bread, read How To Master The Art Of Bread Baking
3. Bread Crumbs And Croutons
When you see how easy it is to make bread crumbs and croutons, you will forget about buying packaged versions. You can make them at home with your own toasted (stale!) bread and seasonings, including parsley flakes, garlic powder, basil, dried oregano, onion powder, and salt and pepper.
4. Brown Sugar
Did you know how easy it is to make brown sugar? You only need white sugar and unsulfured molasses and this easy recipe.
5. Granola
Does the price of store-bought granola scare you away? You can make your own with rolled oats, nuts, and dried fruit. This easy granola recipe uses canola oil, honey, ground cinnamon, salt, almonds, raisins, and old-fashioned rolled oats. Make it in bulk and store it in airtight containers.
6. Hummus
All you need to make hummus at home are chickpeas, tahini, olive oil, some seasonings, and a food processor. This hummus recipe takes only about five minutes!
7. Ketchup
Another way to capture the taste of those home-grown tomatoes all year long is by making your own ketchup. Here is an easy recipe that uses apple cider vinegar and a variety of spices and seasonings you probably already have in your pantry.
8. Mayonnaise
When looking for a DIY recipe for mayo, the words "fool-proof" and "10 minutes" definitely caught my eye with this one. To make one cup of mayo, here's all you need for this recipe: one large egg, Dijon mustard, red or white wine vinegar, salt, and the neutral-flavored oil of your choice.
9. Mustard
You probably know there are many varieties of mustard, but you may not have known how easy they are to make. They all begin with the same essential ingredients: ground mustard seeds combined with a liquid. This article offers some history on mustard and a recipe for basic country mustard.
10. Nut Butter
You can get some good buys at the store on peanut butter, but the other types of nut butter can be expensive. You can use almonds, walnuts, pecans, cashews, hazelnuts, Macadamia nuts, or a combination of your favorite nuts in this nut butter recipe.
11. Pasta Sauce
There are so many varieties of pasta sauces, but you can make all of them at home. And you will never want to go back to the jarred sauce.
Most marinara recipes have an ingredient list that includes extra virgin olive oil, onion, garlic, tomatoes, carrots, seasonings, and fresh herbs. Here's an easy Mediterranean-style sauce recipe to get you started.
12. Pickles
No canning is needed for this easy homemade pickle recipes. They are ready to eat after just one day in the fridge. Ingredients include cucumbers (of course), vinegar, salt, garlic, dill seeds, peppercorns.
13. Potato Chips
Okay, okay, potato chips are not really a kitchen staple. But why buy chips at the store when you can make delicious chips at home? You'll need unpeeled potatoes (about two pounds), salt, garlic powder, celery salt, pepper, and oil for this potato chip recipe.
14. Powdered Sugar
You don't need to buy powdered sugar (also called confectioner's sugar) anymore for your baking recipes. The only ingredients you'll need are white sugar, cornstarch, and a blender or food processor.
15. Salad Dressing
Whether you prefer creamy dressings or vinaigrette, you never have to buy bottled salad dressing again. Vinaigrettes are usually a mixture of oil and vinegar flavored with herbs, spices, salt, pepper, and sugar.
Most creamy dressings are mayonnaise-based or contain milk, yogurt, sour cream, or buttermilk. This article shares eight homemade salad dressing recipes.
16. Salsa
Tacos have become a go-to weeknight favorite for many American families. But you can amp up the flavor with homemade salsa with ingredients from your garden.
Here's a recipe that uses tomatoes, tomato sauce, tomato paste, onions, green pepper, jalapeno, cilantro, garlic, white vinegar, sugar, canning salt, cumin, and pepper.
17. Sour Cream
Get the kids involved in this recipe for an easy lesson in fermentation. All you need to make this easy sour cream recipe are heavy whipping cream and store-bought or homemade buttermilk and a couple of days for the fermenting process to occur.
18. Stock
One of the best forms of kitchen recycling is making stock. You can use leftover vegetable scraps to make vegetable stock and leftover chicken or meat bones and carcasses to make chicken and beef stock.
Both are easy to make and to store in the freezer. Here is an article on how to make chicken stock. And here are the how-tos on making beef stock at home.
19. Teriyaki sauce
Here's another condiment that can get pricey at the store, but you can save money and enjoy better flavor by making it in your kitchen. The ingredients for this easy teriyaki sauce recipe are soy sauce, ground ginger, garlic powder, brown sugar, honey, and cornstarch.
20. Tortilla Chips
And while we're on the subject of chips, here is a homemade tortilla chip recipe that couldn't be easier. The simple list of ingredients includes corn tortillas, olive oil, and salt.
21. Yogurt
Did I say 20 pantry staples? I meant 21. You can make creamy yogurt at home with only a few ingredients: fresh whole milk, heavy cream, and a few tablespoons of plain whole milk yogurt with live and active cultures. Top with fresh fruit and voila!
Bonus: Spice Blends
Here's another. Have you ever encountered sticker shock when seeing the price of spice blends at the supermarket? Many recipes call for spice blends that you can easily make at home. Check out this article for ten homemade spice blends that are easy to make.
In addition to saving money, these homemade staples offer other advantages. You'll always know what's in them so you can avoid unnecessary ingredients such as artificial colorings and preservatives.
Another bonus is that once you become accustomed to making these items at home, you'll find new ways to make them your own. Have fun experimenting and tinkering.
Like this post? Don't Forget to Pin It On Pinterest!
You May Also Like: