This post may contain affiliate links.* As an Amazon Associate I earn from qualifying purchases. Click here to read our affiliate policy.
Estimated reading time: 8 minutes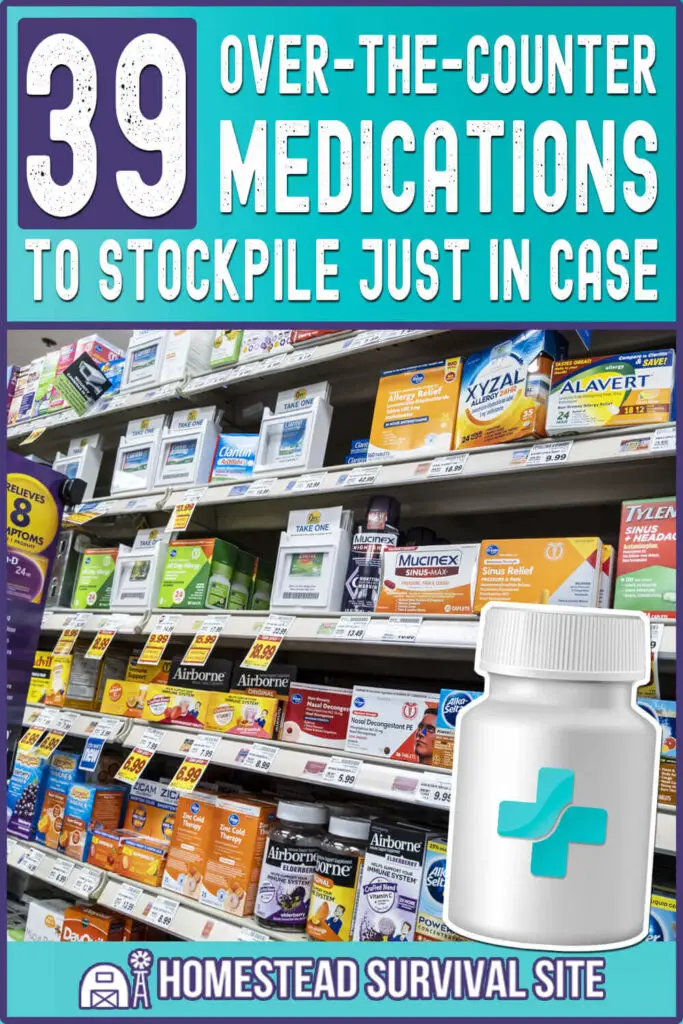 Have you noticed how easily supply chains are interrupted? Imported items are increasingly hard to get, especially products imported from China. Many of our over-the-counter medications are imported from China, so it stands to reason that they may become tough to find in the coming weeks and months. Combine that with staff shortages, store closings, and natural disasters, and it may become impossible to get to a pharmacy when you need it most. 
You'll want to provide for all your family's needs, including medications, in any kind of emergency. Keeping a supply of over-the-counter medicines will help keep your family healthier in any situation.  
In this article, we'll look at 39 popular over-the-counter medications that you'll want to stockpile. We'll also talk about choosing remedies based on your family's specific needs and how long the over-the-counter medication will last. But first, we'll take a quick look at why we need to stockpile over-the-counter medicines. 
Want to save this post for later? Click Here to Pin It On Pinterest!
Why Do We Need to Stockpile Over the Counter Medication? 
We need to stockpile over-the-counter medication for several reasons. First, if you live on a homestead, you might not be anywhere near a pharmacy when you aren't feeling well and need some quick relief. Second, you also might want to be prepared for emergencies and natural disasters when getting out just isn't possible.
And lastly, you'll want to be prepared ahead of time if supply chains collapse and we can't get our preferred medications when we need them. But when you stockpile medication, how long will it last? 
How Long Will OTC Medication Last? 
If you're going to be stockpiling medication, you need to know how long it will last. According to a paper on the NCBI website, solid medications, such as tablets or pills, may still be safe and potent anywhere from 5 to 10 years past their expiration date. 
When you stockpile medication, be sure to rotate it as much as possible by using up older medicine first and replacing your stash with new medication. But always do your own research to find out what is safe for you and your family. 
What Are Your Family's Special Needs? 
Another thing to consider when stockpiling medication is your family's specific needs. For example, you may have a child allergic to certain medicines. So you may need to keep children's versions of medications on hand. Or you might just have preferences for certain types of treatment, such as Advil rather than Tylenol.
You should also consider whether your family is prone to certain troubles, such as upset stomachs or skin infections. Once you've figured out what your family needs, you can begin to stockpile some or all of the following medications. 
Over-the-Counter Medications to Stockpile
Allergy Relief 
Cold and Flu 
First Aid
Mouth Issues 
Pain Relief 
Skin Problems 
Sleep Issues 
Stomach and Digestive Problems 
Miscellaneous Medications to Consider 
Ultimately, only you can decide which medications are best for you and your family to stock up on. Of course, you'll want to consult with your family physician and pharmacist to help you make the best decisions. 
Always store medication in a cool, dry place away from heat and light. Rotate your stock as often as possible, so you always have the freshest medicines on hand. When possible, choose medications that have multiple applications. And be sure to do your research on expiration dates, drug interactions, and possible side effects. 
Like this post? Don't Forget to Pin It On Pinterest!
You May Also Like: