This post may contain affiliate links.* As an Amazon Associate I earn from qualifying purchases. Click here to read our affiliate policy.
Estimated reading time: 6 minutes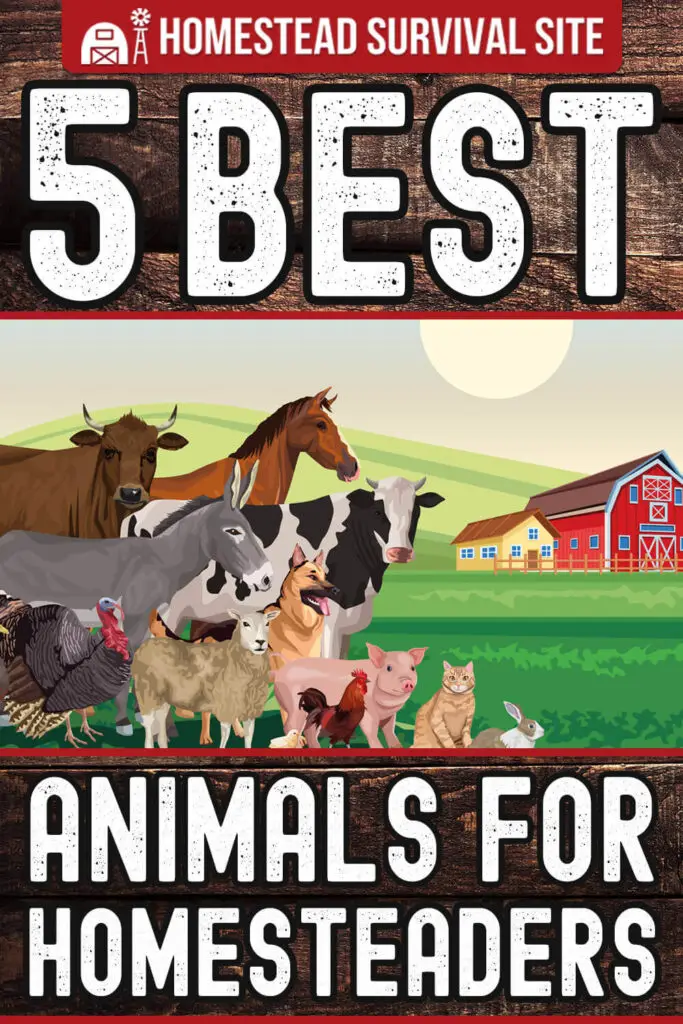 There is a seemingly endless array of livestock options. To decide which animals are right for your homestead, you'll need to consider several factors, among which are the size of your homestead, your end goal with livestock, and the time you'll have to spend taking care of them each day.
Maybe being available to milk a dairy cow twice a day doesn't work with your schedule, but making time for a few minutes of chicken feeding does.
In this article, we'll explore some of the most common types of livestock for small to medium-sized homesteads.
Want to save this post for later? Click Here to Pin It on Pinterest!
1. Chickens
Arguably the most common type of animal seen on any homestead (or backyard garden) are chickens, and they have a variety of benefits. First and foremost, they don't require a lot of daily chores. Making sure they have access to plenty of food, water, supplemental greens and outside exercise is enough to ensure a steady supply of farm fresh eggs and meat for your household.
The infrastructure requirements for chickens are also minimal. For laying chickens, make sure your coop has windows so that sunlight can penetrate to the litter on the floor. Sunlight destroys many harmful pathogens that can live in the litter and spread disease within your flock.
Having clean, dry nesting boxes for your birds is also essential, with plenty of places for them to roost when it's time to sleep at night. For meat birds, called broilers, nesting boxes aren't necessary. But with all chickens, it is crucial that they have a clean, dry area free from drafts that they can easily access.
2. Pigs
In my opinion, pigs can be one of the most useful animals on your homestead. At our farm, we loose the pigs into a section of land we are getting ready to clear. They knock down the vegetation, root up the ground, and expose fallen logs and other woody debris.
After the pigs have done their initial clearing work, it is much easier for us to go in and prep the new pasture and garden bed with equipment. And to top it all off, they fertilize the new area as they go.
Pigs also require very little infrastructure to keep them happy. A small, dry lean-to where they can get out of the wind and rain is all they need in terms of housing. For fencing, I strongly recommend using an electric fence.
As long as they are trained properly on it when they are little, it is the only fence I have seen that can contain a determined pig. Pigs are very smart, which makes them a joy to have on the homestead, but also makes them talented escape artists. Luckily, electric fencing is inexpensive and easy to set up and takedown.
3. Waterfowl
Ducks and geese are perhaps one of the best-kept secrets when it comes to poultry for your homestead. If you live in a particularly cold part of the country, ducks and geese may be a better option than chickens.
Egg for egg, there are many ducks that lay just as well as conventional laying chickens. Our Khaki Campbell ducks, for example, regularly give us an egg a day and are much more hardy to outside temperatures.
While all laying birds require a little supplemental heat and light to keep them laying throughout the winter months, ducks require significantly less added light than chickens.
Although not great layers, geese are an excellent meat bird to have on your homestead. In the summertime when we have our poultry on pasture, we turn the geese out with the chickens. Their noisy calls alert the chickens to any aerial predators and allow the chickens time to get undercover.
Geese also forage and grow on pasture much better than meat chickens do, reducing your feed costs. Goose meat is dark, juicy and flavorful, and it's a favorite of ours during Christmas and Thanksgiving.
4. Rabbits
Rabbits may be one of the most economical meat sources you can have on your homestead. They grow quickly and produce large litters so it is feasible for you to get up to 600 pounds of meat a year out of one pair of breeding does.
They also use feed extremely efficiently. It takes approximately four pounds of feed to create one pound of meat in a rabbit, whereas a cow takes seven pounds of feed to create just one pound of beef.
Rabbit meat is also very healthy. It is high in protein, low in fat, and lower in cholesterol than any other meat on the market. It tastes a lot like chicken but more flavorful, and it's delicious fried, baked in the oven, or added to stews.
Rabbits are also a great source of fertilizer. Unlike with chicken feces, you can apply rabbit pellets straight onto your garden without worrying about burning your plants with excess nitrogen.
In the summer, our rabbits graze on pasture with wire-bottomed cages that let them access the grass underneath. In the winter, these same cages are either placed on garden beds to fertilize them for the next spring, or hung up so that we can easily collect the droppings that fall below.
5. Goats
Goats are extremely versatile with a wide variety of uses on the homestead. You can raise them for meat, dairy, or fiber, they are an effective method of brush control for your pastures, and they have personalities that will have you laughing for days.
If you're raising goats for dairy, you can reasonably expect anywhere from one to one and a half gallons per day from the most common milking breeds. The milk can be drunk straight, used as a feed additive for your pigs, or turned into yogurt or cheese.
For meat, goats are not the most efficient animals. Their feed efficiency is similar to cows, with seven pounds of grain needed for every one pound of meat produced. Goat meat is delicious and rapidly growing in popularity, and when you take into account their other uses, they make a happy addition to your homestead.
Like this post? Don't forget to Pin It on Pinterest!
About the Author: Aryn is a writer and farmer currently living in Homer, AK.
You May Also Like: