This post may contain affiliate links.* As an Amazon Associate I earn from qualifying purchases. Click here to read our affiliate policy.
Estimated reading time: 5 minutes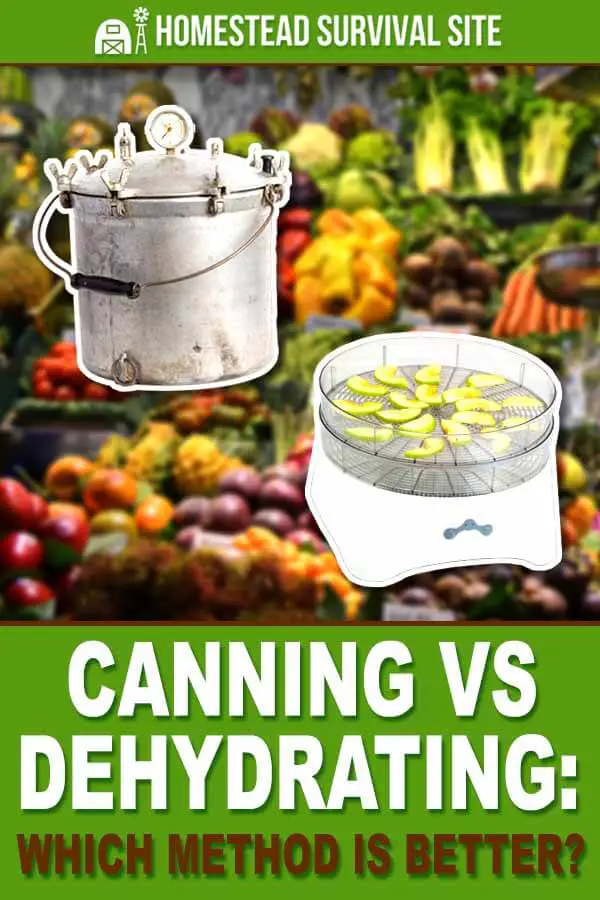 As a homesteader, you enjoy growing your own fruits and vegetables, and fresh is always the best choice for taste and nutrition. But what can you do to preserve some of your harvest for the rest of the year?
Two tried and true options are canning and dehydrating. Both methods have distinct advantages and disadvantages. To help you decide which one is best for your family, we'll consider their definitions, their pros and cons, and the procedures involved (including materials and costs).
First, let's look at what the terms dehydrating and canning mean when it comes to food storage.
Dehydrating is the process of preserving a food by removing 90% or more of its moisture content. Without its moisture, the food will not be able to sustain mold or bacteria growth. A few of the main advantages of dehydration include:
Many nutritional benefits remain.
Dehydrated foods are compact, lightweight, and portable.
Rehydration is relatively simple and easy.
One of the main disadvantages of dehydrating is the time it takes. Depending on whether you use a machine (which requires power to run) or a home drying rack, the process can take 8 to 48 hours or even longer in damp climates.
Canning is the process of preserving a food by heating it to a high enough temperature to kill any harmful bacteria and then sealing it in an airtight container for storage. Some of the main benefits of canning are:
It preserves the food's color, flavor and texture and some of its nutrients.
It can take less time than dehydrating.
When you reuse supplies, it can be fairly inexpensive.
A downside of canning is that the jars of food are heavy and take up more shelf space than rehydrated foods. Another potential problem is the risk of botulism if the steps to the canning process are not carefully followed.
Now let's look at the equipment you need. Although you can dehydrate foods with simply a box placed in the sun during dry weather, the process works well indoors with some basic equipment.
A top-rated dehydrator on Amazon is the Nesco Gardenmaster Food dehydrator. It features an adjustable thermostat (95º to 160º F), a top-mounted fan, five trays and an opaque exterior which helps block harmful light. This machine allows you to dry jerky or vegetables within hours instead of the days required with the air-drying method.

If you have a large family and/or a large amount of food to be preserved, you may want to go with the Excalibur 3926TB 9-Tray Electric Food Dehydrator. It features an adjustable thermostat (105º to 165◦F), 15 square feet of drying space, nine trays and a 26-hour automatic shut off. It also has Includes a poly-screen tray insert that helps keep foods from sticking, and the trays do not need to be moved during operation.

You also will need sealable plastic freezer bags or plastic freezer containers with tight-fitting lids to store your dehydrated foods.
There are two basic canning methods — water bath canning and pressure canning — and you will need different equipment, depending on which one you use.
With the water bath method, you'll need a pot specifically designed for canning that comes with a bottom rack, or you could use a large pot you already own with a rack or towel placed in the bottom.
Pressure canners can be an investment, but the good news is they last for many years, even with hard use. A top-rated pressure cooker on Amazon is the Presto 01781 23-Quart Pressure Canner and Cooker. It's made of heavy-gauge aluminum for even heating and offers a wide range of pressure settings. It also includes a canning/cooking rack and a 76-page instruction/recipe book.

You can purchase reusable canning jars and rings inexpensively at flea markets and thrift stores, but you will need to buy new lids each canning season or purchase reusable lids which are convenient but more expensive than one-time use lids.
It is not an essential item, but many canners rely on a jar lifter, a hand tool that allows you to remove any size canning jar safely from boiling water.
What about shelf life?
According to the National Center for Home Food Preservation, most dried fruits can be stored for one year at 60º F, and most vegetables can be stored for six months at the same temperature. However, many foods will keep for much longer under proper conditions. You must check stored dehydrated foods periodically since they can spoil when exposed to moisture.
According to the Utah State University Extension Service, unopened home canned foods usually have a shelf life of one year and should be used before two years. Once again, temperature and humidity play an important role in the longevity of canned goods.
According to a study by the U.S. Department of Agriculture Research Services Division, 60 to 80 percent of a food's nutrients are lost due to the high temperatures of the canning process. By contrast, only three to five percent of nutrients are lost in the dehydration process due to the low heat.
The Colorado State University Extension Service has a helpful fact sheet on cost comparisons between different home food preservation methods. Also, here are a few books you might want to add to your library for further information:
If you have been keeping score of the pros and cons, you probably have decided – correctly – that it is a matter of preference which food preservation method you use. In fact, you may find that you end up employing both methods to preserve the bounty from your homestead.
You May Also Like: