This post may contain affiliate links.* As an Amazon Associate I earn from qualifying purchases. Click here to read our affiliate policy.
Estimated reading time: 8 minutes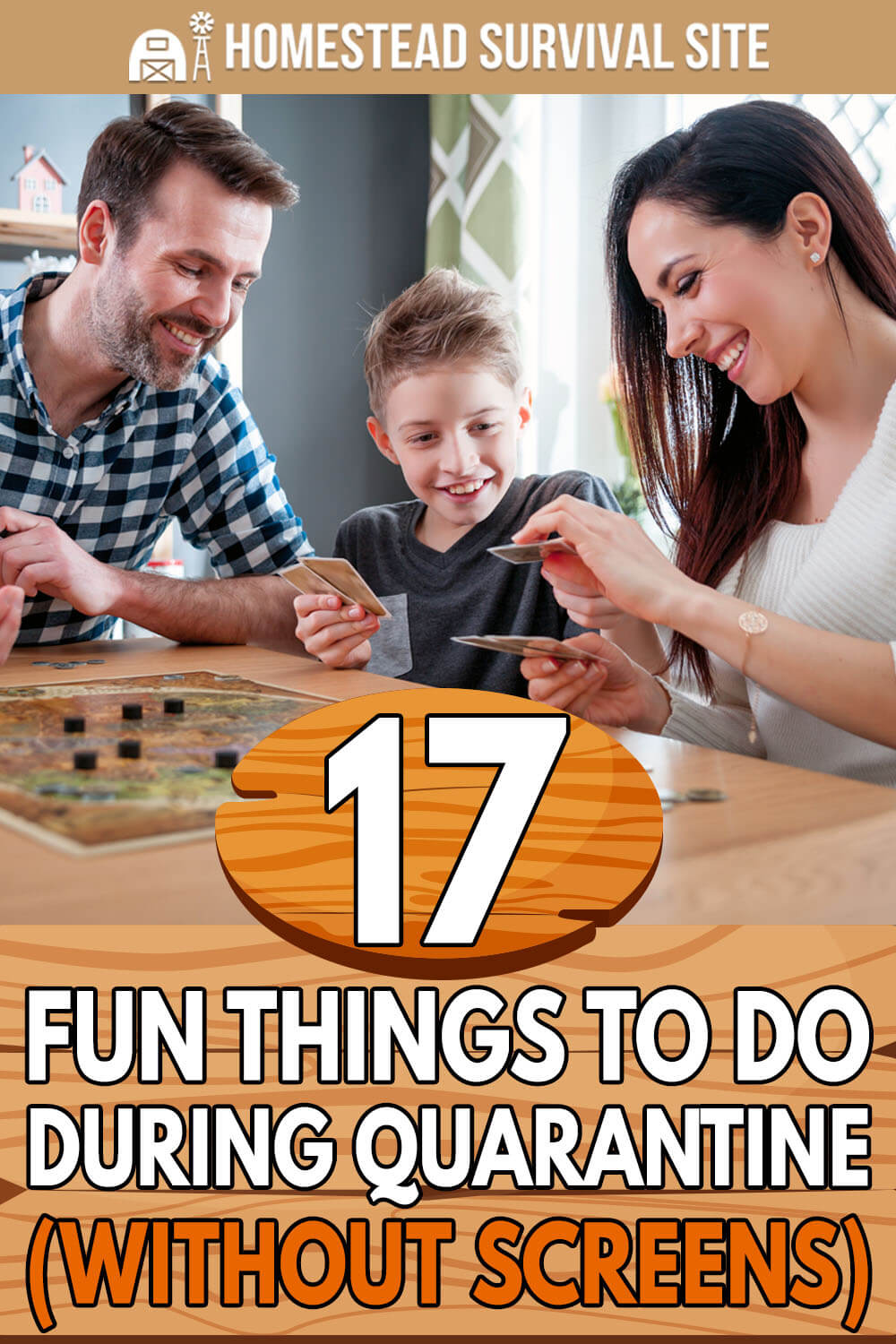 With coronavirus spiking across the country, more and more people are being forced into quarantine. Some of them are people who have tested positive and have to stay home for two weeks. Others are people who are trying to avoid catching the virus in the first place.
Unfortunately, most people will spend their time in quarantine staring at phones or televisions—especially children. Kids nowadays have little interest in the real world. They're more interested in the digital world of video games and Youtube videos.
Want to save this post for later? Click Here to Pin It On Pinterest!
While a little Internet is harmless, too much can be bad for your brain, especially if you're young and it's still developing. If you're not careful, you'll end up with a case of Nature Deficit Disorder, a condition that damages your attention span, emotional regulation, and overall physical health.
That's why it's so important to find things to do that don't require screens. But what did people do before screens? Turns out, a lot. Here's a list of 17 fun activities that don't require TV or Internet.
1. Play A Boardgame
Dig in the closet for the board game stash that's been gathering dust since the last power outage. A game of Life, Monopoly, or even Candyland can be enjoyed by family members of all ages—even if little ones play with the aid of adults.
If you do not own any board games, take advantage of free online shipping deals or curbside pickup to start a collection that can be used on family game nights, even after the quarantine is long over.
2. Play Cards
There are ample card games you can play with young children, older children, by yourself, and with others. Skip Bo and Uno are classic fun card games the entire family can enjoy – with only a small amount of help needed for preschool-age children. Cards Against Humanity is quite popular but must be reserved for adults after the kiddos head off to bed.
A quick search on Amazon will allow you to find a plethora of fun learning card games with varying challenge levels so they can be played by children and adults at the same time. Themes to the many inexpensive card games vary from camping, survival, gardening, pop culture, historical trivia, foraging – there is truly a card game to match every interest.
3. Cook Together
The kitchen used to be the hub for the entire family. Cooking a meal together offers everyone a chance to unwind and chat. And if you have kids, you can teach them about their food—the nutritional value, where it comes from, how to grow/raise it, and more.
4. Make Music
Before television, families would gather in the living room or on the front porch to play, sing, or clap their hands in time with the music. If your family doesn't own a piano or another type of instrument, use pots and pans, wooden spoons, and other common household items to keep beat with music being sung by a family member or played on the radio.
5. Dig In The Dirt
Gardening is a lot of work—fun and dirty work—but still work. The time families spent growing the food they ate still churn up favorite childhood memories for many adults. Even those family members who can only wield small plastic shovels can still help dig the holes for seeds and plants, tie up tomato plants, or even help build a fairy and gnome garden in a small space.
Connecting with the food we eat and learning how to provide it for yourself can double as both a screen-free family activity and an important lesson in self-reliance.
6. Marble Racing
Build a marble run with the children and have races to pass the time with excitement and laughter. You do not need power tools and a stockpile of scrap wood to make a decent marble run. Toilet and paper towels rolls, plastic cups, cardstock paper, or similar sturdy items can be duct-taped or strung together to create an "enjoy it while it lasts" marble run.
If you have a Lego fan in your home, the building blocks can easily be affixed together to make an intricate marble run.
7. Nerf Gun Contest
Make some Nerf targets and even an obstacle course to go with them to have an indoor or outdoor Nerf gun contest. Paper plates, aluminum pie pans, and construction paper are just a few examples of the nearly free items that can be turned into personalized targets. And they're simple enough that children can help make them before an afternoon of energy-burning fun.
8. Balloon Pong
Tape a paper plate to a stick or similar stiff and fairly lightweight object and play a balloon version of ping pong or tennis. This is best done indoors, although it can be done outdoors on a very calm day.
9. Get Crafty
You don't need to be an artistic DIY fan by nature to turn your kitchen into a vibrant and fun-filled crafting studio during quarantine. There are endless free and simple recipes online that teach how to make playdough, moon sand, puffy paint, finger paint, and slime out of super cheap and common household items like flour, cornstarch, and salt.
10. Sew Together
Sewing was a frugal and self-reliance skill that every mother passed down to her daughter as a necessary homemaking and life skill. Making doll dresses with your daughters or little tents and sleeping bags with your sons is really fun.
These projects can be hand sewn from small scraps of material cut from old T-shirts and worn out play clothes. That is, if sewing and stockpiling fabric isn't already part of your homesteading routine.
11. Work A Puzzle
Get out a big puzzle and spread out the pieces on the dining room table so everyone can work it together while actually talking face to face. Even young children can help sort pieces into color piles, or they could separate end pieces for older children and adults so they can put together the puzzle frame.
12. Read Together
Leave the television off and read a chapter from a book every night. It might sound weird or cheesy to young people, but this used to be a common activity before television became so prevalent.
As you work through the chapters, the family could act out the scenes, make simple costumes, or construct dioramas that coincide with what's going on in the book, and do other themed activities that help bring the story to life.
13. Play Charades
You don't need to buy anything to launch into a game of charades with the family. Simply write some ideas on sheets of paper, grab the kitchen timer or assign someone to watch the clock, and let the hilarity ensue.
14. Truth Or Dare
This old fashioned childhood (and college) favorite just never really goes out of style. Imagine the memories that will be made and laughed about for decades to come when someone recalls the time little Timmy got Dad to take a dare, put on a skirt, and sing, "I Feel Pretty."
15. Play Ball
Go outside and find a ball game that you can all enjoy as a family, even if you only have a small backyard. Kickball and dodgeball have simple enough rules that young children can play along as well.
And if you don't have any sports equipment, use some sticks and pinecones to play baseball. Or just make up a game with whatever equipment you have on hand and play some Calvin Ball.
16. Tug Of War
Grab a rope and have a family tug of war. Or watch the children battle it out on their own as part of an outdoor challenge course they help you design.
17. Make Ice Cream
This may be the sweetest no-tech family fun activity of all time. If you've never made ice cream before, it's probably easier than you think it is. Here's how:
Ingredients:
Whole milk
Granulated sugar
Ice
Instructions:
Combine half a cup of granulated sugar, 2 cups of whole milk, and 1 tablespoon of vanilla extract inside a Ziploc bag.
Place 10 cups of ice and salt (preferably rock salt) in a non-breakable food storage container with a tight-fitting lid.
Put the small sealed bag into the container so the ice and salt are piled around it.
Put the lid on and have the children shake their container for roughly five minutes until the mixture in the bag looks like ice cream. Give the kiddos a spoon and topping choices and then let them dig in.
When planning a fun family activity during quarantine, you must get organized and have all the materials, supplies, or ideas ready to use before gathering the family.
Expect to face a little resistance at first, especially if the children have been allowed to tote a screen around with them or spend hours per day in front of the television. But once the new habit of enjoying old fashioned family fun becomes part of the at-home routine, both children and adults just might let their high-tech screens gather dust.
Like this post? Don't Forget to Pin It On Pinterest!
You May Also Like: