This post may contain affiliate links.* As an Amazon Associate I earn from qualifying purchases. Click here to read our affiliate policy.
Estimated reading time: 6 minutes
I don't mind cooking – sometimes there's just nothing like a hot meal to make us feel warm, safe, and loved. But I have to confess that I really don't like making recipes that have too many fancy ingredients that I'll never use again. And I don't have time to scour every dish in the house after every meal, either. 
So when I discovered this 100-year-old casserole recipe, I knew we had a winner. It has simple, healthy ingredients that I almost always have on hand. It only uses a single cast iron pot, so you won't be scrubbing pots and pans all night long. And the best part is that it's absolutely delicious. 
It's so good that even my pickiest eaters thought it was pretty amazing – and I think you will too! 
Want to save this post for later? Click Here to Pin It On Pinterest!
Jump to Recipe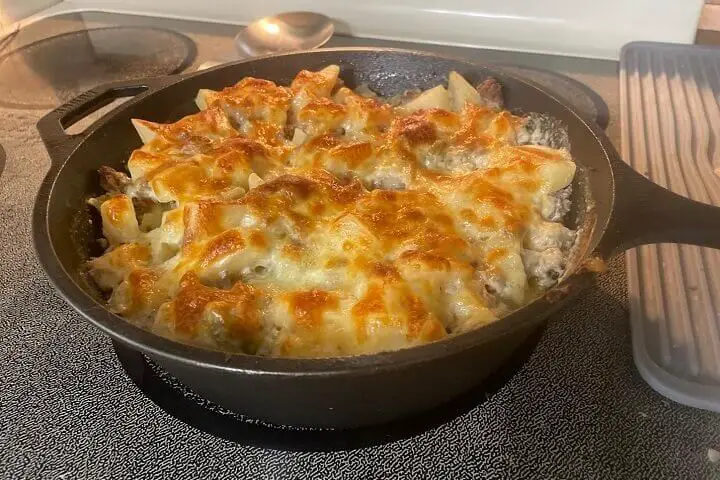 Here's the basic recipe: 
1 pound of ground beef
5 potatoes 
1 onion
2 peppers 
Provolone cheese slices
First, I gave my cast iron deep dish skillet a healthy coating of coconut oil spray and preheated it on the stove top. This helps to season the cast iron and keep anything from sticking to it while you are cooking. 
Next, I browned the ground beef. While the beef was cooking on the stove top, I diced the onions and potatoes. I peeled the potatoes, but you can leave the skin on if you prefer. 
I added the onions and peppers to the ground beef and cooked it a little bit longer to soften the onions, stirring periodically. 
Next, I added the potatoes and cooked them with the lid on for about 15 minutes, until they were tender. While the potatoes were cooking, I preheated the oven to 375 degrees Fahrenheit. 
I added a cup of milk and stirred it in. Then I layered the provolone cheese across the top. 
When the potatoes were tender, I put the entire casserole in the oven, uncovered, and baked it for 20 minutes at 375 degrees Fahrenheit. 
The entire casserole just smelled so good! I let it rest on top of the stove for a few minutes before we all dug in. 
Serving Suggestions
I made the casserole with ingredients I had on hand. The inspiration for this recipe came from a 100-year-old recipe I found on diyjoy.com, but I put my own spin it. My family loved it just like this, with a sprinkle of salt and pepper on top. 
If you prefer, you can switch out the milk for chicken broth or beef broth to add extra flavor, or just add some bouillon right into the casserole. 
More Veggies 
If it's hard to get your family to eat their greens, you can sneak all kinds of veggies into this casserole. We used plenty of peppers and onions, but you could easily add carrots, celery, peas, and you could even add some green beans if you like them. 
You could use fresh, frozen, or even canned vegetables. Add them with the potatoes if they need extra cook time, or right before you add the cheese if they are already cooked. 
More Cheese 
If you need more flavor, you can add a variety of cheese to make it extra special. I used provolone because that's what I had, although I think more would have been better. You could use sharp cheddar, Colby jack, or any blend of cheese you like. 
More Potatoes 
Do you need to stretch your meat a little bit farther? I used a pound of ground beef, but you could easily stretch it further with extra potatoes or vegetables. 
Other Meats 
If you don't have ground beef, you could also use ground turkey, shredded chicken or pork, or whatever you have on hand. Whatever meat you use, just make sure it's thoroughly cooked before adding in the potatoes. 
Leftovers 
If you have leftovers on hand, you can mix them in, too. Whatever you have left in the fridge – a handful of cooked veggies, a little leftover steak – if it's fully cooked, you can dice it and toss it in before you put it in the oven. 
Don't be afraid to serve this yummy dish with a side of vegetables, butter bread, or soup if you need to stretch it even further. 
My family loves this casserole because it's warm, filling, and tastes so good! I love it because it's easy to make, easy to clean up, warms their hungry bellies, and is inexpensive, easy, and flexible. 
100 Year Old Hamburger Casserole Recipe
Ingredients  
1

lb

Ground beef

5

Potatoes

1

Onion

2

Peppers

1

cup

Milk

12

slices

Provolone cheese
Instructions 
Season your cast iron skillet or spray with your favorite cooking spray.

Dice onion, potatoes, and vegetables.

Preheat oven to 375 degrees Fahrenheit.

Add potatoes and vegetables to your ground beef and cook covered for around 15 minutes.

Layer cheese on top of the casserole.

Bake uncovered in the oven at 375 degrees Fahrenheit for 15 to 20 minutes.

Allow to rest for a few minutes.
Nutrition
Serving:
13
oz
Calories:
502
kcal
Carbohydrates:
37
g
Protein:
28
g
Fat:
27
g
Saturated Fat:
13
g
Polyunsaturated Fat:
1
g
Monounsaturated Fat:
10
g
Trans Fat:
1
g
Cholesterol:
85
mg
Sodium:
355
mg
Potassium:
1161
mg
Fiber:
5
g
Sugar:
5
g
Vitamin A:
551
IU
Vitamin C:
68
mg
Calcium:
380
mg
Iron:
3
mg
Like this post? Don't Forget to Pin It On Pinterest!