This post may contain affiliate links.* As an Amazon Associate I earn from qualifying purchases. Click here to read our affiliate policy.
Estimated reading time: 13 minutes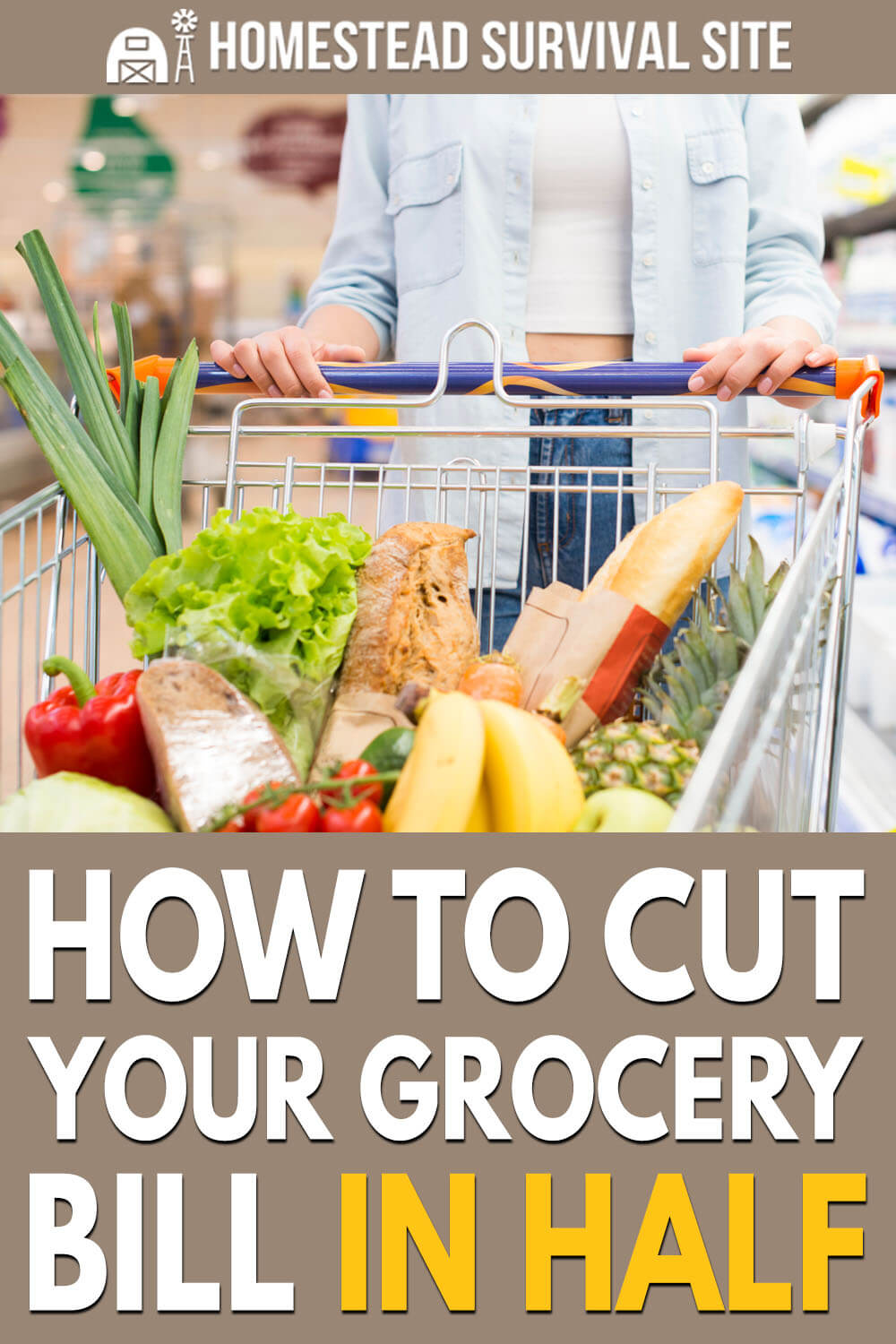 With the cost of groceries skyrocketing, we're all looking for ways to cut our grocery bill and save money. Aside from clipping coupons or starving ourselves, there are still plenty of ways to save money and eat healthy, fresh food.
Keep reading for 33 tips to cut your grocery bill in half and save your hard-earned dollars.
Want to save this post for later? Click Here to Pin It On Pinterest!
1. Cut Food Waste
In America, thirty to forty percent of the food supply is wasted. You can cut your grocery bill by an easy 30% if you simply don't waste food and only buy what you eat.
That means you should resist buying things just because they're on sale or you have a coupon. Only buy sale items if it's something you know you'll eat, and be sure to eat everything that you buy.
2. Use Up Leftovers
Leftovers don't have to be boring. You can reuse them in different recipes. If you have a little leftover grilled chicken, put it on top of a salad. Got a little bacon left? Top a cheeseburger. Turn some extra meat into soup, salad, or casserole to stretch those grocery dollars. If you are sick of eating the same thing, try freezing it for later use.
Related Article: Stop Wasting Leftovers! Here's How to Use Them
3. Go Meatless
Protein is an important part of a balanced diet, but that doesn't mean you need to eat meat at every meal. Try some meatless meals such as spaghetti, soup and salad, or scrambled eggs. One meatless meal per week could certainly cut down your grocery bill.
4. Shop Your Pantry
You've no doubt heard this before, but shop your pantry before running to the grocery store. Most of us have plenty of food stashed away in the cupboard that will go bad before we get a chance to use it up. Pull out the things in the back of your pantry before you make your grocery list.
5. Use Ingredients That Are About To Expire
Check out FridgeToTable.com for recipe ideas that involve ingredients you need to use before they go bad.
6. Make A Meal Plan
Plan your meals carefully and make a list of all the items you need to make those meals. The more items you use that you already have, the smaller your grocery bill will be. Then you'll only need to purchase those items that you actually need to get.
Bonus points for planning meals that make creative use of leftovers, too. The YouTube channel, Living on a Dime to Get Rich, has excellent videos on creatively using one package of meat for several meals.
7. Make A Grocery List
And stick to it! If you only buy what you need, you won't be tempted to buy extra items that you don't really need for the week. This will save you money.
8. Be A Little Flexible
Maybe you planned pork roast and potatoes for your Sunday night family dinner, but when you get to the store, pork chops are less expensive by the pound. Save a little money by being flexible on your meal plan. It's ok to make last-minute swaps to save a little dough.
9. Don't Buy Prepackaged Food
Convenience is costly. Most prepackaged items simply aren't worth the extra money. Sure, my kids love those little boxes of raisins or single-serving bags of chips and pretzels. But the extra packaging costs extra money.
Instead, buy full-size packages and separate them into smaller, reusable containers. This will prevent bingeing on too much food and saves money on convenience items.
10. Cut Your Calories
Most of us eat too many calories, so if you are healthy and able to (check with your doctor first!) you could simply eat a little less. You'll save your waistline and your cashflow. Drink a glass of water before every meal to help you feel a little fuller.
11. Play The Hunger Games
A good friend of mine plays "The Hunger Games" with her family. She takes all of the week's leftovers from her fridge and sets them on the table and lets her kids scramble to get the food they like first. It's her fun way to get the family involved in using up leftovers and not wasting food.
12. Know Your Price Points
Some people go to great lengths to create price books for all the items they purchase on a regular basis so they don't overspend on any particular item. That's a great system if you have the time and are detail-oriented.
For me, I only buy cereal if it's less than $2 per box and meat at less than $2 per pound. This may need to be adjusted to your particular town, but it can be done if you watch for good sales and stock up when you find the right price.
13. Alternate Grocery Stores
As a single mom of six kids, I don't have time to visit more than one grocery store per week. However, the local grocery store has the best prices on meat and milk, while the larger big box store in the next town has better prices on cereals and snacks. So I alternate weekly and purchase two weeks' worth of food at the better price.
14. Drink Water
We all have our favorite drinks, whether it's a diet soda, sports drink, or bottled water.  But we don't actually need those things. Skip the fancy fattening drinks and juices at the grocery store and just drink water from your tap, as long as it's safe.
15. Buy Store Brand
The difference in taste between a name brand product and a store brand product is all in our heads. Both types come from the same factories and are simply labeled and priced differently. In a blind taste test, you are unlikely to notice any difference at all, especially if you are using those items as part of a recipe.
16. Buy In Bulk
Purchasing items in bulk cuts down on packaging, so it saves both cost and trash that ends up in the landfill. You can bulk purchase anything you use a lot of, just don't buy so much that it will go bad before you use it and don't use more than you need just because you have it.
17. Cut Down On Trips To The Grocery Store
The more trips to the store we make, the more likely we are to purchase extra items that we don't need. This is because grocery stores are set up to entice us to purchase.
Those eye-catching displays at eye level have been researched and created to sell us on those products. So the fewer number of trips to the store, the fewer extras we are tempted to buy.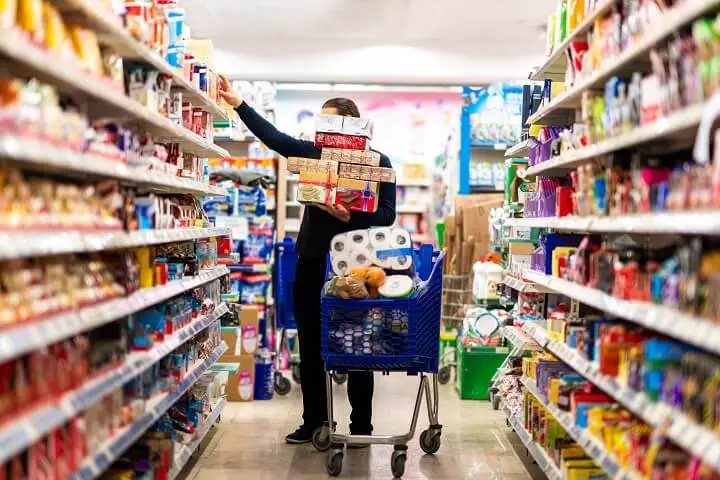 18. Use The Store Card
Most grocery stores offer a reward card—make sure to use it! You'll instantly save money at the checkout without doing anything at all.
19. Use A Rebate Service
Apps such as iBotta, Checkout51, Dosh, Receipt Hog, and Acorns are just a few apps that can help you either get money back by scanning grocery receipts or help you save money by rounding up to the next dollar and putting it in an account for you. Do a little sleuthing to find the one you like best.
20. Eat In Season
Fresh fruit in season is less expensive and healthier. For example, when you purchase blueberries from your grocery store in the middle of winter, you can be pretty sure they've been imported from a warmer country.
This is ok, but it greatly increases the price due to the cost of shipping and delivery. And the longer it takes to get from farm to table, the more the nutrients in the food degrade. In-season food is less expensive and healthier because it hasn't had to travel as far.
21. Try a CSA
CSA's are a great way to support local farmers, purchase food locally, and save money. Ask around to find the best CSA for you. Make sure it only includes items that you eat. Otherwise, you'll be wasting money on unused food.
If there are no CSA's in your area, try ImperfectFoods.com for a delivery of imperfect foods right to your door. You'll save money on all kinds of organic – or not – produce.
22. Don't Shop On An Empty Stomach
When we hit the grocery hungry, we are more likely to make impulsive purchases on convenience foods that we don't really need. Make sure to have a meal or snack before you shop.
23. Shop Online
Many grocery stores are now offering the option to shop online and pick up in store. This will help you save money because you'll be less tempted to impulse buy. Plus, you usually have time to revise your order if you realize you ordered something that you don't need.
24. Shop The Farmers Market At The End Of The Weekend
Farmers markets are a great way to get local produce, and at the end of the weekend—or whatever day the market ends for the week—many items are heavily discounted so the farmers don't have to take produce back home and have it go to waste. They may be willing to make you a great deal if you take their leftovers.
25. Set Your Grocery Budget
Figure out ahead of time how much you can actually afford to spend on groceries and stick to it. This may force you to be a little bit creative with your meals, but it will help you save money in the long run.
26. Split Bulk Items With Friends
If you're going to buy in bulk, why not go in with a few friends to save money? You can purchase meat, vegetables, or whatever in larger sizes and split them up to save money.
27. Grow Your Own
There is nothing like the taste of a tomato that you've grown yourself. And if you plant a couple of tomato plants, you'll be sure to have plenty for the whole summer. Just don't go crazy spending money on fancy gardening extras—all you need is a spot in the ground and some seeds or plants.
The most cost-effective food to grow is probably greens—lettuce, spinach, swiss chard, and other greens are cheap to grow, and they grow quickly. Plant heat-tolerant varieties from seed every two weeks for a constant supply of healthy fresh greens. You can grow them in a flower bed, a pot, or even a bag of soil split open on the top.
Sprouts can be grown indoors year-round and herbs are easy to grow indoors and out. Many vegetables can be regrown from the scraps. For example, you can grow a whole new celery plant but rooting the celery heart in water and planting it in soil once it has roots.
Related: 15 Fruits And Veggies You Can Regrow From Scraps
28. Pick Your Own
Fresh strawberries are great, but they can be expensive. However, if you go to a farm that allows you to pick your own, you can save money because they don't have to charge for the labor of picking. Don't make it a chore. Instead, make it a fun outing for the family. You'll get delicious, local foods at a fraction of the cost.
29. Buy A Cow
Or at least part of one. If you have a large freezer, you can skip the grocery store and head straight for the butcher or local farm. Buy a cow, pig, or other large animal and have the butcher cut it for you. They can make you whatever cuts of meat you want and you can put it right into your freezer.
The more you buy, usually the less expensive it is for healthier cuts of meat. If one whole cow is too much for your family or freezer space, consider splitting it with a few friends.
30. Preserve Your Own
Preserve the food you grew yourself or purchased in bulk. You can learn to can, freeze, dehydrate, dry, or even freeze dry.
If you are going to can, make sure you get a good book of tried and true recipes so that you don't accidentally make yourself sick by allowing bacteria into the food. Many foods are easy to dehydrate, such as bananas, tomatoes, and onions.
Related: The Beginner's Guide To Emergency Food Storage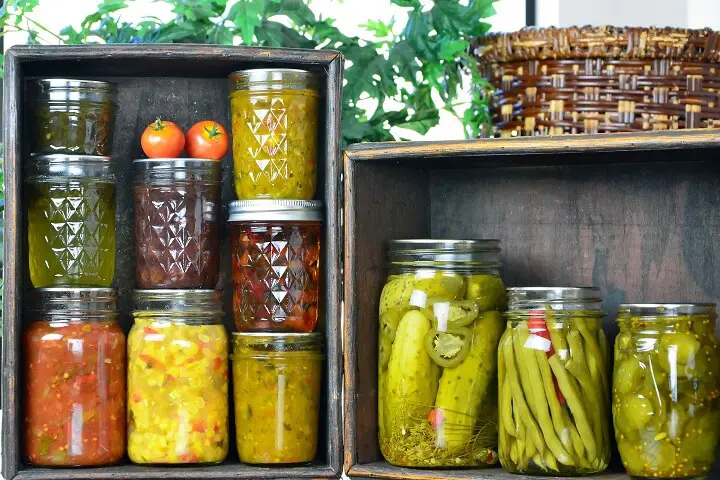 31. Don't Bring The Kids
I sure love my kiddos, but grocery shopping with them means surprises at the checkout when they sneak items into the cart or I feel like I need to reward them for good behavior. You'll likely get the best deals without the kiddos even when they are on their best behavior.
If you do need to bring them, get them involved in hunting for bargains. Bring some pictures of items you frequently purchase and have your little ones help hunt for them or give your big kids the coupons and have them search out the best deals.
32. Make Your Own
Get a little creative and think outside the box. If you have an abundance of milk, make your own yogurt in the crockpot (it's easy, I promise!). If you don't have money in the grocery budget for expensive cleaners, use some vinegar, water, and dish soap and add a few drops of essential oil to make it smell good.
Don't make an extra trip to the store if you ran out of ketchup, just take some tomato paste, tomato sauce, and make your own in the blender. My favorite salad dressing is one I make myself with some mayo, sugar, celery seeds, and just enough milk to make it smooth.
Desperate for a little honey mustard sauce? It's as easy as it sounds – mix up some honey and mustard to taste and you won't need to add fancy sauce to your list. If you love artisan bread, check out the Big Family Homestead YouTube channel for inexpensive bread recipes.
Related: 60 Things You Should Stop Buying And Start Making
33. Use It Up, Wear It Out, Make It Do, Or Do Without
This is a favorite saying of a good friend who was raised Mennonite. They didn't waste anything but used it up until it was "all" or all gone. And if the budget was all used up, they just did without until it was a new month. It isn't always easy, but it does help us use our imagination, creativity, and grit. You'll save money and eat healthy, too!
Like this post? Don't Forget to Pin It On Pinterest!
You May Also Like: