This post may contain affiliate links.* As an Amazon Associate I earn from qualifying purchases. Click here to read our affiliate policy.
Estimated reading time: 10 minutes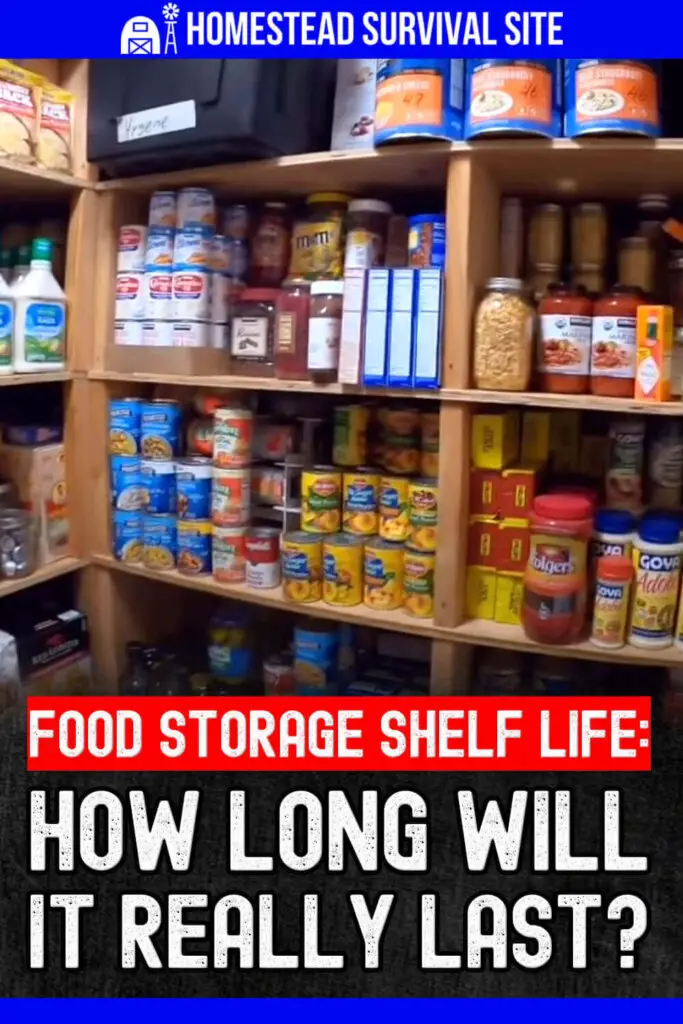 There are plenty of foods designed and processed for long-term storage. But what about everyday foods from the grocery store?
Anyone prepping for a catastrophic event is thinking about long-term survival foods. These are foods manufactured, processed, and packaged in a way that makes them shelf-stable for up to 20 or 30 years. They're good foods, but often require some additional steps to rehydrate, prepare, and make them taste as good as we'd like.
Want to save this post for later? Click Here to Pin It On Pinterest!
The Big Questions
After a disaster, the foods we'd really miss are those everyday foods we've become accustomed to. Foods like fruit cups, mac and cheese, instant potatoes, hamburger helper, and other off-the-shelf packaged goods. The big questions has to do with two critical considerations:
Shelf-life. How long will a grocery store food be safe to eat?
Loss of nutritional value. When does a processed, grocery store food lose its nutritional value?
Proper storage has a lot to do with these two factors, but there are other considerations.
Critical Success Factors for Any Long-term Food Storage
This list can get long so we'll try to short-form the highlights:
Packaging is perhaps the most important success factor for food preservation. Most long-term food storage options are hermetically sealed in #10 cans with resealable lids. Canned and jarred foods from the grocery store also provide exceptional packaging.
Many grocery store dry-goods have packaging options that leave something to be desired. Most pastas and other dried goods are packaged in cardboard boxes that can succumb to moisture and rodents like mice. Many dried beans are packaged in thin, plastic bags that are also subject to rodent invasion.
What it tends to come down to is either bottles, cans, bags, or cardboard boxes. The bottles and cans hold up the best. You can transfer products in these "soft" packages to better containers, but you still need to consider the shelf-life.
However, most canned foods are packed in water as opposed to the dried foods often found in long-term food inventories. That makes a big difference. Water or any other liquid can potentially become a petri dish for future bacterial growth. This is especially true for home-canning, but we'll get to that later.
Oxygen is another enemy of shelf-life in any packaged food. It's ironic that a gas necessary for animal and human life has a dark side, but oxygen is highly corrosive affecting packaging, and oh yeah… bacteria thrive on oxygen just like we do.
pH 101
pH is a measure of the acidity or alkalinity of anything from water to food to blood. It ranges from 0 to 14. Acidic measures from 0 to 6 with 0 as the most acidic. Alkaline measures from 8 to 14 with 14 as the most alkaline. A pH of 7 is identified as neutral. What's important to think about is the pH of foods.
Acidic Foods – Good News and Bad News
Because of the natural citric acids in foods like tomatoes, oranges, limes, lemons, pears, grapefruit, apples, peaches, and all berries, acidic foods have natural preservative powers that extend their shelf-life. Processed foods like pickles and sauerkraut with the added acetic acid from vinegar or fermentation also have good shelf-life and anti-bacterial properties.
Unfortunately, those same acids can cause internal erosion of metal cans and the metal lids on glass jars. It's why you see a white plastic coating on the interior of many grocery store canned foods with a high acid count. If you're considering buying a case of canned tomatoes to store for any length of time, buy one first and check the interior of the can. If the interior does not have a white coating, consider another brand before you stock up.
The Dark Side of Alkaline Foods
Alkaline foods include meats, beans, sauces, vegetables, canned fish and shellfish, certain soups, nuts, grains, and oils. Because of their low acid levels, they are less likely to compromise metal cans or jar lids, but they can easily become a hotbed for bacterial or fungal growth.
All alkaline foods require extended and specific processing. If you've ever done any home canning, you know these types of foods must be processed under pressure for longer periods of time. Unfortunately, some bacterial forms can still survive when home-canned, although it has rarely occurred with grocery store packaged goods in the U.S.
Nutritional Deterioration
Any food processing can result in the immediate loss of some nutritional value in certain foods. The bigger enemy is time. Over long periods of time, some foods lose a significant amount of their nutritional value. This is especially true for "wet-processed" foods that have been processed in liquids. Dried foods tend to retain more nutritional value with time.
The Importance of Calories from Fat
Beyond the benefit of taste we've come to know in many store-bought packaged goods is a nutritional benefit you might not expect. It's calories from fat. That may not sound appealing, but calories from fat provide long-term energy and internal body heat.
Carbohydrates, on the other hand, provide a short-term burst of energy fades quickly. Maintaining internal body heat is particularly important in winter, and calories from fat do the best job at that time. Food for thought.
Grocery store packaged foods that contain calories from fat:
Oils
Tuna, in oil
Meat as an ingredient in a canned food including beef, pork, and chicken
Naturally oily fish like sardines, salmon, mackerel and anchovies
Nuts
Peanut butter
Of course, too much fat can be unhealthy, so make sure you're also storing carbohydrates. Most long-term food stores sold in #10 cans feature pastas, grains, flours, sugar, cereals and other food stuffs high in carbohydrates and processed by dehydration.
Buy What You Eat and Eat What You Store
This is a standard mantra for all long-term food storage, but how many of us simply stash away those #10 cans and forget they're there? If stored properly, we could all probably get away with that approach, but it's different with grocery store foods.
As you'll see below, some grocery store foods have a shelf-life measured in months or a few years at the most. That's quite a contrast to long-term food stores that have a shelf-life measured in decades. As a result, it's important that you think like a grocery store manager. And foods you buy today should be stored on a shelf behind the foods you already have.
Also, use a laundry marker to write the date you purchased the food on the top of the can or bottle. It's probably a good idea to do this with any food you plan to store, even if it's a long-term food item in a #10 can.
The Importance of Temperature and Humidity for Long-Term Food Storage
Any food stored for a long period should be kept in a dry, cool, dark place  A dry basement or dedicated pantry is a good idea. A hot attic or damp basement is not. The worst is a garage where repeated freezing and thawing will ravage most stored foods with any amount of water or liquid inside. Worse, a glass jar could shatter when frozen.
You don't have to be fanatical about temperature. A range of 40 to 70 degrees Fahrenheit is ideal. Just make sure there's little or no moisture in the storage space.
Grocery Store Foods Cheat Sheet
This cheat sheet is rather conservative. It tends towards the safe side of food safety with regards to both grocery store packaged goods and home-canned foods. It's also conservative as it relates to the retention of nutritional value. You may have had experience with longer shelf-life with some of these foods, but we're playing it safe.
Ironically, the USDA actually encourages people to pay less attention to expiration dates in order to avoid food waste. You can click on the USDA link above to check that out for yourself. They also assume proper packaging and storage, but they're very liberal with shelf-life expiration and make no mention of nutritional loss.
Shelf Life of Canned Foods
• Canned Ham or Pork: 2 to 5 years. If the can is bulging at any time, discard it without opening.
• Low-Acid Canned Food – This includes canned meats, stews, most soups except tomato, pastas in sauce, canned poultry like chicken or turkey, olive oil, all varieties of potatoes, corn, carrots, spinach, beans, other root vegetables like parsnips and turnips, beets, peas, pumpkin and all other squash varieties: 2 to 5 years. Low acid foods have a low pH of 4 to 6. They require high-pressure processing and longer processing times but have a better shelf-life due to the fact that the alkalinity of the foods is less likely to compromise the package.
• High-Acid Canned Goods: This includes juices (tomato, orange, lemon, lime, and grapefruit, unless packaged in plastic); canned tomatoes, grapefruit, apples and apple products like applesauce, mixed fruit, peaches, acidic pie fillings, cranberries, pears, plums, all other berries, pickles, sauerkraut and other fermented foods; foods treated with vinegar-based sauces: 12 to 18 months. High-acid foods have a pH of 8 to 10 and only require a hot water-bath and less time for processing but have a lower shelf-life due to the potential effect of acids deteriorating both the product and the can, or jar/lid integrity over time.
• All home-canned foods including both acidic and alkaline food types plus most oils except olive oil: 12 months. Processing requires boiling for 10 minutes for high-acid foods; 20 minutes under pressure for low-acid foods. Add one minute for every 1,000 feet above sea-level. Home canned foods are potentially the most dangerous from a food contamination standpoint if not processed and stored properly. The shelf-life often is a maximum of one year if processed in any liquid, although vinegar can extend shelf-life as a liquid ingredient.
A Storage Strategy
It may be wise to store your acidic foods separately from your alkaline foods or home canned foods. As the cheat sheet shows, the shelf-life has a wide variance across these types of food. You should also do a check on how you've stocked and stacked your shelves so the newest foods are in the back and clearly marked with the purchase date.
Are Expiration Dates For Real?
Yes and no. Expiration dates on any food tend to also be conservative. Food manufacturers prefer to play it safe rather than risk litigation or compromise their brand due to a food contamination issue. But here again, the USDA admits that expiration dates are suggestions or general guidelines rather than a law or strict regulation. However, there are still some things to look for with all of your long-term food storage.
Long-Term Food Storage Warning Signs
The apparent integrity of the package. If you notice corrosion around a can or jar lid, that's a good sign that the package has been compromised. This could result in a metallic taste being imparted to the food or the entry of microbes that could lead to a food-borne illness. A dented package is also bad news.
Any can or package that is bulging is screaming a warning at you. The cause of package bulging is typically related to rampant bacterial growth and in some cases, fungal growth. If you notice a package bulging, discard it without opening it. Opening it could splatter the contents in multiple directions, spreading the contamination everywhere. That's bad news if the source of contamination is botulism, E. Coli, salmonella, or listeria. When times are tough, a bad case of food poisoning won't make anything easier.
The appearance of the food after opening. If you look into a can of carrots and they're all grey, you probably want to pitch them. Many packaged foods will lose a certain degree of color due to processing, but you need to assess the degree of color loss you'll tolerate. Significant loss of color is also an indication of reduced nutritional value. The same goes for the appearance of anything that looks like a mold or fungus. When in doubt, throw it out.
Odor versus aroma. Smell the food after you open the package. If anything has the odor of mildew or a putrid odor, discard it immediately. On the other hand, you should expect an aroma from many foods. A newly opened can of chili should smell like chili. The same goes for other foods from cranberries to grapefruit. The benchmark is simple: if you don't like the smell, there's probably a lot of other things in that package that won't agree with you.
2 Key Things to Remember:
Eat what you store and store what you eat.
When in doubt, throw it out.
Those two simple rules should ensure your food is safe and nutritious.
Like this post? Don't Forget to Pin It On Pinterest!
You May Also Like: