This post may contain affiliate links.* As an Amazon Associate I earn from qualifying purchases. Click here to read our affiliate policy.
Estimated reading time: 6 minutes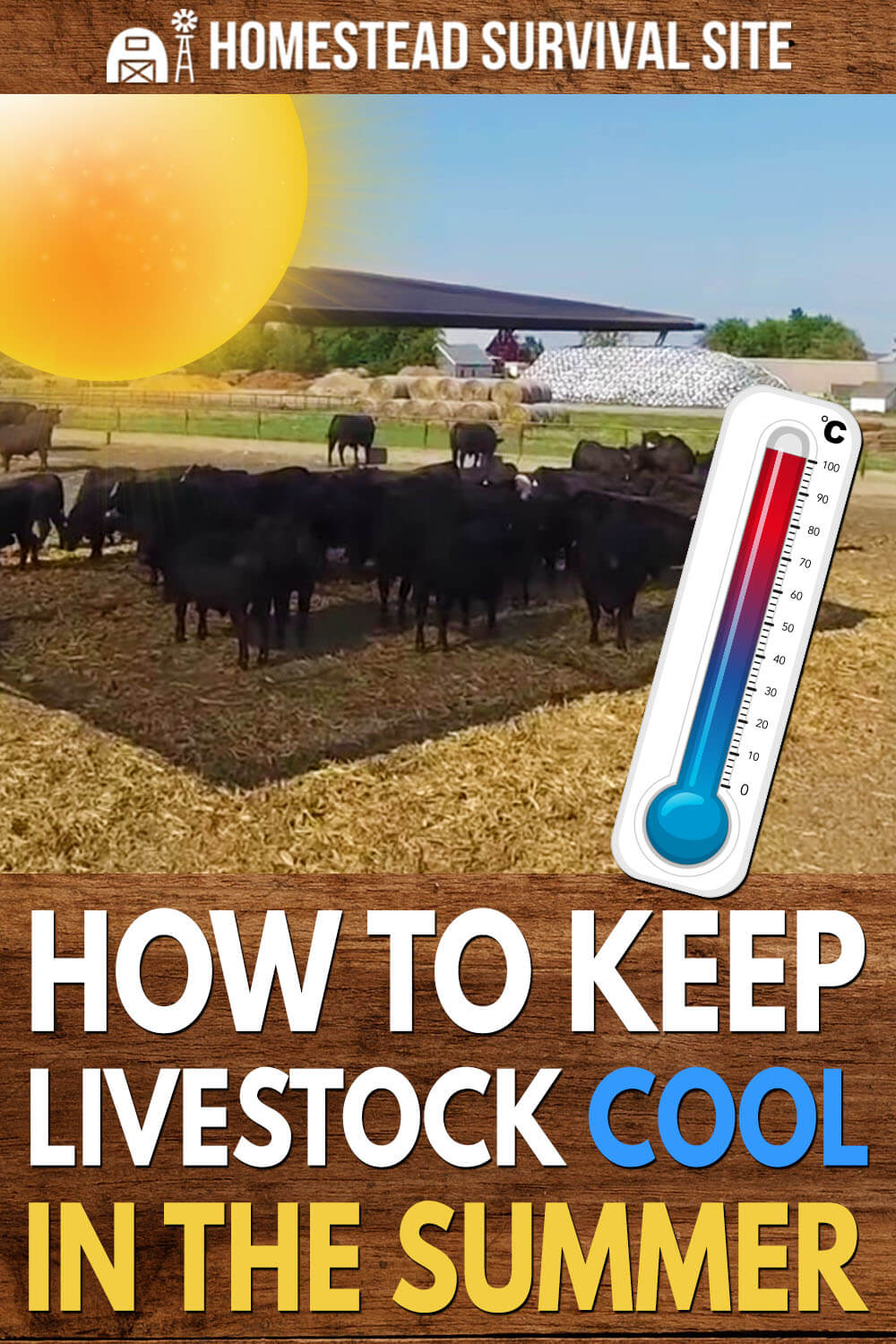 Summertime is always a busy season on the homestead. The growing season can often spread homesteaders thin when trying to manage the daily upkeep. Growing gardens, plenty of weeds, and land maintenance can create a long chore list from sunup to sundown.
Tending livestock on the homestead in the summer can be an enjoyable job. There are often baby animals born in the spring to watch, and there's plenty of warmth to grow multiple animals for food.
Want to save this post for later? Click Here to Pin It On Pinterest!
The warmer weather makes it nice to have the livestock out in their pens, and for those of us in Northern climates, it is nice to take a break from chiseling frozen water dishes or worrying about freezing temperatures.
While most summer days on the farm are often just right in temperature, there are times during the summer when the heat and humidity can rise to staggering levels. Keeping your livestock cool in the summer is vital to their health and crucial when raising livestock to feed your family.
Heat is a dangerous element that can significantly reduce your herd if not addressed immediately. Learn more about how to keep livestock cool in the summer with these tips.

Plenty of Fresh Water
This may be a given to some seasoned homesteaders, but water is one of the most critical items to have for livestock. Not only is it crucial for their health, but fresh cold water also helps cool livestock down in the heat of the summer. Every animal on the farm should have access to plenty of fresh water that is changed daily at the very least. 
Larger animals, like cows, horses, and pigs, may need their water refilled or topped off multiple times on sweltering days. This helps add cold water to their supply as well as keeps the bugs and mosquitoes from breeding in the water. 
Access to Shade
Another vital aspect of keeping livestock cool in the summer is making sure every animal has access to some sort of shade. This could be a large tree in the middle of a field or shade from nearby buildings.
Animals will find the shade and often congregate underneath it on the hottest of days. Make sure there is enough shade for every animal that has access to it. Fighting over shady spots in the pasture can cause stress and leave smaller, more vulnerable animals out in the direct sunlight. 
For those smaller livestock animals like chickens, make sure the area has some shade. Many chicken tractors have overarching shade, while some have shade only on one side. Again, it is crucial that every animal can access the shade all at the same time during the height of the heatwave.
Unlimited Ventilation
Barns and sheds do provide shade, but they often don't offer much ventilation. Living in a closed building during hot weather can be disastrous for livestock. Open all the windows, doors, and passageways to ensure that some fresh air can move through the building. 
Consider building an open building for animals that need some sort of protection but also would get overheated in a closed building. Putting livestock out on the land is the best way to provide unlimited ventilation. However, there may be instances when a large fan would keep animals cool while in a barn or more enclosed space.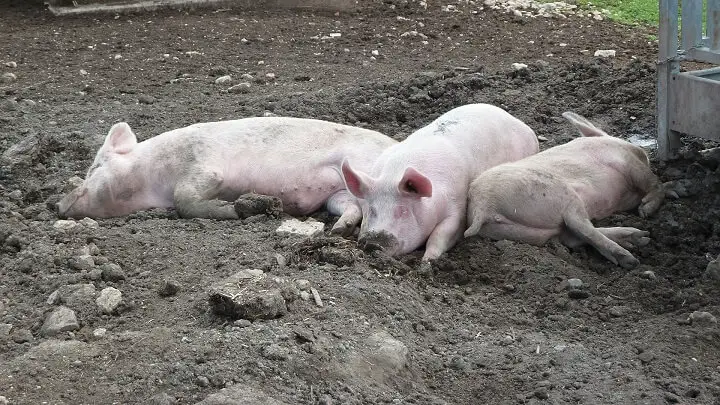 Spray Livestock Area Down
Just as we like to go swimming or run through a sprinkler on hot summer days, some animals also seek wet areas to cool down. While chickens don't usually like being sprayed with a hose, ducks, pigs, and horses often enjoy being sprayed with water.
Another way to help livestock beat the heat is to spray down their pens and areas every morning. This will create a cool spot for them to enjoy and often take all day to warm back up to normal temperatures. 
For larger livestock like cattle, make sure they have access to large areas of water to wade or sit in to cool off. Most homesteaders put cattle next to a stream or creek to help them regulate their body temperature. Consider making a small swimming pool for pigs to enjoy during the summer as well.
Let the hose run in their area to create mud puddles perfect for beating the summer heat. For those animals that enjoy the water, consider building a mister or small sprinkler area to help them have easy access to water whenever needed.
Feed in Early Morning or at Night
One of the first things many homesteaders do in the morning is to feed all of the livestock. Making sure that everyone is still eating, even on the hottest of days, helps keep everyone healthy. A tell-tale sign that an animal is in distress is when they refuse to eat. 
Refrain from feeding livestock from late morning to late afternoon. Digestion can raise body temperature and cause livestock to get hotter during these times. Feeding early in the morning or late at night helps the body naturally regulate itself during heat waves.
Supplement With Cool Treats
While most animals don't need extra treats to regulate their body temperature, you can help them feel better with homemade treats. Consider freezing part of a watermelon or berry scraps to give to chickens to help cool them down.
Offering cold vegetables or fruits to larger livestock is another way to help them feel better during the hottest parts of the day. 
Check on Livestock Often
When it is really hot, it can be tempting to stay in your air-conditioned house. However, it is vital to check on livestock multiple times throughout the day during heat waves. Make sure you check on each animal and note their behavior to help them through the summer heat.
Take extra care with more vulnerable, young, or older animals to make sure they are tolerating the heat. Pull out any animal that needs some extra care for some one-on-one attention with additional shade and plenty of water. 
Those new to homesteading may worry about their livestock getting too hot in the summer heat. It is important to note that animals react to heat just as we do. It is normal to see animals that are panting or look a little hot.
As long as you have supplied the livestock with water, shade, and ventilation, they should be able to handle the heat. Supplementing with cool treats and spraying them down can also help.
Make sure you follow all of these tips to keep your livestock cool in the summer. Letting animals get overheated is cruel, and it could cost you a lot of potential food. 
Like this post? Don't Forget to Pin It On Pinterest!
You May Also Like: