This post may contain affiliate links.* As an Amazon Associate I earn from qualifying purchases. Click here to read our affiliate policy.
Estimated reading time: 7 minutes
Disclaimer: I am not a medical doctor and nothing in this article should be taken as medical advice. Please talk to your doctor before using any of the herbs and/or remedies mentioned in this article.
Most homesteaders wouldn't dream of having a first aid kit that doesn't include Neosporin. It used to be my go-to for cuts, scrapes, and burns – until I had a baby.
Like most parents, I started looking at every single product in the cabinet and wondering if it was safe. Turns out, dermatologists, tattoo artists, and even doctors aren't crazy about Neosporin. Most medical professionals don't recommend it at all. And there are some very good reasons why.
Everyone's favorite over-the-counter wound dressing contains three active ingredients, all antibiotics: neomycin, polysporin, and bacitracin. While that may sound like a good thing, any of these three can cause allergic reactions ranging from mild skin irritation to full-blown anaphylaxis.
Worse yet, repeated exposure can contribute to sensitivity later in life. Most people who experience severe reactions are over the age of 70. Yikes. To top it all off, these active ingredients are suspended in a petroleum jelly base – a nasty byproduct of the oil industry. Who wants that on their skin? Not me.
As my last tube of Neosporin ran out, I started looking for natural alternatives that I could cook up at home. After reviewing dozens of recipes, I combined a few of the best ones and modified my recipe to work with what I had on hand. What I came up with is a combination cut and bruise balm using ingredients I had growing on my property and sitting in my pantry.
In the end, this "natural Neosporin" has been the perfect salve for scrapes, cuts, and burns. It smells wonderful, and I feel good about putting it on my toddler's sensitive skin.
Want to save this post for later? Click Here to Pin It On Pinterest!
The Active Ingredients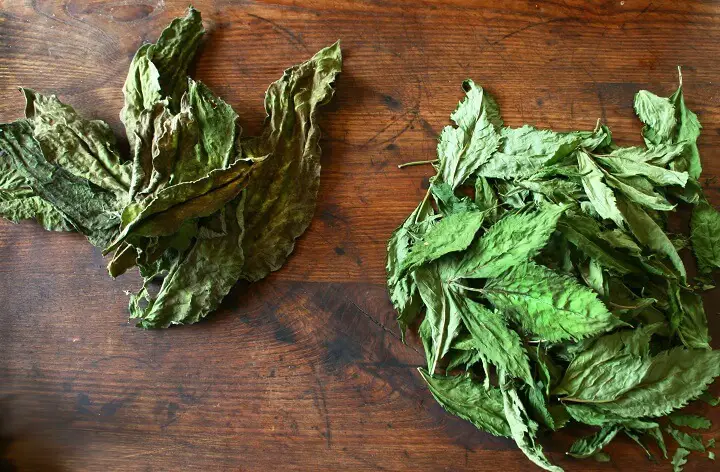 If you have arnica flowers growing nearby, you can add them for the same anti-bruising effect as elder leaves, but elder leaves may be more widely available, as they grow wild in great abundance. There are many other botanicals you can use, such as echinacea root, dried plantain leaves, or yarrow, but I chose those that were most readily available in my area.
As far as the carrier oils go, you can use almond oil instead of olive oil if you like, and shea butter or cocoa butter can take the place of coconut oil. However, coconut oil has antimicrobial properties that make it particularly effective as a Neosporin replacement.
You must use beeswax to give the salve a balm-like quality and to ensure it doesn't liquefy in a warm environment. Lavender is a much-beloved essential oil for promoting healing, but some folks don't like the fragrance, and others are allergic to it.
I prefer frankincense oil for its healing properties, so that is what I used in my recipe.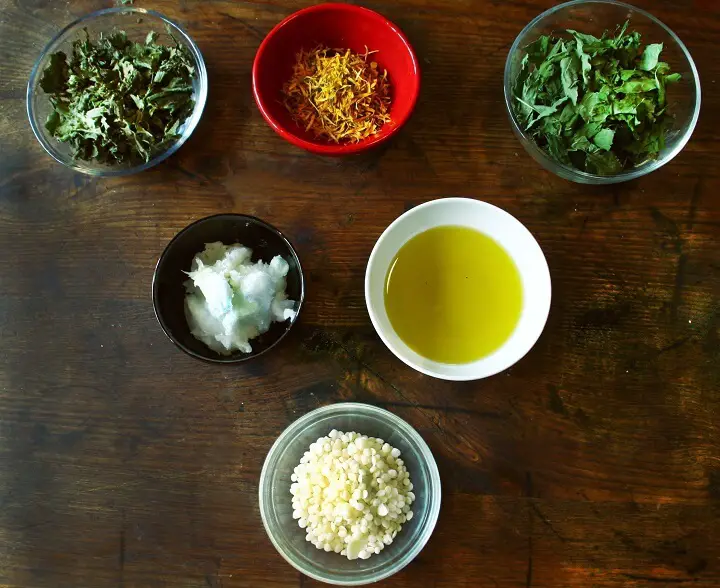 What You Will Need:
Instructions:
Note: If you are harvesting fresh plant materials, you will want to dry them before you get started. A dehydrator is ideal, but you can also use a variety of methods for drying – from placing herbs in the oven at the lowest setting to hanging bundles of leaves in a paper bag for a few days. Using dry herbs helps prevent any moisture in the salve, which is important for keeping it fresh long-term.
Infusing The Oil
Measure out your dried botanicals and place them into a double boiler. If you have a kitchen scale, you can weigh them out, but there is no need to be super precise. I find that a small handful of each works just fine.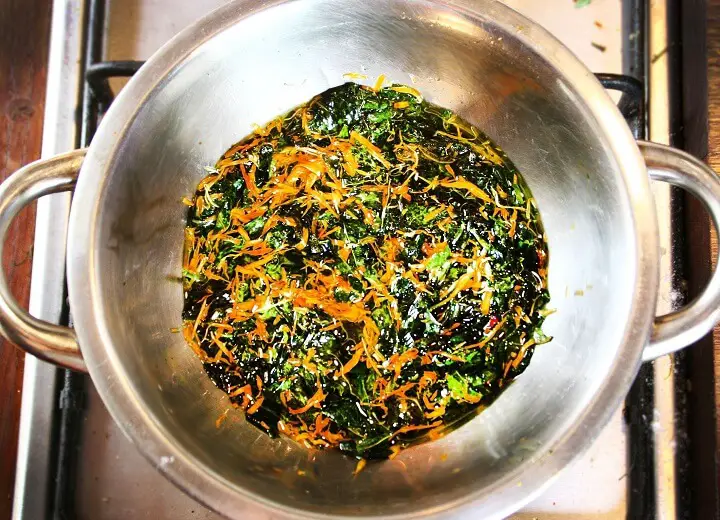 Measure out the oils and pour them over the botanicals, then put them over low heat for 3-4 hours. Make sure the water level stays high enough in your double boiler. If you are willing to wait, you can pour warmed oils over your herbs in a jar and let them infuse for 2-6 weeks for a more powerful concentration.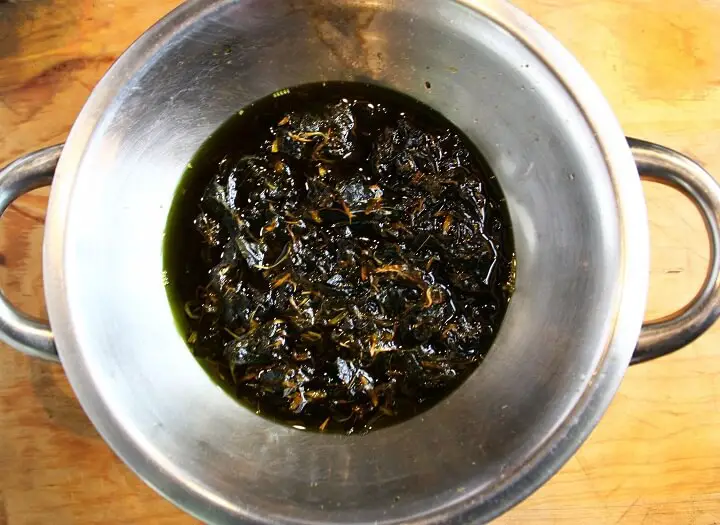 Making The Salve
Strain out the plant matter from the oil by pouring the infusion through cheesecloth or a coffee filter. Once it has all filtered out, give the spent leaves a little squeeze to get the last bit of oil out.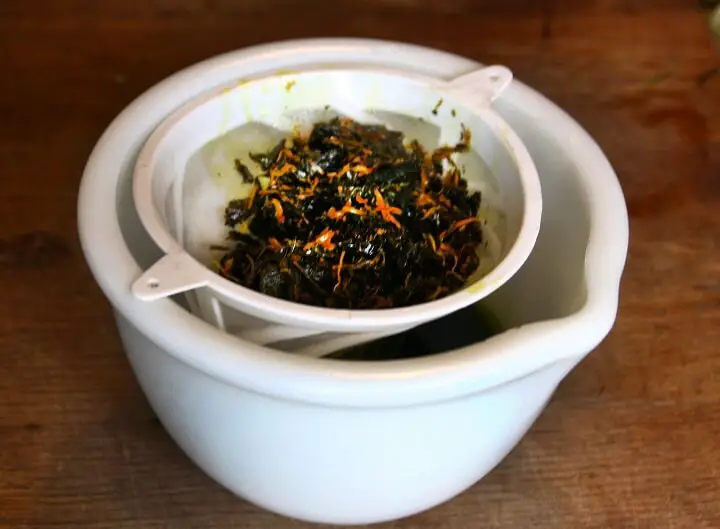 Discard your herbs, and give your double boiler a wipe to remove all residues (if you used one).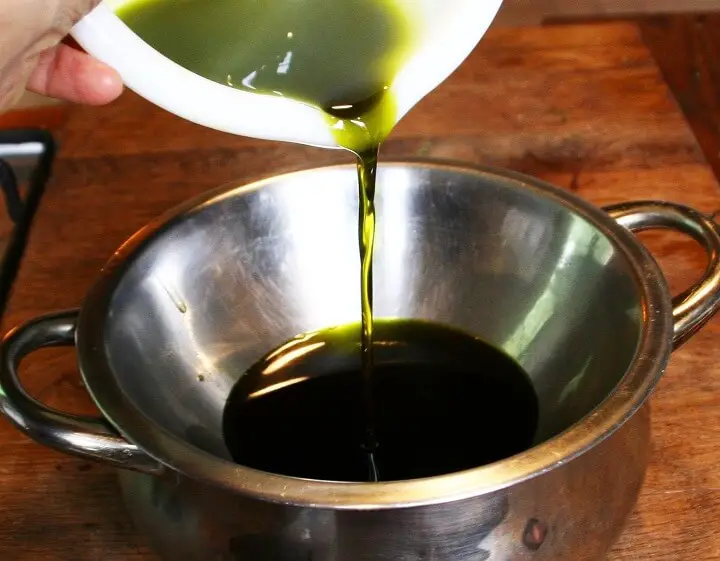 Combine the infused oil, which should be quite a nice, deep green at this point with the beeswax in a double boiler. Add the honey and essential oil, and once all is well-combined, remove it from the heat.
Pour your still-warm concoction into glass jars or tins, and use as needed.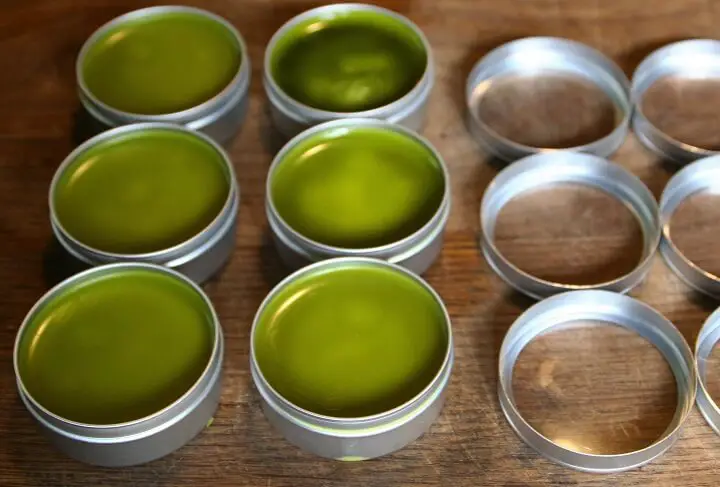 Uses
What makes this salve far superior to Neosporin is that it can be used liberally and on a regular basis without worry about allergic reactions or overexposure to antibiotics. Keep this salve on hand and apply it to cuts, scrapes, burns, and anywhere you've taken a hard impact.
But you don't need to have had an injury to use this balm. You can also use it to soothe skin irritations, diaper rash, or cracked skin. It should be perfectly good for up to six months, but if you want it to last indefinitely, store it in the refrigerator.
Like this post? Don't Forget to Pin It On Pinterest!