This post may contain affiliate links.* As an Amazon Associate I earn from qualifying purchases. Click here to read our affiliate policy.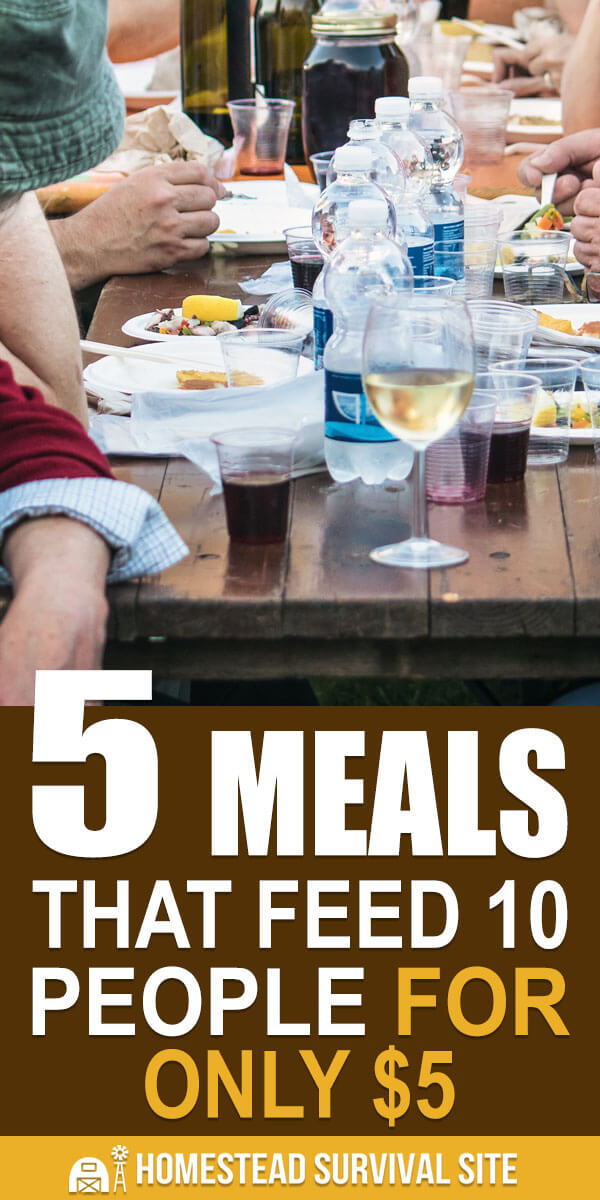 If you have a big family, then you have a big grocery bill. Figuring out how to feed half a dozen or more people every single day without breaking the bank can be a huge challenge.
The folks at Big Family Homestead are very familiar with this challenge. Over the years they've come up with several meals that can feed about ten people, and each meal only costs five dollars or less. And we're not talking plain ole beans and rice. These are meals that even the kids like.
Want to save this post for later? Click Here to Pin It on Pinterest!
Here they are…
Spaghetti and Fresh Bread
2 lbs spaghetti – $2
2 cans of sauce – $2
1 loaf of Artisan bread – 40 cents
Olive oil for dipping – 20 cents
Total: $4.60
Breakfast Burritos
1 dozen eggs scrambled – $1.25
1/2 pound diced ham – $1.20
Tortillas – $1.50
Cheese – $1.00
Total: $4.95
Unstuffed Cabbage Casserole
1 head of cabbage – $1.00
1/2 pound ground beef – $1.50
3 cans of diced tomatoes – $1.50
Cheese to top it with – $1.00
Total: $5.00
Baked Potato Bar
Baked potatoes – $2.00
Butter, sour cream, cheese, etc. – $3.00
Total: $5.00
Biscuits and Gravy
1 pound ground pork sausage – $3.25
Milk and butter for gravy – 50 cents
Flour, salt, butter, and buttermilk for biscuits – $1.00
Total: $4.75
Watch the video below for some more details on preparing these meals.
You May Also Like: