This post may contain affiliate links.* As an Amazon Associate I earn from qualifying purchases. Click here to read our affiliate policy.
Estimated reading time: 6 minutes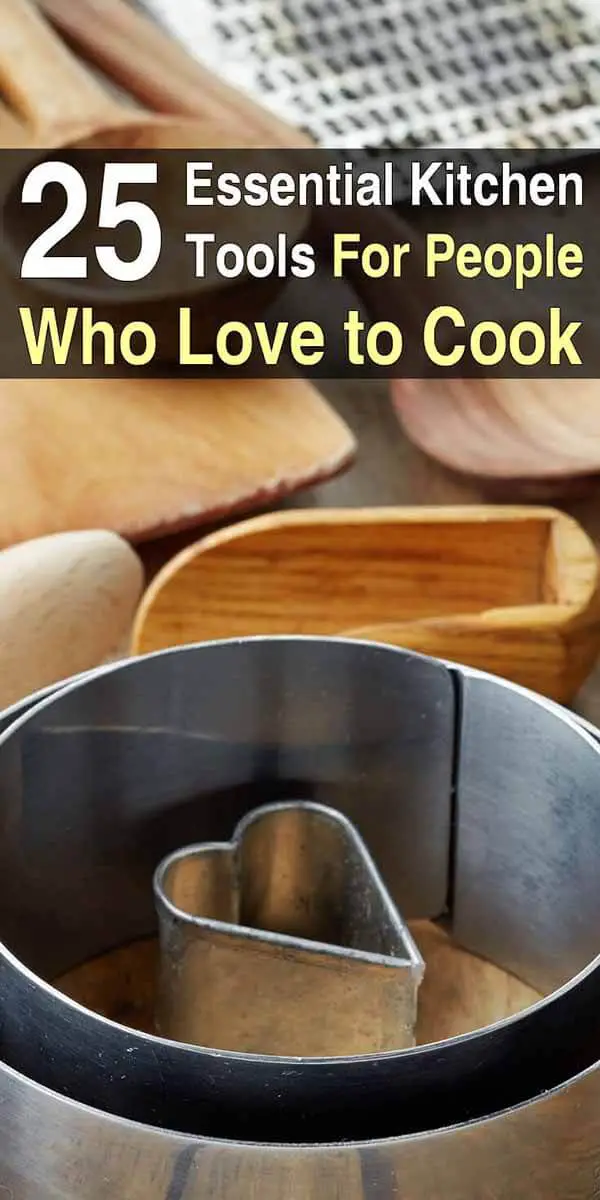 If you've wanted to cook from scratch only to see a recipe that uses a bunch of kitchen utensils you don't own, you're not alone! Learning to cook from scratch isn't that hard and will save you tons of money, which is why it's absolutely worth it to invest in a few good kitchen tools. It's absolutely worth it to invest in a few good tools.
Here's a list to get you started but you can pick and choose to meet your own needs.
Essential Kitchen Tools
1. Crockpot – Crockpots are the best way to make from-scratch meals with ease. Just toss in your ingredients and wait! Check Pinterest for tons of recipe ideas.
2. Pastry/Dough Blender & Bench Scraper – These two simple tools make foods like biscuits, breads, and pastries so much easier! Never try to blend butter and flour with a fork again.
3. Pressure Canner – If you want to can garden produce, a pressure canner is a must have. They allow you to safely can low-acid foods like corn, green beans, and even meat. You can also use them to pressure cook foods like beans and water bath can high-acid foods. Both Presto and All American Canners are awesome choices.
4. Cast Iron Dutch Oven – Dutch ovens are for more than camping, though they can be used to cook in a wood stove or open fire if you're so inclined. Dutch ovens are great for holding in flavor, moisture, and heat and can be used for slow cooking meals on the stovetop or in the oven.
5. Heavy Rolling Pin – Rolling pins are a necessity to so many recipes that it's worth it to purchase a good one. Heavy duty ones also come in handy breaking things like hard candy or frozen berries for certain recipes.
6. Potato Masher – They're named for mashed potatoes but there's a lot of other foods that are great mashed. They can be used to crush herbs on a cutting board or mash berries for making jam.
7. Glass Storage Containers (for dry goods) – If you're doing a lot of from-scratch cooking, odds are you'll have a lot of ingredients around. The best way to organize and store them is with glass containers. They'll look good, stay fresh, and be easy to find.
8. Glass Tupperware (for leftovers) – If you're trying to cook from scratch as much as possible, you'll probably have leftovers. Leftovers mean less cooking later on and they can be safely microwaved or frozen in these glass containers.
9. Strainer – Most people have a colander but few have a mesh strainer. Strainers are perfect for make-shift steam baskets and straining smaller ingredients. Smaller ones are perfect for loose leaf tea.
10. Dehydrator – If you have a large garden, dehydration is one of the easiest ways to put up extra produce. Plus, you can use a dehydrator to make yogurt, sourdough starters, tempeh and more. It can also be really handy to dehydrate whole meals ahead of time so you'll have something quick in a pinch.
11. High Quality Blender – Blenders are great for smoothies on those hectic mornings when that's as from scratch as it gets. They're also great for making dips like hummus and can be used for many food processor needs.
12. Wheat Grinder – There are so many affordable flours that a wheat grinder isn't really a necessity, but you may want one anyway. Grinding your own wheat gives you the freshest flour at the lowest possible price.
13. Stand Mixer – You can absolutely get by without a stand mixer, but they do save you a lot of hard work, especially if you bake a lot. Kitchen Aid stand mixers also have optional attachments available like food shredders and grinders, apple peelers, pasta makers, and even food processors.
14. Pasta Maker – Fresh pasta is one of the best from-scratch foods, and if you have a pasta maker it requires little effort.
15. Egg Beater – Hand crank eggs beaters are handy for whipping up salad dressings, sauces, icings, and homemade mayonnaise.
16. Quality Cutting Boards – Cheap plastic cutting boards expose your food to nasty chemicals and if you use them a lot you may even end up with microscopic pieces of plastic in your meal. Opt for glass, stone, or wood instead. They even look nicer.
17. Thermometer – Thermometers are for more than just Thanksgiving dinner. If you plan on making bread, candies, or some pastries, a thermometer can come in handy. It can also be used to see if your oven is heating accurately.
18. Garlic Press – Garlic makes almost everything better and garlic presses make garlic better. No more messing around trying to peel and dice garlic–just pop a clove into the press and squeeze.
19. Knife Sharpener – You might think your knives that haven't been sharpened in three years are fine, but sharp knives can make such a difference when preparing food. There's a lot of different sharpeners to choose from and they're really easy to use.
20. Trivet – A trivet is the thing you set hot dishes on so they don't burn your table or counter. There are plenty of nice looking ones that are perfect for serving big family meals at the table.
21. Kitchen Scale – Some cooks just like to wing it, but if you like to be precise or cook recipes that require it, you might consider a kitchen scale.
22. Flour Sack Towels – Obviously every kitchen needs towels, but flour sack towels are great if you need something a little less fuzzy. They can be used to dry produce or to lay over rising bread dough. They're also cheap!
23. Grater – Orange zest, cheese, carrots, ginger–there are a lot of things that need grating. Most importantly, though, you need to grate potatoes for hash browns.
24. Wine Opener – How can you cook without a glass of wine in your hand? Well even if you don't drink wine, it does add a lot to certain recipes and it would be awful to get home with a bottle and not be able to open it.
25. Salt and Pepper Grinders – If you're cooking from-scratch meals, you're going to want to go all out with freshly ground salt and pepper to top them. There are also herb grinders available if you're so inclined.
Final Thoughts
Cooking from scratch can save you money and help you eat healthier, but it can also be stressful. Putting healthy, homemade food on the table is no easy feat. That's why a few tools to make your life easier are absolutely worth it. What's your favorite kitchen tool?
People think of fried chicken as a modern food, but it's been around for several hundred years. This fried chicken recipe is from 1736.
You May Also Like: