This post may contain affiliate links.* As an Amazon Associate I earn from qualifying purchases. Click here to read our affiliate policy.
Estimated reading time: 7 minutes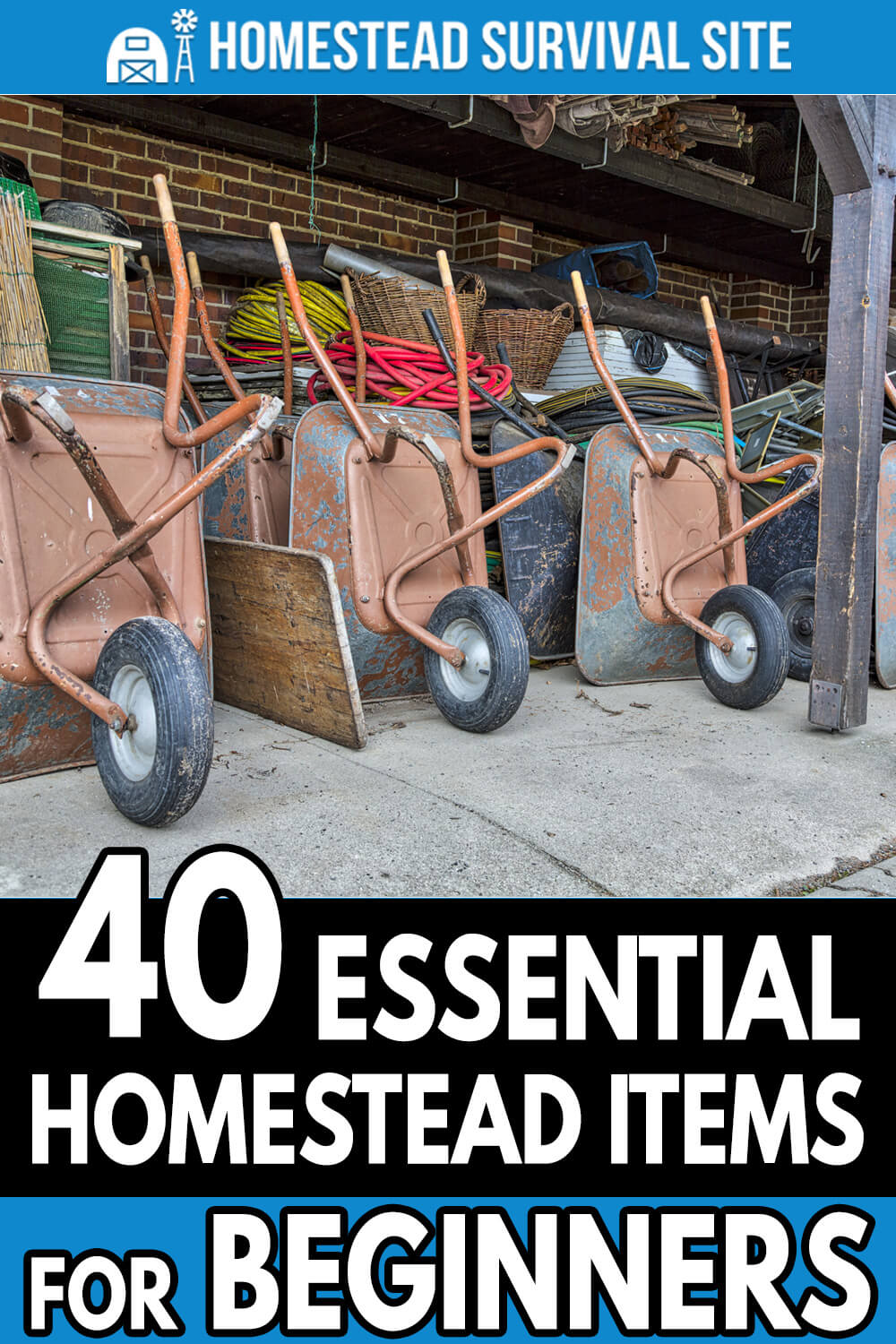 When I was brand new to starting a homestead, I read everything I could find about what I needed to get started. Over time, I came to realize that you don't need any of the fancy or complicated items you'll find on most lists. You just need a few basic items to get started, and you can build from there. 
You'll need some garden basics, some basic tools, some kitchen tools, and if you have livestock, some things for them, as well. Whether you choose electric-powered items or hand-powered tools is up to you, and largely depends on whether or not your homestead is off the grid. 
Want to save this post for later? Click Here to Pin It On Pinterest!
I like to have a powered and a non-powered version of each, and many of these basic items are things you would find around any household, not just a homestead. Look for tools that are ergonomically correct and have multiple uses. 
You may not need everything that I use, but over time, you'll figure out what items are most important for your individual homestead. To get you started, here is my list of essential homesteading items for beginners. 
Garden Basics
Whether you have a small raised bed garden, a few square-foot garden beds, or an extensive and large garden where you raise all or most of your own food, you'll need a few items to work your soil. You'll need to dig, plant, water, and harvest. 
Shovel –

A good shovel with an ergonomic grip will help make gardening chores easier. 

Hoe –

For digging out weeds. 

Scythe or Hand Scythe –

If you don't have a powered mower, or you want to work in a small space, a scythe or hand scythe might be just the thing.

Trowel –

For digging around plants and planting seeds and seedlings. 

Hand Pruners –

You can prune and harvest with a good pair of hand pruners.

Hoses or Water Cans –

The larger your garden, the more water it will need. Is a watering can enough or will you need to lay down an extensive irrigation system? 

Basket for Collecting Produce –

A sturdy basket will help you collect garden produce and avoid dropping and bruising it. 

Wheelbarrow –

You'll need the means to haul dirt and manure, yard and garden waste, and even firewood on your homestead. Make sure your wheelbarrow or yard cart is sturdy and can bear a heavy load. 
Tools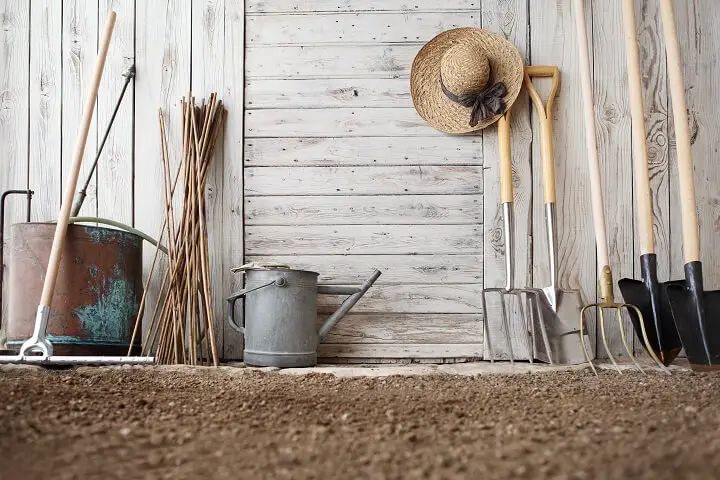 You may need to build sheds, repair fences, make home repairs, cut down trees, and chop firewood if you have a wood stove. Pneumatic hammers will make building projects much easier, although you can do a lot with just a handheld hammer and nails.
It's probably better to have fewer, higher quality tools that will last than to have a toolbox full of tools that keep breaking and falling apart.  
Saws –

You'll need saws for different occasions. Will you need a hack saw, band saw, jigsaw, or just a little saw for cutting tree limbs? 

Drill and Bits –

Will you use a rechargeable drill or a hand-powered version? 

Wrenches
Screwdrivers
Chainsaw –

Electric chainsaws are easy to use, but then you are tied to your home's power source. Gas-powered chain saws are harder to start, but you'll have more freedom to move with it. 
Kitchen Tools
Every kitchen needs some basic items such as cookware, utensils, and something to eat from. Will you use powered mixers or hand-powered mixers? Do you prefer stainless steel cookware or cast iron? You'll want to make sure you have the basics that you need to preserve food as well as cook it. 
Cooking Utensils –

Cooking spoons, carving knives, measuring spoons, cups, and mixing bowls are all a part of cooking on a homestead. 

Pots and Pans –

I prefer cast iron for most of my cooking, but for acidic foods, I like to use stainless steel. Avoid using Teflon coated pots and pans if they have become scratched or are flaking.

Hand Mixer or Stand Mixer – This could be anything from a KitchenAid stand mixer to a small hand-powered mixer. You'll need to mix batters, eggs, and anything else that needs to be light and frothy.
Dehydrator – You can dehydrate in your oven or next to your woodstove, but having a self-contained dehydrator makes the work easy and frees up space in your oven for cooking meals.
Canner and Canning Supplies – Certain foods can be canned in a water bath canner, but for many foods, you'll need a pressure canner. You'll also need things like mason jars, lids, rings, and items to measure as well as the ingredients for the canning recipe. You may also want to get a canning book, such as The All New Ball Book of Canning and Preserving. 
Plates and Cups and Flatware
Livestock Items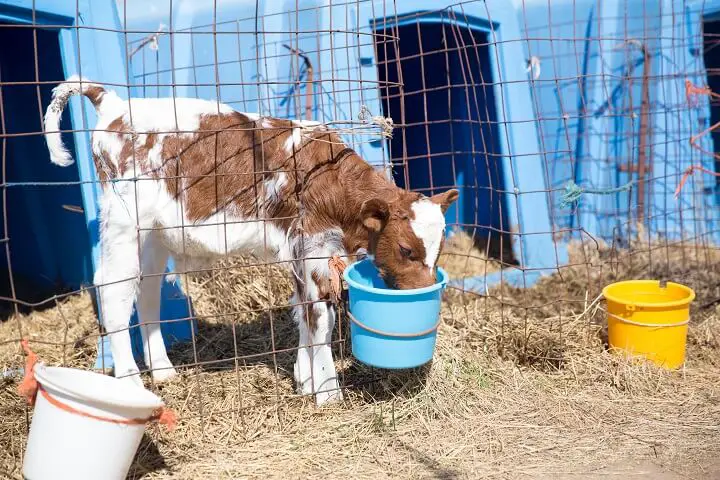 If you're going to have livestock, you're going to need a few basic items to take care of them. Of course, your animals will need appropriate sheds or coops and fencing, but what else do you need? 
Buckets –

Extra buckets can be used to haul food and water, or even serve your animals food and water. 

Waterers –

The type of animal and the weather will determine what type of waterer you need. 

Feeders –

Do you need goat-proof chicken feeders? Or can you just toss all the food into a bucket?

Shovel –

You'll need a good shovel for mucking out stalls and moving manure. 

First Aid Supplies –

Animals can have emergencies, too. Keep some basic supplies around for minor injuries and the phone number of a farm vet for major emergencies. 

Hoof Care –

Horses, donkeys, and goats have special needs for hoof care. Make sure you have the supplies you need on hand. 

Feed Storage –

Keep feed stored in rodent-proof containers so you don't lose expensive feed to mice and rats. 

Crates –

You may need to separate a sick animal, protect a hurt chicken, or transport animals to the auction or vet. Make sure you have some appropriately sized crates around.
Around the Homestead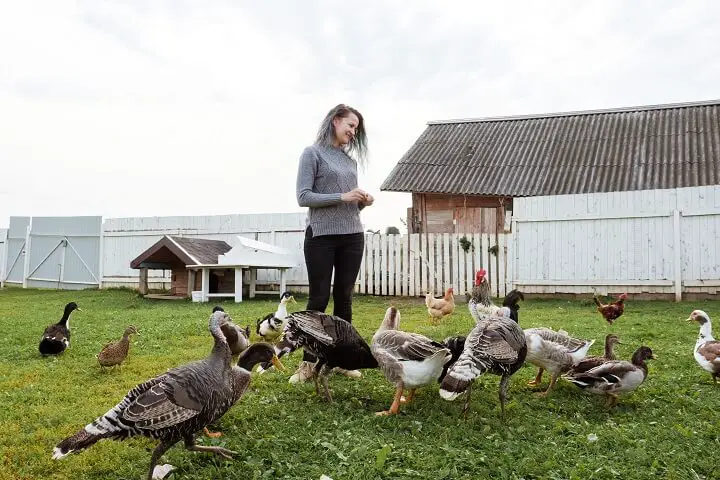 Of course, there are odds and ends you will need around the homestead as well. Over time, you'll figure out what items you use most and what items you hardly use at all. 
Knives –

You'll need knives in the kitchen, of course, but you'll also need some utility knives or pocket knives. 

Oil Lamps –

If the power goes out, you'll want some alternative means of lighting. Oil lamps are a great alternative to battery-powered items. 

Rope
First Aid Supplies –

You're going to want plenty of first aid supplies. You can start with a basic first aid kit, but make sure you have plenty of bandages and items for large emergencies as well as small wounds. 

Flashlights and Extra Batteries
Hats, Gloves, and Boots –

As homesteaders say, there is no bad weather, just bad clothing. Does your area get winter weather? Rain? Mud? You'll need clothing for each season of the year to keep you warm (or cool) and dry.
Like this post? Don't Forget to Pin It On Pinterest!
You May Also Like: