This post may contain affiliate links.* As an Amazon Associate I earn from qualifying purchases. Click here to read our affiliate policy.
Estimated reading time: 8 minutes
Starting a homestead is an exciting endeavor, and sometimes it's an expensive one too. Searching for used equipment and bargains at farm auctions will save you a ton of money when first launching a self-reliant lifestyle on a survival homestead.
Flea markets and yard sales are a great place to score homesteading bargains as well, but the selection is far more limited than the offerings found at farm auctions. Even if you are homesteading on small acreage – or even in the suburbs – there are tons of finds awaiting you at farm auctions. 
Want to save this post for later? Click Here to Pin It on Pinterest!
Sure, you can expect to find large farm machinery and livestock at the auctions, but there are literally hundreds of other items that homesteaders can make use of even if they don't live on 20 acres of land.
Every year a caravan of survival homesteaders from my area of Appalachia journeys to the weeklong Amish farm auction in Mount Hope in the northern Ohio area. No one ever leaves disappointed. I once bought 5 saddles, a saddle stand, 2 horse blankets, 6 breakaway halters, 8 lead straps, and a handful of used halters for less than $500 at the Mount Hope auction.
Contrary to what many folks think, you will not need a pickup truck or a trailer hitch to haul away all of the preps and homesteading items you purchase at a farm auction. Manual tools abound at such venues and they can fit nicely inside of the trunk of a car.
Top 15 Homestead Supplies To Look For At Farm Auctions
1. Cast Iron Cookware
Score already aged and seasoned cast-iron cookware at farm auctions. Like wine, cast iron improves with age. Even if the vintage cast iron offered up for auction is rusted, throw up your hand and place a bid. A little bit of elbow grease – or a sanding bit on a power drill – is all that is needed to bring the cast-iron back to its original and safe-to-use state. 
2. Rifles
Firearms are often sold alongside other traditional farming supplies at auctions. Some auctioneers allow the weapons to be tested before the bidding starts, but others do not.
When purchasing a rifle or other firearm at an auction, expect to undergo a background check, even if you are a concealed carry permit holder, before being allowed to take possession of the find.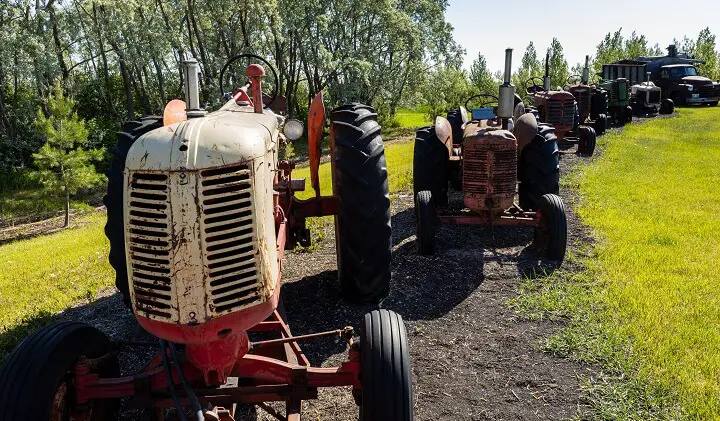 3. Tractors
If you are in need of a tractor, a farm auction is a great place to look. Do not expect to find some fancy air-conditioned unit at a farm auction. Instead, you should unearth durable and easy-to-work-on tractors dating back to usually the 1940s.
If you know how to weld and have stockpiled scrap metal, you can probably even fabricate many of the parts you need to the vintage tractors.
4. Hay Baling Equipment
A farm auction usually also boasts a plethora of hay baling equipment such as daisy rakes, conditioners, and wagons. If your survival homestead is large enough to keep livestock, you also hopefully have a hayfield that can be cut so you don't have to rely on others to get your animals through the winter.
During an SHTF event, your only sure chance to keep your protein and milk sources alive will be to feed them yourself. 
5. Heavy Equipment
If you are in need of a brush hog, seed spreader, skid steer, a dump truck, or even a backhoe, a farm auction is a superb place to start shopping. All of these pieces of heavy equipment can help you build, maintain, and repair your homestead.
If you live in a rural area like I do, making extra money renting out your heavy equipment services on the weekend, or eventually as a full-time work from home job, is entirely feasible.
6. Power Tools
I really do not think it is possible to own too many tools – at least that is what my husband keeps telling me. If you heat your homestead with wood, scoring some cheap chainsaws with a decent amount of life still in them at farm auctions should definitely be on your "to-do" list.
Even if the chainsaws are not guaranteed to work, if they are the same brand as another one you own, the auction finds can be harvested for spare parts. Power drills, welding equipment, table saws, miter saws, band saws, etc. are often featured at agricultural auctions.
7. Manual Tools
These are a must on any homestead, even for self-reliance folks who do not consider themselves "preppers" and are preparing for a long-term disaster without electricity.
When you are out working on a fence line, in the barn, or building a storage shed, it is unlikely you will be able to plug in power tools to charge them up. Sometimes, just toting all of the heavy power tools you will need to a spot on your homestead is difficult to impossible – even with an ATV.
Manual power tools you should be on the lookout for at a farm auction include: hammer, maul, axe, manual drill, scythe, sickle, machete, horse-drawn wagons, logging, and agricultural machinery, as well as screwdrivers, wrenches, screws, nuts, bolts, washers, and nails – I am told you cannot have too many of them either.
8. Butchering Supplies
If you are going to raise your own meat, then you should have the supplies on hand to process it as well. Operating a home butcher shop may require permits or zoning restraints if you are not fortunate enough to live in a rural area – best to know what might cause you to get fined BEFORE heading to a farm auction.
9. ATV
Getting a good deal on a four-wheeler or a side-by-side style vehicle at a farm auction will allow you greater mobility on your homestead. You can hitch a trailer to an ATV and use it to haul just about as much as you could fit in the bed of a standard pickup.
An ATV is a fuel and money saver on a homestead and allows you to tote tools through rugged areas far more easily than you could on foot. An ATV, especially one that has a trailer attached, could also be turned into a durable bugout vehicle.
10. Canning Supplies
I have never been to a farm auction that does not include ample water bath and pressure canning supplies among its offerings. You can clean and sterilize used Mason jars – a quality jar can last a lifetime of repeated use.
Canning jar rings can also be cleaned and reused many times, but never purchase used lids, only the ones that are in a package. Even when buying old lids in a sealed package, there is a chance that the rubber on the lid could still be damaged and may not seal properly.
11. Livestock
Most farm auctions also include livestock on the sale block. While I would never buy a horse from a farm auction (although many folks do) such sales are a great place to buy chicks, ducklings, guineas, goats, sheep, and cattle.
12. Seeds And Produce
Enhance your homesteading gardening efforts by purchasing heirloom seeds and farm-fresh produce at auctions. Even if you did not grow the produce yourself, you can or dehydrate what you buy to make it shelf-stable.
If you are limited to a small space garden, produce sold inexpensively by the crate at farm auctions can help you become less reliant upon store-bought food which is filled with preservatives and unnatural chemicals – or grown outside of the United States altogether.
13. Wagons And Trailers
If you need a hay wagon, firewood wagon, or livestock trailer of any size, it is likely that what you are looking for will show up at a farm auction. Horse-drawn carriages are still commonplace at Amish farm auctions.
14. Hunting and Fishing Supplies
Rods and reels, bows, and practice targets might not seem like typical farming materials, but folks who live on a farm likely grew up fishing and hunting to help put food on the table. 
15. Gunsmithing Supplies
Farmers, like homesteaders, are a self-reliant lot. Learning how to fix what you have instead of paying others to do it for you is part of daily life on a farm. While browsing at a farm auction you may find gunsmith supplies, gun parts, ammo molds, black powder, and empty casing for reloading. 
Final Thoughts
While this list of homesteading finds at farm auctions is comprehensive, it is not exhaustive. Make sure to always browse the miscellaneous tables and you might discover some awesome "smalls" hiding amongst old Tupperware.
Some of my best small box farm auctions finds over the years have included thread, buttons, camping gear, silverware, lantern wicks, and wooden toys.
Make a list of both wants and needs before going to a farm auction in search of homesteading gems. The list should also include specifics about the type of equipment or parts you are seeking as a quick reference sheet.
It is far too easy to get caught up in the moment when a good deal is offered only to later learn the hitch you purchased will not fit on the equipment you own, or the tractor part you won will not work for your model year.
Like this post? Don't Forget to Pin It on Pinterest!
You May Also Like: