This post may contain affiliate links.* As an Amazon Associate I earn from qualifying purchases. Click here to read our affiliate policy.
Estimated reading time: 6 minutes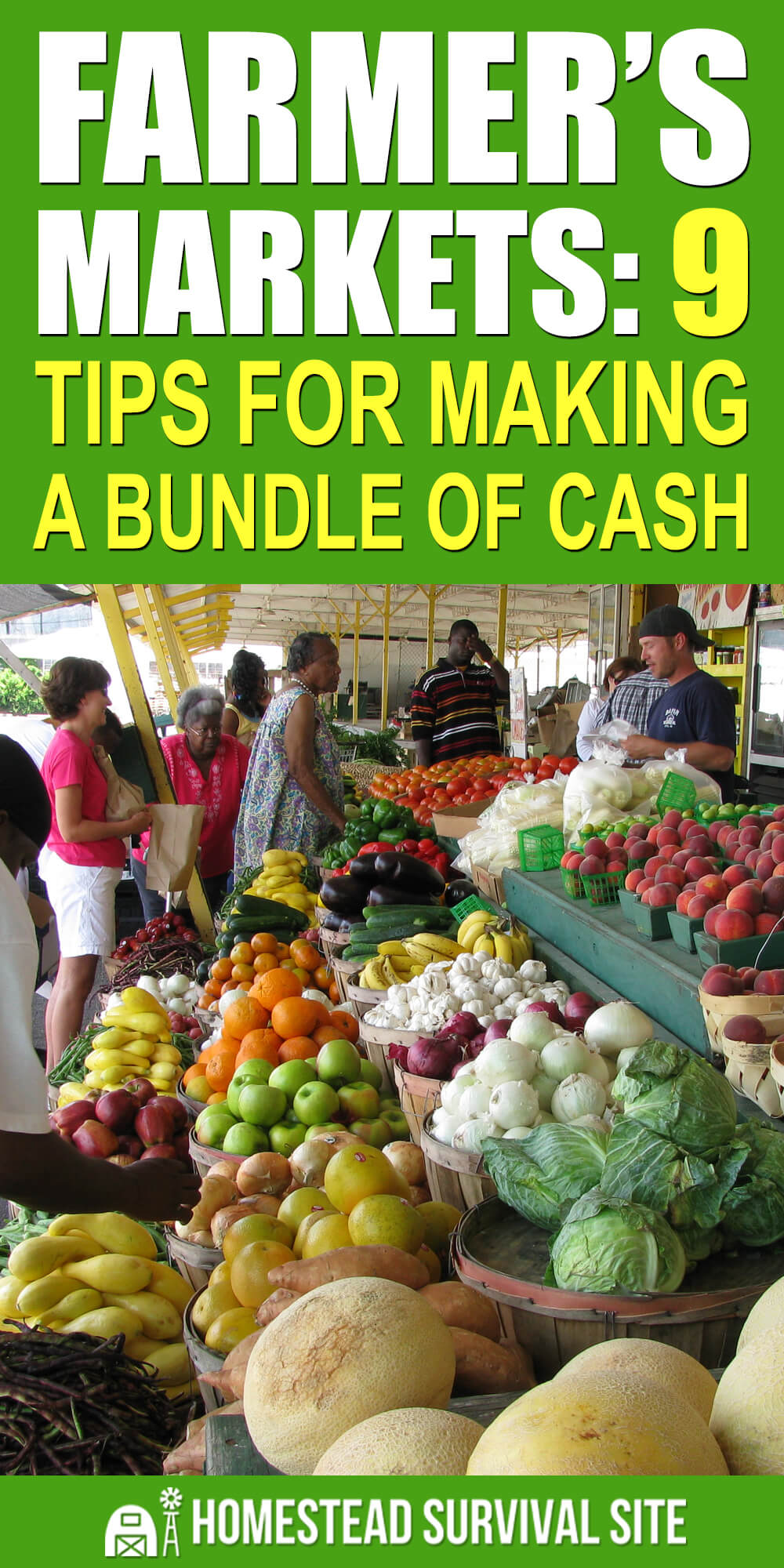 Many homesteaders grow enough produce in the garden to feed their family as well as store up plenty for the future. Some even grow enough excess to sell at local farmer's markets in the area as well. While attending a farmer's market is always a peaceful experience, selling at one can be a bit tricky.
There are plenty of vendors who don't make enough money to cover their time while others have fine-tuned their booths to create a lot of extra revenue. Check out these nine tips for making a bundle of cash at your next farmer's market.
Want to save this post for later? Click Here to Pin It on Pinterest!
1. Plan Ahead
Most vendors at the farmer's market need the same items every week. Lightweight tables and plenty of ways to transport your produce is a good start. Planning ahead for what items you have to sell is also important. Placing larger items like watermelons on the table is great but can take up a lot of room as well.
Always having extra tables on hand will help make it easier on the day of as well. Creating a farmer's market box full of things like paper, tape, pens, markers, business cards, and change will make it easy to attend the market week in and week out.
2. Build A Following
Selling your items at a farmer's market starts well before the day of the event. Many homesteaders have social media accounts for their farm, which can help create a following of loyal customers.
Announcing when you will be at the farmer's market, along with location and hours, is an excellent way to help ensure that you have plenty of customers the day of the event. Post pictures of what you'll be bringing to the market as well as your table set up once you arrive to remind customers to stop by.
3. Set Up Early
While many farmer's markets are only open for a set number of hours, you can do a lot of business before the official start time. Setting up early ensures that you get a great spot as most markets allow vendors to set up first come first serve.
It enables you to get set up and ready to interact with your customers instead of rushing around to get everything ready. Many profitable vendors are not only ready at the start of the market, but have also been making sales for hours before other vendors arrive.
4. Display Clear Signage
You will easily make and lose sales based on your signage. Communicate with customers who walk by with well-written signs that are easy to see. Make each price easy to see from far away so that customers don't have to hunt to find the cost. If a customer has to ask you the price of the something, make sure the sign is legible and easy to read so that you don't lose customers who pass by too quickly.
Many vendors choose to use a whiteboard for prices at the market. This allows you to tailor your sign to what you brought to the market that day, as well as easily erase those items that sell out. However, custom tags and signs that sit in front of the product can also boost sales since the price is near the beautiful produce.
5. Price It Well
Speaking of pricing, it can be hard to know how to price a single tomato or zucchini. Make sure that your prices are fair but also reflect the hard work that you put into your garden. If your items are natural or organic, make sure that customers know those details who may pay a higher price for special gardening practices.
For those items that are hard to sell individually, weigh out a pound of them and place them in cartons with the per-pound price instead. You can also visit this useful site for those items that you still have questions on how to price.
There can be a lot of competition with so many vendors selling in-season produce at the same time. Instead of creating enemies, make sure to create opportunities for friendship with other vendors. Price items the same as other vendors to create a friendly market atmosphere. You never know when you may need something from another fellow gardener or homesteader in the future.
6. Create A Good Display
While you can still sell a lot of produce with some tomatoes lined up on the table, you are likely to sell more with a few display tricks. Setting items on a table instead of the ground is an excellent way to bring the items closer to your customers.
Piling items in baskets and creating extra height can also help attract customers. Covering your table with a tablecloth also goes a long way in creating a good display at the farmer's market. A beautiful looking display attracts the eyes of customers and can help create a bundle of sales.
7. Connect With Customers
Customers shop at farmer's markets because they want to support local people who grow quality food. Make sure that everyone working in your stall is friendly and personable. Say hello to customers and remember that a smile goes a long way in making a sale. Put your most talkative people in the front while those who like to work behind the scenes can be in charge of hauling produce as well as setting up and tearing down.
Showing interest in customers also helps boost your sales at a farmer's market. If a customer asks a question about a specific item, make sure to answer it as well as share how you grow the plant. Adding in other details about the crop this year and how you like to cook with it can help create lasting relationships. Customers are likely to come back to a vendor that they have connected with in the past.
8. Invest As You Go
It can be easy to want to purchase a tent with matching banners for the farmer's market. However, it is wise to invest in these items as you go. All you need to start with is a table and some change. As your farm grows and you have regular customers, you can expand into purchasing a tent or custom banners for your display. Set aside a certain amount of profit each week to save up for items that will make your day at the farmer's market more enjoyable.
9. Commit To A Season
There will be days at the farmer's market when sales are slow. Either the weather isn't good or there is something else happening in town. Don't let a slow day at the market keep you from coming back. Commit to a season of selling at your local farmer's market to help create connections with customers and other vendors. Those customers who see you at the market each week know that they can rely on you and will make an extra trip to see you on market days.
Selling at the local farmer's market is a great way to meet other people who enjoy homesteading as well as those who want to support your homesteading goals. Inviting the children to tag along with you to the market is also a great way to teach lessons on stewardship, friendship, and finances. Selling at the farmer's market is a good way to create some extra revenue for other items you need on the farm.
Like this post? Don't Forget to Pin It on Pinterest!
You May Also Like: