This post may contain affiliate links.* As an Amazon Associate I earn from qualifying purchases. Click here to read our affiliate policy.
Estimated reading time: 9 minutes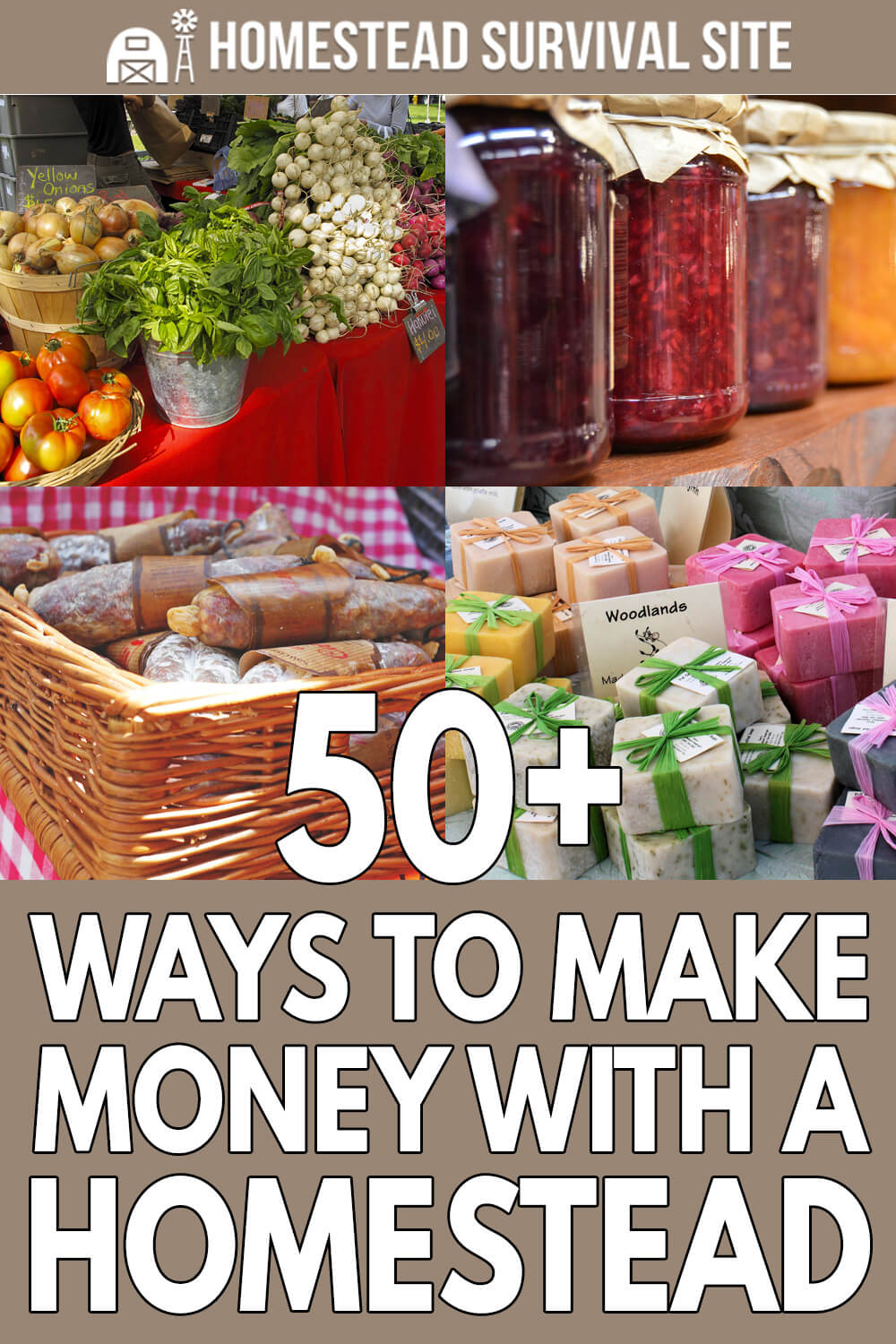 Living the homestead lifestyle offers a sense of freedom and satisfaction. However, you may have taken a drastic cut in income to make your dream of self-sufficiency a reality.
Whether you are looking for a full-time salary or a supplemental income, there are many ways to make money as a homesteader. Your best bet is to think about your specific property and your individual talents and then brainstorm how you can combine them to offer a quality service or product to others.
Many urban dwellers are fascinated with homegrown, handcrafted items, and others will pay to live vicariously through your chosen lifestyle through your services and expertise.
We have compiled a list of 50 ideas for increasing your income as a homesteader. Look through them to see what piques your interest.
Want to save this post for later? Click Here to Pin It On Pinterest!
1. Become a Beekeeper
A time-honored homesteading profession, beekeeping is more important than ever with the population of honeybees decreasing. You can sell the bees themselves and/or their honey.
2. Become a Livestock Consultant
If you have a lot of experience raising livestock, people will pay you to visit their farm or homestead and give them advice.
3. Board Horses
You can earn extra money by boarding horses on your homestead as well. Perhaps you could offer riding lessons, too.
4. Breed Livestock
An oldie but a goodie. Breeding animals is a tried and true way of making money as a homesteader.
5. Breed Livestock Guardian Dogs
A livestock guardian dog is a great thing to have. If you like dogs, train them to herd and watch livestock then sell them.
6. Create Your Own Soaps
If you like making soap, we have several posts on how to make various types including: castile soap, goat milk soap, olive/coconut oil soap, and 3 ingredient soap.
7. Create Your Own Toiletries
Homemade lotion, lip balm, and shampoo are popular items at farmers' markets and at natural foods stores.
8. Cut and Sell Firewood
If you have land to be cleared, you can earn some extra bucks by selling the wood to others.
9. Freelance
Offer your writing, editing and/or technical skills online. Many platforms exist to help you market your skills and find clients. In fact, we hired several of our writers on Upwork.
10. Grow Mushrooms
Are mushrooms your thing? You may find a nice income source by selling your homegrown mushrooms to local restaurants. Here's how to grow them.
11. Host Birthday Parties for Kids
Parents are often looking for new ways to celebrate their children's birthdays. You may find a niche for yourself as a birthday party location. Think about what you can offer. A petting zoo? Pony rides? Apple picking? There are many fun possibilities.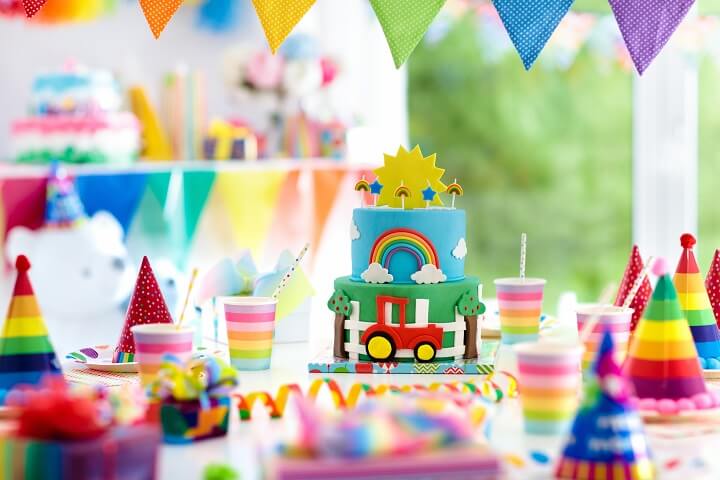 12. Make and Sell Clothing
If you're into sewing and knitting, try making your own clothes, towels, and blankets and putting them up for sale.
13. Make Your Own Bread
If you like baking, you should know that there are many people out there who would be happy to purchase fresh, home-baked bread from you. You can make breads such as French bread, peasant bread, and Amish white bread.
14. Make Your Own Candles
Everybody likes candles. Heck, they have their own aisle in every Walmart. Here's how to make them.
15. Make Your Own Cheese
Similarly, homemade, handcrafted cheese can command good prices. Here's how to make cheese.
16. Make Your Own Grape Juice or Wine
Growing grapes can be a rewarding activity for both your soul and your wallet.
17. Open a Shooting Range
If you have a large property, your homestead may be perfect as an outdoor gun or archery range.
18. Open Your Orchard
If you have a large orchard and more fruit than you need, why not try a season as a u-pick destination?
19. Raise Bait
If there are a lot of fishermen in your area, try raising your own bait. Here's how to raise worms for fishing.
20. Raise Chickens
Most homesteaders raise chickens for their own use. You can earn a little extra income by selling your surplus eggs to others. You also can sell your chickens. Here are the 8 best egg-laying chicken breeds.
21. Raise Cows
Consider raising a cow for meat and selling the excess meat. Here's a beginner's guide.
22. Raise Fish
Turn your pond into income potential by raising and selling fish such as tilapia or catfish. You also could raise worms to sell for bait.
23. Raise Rabbits
There are so many reasons to raise meat rabbits. The meat is healthy, they grow and reproduce quickly, but most importantly, you can sell rabbit meat or the rabbits themselves.
24. Raise Sheep
Sheep are valuable animals for the homestead. You can raise them for their meat, and/or you can sell their wool or the products you make from their wool.
25. Raise Turkey
Because of Thanksgiving, turkey is guaranteed to be a popular food every year. Here's how to raise turkey for profit.
26. Rent Your Home
If you have a beautiful home on picturesque property, consider listing your home on AirBnB.
27. Rent Your Property
Offer your acreage as a location for weddings and family reunions or as a campsite.
28. RV or Boat Storage
Many urban dwellers will pay good money for a safe place to store their recreational equipment in the off-season. If you have an empty barn, you can charge an increased rental fee for indoor storage.
29. Sell Essential Oils
If you know how to make essential oils, you should know there are countless people out there who would prefer to buy them from individuals instead of from giant companies.
30. Sell Home Remedies
Make your own home remedies for common ailments and sell them. Here are 5 homemade painkillers, and here are 5 homemade healing salves.
31. Sell Homemade Crafts
Make crafts, pottery, jewelry, birdhouses, or anything else you like making on Etsy or at Famers' Markets.
32. Sell Homemade Furniture
If you're into woodworking, consider making furniture. People love having a piece of furniture that wasn't mass-produced in some factory.
33. Sell Homemade Jams and Jellies
Another use for all that fruit is to make and market your own jams and jellies.
34. Sell Homemade Maple Syrup
Do you have maple trees? Then you have a source of some extra income. Make some syrup and sell it.
35. Sell Homemade Pickles
Making your own pickles is fun, and they are really good for your health. Here are a couple of ways to make them.
36. Sell Your Arts and Crafts
Whether it is woodworking, macramé, needlepoint, or you name it, you can reach potential customers for your handcrafted wares through online sites such as Etsy.
37. Sell Your Compost
You are already making your own compost, right? Why not sell some of what you don't need to other gardeners?
38. Sell Your Flowers
Market your beautiful fresh flowers at your own stand or at a farmers' market. Don't forget that dried flowers are popular too.
39. Sell Your Heirloom Seeds
Harvest your best seeds at the end of each growing season and dry them for sale. They can be a nice addition to your produce stand or you could sell them online.
40. Sell Your Herbs
Plant more herbs than you need for your family, then sell the rest in fresh or dried form.
41. Sell Your Milk
Fresh, unpasteurized cow's milk or goat milk is a sought-after commodity by many urban dwellers.
42. Sell Your Produce
If you harvest more than what your family needs, sell your bounty at your own produce stand or at a local farmers' market.
43. Sell Your Rabbits' Poop
Who would want to buy that? Lots of people. It actually has many uses.
44. Serve as a Bed and Breakfast
Do you have a guest cottage or a spare room? You may find income potential by posting it for rental on Airbnb or other online sites.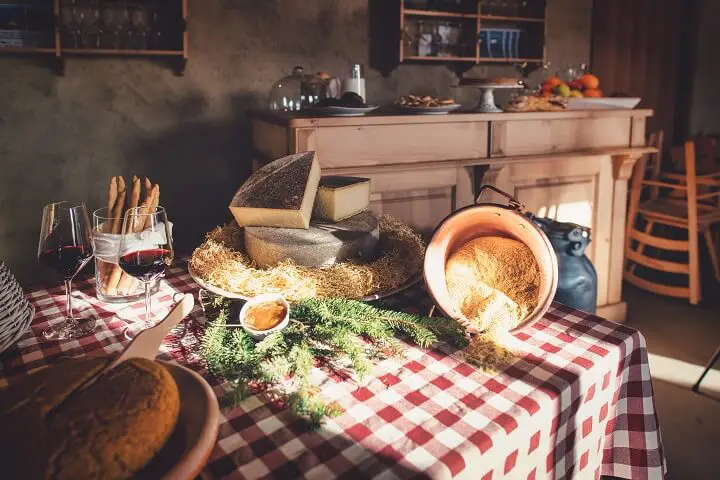 45. Start a Blog
If you're living the homestead life, there are countless people out there who would love to hear about your experience. Document your day-to-day life and the lessons you've learned, and publish it on a blog where you can earn money from ads.
46. Start a Pick-Your-Own Farm
If you grow lots of food, save yourself the work of harvesting and let people come pick fruits and vegetables on a pick-your-own farm.
47. Start a Youtube Channel
There's even more opportunity on Youtube. Get a camera and start documenting your life on the homestead. You'd be surprised how many people will watch.
48. Teach What You Know
Host in-person weekend or online workshops on the art of homesteading. You can teach farming, gardening, raising sheep, or your specific area of expertise.
49. Watch People's Pets
If you have the space, set up a kennel to board dogs and cats while people are away.
50. Write a Book
If you've been homesteading for a long time, write a book about your experiences and the lessons you've learned. Nowadays, it's easy to self-publish on Amazon. People will find your book through the recommendations feature.
Hopefully, these ideas have sparked a few plans of your own. Are you ready to take the next step? Rules and regulations for home-based businesses vary depending on the business itself and your location. Check with your local planning office to find about any restrictions that may apply to you.
What are some other ways you can make money with a homestead? Leave a comment with your suggestions below.
Like this post? Don't Forget to Pin It On Pinterest!
You May Also Like: