This post may contain affiliate links.* As an Amazon Associate I earn from qualifying purchases. Click here to read our affiliate policy.
Estimated reading time: 10 minutes
It can be hard to find old-world homestead items at your local hardware store, but your local thrift store might surprise you. With some creativity and consistency, you can find plenty of homesteading supplies without breaking the bank.
According to NARTS, the Association of Resale Professionals, there are currently over 25,000 resale, consignment, and Not-For-Profit shops in the United States, making it fairly easy for most U.S. residents to find discount homestead supplies.
Want to save this post for later? Click Here to Pin It On Pinterest!
Why Try A Thrift Store?
Shopping in a thrift store can be very satisfying when you find a hidden treasure. Local independent thrift stores often have supplies and items donated by the local community.
You'll do even better if you visit a store in a farm or homestead community well outside the city limits. These stores will have lots of homestead supplies donated by local farmers and homesteaders, although you will likely find usable items at any thrift store.
Larger chain stores owned by the Salvation Army and Goodwill get their items from distribution centers filled with donations from all over, which means you have a reasonable chance of finding some usable items at any of them.
Many secondhand stores also benefit their communities through charity outreach, which makes this style of shopping all the more worthwhile.
Discounts on Discounts!
Many thrift stores have sales or discount programs that you can take advantage of.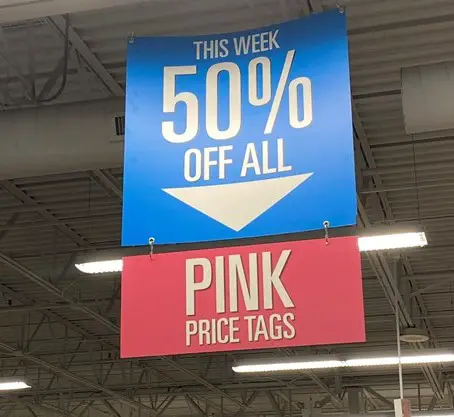 Goodwill is a common store accessible across most of the United States (find the closest branch at goodwill.org). They use a tag system where different color tags rotate as items are on sale, switched on Tuesdays. This method allows the store to work through their older products by offering a discount, and it can be a benefit to regular shoppers.
Many other resale shops operate with a similar sale pattern, so be sure to check with your local store to find out what sales you can expect. If you find an item that you need for your homestead, don't wait for the sale. Just go ahead and get it because these stores usually have a fast turnover.
On Wednesdays, Goodwill stores offer a 15% senior discount for anyone over 60. Senior discounts are applicable at most thrift stores, so be sure to look into military and service-worker discounts as well.
Supplies to Look For:
Kitchen
While looking for kitchen items, think about what can be cleaned, restored, and used long term or creatively. For example, if cast iron pots and pans are cared for, they hold their value and can last over 100 years. For fire cooking, keep an eye out for long-handled utensils.
Below is a list of additional items to look out for the kitchen.
Cast Iron pans, Dutch ovens, and skillets. Even dirty or rusty cast iron can be restored and seasoned to be like new, making these pans a great value to find secondhand instead of cashing out for brand new.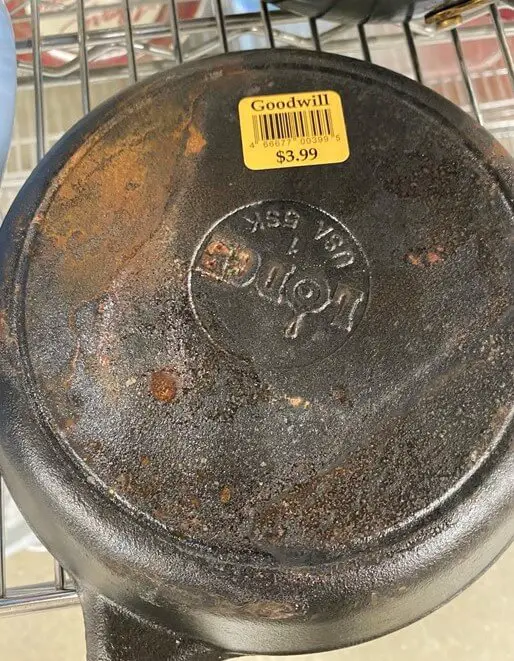 Knives (sets, bread knives, paring knives, steak knives)
Silverware sets
Mason jars for canning and storage
Metal or wooden utensils
Whisks
Bowls for kitchen or animal repurpose
Dishes
Glasses
Food storage containers
Cherry/fruit pitters
Peelers
Baking pans and dishes
Measuring cups
Milk crates
Kettles
Colanders
Sifters
Can Openers
Meat Grinders
Cheese Cloth
Food scales
Pressure cooker
Food dehydrator
French press
Garden
From tools, supplies, and attire, it's easy to find items for your homestead garden. Some thrift stores even receive retail overflow where you can find sprinklers or garden gloves in new condition.
Regular check-ins at your nearest shop will help you stay on top of new retail arrivals. Below is a list of additional garden items to watch out for.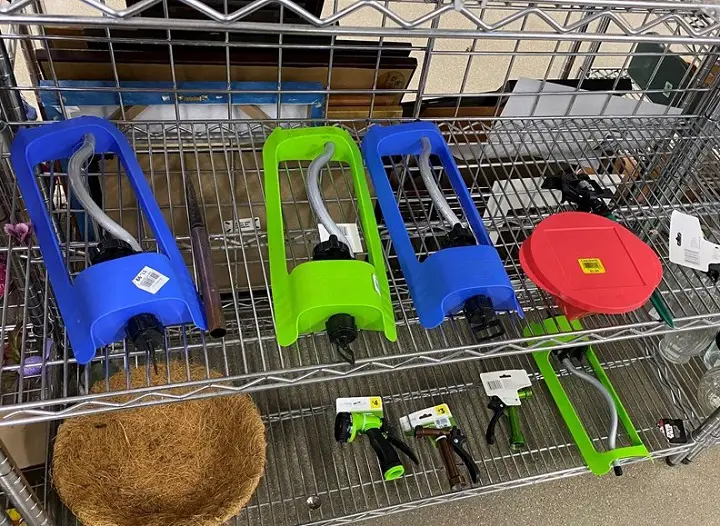 Garden tools (shovels, spades, trowels pruning shears, rakes, hoe, tiller, aerator)
Garden goulashes or rain boots
Sun hats
Garden gloves
Flowerpots
Buckets
Weathervanes
Decorative garden goods
Seed Pods
Yard carts/wagons
Compost pail with a lid (to collect kitchen scraps to add to compost)
Tools
Tools can be a hot commodity at the thrift store. Quality tools are donated, but they sell quickly. Establishing a rapport with the staff at your local shop could improve your odds of finding what you need. To find antique tools, try visiting more rural and farm town thrift stores.
Additional ideas to keep a watch for are listed below:
Logging tools
Axes
Saws and chainsaws
Staple gun
Blacksmith tools (anvil, sled-hammer, tongs)
Woodworking tools
Back up standard tools including screwdrivers, hammers, level, tape measure
Wrenches
Utility knives
Extension cords
Tarps
Hunting and fishing tools
Nails and screws
Snow shovel
Home Goods
There are lots of items that you can find in a thrift store for the home. With creativity and willingness to wash fabrics, it's hard to tell that they are secondhand. Here are some easy-to-find items:
Candles – You can make upcycled candles by adding a new wick (easy to find at a craft store for cheap) to a mason jar or old candle jar and melting the wax from used candles to fill the jar. Leave the top of the wick exposed and allow for the hot wax to dry. Thrift stores often sell like-new candles, but you will also find several that are used. This is a great way to increase the value of your purchase.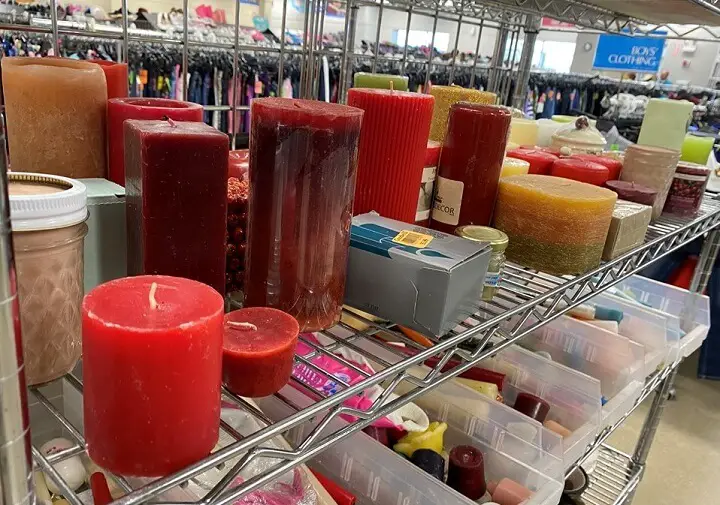 Quilts
Wool Blankets
Bedding
Curtains
Towels and Rags
Washboards
Wicker baskets
Kerosene lanterns
Ropes, lines, and twine
Clothespins (sometimes found in craft sections)
Knitting needles and yarn
Sewing kits and fabric
Craft supplies
Books (cookbooks, gardening books, reference books, field guides)
Homeschool supplies (workbooks, calendars, books, flashcards, general school supplies)
Animal Supplies
General pet supplies may be easier to find in the standard thrift store, but stores in farm-towns are more likely to have items specific to farm animals. Here are some general items you can watch out for.
Fans/heaters
Buckets/bowls for feed
Incubators
Sheers/clippers
Animal crates
Clothing
Buying seasonal clothing at a thrift store is better for the environment as it reduces waste. Additionally, it's easy to find clothing that is in like-new condition at a fraction of the cost of a standard retail store.
Beyond standard clothing, here is a list of other clothing items to look for.
Ponchos
Rain gear
Umbrellas
Boots
Sweaters
Coats and light jackets
Hats and Gloves
Clothing to layer
Denim and work pants
Summer attire
Sun protective layers
Kid's clothes – Since kids grow quickly, it's easy to find like-new items at the thrift store in a variety of sizes.
Emergency and Camping Supplies
Every homestead should have some survival and emergency supplies. You might be surprised what you can find second hand, including like-new camping and survival gear.
Sleeping bags
Camp chairs
Tents
Camp Stoves
Handwarmers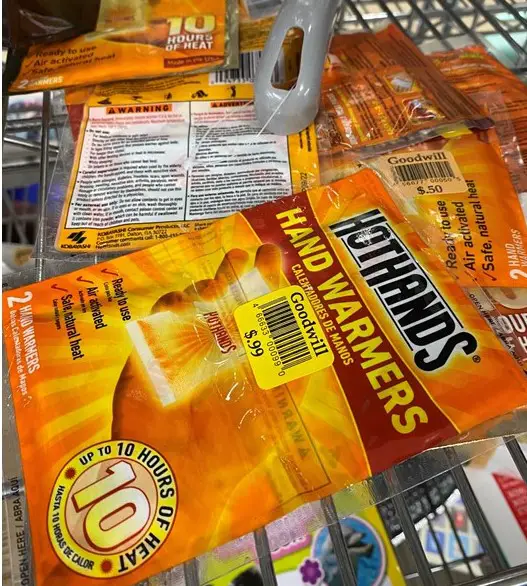 First aid supplies such as gauze, bandages, crutches, braces.
Multi-tools
Backpacks
Reusable water bottles
Helpful Tips
Be a regular at your local shop. When you get used to the pace and timing of new products being put on the floor, you'll have the chance to snag supplies before anyone else can. Stores with distribution centers attached are sometimes able to keep an eye out for supplies that you're looking for. Leave your phone number so the store can call you with specific new arrivals.
While shopping, take your time and work through one section of the store at a time. Sometimes the best and most surprising finds are in the middle of a random shelf in the wrong area. Paying attention to your surroundings with an open mind may help you find a product that you can use in an unexpected way. Shop when you're able to be mentally present.
With changing seasons, retail overflow is sometimes passed on to thrift stores. You may find new and unused items like clothing, workbooks, garden tools, etc. just by checking in each season. Check with your local store to see if there is any pattern to the timing and pace that they receive retail over-flow.
Have Fun
Try to have fun while searching for things you need for your homestead. Yes, it can be time-consuming; however, having fun with the treasure hunt helps make it worthwhile as you save money and reduce your carbon footprint.
Like this post? Don't Forget to Pin It On Pinterest!