Disclaimer: I am not a medical doctor and nothing in this article should be taken as medical advice. Please talk to your doctor before using any of the herbs and/or remedies mentioned in this article.
Foraging your own medicine can be intimidating. If you're just getting started, how do you know where to look? You don't need to live far out in the wilderness to find your own medicine. There are a number of powerful medicinal herbs that grow right in most people's backyards.
Want to save this post for later? Click Here to Pin It on Pinterest!
Within the reach of your back steps, you can likely find herbs that stop bleeding, heal wounds, treat coughs and more. There are also common backyard herbs that are currently being studied for their ability to treat major illnesses.
Take a look just outside your door and see if you have any of these potent medicines just waiting to be harvested!
1. Plantain
Plantain is very popular with backyard foragers because it's common, easy to identify, and has some pretty amazing medicinal properties. Best known for its ability to treat wounds, plantain is antibacterial and promotes cell growth to help wounds heal quickly and prevent infection. It's also taken internally as a tea for diarrhea and digestive issues.
Historically, plantain is found in areas of heavy grazing because it's known to thrive in abused or compacted soils. These days, you'll likely find it in your backyard along paths where you walk the most often.
2. Cleavers
If you've had cleavers invade your garden, you know just how persistent this weed can be. It's just as persistent when working inside your body to fight infection. The name "cleavers" comes from the plant's ability to "cleave" illness from your body and cleanse your system.
It's commonly used as a poultice for stings and bites, and as a dried herb tea to help cleanse the lymphatic system during illness or infection.
3. Yarrow
Yarrow is a powerful medicinal that grows wild as a perennial around the world. It's taken as a dried herb tea for colds and flu, and helps to quickly stop bleeding when applied externally.
Inexperienced foragers confuse yarrow with queen anne's lace, or wild carrot. The leaves are very different and easy to tell apart if you have both in your hand, but lacking that, know that the leaves of yarrow smell of cabbage while queen anne's lace leaves have a strong carrot smell.
4. Red Raspberry
Considered a "woman's herb", red raspberry leaf is most commonly used to aid with fertility, menstrual cramps, and help with childbirth. In reality, it's an excellent herb for maintaining health for just about anyone.
One of the reasons it works well for women's reproductive issues is because it's naturally high in minerals such as calcium, magnesium, potassium, and iron, which in the right balance nourish the body. Magnesium, in particular, is a natural muscle relaxant, which helps with childbirth, but could also be used for muscle pain of any form.
5. Aloe Vera
While people in cold climates think of aloe as a cute potted plant, in arid climates it grows like a weed. Growing up in California we'd harvest it with a wheelbarrow. Depending on where you live, starting an aloe patch in your backyard can be a great investment to your future health.
Aloe is usually used externally for burns and skin irritation, but it can also be taken internally for a number of different issues ranging from inflammatory conditions to constipation.
6. Ox-Eye Daisy
Growing wild in many parts, and frequently cultivated for its beautiful flowers, ox-eye daisy is used medicinally for respiratory complaints, chronic coughs, and bronchitis. Externally, it's used to treat wounds and bruises.
In some parts of the world, it's eaten as a salad green. The leaves are tasty in early spring, and later in the year, the flowers are a traditional addition to salads.
7. Mallow
Common mallow grows wild in many areas and is intentionally planted by gardeners in others. It's naturally high in soothing mucilage, which helps it treat respiratory complaints and sore throats. It has a pleasing taste, which makes taking your medicine when you're sick all the more enjoyable. Bees particularly enjoy the flowers, so it's worth planting if you don't happen to already have some growing along a fence or hedge.
8. St. Johns Wort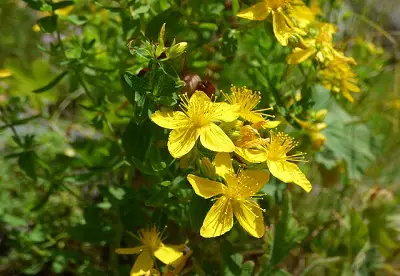 These tiny yellow flowers are common along roadsides, and modern medicine supports their traditional use for treating depression and stabilizing mood. Its latin name, hypericum perforatum, hints at the best way to identify it. The "perforatum" refers to the fact that the leaves are actually perforated and if you hold a tiny St. Johns Wort leaf up to the sunlight, you'll see it's full of tiny pinprick holes that let sunlight flow through.
9. Burdock
A cleansing herb, burdock root helps the kidneys filter impurities from your blood and acts as a natural diuretic. The root is usually used, and a burdock vinegar is a great digestive aid that combines the benefits of burdock root with that of raw cider vinegar. The root is also used in traditional Asian cooking, as it's both a tasty edible and medicinal plant.
It can be nasty and prickly once it develops the characteristic burs, but before it goes to flower, the stock is a tasty vegetable that can be cooked and eaten like asparagus.
Since it can be a pain to pull the burs out of clothing, encourage burdock to grow away from common walking paths. Along walking paths, harvest first-year burdock roots in the fall or second-year roots in the spring and you'll enjoy your medicine and never allow it to go to seed. In out of the way locations, keep a patch growing for cut and come again edible stalks, and occasional root harvests for medicine.
Bonus Herb: Self Heal or All Heal
A common purple-flowered weed that invades lawns and shady places, its common names, 'self heal' or 'all heal', allude to the fact that it can heal just about anything. It's naturally antibacterial and soothing to the system, and ancient herbalists considered it to be a panacea.
Externally, it's known to help heal wounds, treat inflamed tissues, and protect the skin from sun damage. Internally, it's used for a wide range of things from sore throats to depression.
Both the leaves and flowers are tasty and edible either raw or cooked, and the flowers are an especially important food source for bees. All around, it's worth promoting if you find a patch growing in your yard.
Like this post? Don't forget to Pin It on Pinterest!