This post may contain affiliate links.* As an Amazon Associate I earn from qualifying purchases. Click here to read our affiliate policy.
Estimated reading time: 7 minutes
It's no secret that roosters can make quite a bit of noise when they're sounding the daily wake-up call. In fact, they often raise the alarm all day long, even if it's only to let the hens know they've found a bug. But did you know that hens can be as noisy, if not noisier?
Many hens will start cackling when they're getting ready to lay an egg. This usually prompts the entire flock to encourage her with their "egg song". It may continue until the task is complete and can become deafening.
Living in an area with irritable neighbors or noise regulations, you need chickens that are on the quieter side. While no chickens are ever going to be completely quiet, there are some breeds known to be a little less noisy. Today we'll look at 9 quieter chicken breeds for urban homesteaders to choose from.
Want to save this post for later? Click Here to Pin It on Pinterest!
Here are the contenders (in alphabetical order):
1. Australorp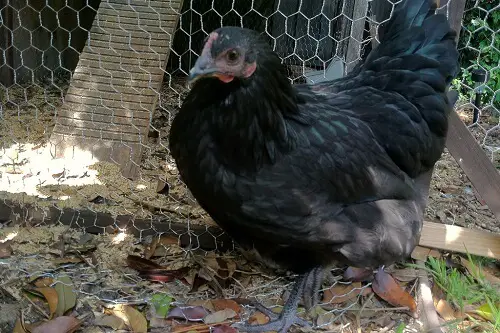 Australorps are calm birds with sweet dispositions that just happen to lay about 250 eggs a year. They are also great brood mothers, sometimes raising several clutches in a year's time. A glossy black is the most common color for this magnificent breed.
2. Barred Plymouth Rock
Also known as Barred Rocks, this is one of the easiest breeds of chicken to find and raise. Every feed store and hatchery in the country will offer them for sale – for good reason. They are a very friendly and attractive bird that lays a lot of nice, big eggs. There are actually several other varieties of Rocks, but the Barred Rock is by far the most popular. This is due, in part, to the fact they're sexable at hatch – the roosters will have a white dot on the top of their head. Every homestead and barnyard needs a Rock in the flock.
3. Brahma
A standard Brahma can weigh up to 12 pounds for a rooster and almost 10 pounds for a hen. They are attractive and stately birds that calmly go about their business in the yard. Light, dark, buff, and partridge are the most common varieties for this large heritage fowl.
4. Cochin
Often called the "fluffy, round chickens with feathers on their legs", Cochins are the eye candy of the yard. They are valued for their motherly instincts and desire to hatch (their own as well as other hen's) eggs. Standard Cochins come in several colors. The blue/black/splash variety is one of the most popular and attractive, although the light brown variety is also beautiful.
5. Delaware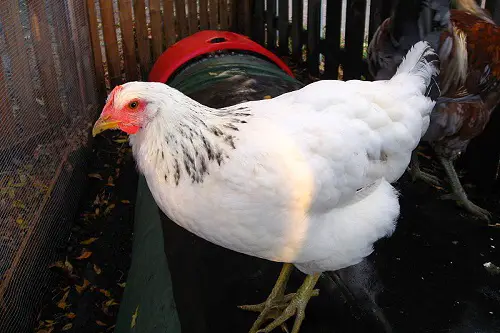 Delawares are an original American breed valued for their multi-purpose use. They are prized for their meat as well as their many eggs. Their inquisitive and downright nosy personalities make them a joy to have around. They are a striking white bird with black markings on their neck, tail, and wings. Their popularity has been renewed as homesteaders are discovering this lovely all-around breed.
6. Faverolle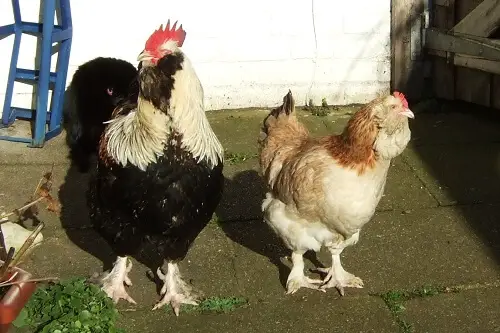 Faverolles have gained worldwide popularity due to their unusual and attractive appearance. These friendly birds have fluffy beards and muffs as well as feathered legs (like the Cochins). The most popular variety of the gentle Faverolles is the salmon color which is unique to the breed. Another uncommon feature is the five toes on Faverolles versus the 4 on most other chickens.
7. Orpington
Orpingtons are another breed that makes people want to pick them up. Their large size coupled with soft feathers makes for an extremely pretty bird. It helps that their sweet personalities match their appearance. They are one of the most popular family-friendly chicken breeds. While they come in many colors, the Buff Orpington is by far the top pick.
8. Sussex
The Sussex is an English breed that has gained popularity worldwide. This dual-purpose breed has many varieties: brown, buff, lavender, light, red, silver, speckled, and white. The rarest and most sought after coloration is the Coronation Sussex. This white and lavender variety honors King George's coronation in the 1950s.
9. Wyandotte
The beautiful Wyandotte is an American breed popular in the barnyard as well as the show ring. These dual-purpose birds are known for their striking plumage and their docile personalities. Many 4H kids get their start in raising and showing poultry with the gentle Wyandottes.
The breeds above are all large fowl or standard size poultry that lay medium to large, creamy tan to brown eggs. If you prefer bantam or miniature chickens, try Mille Fleur D'uccles or Bantam Cochins. Both are calm, colorful, and docile breeds that are family-friendly. They're prolific layers, but keep in mind you'll need three of their eggs to equal one medium-large egg.
These observations and recommendations are based on the selected breeds as a whole. It is not uncommon to get an individual bird that acts differently than the rest of the group. If it isn't aggressive or too noisy, enjoy your quirky chicken with the oddball personality. Variety is, after all, the spice of life.
Like this post? Don't forget to Pin It on Pinterest!
About the Author
Julie Dees is a freelance writer from Central California who also happens to be a real, lifelong cowgirl. She enjoys writing about animals, gardening, homesteading, and most anything related to the outdoor life. Contact her at http://www.thecowgirlwrites.com.
You May Also Like: