This post may contain affiliate links.* As an Amazon Associate I earn from qualifying purchases. Click here to read our affiliate policy.
Estimated reading time: 7 minutes
The Amish community is known for its down-to-earth and wholesome traditions. The Amish famously don't use technology and often can be found rolling down the road in an old fashioned horse and buggy. Their homes are often simple and plain without electricity or fancy appliances. Their ways of living have been passed down from generation to generation, as younger members learn the ways of the old.
This passing down of skills and techniques is prevalent in how the Amish feed their families, and recipes have been handcrafted and shared with younger generations. In many cases, the rolls an Amish family enjoys today could very well be an exact match to the rolls that were served hundreds of years beforehand. 
Modern homesteaders can learn from the Amish community. Their recipes use simple and whole foods that many of us already use on the farm. These dishes don't require any kind of fancy ingredients from a health food store but instead include those foods that often grow right outside in the garden. Check out and try out these Amish recipes every homesteader should learn.
Want to save this post for later? Click Here to Pin It On Pinterest!
Amish Macaroni Salad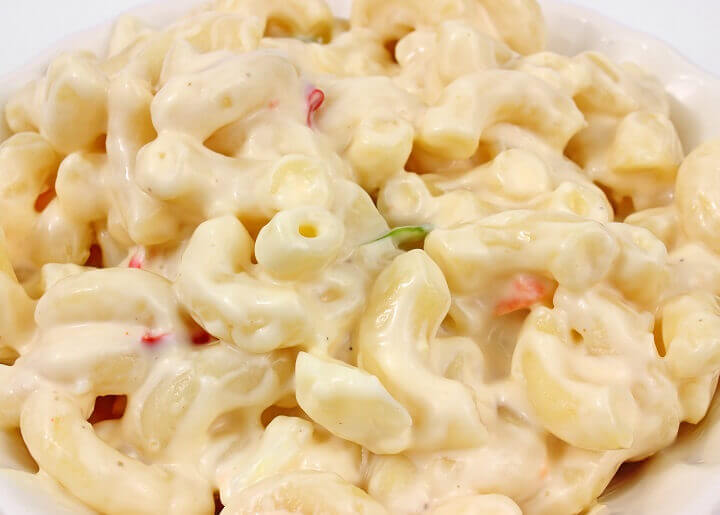 The perfect addition to a summer potluck or side dish. Amish macaroni salad is refreshing, tasty, and colorful.
Ingredients:
2 cups uncooked elbow macaroni
3 large hard-boiled eggs, chopped
1 small red onion, chopped
3 stalks celery, chopped
1 small red bell pepper, seeded and chopped
2 tablespoons dill pickle relish
2 cups Miracle Whip
3 tablespoons yellow mustard
¾ cup sugar
2 ¼ teaspoons white vinegar
¼ teaspoon salt
¾ teaspoon celery seed
Directions:
Cook the macaroni in a large pot until tender.
Drain and allow to cool.
In a large bowl, mix the eggs, onion, celery, red pepper, and relish.
Combine the Miracle Whip, mustard, sugar, vinegar, salt, and celery seed in a small bowl.
Pour the dressing mixture over the pasta and vegetables until well blended.
Cover and chill for at least 1 hour before serving. 
Amish White Bread
Sandwich bread is a staple in many households, and the same rings true for Amish families. Perfecting this simple yet satisfying bread is a great way to learn how to make bread for your family.
Ingredients:
2 cups warm water (110°F)
⅔ cup sugar
1 ½ tablespoons active dry yeast
1 ½ teaspoons salt
¼ cup vegetable oil
6 cups bread flour
Directions:
In a large bowl, dissolve the sugar into the warm water, then stir in the yeast.
Let the bread proof until it creates a foam.
Mix salt and oil into the yeast mixture.
Mix in flour one cup at a time.
Knead the dough onto a lightly floured surface until the dough is smooth.
Place in a well-oiled bowl and cover with a damp cloth.
Allow the dough to rise for about 1 hour or until doubled in size.
Punch the dough down and knead for a few minutes.
Divide the dough in half and shape it into a well-oiled 9×5 inch loaf pan.
Allow to rise for 30 minutes in the pan and bake at 350°F for 30 minutes. 
Amish Breakfast Casserole
Start your day off with a hearty meal like this Amish breakfast casserole. The protein and cheese mixture will keep you full no matter what the day holds.
Ingredients:
1 pound sliced bacon, diced
1 sweet onion, chopped
4 cups frozen shredded hash brown potatoes, thawed  
9 eggs, lightly beaten
2 cups shredded cheddar cheese
1 ½ cups cottage cheese
1 ¼ cups shredded swiss cheese
Directions:
Preheat the oven to 350°F.
Heat a large skillet over medium-high heat and cook the bacon and onion together until browned. Drain off the grease.
Add bacon and onion into a large bowl and stir in potatoes, eggs, and cheeses.
Pour mixture into a greased 9×13 casserole dish and bake for 45-50 minutes, or until eggs are set.
Let the casserole cool for 10 minutes before cutting and serving.
Amish Buttermilk Biscuits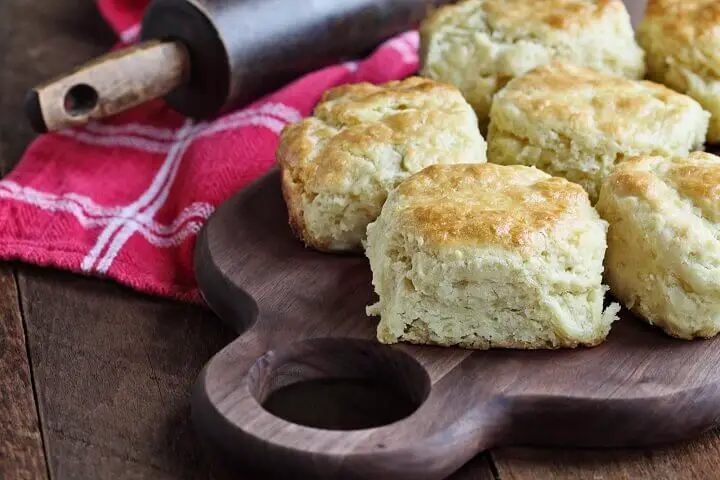 Learning how to make a flaky but moist biscuit can be a bit tricky, so perfect your technique with this delicious Amish buttermilk biscuit recipe.
Ingredients:
2 ¼ cups all-purpose flour
2 ¼ cups cake flour
1 ½ teaspoons salt
1 ½ tablespoons baking powder
1 teaspoon baking soda
1 cup butter, very cold
2 cups buttermilk
¼ cup flour for dusting
2 tablespoons butter, melted
Directions:
Preheat the oven to 475°F.
Combine the dry ingredients in a large bowl and cut in the butter until the mixture is crumbly, but you can still feel chunks of butter within the dough.
Add buttermilk to the bowl and mix just until combined.
Turn the dough out onto a floured pastry mat and pat it into a rectangle shape that is about 1 ½ inches thick. 
Fold the left side of the dough over to the right and then fold again.
Repeat this step 3 times until you have folded the dough 6 times total.
Gently pat the dough into a rectangle that is about 1 inch thick.
Use a biscuit cutter and press down firmly onto the dough. Bring the biscuit cutter straight up without twisting.
Place biscuits onto a greased sheet pan and brush the tops with melted butter.
Bake for 5 minutes and then reduce heat to 425°F and bake for another 8-10 minutes.
Amish Oatmeal Pie
The Amish community is famous for its ability to create new flavors and textures out of common ingredients. One example of this is the classic Amish oatmeal pie that features oats combined with sweet flavors.
Ingredients:
1 ¼ cups brown sugar, packed
¾ cup old-fashioned rolled oats
¾ cup milk
½ cup sugar
3 large eggs, beaten
3 tablespoons unsalted butter, room temperature
1 ½ teaspoons vanilla 
¼ teaspoon salt
1 unbaked pie shell
Directions:
Preheat the oven to 350°F and place unbaked pie crust into a pie pan.
In a large bowl, combine the sugars, oats, and salt.
Add in the milk, eggs, butter, and vanilla and stir until thoroughly combined.
Pour the mixture into the pie shell and bake for 45-50 minutes or until the pie is cooked in the middle.
Let the pie cool for 15 minutes and serve warm with ice cream.
As you may have noticed, the Amish are great at baking and anything related to carbs! However, this makes sense as they prefer a simple meal consisting of meat and then usually a baked side dish. Try all of these Amish recipes every homesteader should learn that use real, whole food ingredients prevalent on many farms today.
Like this post? Don't Forget to Pin It On Pinterest!
You May Also Like: