This post may contain affiliate links.* As an Amazon Associate I earn from qualifying purchases. Click here to read our affiliate policy.
Estimated reading time: 5 minutes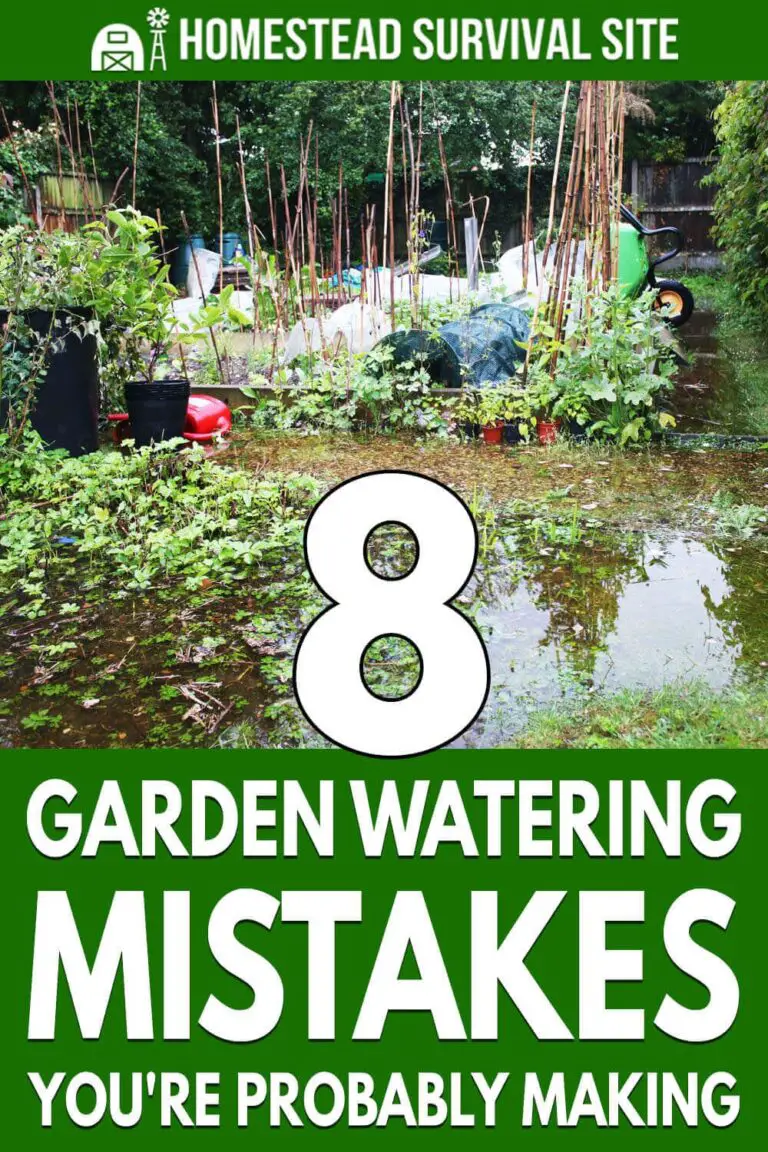 Spring is here, and many of us have watched our lawns turn from a drab brown to a bright and beautiful green. This season offers warmer temperatures and more time spent outdoors. Many of us have started to think about (or even plant) our fruit and vegetable gardens.
While there is plenty to know about seeds and harvest, what about that in-between time? Check out these garden watering mistakes you're probably making this year.
Want to save this post for later? Click Here to Pin It On Pinterest!
1. Overwatering
As excited and avid gardeners, many of us love to see plants grow in the garden so much that we often end up drowning the plants by overwatering. We forget that plants don't need daily hydration like humans.
Unless you live in a tropical rainforest where it rains every day, the need to water plants doesn't happen on a daily basis. Watch the plants and water them when the soil around their base is dry to the touch or they begin to show signs of wilting.
Resist the urge to water them every day as it could do more harm than good.
2. Forgetting the Roots
As plants grow in the garden, many of them create beautiful canopies of green leaves or bushy stems. While it is much easier to water the tops of the plant, remember that the water doesn't always make it down to the root.
Be cautious when watering and pay extra attention to the root system of the plant itself. Water around the plant's base to ensure that the roots get a nice long drink. 
Another reason to hold off on soaking flowers or produce is that some plants don't appreciate extra water and can start to deteriorate the fruit or vegetables themselves. Soaked leaves can easily become diseased and hurt the plant as well.
3. Midday Drinks
Watering at the hottest part of the day is a big no-no in gardening. Not only does it make the job harder for you, but it also wastes a good amount of water. Hot and humid temperatures soak up the water and quickly evaporate.
Consider watering your garden early to mid-morning to allow the plants to absorb the water before the sun comes out. Watering in the early evening is another possibility, but some wet plants can start to mildew when left wet overnight.
4.Using Watering Cans
While watering cans are an idyllic way of giving potted plants a drink, they aren't that helpful when it comes to watering larger gardens. Consider using a hose to spray down the garden or install drip irrigation systems to larger gardens that require more time.
Drip irrigation systems are easy to use and often work on a timer that requires little to no monitoring. They are often great for permanent gardens or flower beds around the home and yard that won't change year after year. 
5. Forgetting the Weather Forecast
Another common garden watering mistake has to do with the local weather forecast. There is no need to water a garden in a rainstorm or after a recent rain shower.
Be aware of your local weather and how that will change your watering for the week. You may not need to water at all, or you could end up watering more if the weather is dry and hot for an extended period of time. Work with the weather to provide your garden with the best possible watering schedule.
6. Treating Every Plant Equally
While some plants are heavy drinkers in the garden, like melons and corn, others do better when watered intermittently. Treating every plant equally when it comes to watering is yet another common garden watering mistake.
Get to know your plants by reading the back of the seed packet and establishing a watering schedule for different needs. There is no need to water every plant the same if it really doesn't need it.
7. Not Using Mulch
Spreading mulch around your garden is a great way to ensure that the watering you're doing is only doing good. When watering a garden without mulch, you are also flooding the soil around the plants that can increase weed growth.
Spreading mulch around the plants helps keep pesky weeds out of the garden and protects the base of the plant for added coolness. Other great options for mulching include laying down straw, grass clippings, or even newspaper to deter weeds.
8. Racking Up the Water Bill
Garden watering can add a lot of extra water usage to your monthly water bill. Consider collecting rainwater that falls on your house or outbuildings to use in the garden.
Reusing rainwater is a great way to use natural resources and keep your water bill low even in the hottest months. Simply attach a rain barrel to a gutter and use the collected water to give your plants a drink.
Not Enough Drainage
While soil should be aerated and healthy, we usually don't get to choose what kind of soil is in the yard. Adding plants to parts of the garden that are always wet or are in a low spot of the yard can lead to drainage problems.
Make sure your garden is well-drained by adding peat moss or compost to the soil. Consider building raised beds if the soil drainage is really bad. For potted plants, make sure that there are drainage holes in the bottom of the pot so that excess water has somewhere to escape.
Consider all of these potential garden watering mistakes for a better harvest this year. Refrain from watering too much or watering every plant every single time you are out in the garden.
Keep an eye out for wilting leaves and pay attention to the root systems and areas around the plant as well. Learn from past mistakes and continue on in the garden this year.
Like this post? Don't Forget to Pin It On Pinterest!
You May Also Like: