This post may contain affiliate links.* As an Amazon Associate I earn from qualifying purchases. Click here to read our affiliate policy.
Estimated reading time: 8 minutes
Harvesting herbs shouldn't be done whenever you feel like it. There are right and wrong times to harvest herbs for maximum potency. Whether you're using your herbs for medicinal purposes or adding flavor to your kitchen dishes, knowing the right time to harvest herbs increases their optimal flavor and medicinal qualities.  
Figuring out the right time can be a bit tricky because the optimal timing differs based on the part of the plant you're harvesting. You need to harvest different parts of the plant at different times. 
Want to save this post for later? Click Here to Pin It On Pinterest!
While there are general rules that we'll go over, some herbs have separate optimal times that go over that rule. So learn the guidelines, but as you grow more herbs, you'll learn when each of the herbs that you grow needs to be harvested. 
Harvesting Flowers
The best time to harvest herbs for maximum potency is when they open but before the bees and other pollinators pollinate them. That can seem like tricky planning, right? 
You might not realize it, but flowers change structure when they're pollinated. The center of the flower opens more, and flowers lose some of their fragrance.
You want the flowers to be strongly scented when you harvest them. That's especially true if you're using them for a culinary dish or any type of product that needs the flower's scent.  
For example, you want lavender to have its maximum scent potency if you're making a linen spray. 
The best time to harvest flowers is in the morning once the dew dries. However, harvest before the sun's heat becomes too intense, changing the fragrance of the petals. You also want to harvest on a dry day rather than a rainy day to help the flowers dry faster. 
One of the exceptions to this rule is lavender. You'll want to harvest lavender when two-thirds of the flowers are open on the stem. It's the perfect time for the most intense fragrance and strongest medicinal qualities. 
Examples of Herbs You Harvest for Flowers
Roses

Lavender

Marigold

Calendula
Harvesting Leaves
The time you should harvest leaves is different from flowers. You want to collect leaves before flowering because the plant has the most energy in its vegetative growth.
After herbs flower, the leaves lose their flavor or develop a bitter taste. It's also vital that you harvest the leaves when they're tender to ensure they have the highest oils.  
Harvesting leaves is relatively easy. All you need to do is cut the stem above a growth nodule, causing the plant to send out two stems where you cut. That doubles your next harvest!
Like harvesting flowers, you want to harvest the herbal leaves on a dry day in the morning after the dew on the plant dries. It's at this time that the aromatic oils are the strongest, perfect for flavoring your dishes or drying for use in medicinal salves.  
As soon as you harvest, you'll want to use them for a dish or start the drying process. Bundle the stems together with an elastic band and hang the stems to dry in the shade or somewhere with plenty of air circulation. 
When you harvest individual leaves, try laying them on a screen in an airy location. It's best to dry herbal leaves without heat because it preserves the aromatic oils in the leaves. However, if your house or area has a lot of humidity, an electric dryer can be useful.  
Some herbs have a higher moisture content than others, and those need to be dried quicker than others to prevent mold development. Examples of those herbs are basil, lovage, mint, lemon balm, and tarragon.  
Harvesting Annual Leafy Herbs
If you're harvesting leafy annual herbs such as marjoram or basil, all you need to do is pinch off the leaves from the tips of the stems above a pair of leaves. Doing so causes the plant to send energy to that area to grow more leaves.
This is called pinching off, and it's a great way to encourage your herbs to become bushier and produce tender foliage. Make sure that you harvest your annual herbs frequently.
If you see any flower buds, but sure to cut them off or your plant will stop producing more leaves. Then, before your first frost takes place, be sure to harvest the entire plant. 
Harvesting Perennial Leafy Herbs
You might have some perennial leafy herbs in your garden as well, such as thyme, sage, and tarragon. When you're harvesting perennials, you can do so by cutting the stem or sprig. All you need to do is cut the stem 3-4 inches from the base of the plant. 
If you're harvesting from plants with really long stems, it's best to do so near the plant's base. If you're harvesting from shorter plants, cut the stem above a pair of leaves, causing it to branch out.  
Perennial herbs can be harvested until four weeks before your first frost. Then, as winter and the first frost approaches, the plant needs to focus on winding down, so it's best to stop harvesting. The plant needs to go into dormancy.  
Examples of Herbs You Harvest for Leaves
Basil

Rosemary

Thyme

Mint

Oregano
Harvesting Roots
Don't worry; you don't need to dig up your herbs to harvest their roots until the end of the growing season. You won't need to kill your plants early to gain access to their roots. 
When you reach the end of the growing season, the plant is sending a lot of energy to the root system to prepare for winter dormancy.  
As you might have guessed, you need to dig up the plant to harvest the roots. You can harvest peripheral roots if you have some large perennials in place, leaving the primary roots where they are. Doing so continues the life of the plant.  
You should harvest the roots at the end of the first season if you're growing and harvesting from biennial plants. It might seem strange because you're not getting the benefits of the second year and all of the flowers, but the roots lose potency once the plant flowers for the second year.  
If you're growing them for seed, leave some of the roots to overwinter. That will encourage the production of seed in the next season. Another option is to learn how to propagate plants through root cuttings, so you can keep a section of the root to sprout more the following year. 
Examples of Herbs You Harvest for Roots
Turmeric

Burdock

Marshmallow

Ginger

Dandelion
Harvesting Fruits
In some cases, herbs also grow fruits, and you'll want to harvest those for kitchen use. The fruits need to be harvested when it's ripe and the seeds are mature. Some examples that come to mind might be hawthorn, goji berries, or bilberries.  
Examples of Herbs You Harvest for Fruits
Hawthorn

Cranberry

Elderberry
Harvesting Seeds
In some cases, you harvest the herbs for their seeds. You want to make sure the seeds are mature when they're harvested. Harvesting needs to take place on a dry day, ensuring the seeds are also dry. 
Seed harvesting often takes place toward the end of the season. When the plant starts to dry, you can remove the stalk and dry the seeds indoors in a paper bag. Doing so stops the seeds from dropping on the ground. At the same time, it prevents the seeds from shattering when the seeds come out of the seed pod, sometimes with force.
Examples of Herbs You Harvest for Seeds 
Milk Thistle

Plantain

Flax

Dill

Fennel

Coriander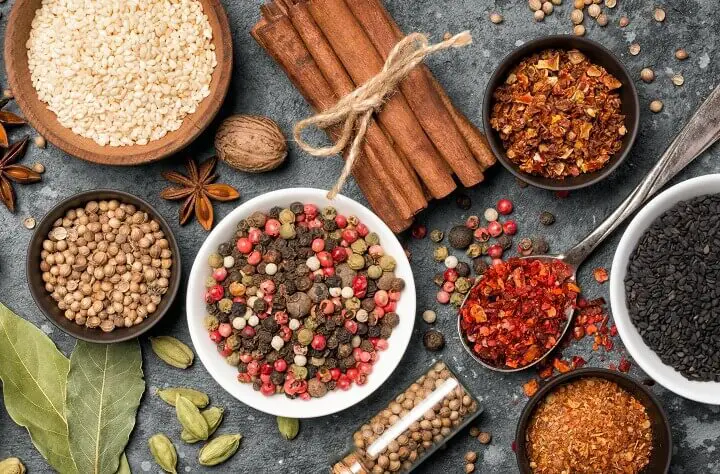 Study Each Individual Herb
Now that you know the general guidelines for harvesting herbs for maximum potency, it's time to start studying the individual herbs in your garden.  
Start with the herbs that you grow and use the most. Study each herb separately, learning the best time to harvest each part of the plant. Most herbs can be harvested several times throughout the season to use in the kitchen or for medicinal purposes. 
It's best to harvest frequently to encourage your plant to produce new growth. Few herbs are only harvested one time; most are a cut-and-come-again type plant. Culinary herbs such as mint, parsley, basil, and oregano, can be cut often because they grow back so quickly.
Learn About Harvesting
As you dive into growing herbs and using medicinal herbs, you'll want to learn how to harvest herbs for maximum potency. You don't want to waste the potentiality of the herbs that you spent so many hours growing.
After all of your work growing the herbs, you want to get the most out of them, so be sure to remember the best times for herb harvesting.  
Like this post? Don't Forget to Pin It On Pinterest!
You May Also Like: