This post may contain affiliate links.* As an Amazon Associate I earn from qualifying purchases. Click here to read our affiliate policy.
Estimated reading time: 7 minutes
Water storage is an often-overlooked part of prepping. However, in natural disasters, not only can city water supplies become contaminated or disrupted, but your well water may also become contaminated. In addition, if the electric grid goes down, you might not be able to access the water in your well. Water storage an essential aspect of being prepared. 
FEMA recommends everyone store one gallon per person per day for a two-week period. However, if you are in a hot climate, nursing, ill, or have to work hard for survival, you'll need more per person per day. You also may want to consider storing extra water for your pets and livestock, as well.
To figure out how much water you need, reserve at least one gallon per person, preferably more, times the number of days you want to have water. For example, if you want a month's worth of water, you'll need at least 30 gallons per person in your home, plus pets. 
So if you are serious about being prepared for emergencies, you'll want to be able to store a large amount of water for a long time. And while many sources will tell you to rotate your water supply, it is possible to store water for decades without rotating it. 
Want to save this post for later? Click Here to Pin It On Pinterest!
You can store water for the long term without rotating it because water does not have an expiration date. It does not spoil or go bad. However, water CAN be contaminated by dirt, bacteria, chemicals, or other pathogens. If your storage containers are clean, your water is clean, and you seal it appropriately, your water should technically last indefinitely without having to rotate it.
You can easily rotate your water each year. However, if you are interested in storing water for decades without having to worry about it, here are some tips to help you get there.   
Which Storage Containers Are Best for Long Term Water Storage
If you were storing water for short-term use and rotating it frequently, you could use clean milk containers, glass jars, or even 2-liter soda bottles that have been cleaned. However, if you want to store water for the long term without rotating it, you'll need to use something better. 
First of all, do not store water in containers that aren't food grade. Food safe plastic containers will have a small triangle with either a 1, 2, or 4 in the middle. For long-term storage, do not use a container that had other types of food or liquid in it, such as milk jugs, because any leftover residue will increase the risk of bacteria. 
Ideally, you'll purchase a new, commercially made water storage container such as the blue water containers from Legacy Food Storage. The blue color reduces the amount of light that reaches your water and protects it from the growth of algae. In addition, containers should be sturdy enough to prevent cracking and breaking under the weight of the water. 
You can store water in container sizes that are manageable for you and fit your space. For example, you could store water in 55-gallon drums or 5-gallon stackable containers. However, it is best to keep water for the long term in multiple containers so that if one container gets ruined or contaminated, you still have a stock of water to use. 
Water weighs 8 pounds per gallon, so you may want to use a combination of large and small containers to make using the water easier, especially if you need to transport it somewhere else. If you store water in large containers, you'll need a food-grade siphon and hose. You'll also need a bung wrench to open and close the lids so that they seal correctly. 
How to Clean Water Storage Containers 
Containers that have been used or opened before will need to be cleaned to ensure no bacteria can contaminate the water. The cleaner the containers are, the safer they will be. Always wash your containers with potable water. 
First, wash the containers with water and dish soap. Then, rinse thoroughly with potable water. 
Sanitize the containers with a bleach solution that is one teaspoon of bleach (unscented, liquid chlorine bleach) to one quart of water (make sure the water is potable, so you don't add contaminants). 
Put the lid on your container and shake it to make sure the bleach solution covers the entire surface. Make sure to put some bleach solution on the cap, too. Don't forget the threads of the cap. 
After 30 seconds, empty the container and rinse it twice. Again, make sure you only use potable water. 
New water storage containers may already be sterilized, but you'll still want to rinse them well with potable water. Don't skimp on cleaning your containers because you don't want to leave any contaminants inside that could pollute your water.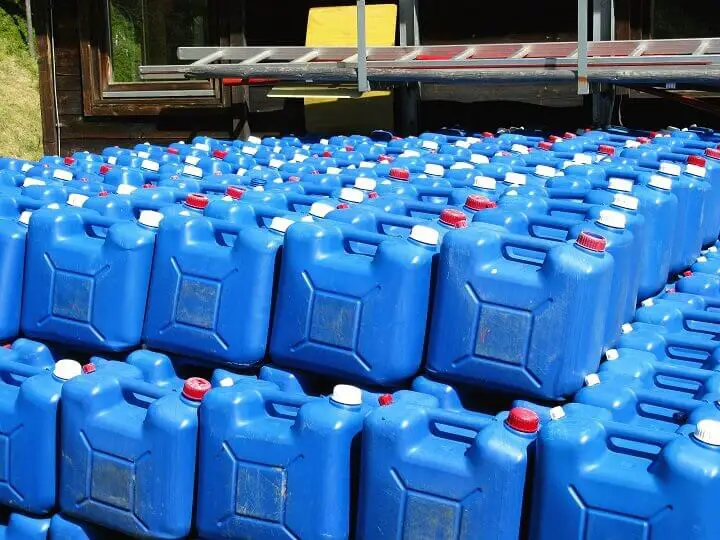 How to Fill Your Water Storage Containers 
Never use a standard garden hose to fill up your water containers. Garden hoses can contain bacteria and are not considered food grade. A safer option for filling your containers is to use a drinking-safe RV hose. These hoses are specifically designed to be used with drinking water. 
If your containers can be stored where they won't freeze, you can fill them all the way full. However, if your water containers are being stored in a place where they might freeze, you'll need to leave room for expansion. Fill your containers to 80 to 90 percent full so the water has room to expand as ice without breaking your containers apart. 
How to Store Water Containers
Water containers can be cumbersome to store. If possible, purchase stackable containers that are easy to manage and won't crack or break their seal if stacked. Some preppers recommend storing your water off the ground. It is possible for chemicals in your cement basement or garage floor to leach into and be absorbed by the plastic storage container. You can easily store your water on a pallet to raise them off the floor to be safe. 
You'll also want to store your water in a cool place away from direct light. If light reaches your water, it could increase the growth of algae and bacteria. In addition, heat can degrade the seals of your water containers. Also, make sure your seals don't dry out because they could crack and allow air and pathogens to reach your water. Finally, when possible, avoid storing your water in locations that can freeze, as well. 
A basement works well for water storage. If you don't have a basement, you could use a storage closet in a cool area of your home or even store water under your bed, if needed. While you could store water in your garage or a shed, the temperature extremes could shorten the life of your storage containers, which will shorten the storage time of your water. 
How to Treat Stored Water 
If your containers are clean and your water is not contaminated, you shouldn't have to treat your stored water. If you use tap water, your water will have already been treated to remove pathogens by your water management company. 
If you have doubts about the safety of your stored water, you can treat it when you are ready to use it. Add 1/8 teaspoon of chlorine per gallon of water to kill any pathogens in it. The efficacy of chlorine wanes over time, so you may want to keep an eye on the expiration date and replace it frequently. 
Your water might have a strange taste after it has been stored for a long time. An off-taste does not always mean your water has gone bad; it might just have absorbed the flavor of the container it is in. Stored water also does not have oxygen in it. To enhance its taste, you can swish it around in a cup before you drink it. You can also purchase water treatment drops that will help with the flavor of your water. 
It is important to remember that although water does not expire, it can become contaminated. Contaminated water can make you very ill. When in doubt, treat and filter your water so that it is safe to drink and tastes great. 
Like this post? Don't Forget to Pin It On Pinterest!
You May Also Like: