This post may contain affiliate links.* As an Amazon Associate I earn from qualifying purchases. Click here to read our affiliate policy.
Estimated reading time: 12 minutes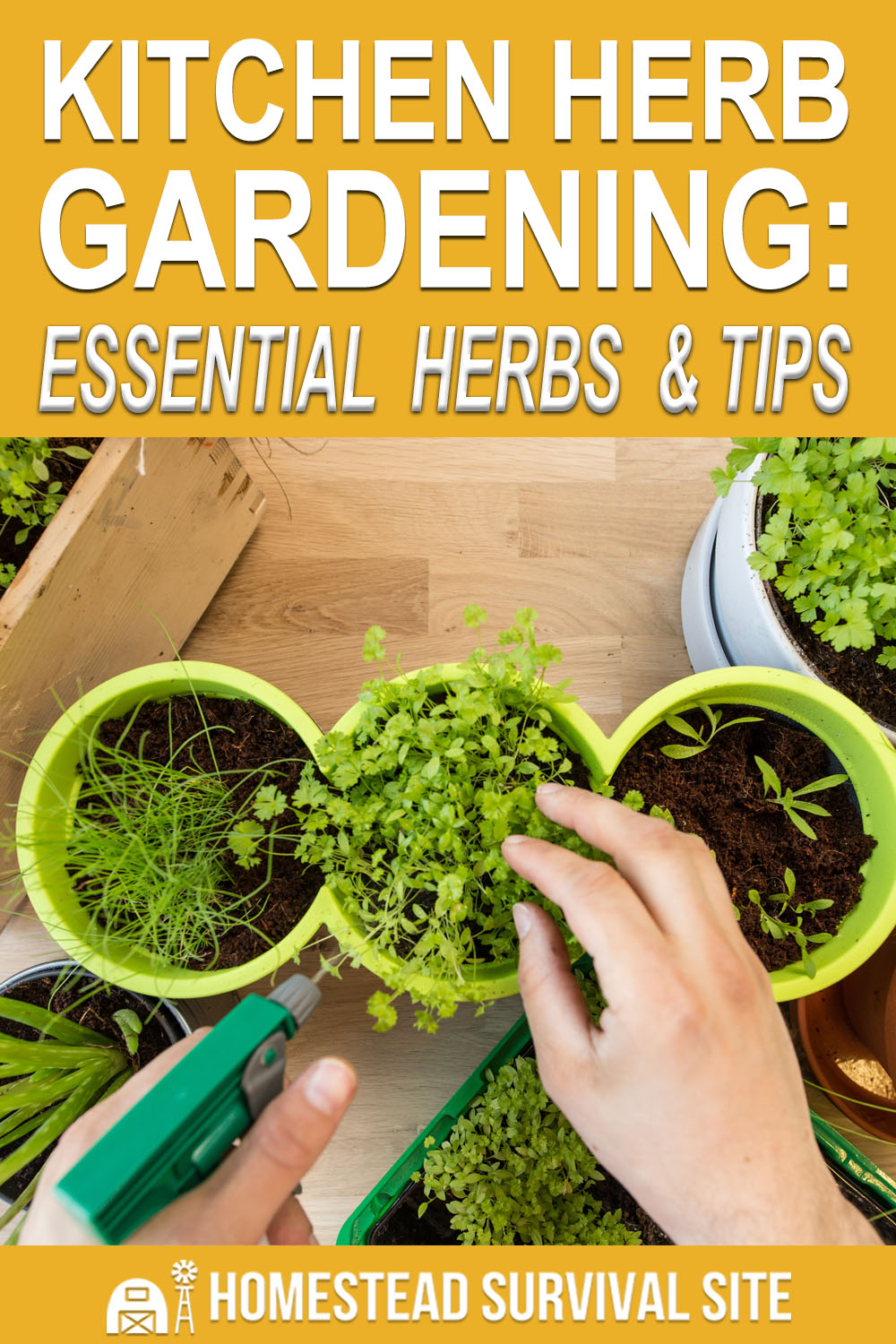 If you've got a sunny window, you've got the makings of a kitchen herb garden. I just love having fresh herbs at my fingertips all year long. Fresh herbs can enhance ordinary culinary dishes, add extra nutrition to your meals, and add fragrance and beauty to your home.
Growing herbs is both easy and affordable. Here are the best herbs to grow in your kitchen herb garden and how to grow them. 
Want to save this post for later? Click Here to Pin It on Pinterest!
Basil

Basil is a widely revered member of the mint family. Its strong, somewhat sweet flavor is used in all kinds of dishes, including Italian style pasta and pizza. Cooking somewhat destroys the flavor of basil, so add it to your dish near the end of the cooking time. 
Basil grows best in a warm and bright window. It does not tolerate overwatering, so make sure to use a potting soil that drains well and a pot with a good drainage hole. 
Bay Laurel

Bay Laurel is an interesting herb. Typically, the leaves are too tough to eat but it has a strong flavor. Cook bay laurel as a whole leaf in your soups and stews to add great flavor but remember to remove the leaf before eating. 
Bay Laurel can grow into a large tree outside but will stay smaller when grown indoors in pots. You may need to prune it a bit to keep it to a desired size. Laurel does not like soggy soil and will rot, but it does like an occasional misting when the humidity is low. Repot every one to two years as the plant grows. 
Chives

This mild-flavored herb has long green stems and is related to onions and garlic. Mince the stems and sprinkle them on all kinds of dishes, from baked potatoes to soups and stews, to salads and dressings.
Mix it with butter or sour cream for a savory condiment. Chive blossoms can be used as a garnish or deep-fried. The stems of the chive blossoms can be too tough to eat, use the blossoms but throw away the stem. 
Chives are an easy to grow perennial and thrive almost anywhere, even in your kitchen window. Chives like lots of sunlight and lots of water, so keep the soil moist but not soggy. Trim off as much of the stem as you need; snipped stems will continue to grow and can be harvested again and again. 
Cilantro

Cilantro, sometimes known as coriander for its seeds, has a zippy, citrus flavor to it. You can use both the stems and leaves, but the less you cook cilantro, the better. Cooking tends to diminish its robust flavor and it tastes best when used fresh. 
Cilantro is best grown in full sun. Plants that were started outdoors often do not transition well to being an indoor plant, so start your cilantro from seeds or starter plants. Use a terracotta or unglazed pot to allow for more evaporation and allow the soil to dry out completely before watering again. 
Lemon Balm

Lemon balm is most known for being made into a tea, but it also tastes delightful alongside chicken and salads. This hardy perennial is related to mint but tastes and smells a bit more lemony than mint does. 
This shrubby herb likes five hours of bright sunlight. It does not grow as well indoors as it does outdoors, but it can still be successful in your kitchen. Use a fast-draining potting soil and avoid watering too frequently. 
Lemongrass

This woody, citrus-flavored grass is often found in Asian cuisine. The stalks are very fibrous and woody, so it is best to cut away the top and very bottom of the stalks. Peel away the outside to get to the softer part of the plant on the inside. Even still, you may need to chop it into very tiny pieces or cook lemongrass whole and then remove it from your dish. 
Lemongrass needs a very large container to grow in, with plenty of drainage holes. Lemongrass prefers full sun, frequent fertilizing, and frequent watering. If the plant outgrows its pot, you can harvest some, repot some, or just put the whole plant into a bigger pot. 
Marjoram

This delicate herb has a slightly sweet flavor and goes well with all kinds of dishes and cuisines. It is sometimes used as a substitute for oregano and thyme. Remove the leaves from the stems before cooking. 
Outdoors, this plant will grow only as an annual in cool climates but can live for years inside. Keep marjoram happy by growing it in a sunny window. Keep the soil moist but not too wet. Pinch back blooms in the spring and summer to reduce growth and inhibit the stems from getting too woody. 
Mint

Mint is a hardy perennial with a distinctive flavor and fragrance. Well known as flavoring for mints, gum, and ice cream, you can use fresh mint leaves in tea, in salad dressings and sauces, and to make syrup.
Mint can also be used to repel insects and rodents who don't like its strong fragrance. Just snip off whatever you need; mint will just keep on growing under the right conditions. 
Mint is hardy and easy to grow. It will take over any space it is planted in, so this plant is great to have in containers. Choose a wide shallow pot made of terracotta or plastic with a drainage hole.
Use a good potting soil mixed with perlite or sand to encourage drainage, since mint does not like to have wet feet. Water the soil when the top inch of soil becomes dry, but do not allow the soil to remain soggy. Mint likes good sun, so grow it in a sunny window. 
Oregano

Oregano has a strong, zesty flavor and is often used in Italian dishes. It is a Mediterranean herb in the mint family, and generally grows rose or white-colored flowers. To use oregano, strip fresh leaves from the woody stems and mince them. Mix them into marinades, sauces, and bread rolls. 
Oregano likes to grow in well-draining soil, so you may want to add additional perlite to your potting soil to enhance drainage. Allow the soil to dry out before watering, and trim it often to keep the plant compact and growing fresh leaves. Oregano needs 6 to 8 hours of sun per day.  
Parsley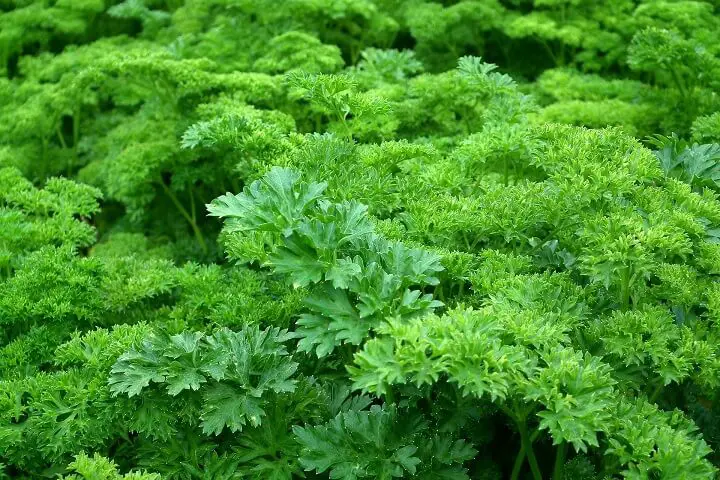 Parsley has a spicy, peppery flavor. It goes well with dishes such as eggs, potatoes, tomato sauces, and even seafood. It is high in Vitamin K. Parsley benefits from a lightweight potting soil with good drainage. 
Parsley needs at least five hours of bright sun per day or it may get spindly. Parsley may get woody and tough the second year, so you will probably want a fresh plant each year for your kitchen garden. Parsley leaves can be used fresh or dried for a few minutes in a 100 degree Fahrenheit oven. Place the cooled leaves in an airtight container for later use. 
Rosemary

Rosemary is a woody, Mediterranean perennial with evergreen-like leaves. It works well in soups, casseroles, and stews and tastes great with onions and potatoes. Use rosemary by stripping whole leaves off of the stems and adding them to your dishes while cooking. 
Rosemary likes six to eight hours of direct sunlight in the summer, so it's great to move it outside to get some sun when the weather is warm. Bring it back inside before the weather turns cool and keep it in a south-facing window for the winter.
It may look a bit ragged by the time spring comes around again due to the lack of sunlight, but just give it a good pruning, harden it off, and take it back outside. It will perk up before you know it. Rosemary prefers to have drier soil, so make sure your container has good drainage with well-draining soil. Only water when the soil becomes dry. 
This plant can be pruned frequently, making it ideal to have on hand for cooking. 
Sage

Sage is a close relative of rosemary and a member of the mint family. Sage has a strong musky fragrance and pairs well with turkey and dishes with oil and fat, or savory dishes with pumpkin and butternut squash. It is a great source of Vitamins A, B, calcium, and fiber. 
To use sage, cut off fresh leaves with sharp shears. Mince leaves and mix them into dishes while cooking to soften the flavor. Whole leaves can be deep-fried and eaten as well. 
Sage thrives in full sun, so keep it in a sunny window indoors and in full sun outdoors. Fertilize sparingly since fertilizer inhibits the rich flavor of sage. Plant your sage in loamy, well-draining soil and only water when the soil is dry.
Sage is drought-tolerant and hardy, so avoid overwatering. You can harvest sage regularly but give it a good pruning once or twice a year to encourage new growth. Transplant to a larger pot when the plant becomes root-bound.  
Stevia

Stevia is known as a calorie-free sweetener that has become very popular in recent years. It can be added to ice teas to sweeten them. It can be soaked in water to make a simple syrup to sweeten beverages and foods. Stevia can also be dried and ground into a powder with your food processor. 
This plant can grow one to three feet high, so make sure to give it a large enough container. It needs a 12-inch pot or at least 18 inches of space to grow in. It likes well-draining soil; only water stevia when the top inch of soil becomes dry.
Thyme

Thyme has a fragrant, slightly minty flavor. Thyme is used in cooking by stripping the tiny leaves from the stems. The stems are generally too woody and tough to eat. You can mince the leaves or add them whole to your dishes, especially alongside spice blends, in sauces, and with eggs or tomatoes. 
Thyme is one of the easiest herbs to grow indoors. It prefers drier soil, so choose a pot made of terracotta or similar material that allows the soil to dry out more quickly. Make sure the soil has good drainage. Water thoroughly, then allow the soil to dry out before watering again.
Like other herbs, keep thyme in a sunny window. You may want to put your thyme outside for the summer but be sure to acclimate it slowly. 
Tips for Growing Herbs
Full Sun – Most herbs prefer lots of sun and will thrive in a south-facing window. But if you don't have a sunny window, don't worry! A small grow light over your pots can put out enough light to grow your herbs. 
Good Drainage –

Most indoor herbs prefer a well-draining soil. For most indoor herbs, only water when the soil becomes dry.

Warm Temperatures –

Plants grow best in warmer temperatures, just like the temperatures of the average home.
Like this post? Don't Forget to Pin It on Pinterest!
You May Also Like: