This post may contain affiliate links.* As an Amazon Associate I earn from qualifying purchases. Click here to read our affiliate policy.
Estimated reading time: 5 minutes
I often thought my grandparents did some weird things—that is, until I discovered it came from the make-do attitude they learned while raising kids during the Great Depression. They took their limited finances and limited resources and did the best they could with what they had, from homesteading to cleaning and even cooking. 
But they weren't the first generation to learn this make-do attitude. In fact, many generations and many civilizations have had to make do, especially when it came to their cooking and food supplies. 
Poverty cake is an ancient and very simple recipe born out of lean times. It's made from ingredients you probably already have on hand or can easily get at the store. It's easy to make, and you can create all kinds of variations based on what you have on hand.
There are other variations of this cake called poor man's cake, economy cake, and depression cake, after cake made during the Great Depression. This recipe probably dates back to the early 1800s.  
The texture of poverty cake is something between a dry bread and a pancake. It's firm enough to eat like a brownie, with a light feel and a slightly sweet flavor. You can make a delicious dessert just using what you have.
Poverty Cake Recipe
Poverty cake is an ancient and very simple recipe born out of lean times. It's made from ingredients you probably already have on hand.
Ingredients  
1

Cup

Sugar

2

Cups

Flour

1

TBS

Butter

1.5

Tsp

Baking powder

0.5

Tsp

Salt

1

Cup

Milk
Instructions 
Preheat your oven to 350 degrees F. 

Combine butter (you can substitute lard if you want) and sugar until all lumps are gone. You could do this with your mixer or using a pastry cutter. I substituted Crisco for butter because that's what I had on hand. And then, I mixed them together using a wooden spoon. Just make sure it's well combined with no lumps. Set aside. 

Combine flour, salt, and baking powder. You could certainly combine them with a sieve, but I just fluffed them with a fork until the ingredients were mixed together evenly. Set aside. 

Pour milk into your sugar and butter mixture and stir well. You could use your electric mixer if you like. I just mixed it well with the wooden spoon. 

Pour the flour mixture into your other bowl slowly. Mix well until it's nice and smooth. You'll get a thick sticky batter that can hold its own shape. Try to make sure there are no large lumps of butter anywhere. 

Add in your fixings. I added a bit of nutmeg to my poverty cake. 

Pour your batter into a pan. If you want it a little thicker, you could use a small cake pan, but keep in mind that for this type of cake, thinner works better. I wanted my poverty cake to be thinner, like a piece of French toast or a thick pancake. So I poured my batter into the center of a non-stick cooking sheet. I smoothed the batter out, so it was all even, but it didn't fill up the entire pan. 

Put your pan in the middle of the oven and bake for up to 25 minutes if using a cake pan. Because my cake was a little thinner, I baked it for exactly 20 minutes.

My cake was done when the edges started to turn a little golden brown, and the cake felt a bit spongy on top. 

Allow the cake to cool for a bit. 

Then I transferred my cake from the cooking sheet to a cutting board so I didn't accidentally cut my cooking sheet. 

Cut your cake into pieces. I cut mine with a pizza cutter. 
Nutrition
Serving:
4
oz
Calories:
302
kcal
Carbohydrates:
70
g
Protein:
3
g
Fat:
2
g
Saturated Fat:
1
g
Polyunsaturated Fat:
0.05
g
Monounsaturated Fat:
0.3
g
Trans Fat:
0.01
g
Cholesterol:
5
mg
Sodium:
336
mg
Potassium:
71
mg
Fiber:
1
g
Sugar:
38
g
Vitamin A:
66
IU
Vitamin C:
2
mg
Calcium:
174
mg
Iron:
2
mg
Substitutions 
The beauty of this cake is that you can use whatever you have on hand to make the cake. You can make some very easy substitutions and still have a delicious dessert or snack. 
If you don't like nutmeg, you could substitute something else. For example, you might want to put some cinnamon in your cake. Or perhaps you would like the flavor of vanilla better. You can also add raisins, nuts, or chocolate chips. 
If you don't have butter, you could use lard or Crisco, as I did in my cake. Butter will make it a little bit fluffier. 
Serving Suggestions
If money is tight or you don't have a lot of ingredients on hand, you could serve your poverty cake as is. Serve it warm as a dessert or serve it up cold as a breakfast. It tastes delicious when sprinkled with powdered sugar. 
My daughter enjoyed hers with some cut-up banana, cinnamon, and a dribble of maple syrup. You could serve it with just about any kind of fruit or even a scoop of ice cream!  
Alternate Recipe 
My kids wanted me to make another batch, but I was low on ingredients, so I decided to use my make-do skills and make it work! Here's what I did: 
Ingredients:
2 cups flour 
1 cup brown sugar 
1 tbs + 1 tsp Crisco 
1 ½ tsp baking powder
½ tsp salt 
1 cup water
Directions:
I mixed up the batter, just like in the previous recipe. 
The batter was thick and sticky. I poured it (well, more like plopped it) onto my cooking sheet and spread it out a bit so that it was even, then popped it in the oven.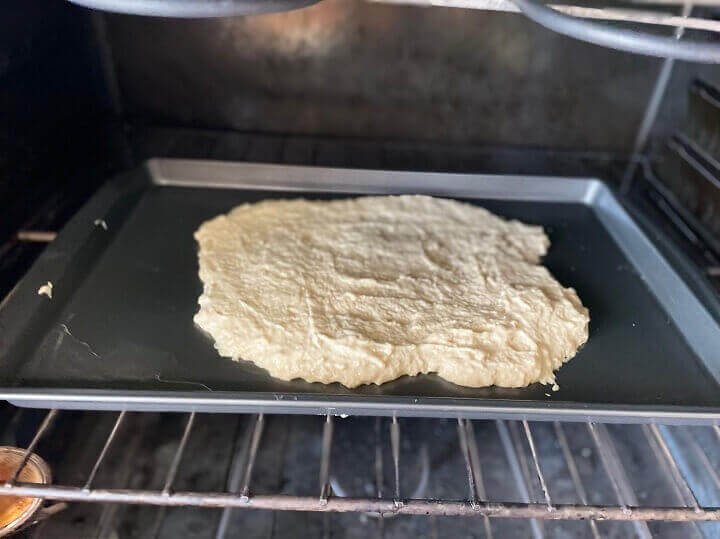 The final result was very similar. This time, the cake raised a little bit more, was a little bit fluffier and moist, but crumbled a bit more easily. Both versions were equally delicious! 
Final Thoughts on Poverty Cake 
This cake is amazingly easy to make from scratch with ingredients you probably have on hand anyway. The best part of this cake is that it is easy, inexpensive, and flexible. Since it's a lot like a pancake, you can serve it for breakfast, serve it as dessert, or even as a snack. So have fun dressing it up or eating it as is.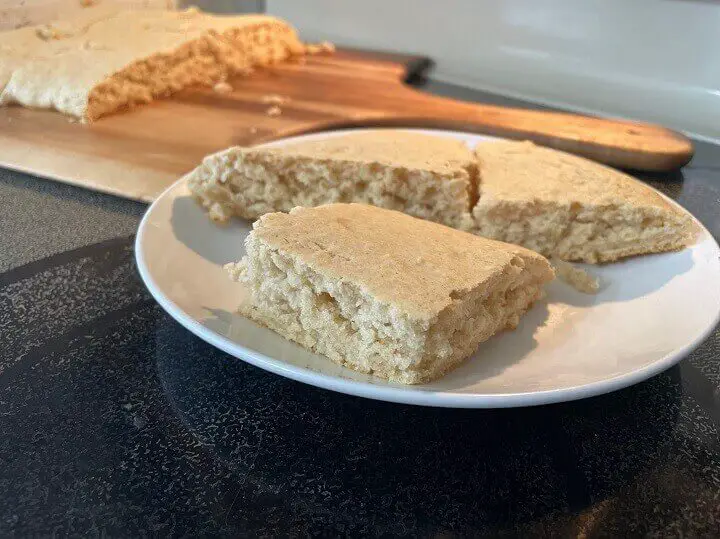 It's great for those surprise guests, hangry kids, and busy lives! I don't like making recipes that require fancy ingredients that I'll never use again, and I love being able to whip something up when my kids are getting hungry.