This post may contain affiliate links.* As an Amazon Associate I earn from qualifying purchases. Click here to read our affiliate policy.
Estimated reading time: 8 minutes
Lavender has been used for hundreds of years for its delightful fragrance and healing properties. It makes a beautiful statement in your garden and flower beds, too, attracting pollinators and repelling mosquitos. This easy-to-grow, versatile plant is an excellent addition to your yard or homestead. 
Lavender is known for its silvery-grey foliage, tall purple flower spikes, and rich floral fragrance. It prefers to grow in sunny, dry spots and will regrow year after year under the right conditions. 
Ancient Rome used it for its antiseptic and healing qualities. They used it to scent public bathhouses, as well. Ancient Greeks used the herb for back pain and insomnia, while the Egyptians used it for perfume and mummification. Its unique properties are still used today, and it is easy to see why.
Want to save this post for later? Click Here to Pin It On Pinterest!
Here are 21 reasons to grow lavender. 
Gardening
It's Easy to Grow
Once it is established, lavender is hardy and easy to grow. It is drought-tolerant, and there are varieties for just about every growing zone in the United States. If you find the right variety for your area, it should grow and thrive without too much effort. Plant it in a sunny and dry location. 
It Attracts Pollinators
If you're trying to be self-sufficient or even if you just love a good garden, you'll need some pollinators. Lavender flowers attract pollinators and make a great addition to your garden or flower beds. 
It Smells Good
Lavender is very aromatic, and simply brushing up against a lavender bush will let out a beautiful aroma. It also smells good in soaps, lotions, creams, bouquets, and potpourri. 
Bug Repellent
Surprisingly, lavender repels mosquitos, flies, and fleas! So if you seem to be mosquito bait, you might want to surround your deck with lavender plants to keep them at bay. Use this recipe to make a bug repellent spray with lavender-infused oils. 
Medicinal Uses
Lavender has been used for health for hundreds of years. It is an essential item to stock in your alternative medicine first aid kit for its antimicrobial and analgesic properties. In addition, it promotes sleep, boosts the immune system, calms nerves, reduces anxiety, and can relieve headaches, too. Here are some medicinal ways that you can use your homegrown lavender. 
Lavender Herbal Salve 
Lavender is great for your skin, and you can maximize its benefits with a homemade lavender salve. It can moisturize, soothe scrapes and burns, reduce itching and irritation, and even help with acne and eczema.
Applying lavender salve at night can help reduce anxiety and help you sleep, too. It's so easy to make with lavender from your own garden. Here's how to make an herbal salve from your lavender. 
Dried Lavender Body Lotion
If you've got little ones, you might be concerned about what lotions are safe. Make your own derived lavender body lotion with just a few ingredients. You'll know exactly what's in it! 
This lotion can be used for diaper rash, mild skin issues, moisturizing, and even soothing lips and chapped skin. You'll find the easy directions right here.
Chamomile Lavender Lotion 
You can make this lotion using strong lavender tea steeped from dried lavender flowers and lavender-infused oil. If you want to make the lavender fragrance even more potent, you can add a few drops of essential oil, as well. 
This lotion takes just a few ingredients and gives you a lightly fragranced lotion for your skin. You can find the recipe right here. 
Lavender Infused Oil 
Lavender oil can be used on its own or as a base for moisturizers and balms. In addition, you can use lavender oil to cleanse the skin and remove makeup, treat acne and bug bites, and soothe eczema.
Lavender-infused oil is different than essential oil but works similarly. Better yet, you can make your own lavender-infused oil at home. Check out this website for how to make your own lavender-infused oil. 
Lavender Tincture
Harness the healing powers of lavender in a tincture. These properties include use as an anti-inflammatory, anti-fungal, and anti-microbial. In addition, it may help soothe minor wounds, burns, and other skin issues. 
A tincture is made by covering lightly crushed dried flowers with vodka or grain alcohol. As the mixture sits, the alcohol pulls the oil properties from the flowers into the alcohol. After the tincture is completed, you can strain out the flowers and store the tincture in a cool dark place. Then, use it by itself or in balms and creams. 
Here is more information on making a lavender tincture. 
Lavender Tea
If you need to relax, you can skip the wine and reach for a mug of warm lavender tea instead. It is thought to reduce stress and anxiety while helping you to relax. See this website to learn more about brewing your own lavender tea.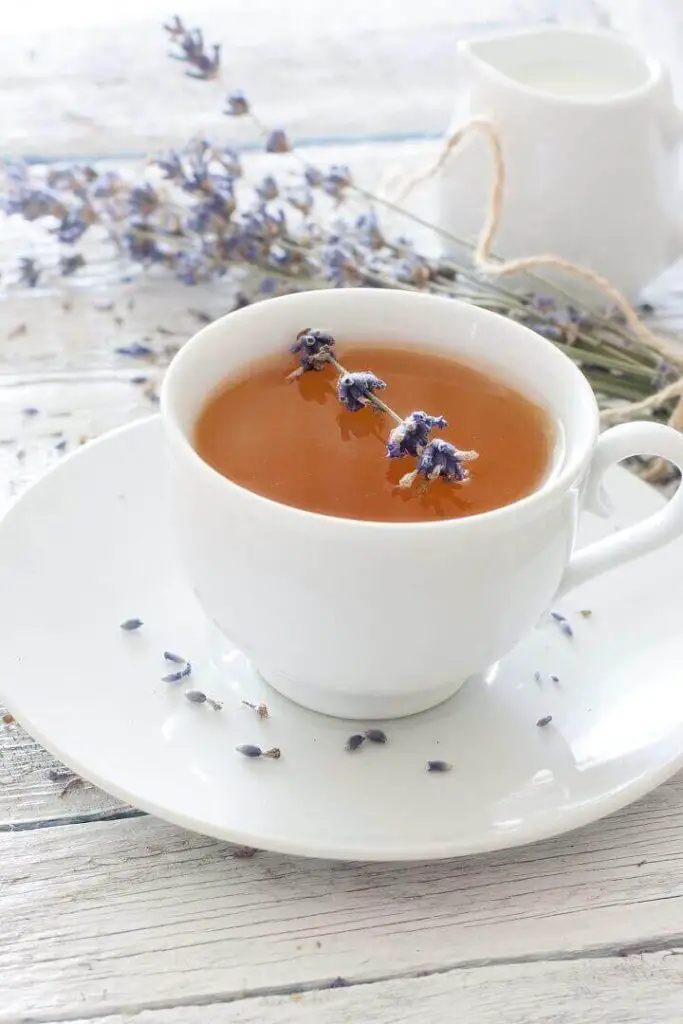 Vanilla Lavender Lip Balm
Chapped lips are never fun, but you can treat them with Vanilla Lavender Lip Balm made from lavender you grew yourself. You'll need a week or two to make the vanilla-lavender infused oil, but after that's complete, making the recipe is easy and fun. Here, you can find the easy directions, including how to make the vanilla and lavender-infused oil. 
Melt and Pour Soap
You can make easy lavender soap with some lavender essential oils and dried lavender buds that you grew yourself. Melt and pour soap bases make it easy to make your own soap without having to use all the harsh chemicals to make lye-based soaps, and you'll still get all the benefits of homemade soap. You can find the directions here. 
Eye Pillows and Sachets to Help You Sleep
The scent of lavender reduces anxiety and promotes sound sleep. Instead of watching endless Youtube videos at bedtime, try making one of these soothing eye pillows to help you relax instead. You can make use of your own lavender, and you can even tuck them into drawers as scented sachets, as well. Check out these DIY directions. 
Bath Tea
Another great reason to grow lavender is to make your own bath tea. As we already mentioned, the Ancient Romans used lavender to add fragrance (and possibly antiseptic properties) to their public bathwater.
You can easily make your own bath tea by adding a cup of dried lavender buds to your hot bathwater. Allow the buds to soak (and the water to cool to just the right temperature) before you get it. It is great for your skin and your sense of well-being. 
Culinary Uses
Lavender is related to other herbs such as mint and thyme. Since it is edible, you can use it in just about any way you would use these other delicious herbs. 
Lavender Lemonade
For a refreshing summer drink, nothing beats lavender lemonade. You can easily brew this yourself from homegrown lavender. You'll get a boost of Vitamin C, too. Here's the recipe. 
Lavender Infused Sugar
Sugar is a preservative and will preserve the delicate lavender buds. You can use the sugar and the buds in recipes in place of plain table sugar. Find out how to make lavender-infused sugar right here. 
Shortbread Cookies with Edible Flowers
Lavender and lemon are a delicious combination, even more so when you put them in cookies! These shortbread cookies are great for just about any occasion. Click here for the recipe.
Lavender Infused Honey
If you're a beekeeper, you're going to want to grow some lavender to make your own lavender-infused honey. Heat honey in a saucepan and add your dried lavender buds. Let the mixture cool and rest for 24 hours in a covered dish. Next, reheat the honey so that you can strain out the lavender flowers. Pour the honey into a clean jar and keep it covered. 
Dried Lavender
If you are going to use your lavender for cooking, you might want to plant verities that have been bred for flavor. Culinary lavender will taste a little bit less bitter when cooked. You can use it fresh, of course, but if you want to store lavender for cooking, you might want to dry it. Make sure to follow these directions so you can preserve as much of the flavor as possible. 
Crafts 
Lavender is great for crafting, as well. You may want to grow lavender to use for your special creations! 
Cut Flower Arrangements 
Fresh cut lavender blooms can last in a vase with water for about ten days, making them a beautiful and fragrant addition to your floral arrangements. You can also dry them upside-down and use the dried flowers to make arrangements, as well. 
Candles
If you make candles, you can add dried lavender buds to your melted wax before you pour it. The buds will add texture and fragrance to your candles. 
Like this post? Don't Forget to Pin It On Pinterest!
You May Also Like: