This post may contain affiliate links.* As an Amazon Associate I earn from qualifying purchases. Click here to read our affiliate policy.
Estimated reading time: 14 minutes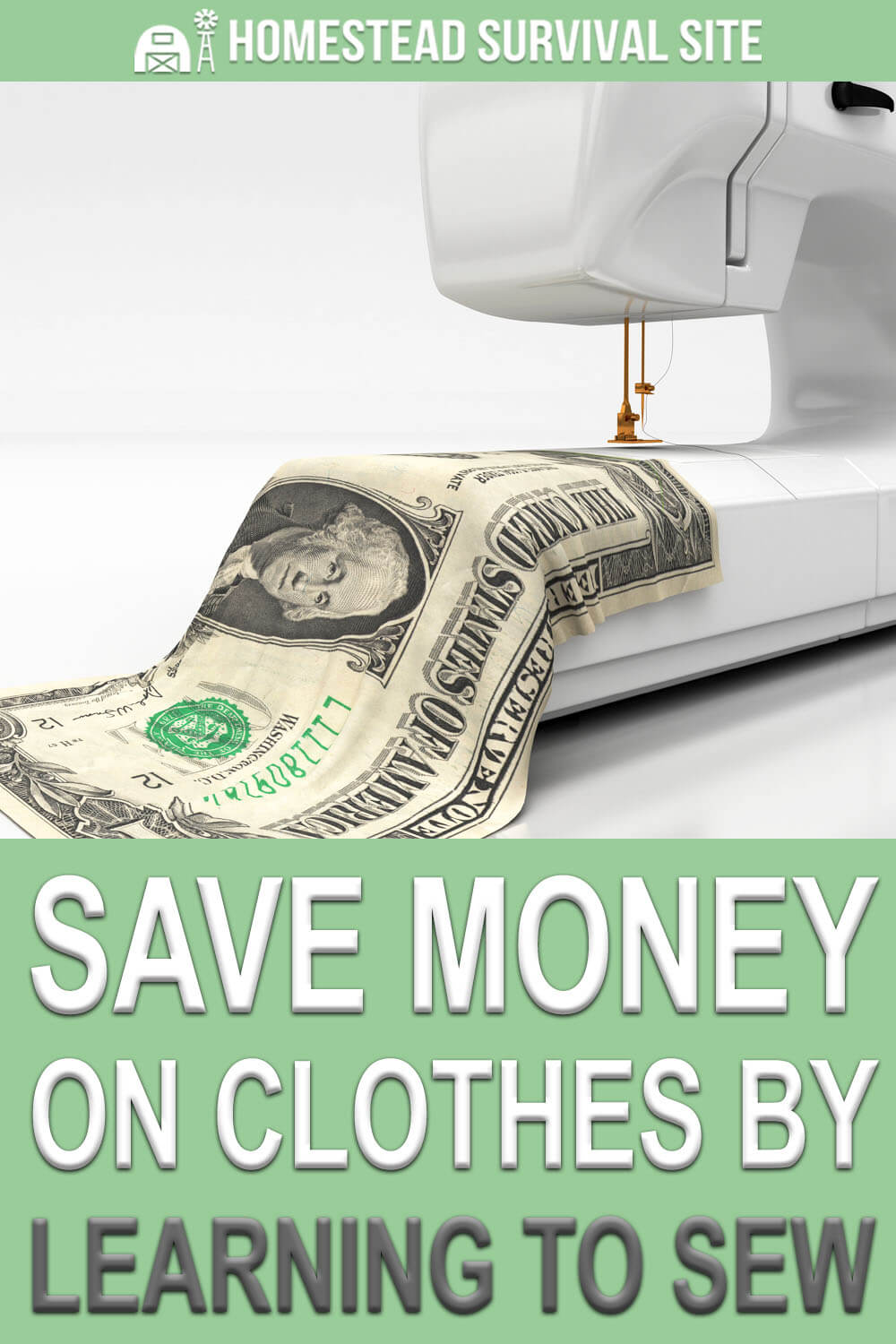 Learning to sew was once an honored family tradition, a skill that was passed from mother to daughter just like cooking and baking. Even many young American boys used to learn basic sewing skills to adorn their scouting uniforms with patches.
In our fast-paced modern world, where everything is disposable, learning to make or repair one's own clothes is far less of a priority. But thanks to the increasing desire to get back to a simpler (and more prepared) way of life, along with websites like ETSY and homesteading related social media groups, there has been a resurgence in the desire to sew.
Want to save this post for later? Click Here to Pin It On Pinterest!
However, taking that first step into what can seem like a complicated and frustrating hobby can sometimes hold folks back from getting started. When I was in junior high during the mid-1980s, girls had to take a class called home economics. The teacher we had sucked every last bit of creativity and fun out of what should have been an enjoyable experience.
If I had not gotten my sister-in-law to cheat and finish a ruffle on a pillow for me, I would have received a C in the class and been grounded for nine weeks for not making the honor roll. I have zero fond memories of first learning how to sew.
In fact, I did not touch a needle and thread again until our daughter was expecting our first granddaughter and I really wanted to sew cute little dresses for her. I literally could not remember how to thread the machine. Please trust me when I say (alright, type) that if I can learn to sew, anyone can.
How Can Sewing Save Money?
Not a single item of clothing has been thrown away or turned into rags in our household since I learned how to sew. Not only can you mend or make clothing to save money, you can turn just about any piece of old clothing item into fabric for other sewing projects.
Top 10 Ways To Save On The Clothing Budget By Learning To Sew
1. Turn a good pair of jeans that have just gotten too short on one of the kiddos into a pair of shorts – or even a skirt or pair of slippers.
2. Turn a plain pair of boys' jeans or shorts into a cute girly pair of jeans, shorts, or a skirt by sewing on some frilly trim, patches, or embroidering a design onto the material.
3. Old curtains can be turned into fabric vertical plant hangers or doll clothes.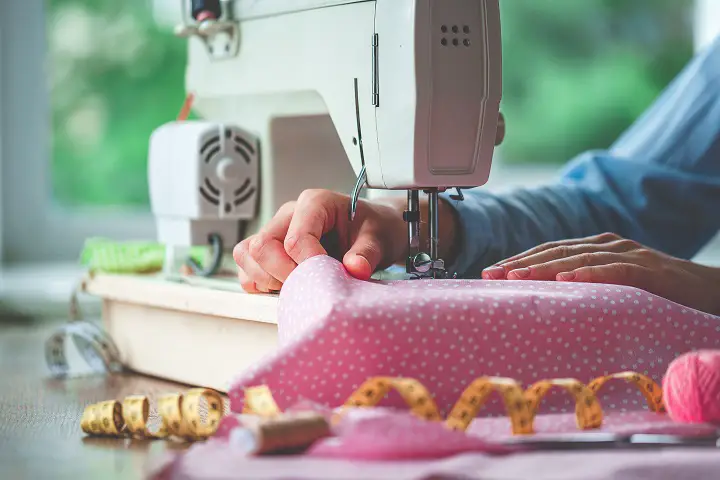 4. Use a child's bedspread or quilt that has seen better days to make throw pillows, pajamas, or even a bathrobe.
5. Terry cloth material from towels and washcloths can be used to make adorable sundresses for girls or swimsuit coverups for girls and women.
6. Pillowcases have been turned into baby and little girl dresses for decades and can also be used to make simple everyday summer tops for women.
7. Sheets can be used as fabric for a variety of projects from clothing to pillow coverings (that can be embroidered on) chair cushions, pajamas, etc.
8. A man's dress shirt can be quickly and easily turned into a dress for a little girl of a short sleeve or sleeveless office-suitable blouse for a woman.
9. Keep even the smallest of scraps to turn into doll clothes that can be given as birthday or Christmas gifts to a little girl in your life. If you have ever shopped for doll clothes to give with a new baby doll, you already know they can cost as much as the clothing the girl herself wears.
A little boy's favorite superhero shirt that he has outgrown could be turned into a shirt a teddy bear could wear or cut into a square shape and sewn together with other old shirts and scrap fabric to make a throw blanket.
Small scraps are excellent for making Barbie doll clothes and tents and sleeping bags for little adventure guys that boys often play with.
10. Even the tiniest of clothing scraps get saved in a big tub to use for stuffing when sewing throw pillows or cloth dolls. They can also be used as cute patches when mending clothing, or they can be sewn together quilt-style to make fabric purses.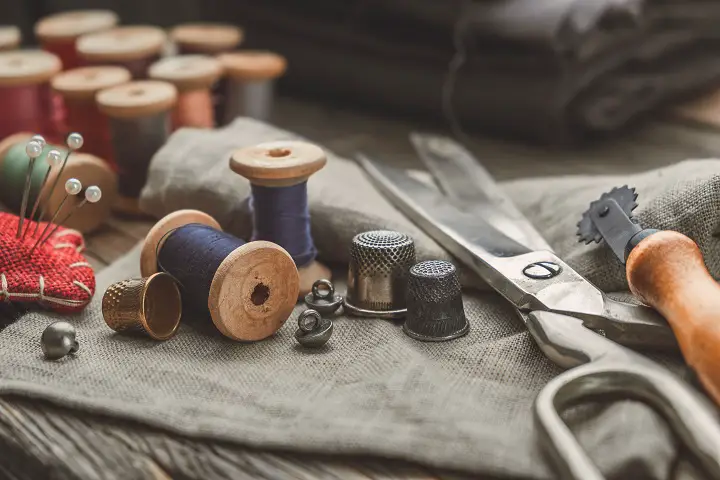 Choosing A Sewing Machine
The first step in learning how to sew is to purchase a sewing machine. When I first started browsing the sewing machines on the market five years ago, I nearly threw my hands in the air and said, "forget it."
Wow, sewing machines have really changed in the past couple of decades. They are now so computerized and high-tech with copious amounts of bells and whistles. The price tags alone are enough to deter a wannabe sewist – the new non-gender word that refers to a person who sews, instead of seamstress.
All the buttons and digital screens a sewing machine has may mean a lot more options are available to the sewist. But, unless you are really into tech and have some sewing skills already, a basic middle-of-the-road sewing machine with only the necessary functions will do just fine — and only cost between $75 to $125, on average.
Although I am definitely a gal who loves a bargain and yard sales, I caution any new sewist against purchasing a gently owned machine. When you are first learning to sew, you really need a machine that not only works perfectly, but one that comes with a manual (some are now on CD or DVD and not a paper booklet) a warranty, and even free tech support.
Three Types Of Sewing Machines
1. Mechanical – This type of machine is not a manual 1800s-era type of sewing machine, it does run on electricity. It is a simple machine to operate, has no computerized components, and offers the sewist about 10 to 25 different stitching options, most of which you won't need unless you want decorative stitching.
Mechanical sewing machines are a budget-friendly and easy to use option that are great for newbie sewers.

2. Electrical – There is a price jump from mechanical to electrical sewing machines, but not a huge one. Electrical sewing machines are a hybrid of computerized and mechanical sewing machines. Extra buttons on this machine include a thread cutter option, a lowering and raising needle lever, and usually includes a lot more stitching style and presser foot options than a mechanical machine.
This is also a good starter machine for a new or new-ish sewer that can grow with you but not be too frustrating to use.

3. Computerized – Computerized sewing machines or combo sewing and embroidery machines are wonderful inventions. I absolutely loved my combo sewing and 4 X 4 embroidery machine so much that I upgraded to a 5 X 7 embroidery machine. But, if I had started my first adult sewing project on such a machine I likely would have gotten incredibly overwhelmed and frustrated – and perhaps not finished the project.
Computerized sewing machines have a digital screen, usually a touch screen, to allow you to choose from the score of stitching options, embroider, and include a troubleshooting and function guide with on-screen graphics that serve as a quick reference usage manual.
These are considerably heavier machines that are not as portable as either a mechanical or an electrical machine. Cotton thread is generally highly discouraged when using a computerized and especially a combo sewing and embroidery machine because it creates too much dust that can cause damage to the machine.

Where To Buy A Sewing Machine
I have purchased machines from both local and online retailers and have had excellent results each time. Ideally, buying from a local sewing shop can have a plethora of benefits. An authorized dealer for the machine brand often offers repair services and extra parts designed specifically for your machine.
Will you pay more when buying from a local sewing shop? Quite possibly. I tried to purchase my newest embroidery machine from a local dealer, but the price difference was close to $300, and I just could not justify that added expense.
Even though I did purchase the same brand of machine online, it can still be taken to the local shop for repairs – but, some issues that may have been fixed at a free or reduced-price would not garner the in-store purchase discount.
Each independently owned sewing shop or authorized dealer will have its own policies about repairs and replacement parts. Checking into the particulars before making a sewing machine purchase decision is wise.
Three of the best selling sewing machine brands in the United States are Brother, Janome, and Singer. All of the machines I have owned have been Brother because it seems to be a quality yet middle-of-the-road priced brand. They have stood up to rugged and heavy use.
Homesteading friends who are also avid sewists that own either Singer or Janome, are equally pleased with their sewing, combo, or straight embroidery machines.
Sewing Supplies
The sewing machine is the most important (and expensive) purchase made when learning to sew. The sewing aisle at the local craft store or sewing supplies section online offers hundreds of sewing materials – making it difficult to determine what you actually need to buy for basic sewing to mend clothing, make clothing, and upcycle cloth items into fabric.
The list below includes only what you need to accomplish those tasks, and not a lot of extra fancy things that can sometimes be equally fun and frustrating to use when first learning to sew.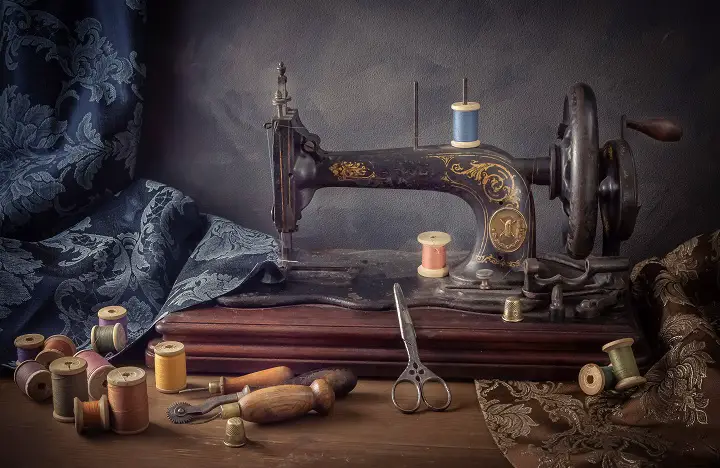 1. Sewing Box – This can be a plastic tub with a lid from the dollar store or a cute fabric-covered box from a sewing supply section of a craft retailer.
2. Fabric Scissors – A good quality pair of stainless steel fabric scissors that will ONLY be used for sewing is as vital to the learning process as a good machine.
3. Straight Pins – These pins can be used to pin a paper pattern piece to the paper for ease of cutting and also to keep fabric pattern pieces together right up until they are fed through the presser foot on the machine.
4. Sewing Measuring Tape – Some sewing patterns are actual pieces while others give you a shape and measurements to use. The measuring tape is also used when cutting fabric into a specific shape and size to make a pillow, pillowcase, bedspread, blanket, etc.
5. Pattern Marking Tool – You can purchase a colored pencil type marking tool that makes a mark that will wash away. I find that the marks do not disappear as well as advertised on white or light fabric and prefer just to use a simple piece of chalk to make my pattern markings – this is also the cheaper option.
6. Seam Ripper – Mistakes will happen, even when you become more accomplished at sewing. A seam ripper helps you remove stitches that were done in error (like closing up an armhole by mistake) without causing too much damage to the fabric so the material used for the pattern piece is not wasted.
7. Needles – There are multiple types of both sewing machine and hand sewing needles. If you are going to be sewing denim and thick material like the nylon used on backpacks, purchasing some needles that are made specifically for that purpose will help prevent the needless breaking of standard multi-purpose needles.
A special needle is used to darn socks, sew upholstery, leather, and in doll making, for example. Even though you will be using a sewing machine for the vast majority of projects, sometimes a small space on a thick or large damaged type of clothing, bag, or comforter will need to be handsewn. Having all of the needles on hand allows you to complete any project.
8. Presser Feet – Like needles, there are multiple types of presser feet. Depending on the type of machine you purchase, several varieties may come with it. Presser feet are typically machine brand specific and need to be purchased from a local authorized dealer or ordered online.
Examples of some of the different types of commonly used presser feet include buttonhole, zipper or piping, blind zipper, and quilting.
9. Notions – Think about the types of clothes making and mending you will most often be doing when stocking up on sewing notions. Common and easy-to-use closure notions include hook and latch (Velcro) buttons and metal snaps.
Where To Find Free Sewing Patterns
If you browse sewing patterns at a craft store or sewing shop, sticker shock might occur. I have never found standing in the store and searching through the sewing pattern catalogs on top of what resembles an old fashioned library card catalog to be fun or fiscally friendly.
Not only do you need to find the right style and size pattern to fit the needs of the family and season the item will be worn, you must carefully read the sewing skills required to actually complete the patterns.
I have made hundreds of clothing items from patterns and yet only ever purchased one from a store. While I have bought several at a greatly reduced price online ($5 to $7 each instead of $10 to $25 each), the vast majority of sewing patterns I have in my personal sewing library have all been downloaded for free online.
Now, I often make my own sewing patterns by tracing simple clothing that fits the children, like jumpers, shirts, and vests, and I make my own patterns.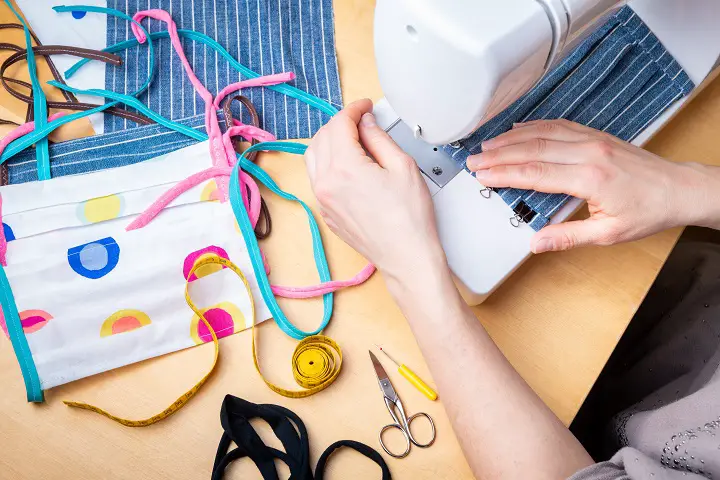 7 Best Places To Score Free Sewing Patterns
Bluprint – This website used to be called Craftsy. There are classes, supplies, and patterns you must pay for, but there is also an extensive library of completely beginner-friendly sewing patterns, as well.
All Free Sewing –  This is likely one of the largest collections of free sewing patterns on the internet. All Free Sewing also operates as a blog complete with sewing tips, troubleshooting advice, and tutorials.
Crazy Little Projects – There are not quite as many free sewing patterns on this lovely website as the two noted above, but the many patterns that do exist are wonderful, have great directions, and offer ample opportunity to turn scrap fabric and parts of old clothing into usable and attractive new pieces.
So Sew Easy – This sewing blog offers free patterns that frequently include wallets, purses, and totes that can be made from scrap materials, as well as clothing patterns and tutorials.
Sew Can She – This sewing website has a section for free patterns that often include crafty ways to make use of small amounts of fabric, such as turning the supplies into totes, wallets, hair bows, dog leashes, fabric storage containers, etc.
Scratch And Stitch – This is my "go-to" website for free sewing patterns for stuffed animals. Many an old piece of clothing has been given new life as a stuffed toy that becomes a cherished gift by the child that receives it. These are simple projects that you can use to teach children how to make themselves once you have mastered the basics of sewing.
Sewing Support – If you want to learn how to make and not buy the sweet old-fashioned toys that sell for a high price online and at boutiques, this is a website that deserves bookmarking. Sewing Support features free cloth doll clothes patterns, baby toy patterns, teddy bear patterns, felt play food patterns, and more.
Learning to sew will help you not only save money but reduce your dependency on stores for the basic needs of your family. In addition to the many ways that material from old clothing and cloth household goods can be turned into something useful, you can also use the free supplies at your disposal to make medical masks, cloth diapers, reusable cloth wipes for kitchen spills, and even to replace toilet paper.
The only difficulty most folks have after taking the leap and learning how to sew is finding the time to make the many items they've learned to make.
Like this post? Don't Forget to Pin It On Pinterest!
You May Also Like: