This post may contain affiliate links.* As an Amazon Associate I earn from qualifying purchases. Click here to read our affiliate policy.
Estimated reading time: 7 minutes
While the industrial revolution and increasing technology have helped our society grow and prosper, many of the things we use today won't be available after an economic or civil demise. Homesteaders need to know and become familiar with these rare skills that will be in high demand after the current economic system collapses.
These skills are those that your grandparents or great grandparents knew. Old stories of how to butcher a chicken or can a bucket of green beans will be important skills in the future. Plenty of modern people today take for granted these older skills that will eventually come back around.
Take a look at these rare skills and commit to learning them now, before it's too late.
Want to save this post for later? Click Here to Pin It On Pinterest!
1. Beekeeping
This lost art is finding its way back thanks to the recent decline in natural hives. Beekeeping is an important skill to have not only to keep your garden and plants producing but also to feed your own family. Starting a beehive on your homestead strengthens your land and provides a food source for your family that will never spoil.
Related: Beekeeping for Beginners: How To Set Up A Beehive
2. Blacksmithing
The ability to reshape metal is huge. In fact, it's what caused humanity to leave the stone age behind and enter the bronze age. However, there's more to it than heating up metal and hitting it with a hammer. To be a successful blacksmith, you need to learn the science behind it and spend lots of time practicing.
Once you get the hang of it, you can make things like tools, nails, gates, blades, cauldrons, railings, horseshoes, cooking utensils, candleholders, and more.
Related: Blacksmithing Basics: 7 Things You Need to Know
3. Building a Fire without Matches
Knowing how to start and build a fire without the use of matches is another rare skill that will be in high demand. Most of us don't know how to make a fire from scratch, let alone a fire without the use of fuel or matches.
Learn how to build a fire using manual methods or the power of the sun now so that you'll know how to later.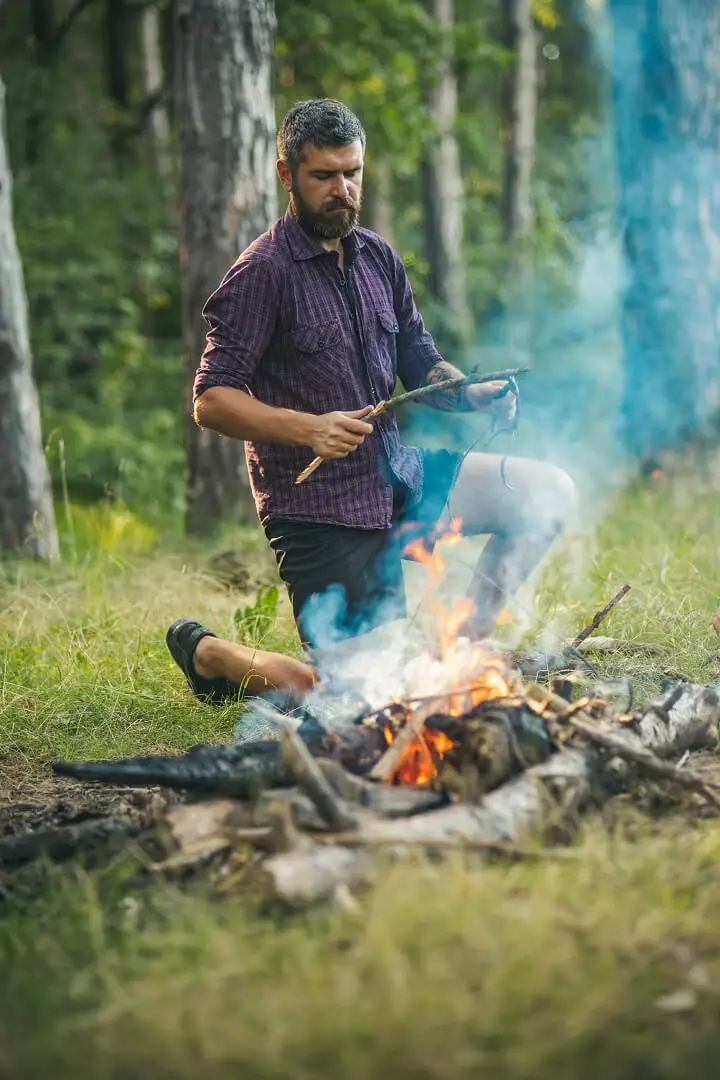 4. Building a Proper Shelter
Both your family and animals will need shelter, no matter what. Knowing how to build a proper shelter using natural materials will be key for survival in the future.
Practice making a shelter out on your own land now. Understand the difference between a temporary shelter and one that should provide protection from the winter elements long term.
5. Butchering
When it comes to feeding yourself and your family, you will need to know how to kill and butcher animals for meat. Butchering is one skill that we've all grown accustomed to. Many children don't understand that the beautiful chicken breast in the package was once part of a live chicken.
Knowing how to butcher an animal correctly will not only maximize the meat that you harvest but also keep your family safe from doing it wrong and spoiling the meat.
6. Candle Making
Without the power grid in place, many homesteads will be without electricity. Knowing how to make candles that will provide important light at night is crucial. Candles are a basic need for anyone moving around at night, especially during the winter when the sun sets earlier in the day.
Related: How to Make a Bacon Fat Candle
7. Canning
While canning has come back into popularity in recent years, it still isn't a skill that many of us know. Canning your own fruits and vegetables from the garden is a vital skill that will keep your family fed during the colder or lean months. While it may look easy, it is possible to can incorrectly and put your family at risk.
Related: Canning vs Dehydrating: Which Method is Better?
8. Crochet and Knitting
While crochet and knitting are quaint hobbies now, this skill will be important in the future after a collapse. Learning how to crochet and knit allows you to create useful items from yarn or wool that would be otherwise unusable.
Not only can you make important clothing items, like socks, gloves, and hats, but you can also weave together towels and even large blankets to keep warm in a disaster.
9. Foraging
Using the natural resources around your area will be a rare skill to have in the future. Plenty of plants can be used for food, medicine, and building materials. Identifying and harvesting plants in natural areas is vital to your family's health and well-being after a collapse.
Related: 18 Medicinal Herbs to Look For in Your Backyard
10. Harvesting Seeds
"Go to seed" isn't a term that many modern people understand. Allowing a plant to grow past its prime to produce seed is a learned skill that will be important to know. Harvesting these seeds and saving them for the next year will be vital to your homestead and your family's health and well-being.
Related: How to Harvest Seeds from Your Garden
11. Raising Animals
While it can seem easy to have a flock of chickens or raise pigs, there are many quirks to raising animals on the homestead. Understanding the breed or kind of animal that you have on the farm is essential.
Knowing their preferred diet, shelter, and troubleshooting issues is important when relying on your own food source.
12. Sewing
Few of us make our own clothes today thanks to large companies who can make clothes cheap. However, sewing and making clothes will be a needed skill if our world collapses.
Knowing how to sew on a button, sew a whipstitch, or threading a needle will all help when it comes to making clothes. Learn how to select a fabric, pattern, and add seam allowances for the perfect fit.
Related: Save Money On Clothes By Learning To Sew
13. Smoking Meat
While you may have an electric or gas smoker now, it will be essential to know how to preserve meat in the future without these sources of power. Smoking meat not only helps you preserve the meat for future meals, but it also keeps you from wasting meat that would usually spoil.
14. Soap Making
Cleanliness is important during hard times to keep your family safe. Knowing how to make soap is a skill that will come in handy after the collapse. Understanding how to mix lye, oil, water, and fragrance will help keep your body clean as well as your clothes and surfaces.
Related: Oat & Honey Soap Recipe for Beginners
15. Spinning Wool
Shearing sheep is a unique skill to have, and many homesteaders farm out this job to the few who still know how to do it. Not only will you need to sheer sheep in the future for wool, but you'll also need to know how to spin the wool to create a usable textile.
16. Tanning
After butchering an animal and smoking the meat, it is essential to use all parts of the animal on the homestead. Learning how to tan the hide of an animal is a vital skill that many of us don't know today. Animal hides can provide necessary shelter and clothing that could be the difference between life or death.
17. Water Purification
In the event of a collapse, there won't be any stores where you can buy bottled water. Knowing how to purify your own water, through filters or by using a solar still, will be crucial when it comes to survival.
Many of the water sources around you may be contaminated from different sources. Understanding how to purify water for your family and animals will be needed for survival.
Related: Where Did The Pioneers Get Their Drinking Water?
Final Thoughts
There are plenty of rare skills that will be very important someday, maybe sooner than you think. Invest some time in learning these skills now. Ask those around you for help on how to do all of these things so you can keep your homestead and family safe in the event of a collapse.
Like this post? Don't Forget to Pin It On Pinterest!
You May Also Like: