This post may contain affiliate links.* As an Amazon Associate I earn from qualifying purchases. Click here to read our affiliate policy.
Estimated reading time: 4 minutes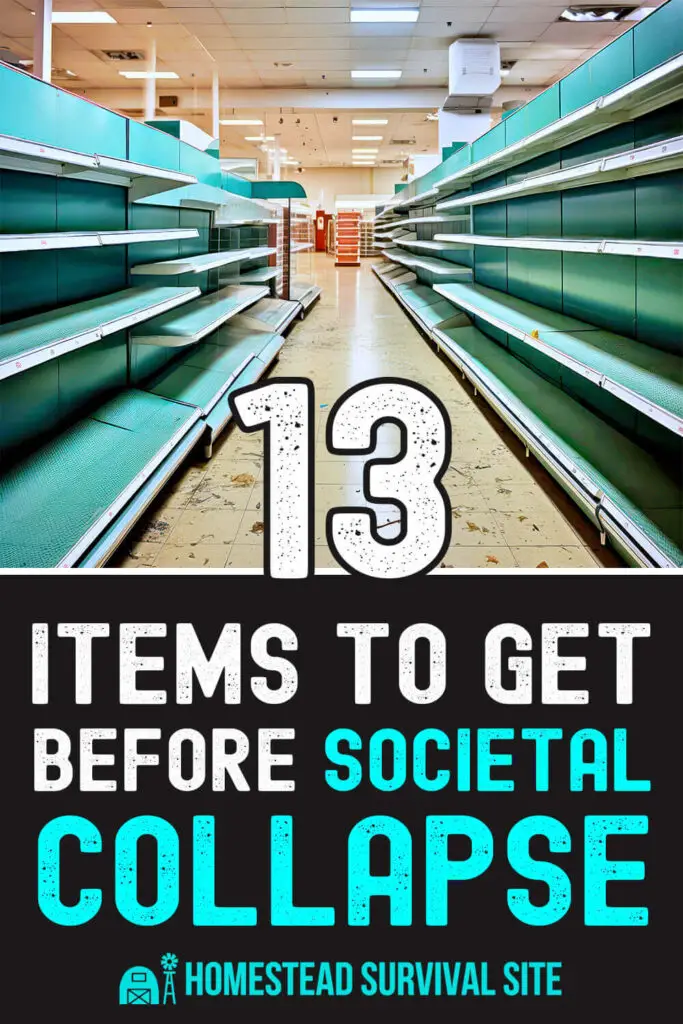 If the past couple years have proven anything, it's that societal collapse is very possible. This pandemic is relatively mild compared to what could have happened, and yet it pushed our country into another Great Depression.
If things become even worse, your window for buying essential items will have evaporated. That's why you need to stockpile the essentials while you still can. The idea is that you will have everything on hand so you don't need to barter for anything, at least not for a long time.
As explained by Canadian Prepper, there are thirteen essential items to get before society collapses. Here's a summary…
Want to save this post for later? Click Here to Pin It On Pinterest!
1. Insect Repellent
Insect repellent is actually something that could save your life because mosquitos and other flying insects can carry deadly diseases that could become widespread.
2. Electricity
Buy renewable power supplies to generate your own electricity. You can even generate income by allowing other people to plug into your own solar grid so they can generate their own electricity as well.
3. Fire Starting Materials
Matches and lighters are going to run out very fast once the grid collapses. Buy magnesium flint strikers, lighters, lighter fluids, and matches now while you still can.
4. Soap
Soap and other general hygiene products will be of the utmost importance to keep up immunity and avoid contracting diseases. Soap bars with limited additives are a cheap option to stockpile in bulk.
5. Candles
Candles provide a cheap and easy way to get a small fire going to bring light and heat into a room. You could even cook food over a small series of candles if you had to.
6. Toilet Paper
You probably expected to see this on the list. Toilet paper will go quickly as it did before, so buy it now while you are able to.
7. Nails, Screws, Tape, and Glue
In other words, anything that can bind other things together. These are essential for making repairs or for construction purposes.
8. Sugar, Salt, and Honey
While not critical to survival, sugar, salt, and honey can be used to add flavor to food. This will help boost morale, and it will likely be something you can barter with as well.
9. Sandbags
Sandbags are an imperative defensive fortification because they offer you cover and a way to absorb incoming bullets. For the most efficient storage, store the bags and the sand separately, then fill and set them up once things get rough.
10. Fishing Line
Fishing line, hooks, bait, rods, lures, and so on will be very valuable to have. Fish are an excellent source of protein and can be easy to catch as well.
11. Socks and Underwear
Socks and underwear are unique among clothing in that they wear out fast. Socks, for instance, can barely last a month. Buy these in bulk now.
12. Freeze-Dried Food
Freeze-dried food is stored in smaller sealed packages that can last for years at normal room temperature. Quality freeze-dried foods will be better than normal MRE's because they are cheaper too.
13. Alcohol
Alcohol lasts forever, everyone wants it (making it a valuable bartering item), and it can serve as a morale booster as well.
As I said, this post is just a brief summary of the video. Watch the video by Canadian Prepper below for more info on these items.