This post may contain affiliate links.* As an Amazon Associate I earn from qualifying purchases. Click here to read our affiliate policy.
Estimated reading time: 11 minutes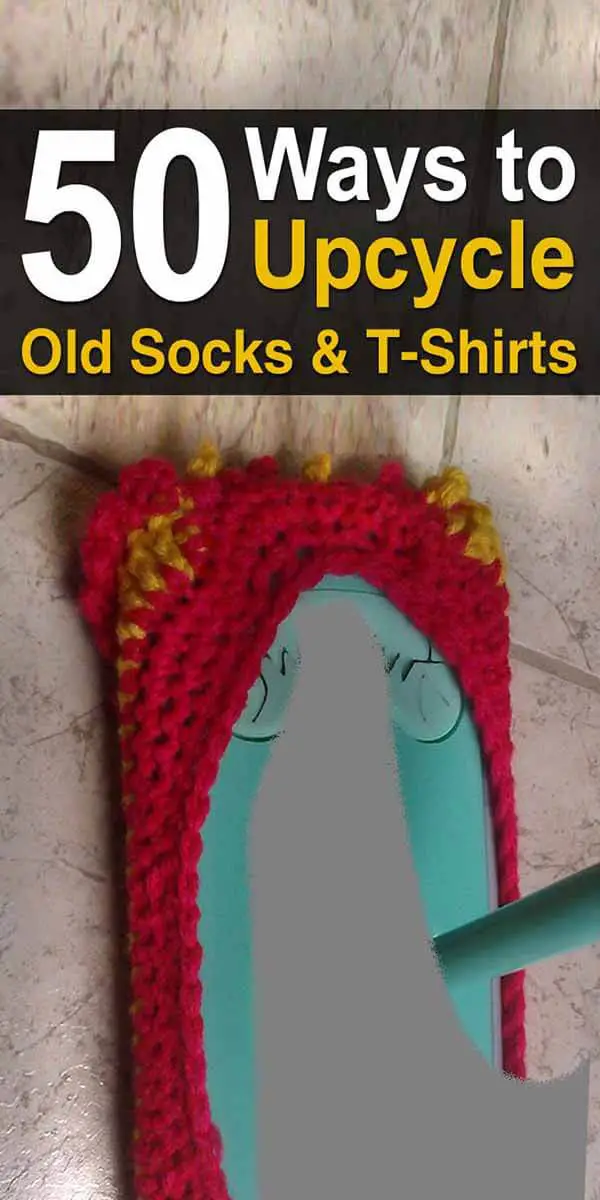 If you are a friend to the universe, what I'm about to tell you might shake you… Did you know that more than 15 million tons of clothing waste are produced every year in the US? And did you know that it takes about 40 years for clothing to decompose?
We have been so busy fighting the 'war on plastic' that we rarely think about what happens to all the forgotten and thrown away clothing. It's time to start the 'war on clothing' by inciting an upcycle revolution! Best news of all, upcycling your clothing is a fun and creative outlet that saves you tons of money.
To get those creative juices flowing, here are 50 ideas that will help you upcycle your old socks and T-shirts into home décor, gifts for babies and friends, and even a couple of fun items for your pets. Let's get started!
Upcycled Sock Projects
1. Decorative Sock Flowers
Weddings, birthday parties and holidays can get expensive if you're constantly running to department store for decorations. Instead, adorn the table, the curtains, the mantle and more with DIY sock flowers that are just as cute and cost a fraction of the price.
2. Sock Bunny
Baby fever is in full bloom. Give a baby gift that is thoughtful, sentimental, and handmade with one of these precious sock bunnies that are irresistibly cuddly.
3. Sock Hair Buns
The oldest trick in the beauty book is to use an old tube sock to create that perfect Ballerina bun. These sock buns are ideal to wear all day as they are lightweight and won't give you a headache by lunchtime.
4. DIY Sock Choker
Why spend $5 on a plain black choker when you can make one yourself? Plus, these sock chokers are super soft and extra comfortable. It's a win-win for fashionistas.
5. Funny Sock Puppets
Kids can entertain themselves for hours with sock puppets by putting on a play or just letting their imaginations run wild. Involve your kids in the process of creating their new sock friends for an extra fun craft session.
6. No Sew Sock Pencil Case
The words "no sew" are music to every homesteader's ears. Give that sewing machine a break with these sock pencil cases that you can make while sitting in front of the TV at the end of a long day.
7. Sock Snowmen for the Holidays
When you start getting tons of compliments on your winter décor this holiday season, try not to brag too much. These cute sock snowmen will have everyone wanting to know where you bought them.
8. DIY Unicorn Phone Charger
Teenagers are so hard to shop for, aren't they? Give them a cool gift that they'd never find in stores with this handmade unicorn phone charger.
9. Boot Socks with Charms
Upcycle your boring winter socks by simply sewing an expensive-looking brass charm on the cuff. You can control the comfort and the style when you make your own accessories at home.
10. Decorative Sock Donuts
Add a pop of color to your work desk or surprise your well-deserving kids with some additions to their play space with these adorable sock donuts! They are cheerful to look at and fun to make!
11. Cuddly Sock Sloth
The best gifts are ones that come from the heart. This cuddly sock sloth will put a smile on any friend or child's face, especially when they learn that it was handmade by you.
12. DIY Sock Rag Rug
You can never have enough rugs in your home. You need a rug for the bathroom, a run for the kitchen sink, a rug for the baby's room, a rug for the mud room…you get the picture.
13. Nylon Sock Curls
Want to wake up with loose beachy waves in the morning? Go to sleep with sock scraps tied in your hair and cut your morning beauty-routine time in half.
14. DIY Barbie Clothes from Socks
Barbie needs a full wardrobe to keep up with all her fashionista friends. You child will have the most stylish dolls with their runway couture line made from upcycled socks.
15. Homemade Dog Sweater
Yes, dressing your dog up in cozy gear is super cute and super fun, but did you know that it could also sooth anxiety? Much like a baby likes to be swaddled, dogs find comfort in compression clothes like this sock dock sweater.
The Swiffer mop is a fabulous invention but those disposable Swiffer wipes are so wasteful and expensive! Save the environment and your pennies by repurposing a fuzzy sock as your new Swiffer wipe.
Upcycled T-shirt Projects
17. T-shirt Dog Toy
Quit throwing money down the drain by purchasing $15 dog toys that your pooch is just going to destroy anyways. Instead, make your puppy a DIY dog toy from your old t-shirt. If you dog is the shredding kind, hide some dog treats in the toy for extra fun!
Essential oils and an old t-shirt is all you need to step up your house cleaning game. Remove dust and leave a fresh scent all through the house. Of course, you can switch up the essential oils for lemon, eucalyptus, peppermint- whatever suits your fancy.
These are the most adorable baby hats that have ever existed! Soft, stretchy, and customizable- these t-shirt baby hats should be your go-to newborn gift from now on.
Who knew that a t-shirt could make such elegant jewelry?  At a glance, you can't even tell that the main material is fabric and when you do, it just adds to the overall unique look.
Keep the t-shirt scraps you get from another DIY t-shirt project as they make for the perfect gift-wrapping bows. There are lots of different bow styles that you can experiment with and make for a thoughtful gift presentation.
22. DIY Baby Wrap Carrier
When you're doing chores around the house and want to keep baby safe, use a t-shirt to create an over the shoulder wrap. As baby grows, you can keep upcycling t-shirts to fit.
Fashionable and functional, these braided t-shirt belts are such fun accessories to wear with jeans.  Experiment with loose braids and multicolor braids to express your individual style.
Cornhole is the most classic backyard BBQ game around. You can easily make your own cornhole bags with old t-shirts filled with sand, dirt, corn- whatever you've got.
We all know by now that plastic grocery bags are enemy #1 to the environment. Make a dozen market bags and store them all around your home, in your car, and in your work desk so you never have to use plastic bags again!
Here is a really fun craft project for teenagers. This no sew t-shirt rug is very simple to make and almost impossible to mess up! It makes for a great memento from the school year using school t-shirts and also makes for a fun gift.
This upcycled T-shirt necklace is the perfect accessory for kids or adolescents who are just learning the lessons of responsibility before they can start wearing and buying nicer jewelry. Plus, they'll be thrilled to dress like the "big girls".
28. DIY Fingerless Gloves
That rocker chick in you is dying to wear these fingerless gloves. Whether you want to spice up your outfit on the weekends or you have a early 2000's costume party to go to, this is the accessory to have.
29. Retro Tie-Dye T-Shirts
Will tie-dye t-shirts ever go out of style? We think not! Take those old boring t-shirts in the back of your closet and make a day out of tying and dying them in bright colors to suit your mood!
30. T-shirt Headbands
You can buy these headbands on Etsy for $7 or you can make your own for free. The choice is pretty easy! These t-shirt headbands look especially cute with your hair up in a bun or a classic pony.
31. Braided T-shirt Flip Flops
Take those cheap foam flip flops and turn them into head-turning fashion statements with your old t-shirts. The braided style stays firmly on your feet and don't rub uncomfortably in between your toes!
It's amazing how much a small touch of color can brighten up a room. These tassels add a modern boho look to any décor. Hand them on your lamp shade, on the besd posts or over the mirror in the bathroom for a fun design twist.
Change, tacks, paperclips, bobby pins- you need some place to put all of those little knick knacks that end up scattered around the house. These t-shirt coil bowls are the perfect size!
34. Washcloth/T-Shirt Bibs for Babies
Genius! Keep the neck hole in tact and sew a washcloth to the chest area and now you have DIY baby bibs that you won't mind getting super messy.
Half the price and double the fun, these t-shirt chandeliers are perfect dorm room décor or teenage-girl approved sanctuary centerpieces. You can easily make these DIY dangling chandeliers in a day!
36. T-shirt Yarn for Future Projects
Don't feel like diving into a DIY t-shirt project today? That's okay! At the very least, you can cut up your old t-shirts in strips to make t-shirt yarn that is great for future projects like rugs, coasters, jewelry, and more.
With kids bodies growing at the speed of light, there is no point in buying them a full wardrobe that they will outgrow within a couple months. Instead, repurpose your old t-shirts to make outfits like this cute t-shirt dress for girls.
38. Stylish T-Shirt Makeovers
There is this clothing designer named Adam Saaks who charges upwards of $50 t-shirt that's he cuts up with a pair of scissors. Give him a run for his money with your own t-shirt makeovers!
39. Baby Swaddler from a T-shirt
I know what you're thinking- why didn't I think of this DIY project earlier?! An old t-shirt makes for the perfect baby swaddler and won't cost you an arm and a leg to make it.
T-shirts make for the perfect rag rugs as the material is easy to work with and easy to wash. These rugs will prove to be quite durable and stand the test of time in your home.
This fringe skirt made from old t-shirts is perfect for the littlest babies and the most playful girls and boys. It's soft, it's bouncy, and it's something that will bring a smile to any kid's face.
42. No Sew T-shirt Dog Bed
Tired of your dog hogging the couch? Give your pet his or her own space with a t-shirt dog bed. We love using sports team t-shirts to add an extra element of team pride in our home!
Be the best mom ever by making super hero capes for your kids! There doesn't need to be any special occasion. Having a trunk full of dress-up clothes is a kid's dream come true.
44. DIY Work Out T-shirt
Turn that oversized t-shirt into a tank top that is perfect for wearing to the gym. The racer-back lines are ideal to wear with sports bras and the fit is flowy enough for you to move around.
When the holidays roll around and your teenage kids want to give out gifts to their friends in bulk- throw a big pile of old t-shirts their way and have them start a new fashion trend at school with these super cute knit bracelets.
There is no better feeling that being all cozied up in long sleeve pajamas on a chilly evening! Wrap your little ones in these cute DIY pajamas made from old t-shirts.
47. DIY Fringe Crop Top T-shirt
Fringe crop tops are totally in style right now and are sold at the trendiest stores. Instead of schlepping it to the mall, take some old t-shirts and have fun making your own statement pieces.
48. Pencil Case from an Old T-shirt
Back to school time can get expensive. Instead of shelling out a bunch of cash for a pencil case you child will inevitably lose in 3 months time, make your own pencil case!
49. T-shirt Mesh Produce Bag
Soft peaches and delicate pears need a bouncy produce bag to keep them from bruising. T-shirt material happens to be perfect! This bag is super simple to make and you're sure to get some compliments in the checkout line.
50. DIY T-shirt Flower Ring
Here's another accessory for the dress up chest! No outfit is complete without the statement ring to tie the whole look together! Make any and all colors you'd like with recycled t-shirts.
Next time you think about throwing away that raggedy t-shirt or you don't know what to do with that laundry room sock that has seem to have lost its match, hopefully one of these ingenious ideas will pop into your head.
These upcycling projects are ideal for winter months when you're stuck inside with nothing to do and also make for the perfect activity session during summer break when your kids are home and prone to boredom. Make upcycling a family affair and just watch the creativity and ingenuity bloom.
You May Also Like: