This post may contain affiliate links.* As an Amazon Associate I earn from qualifying purchases. Click here to read our affiliate policy.
Estimated reading time: 6 minutes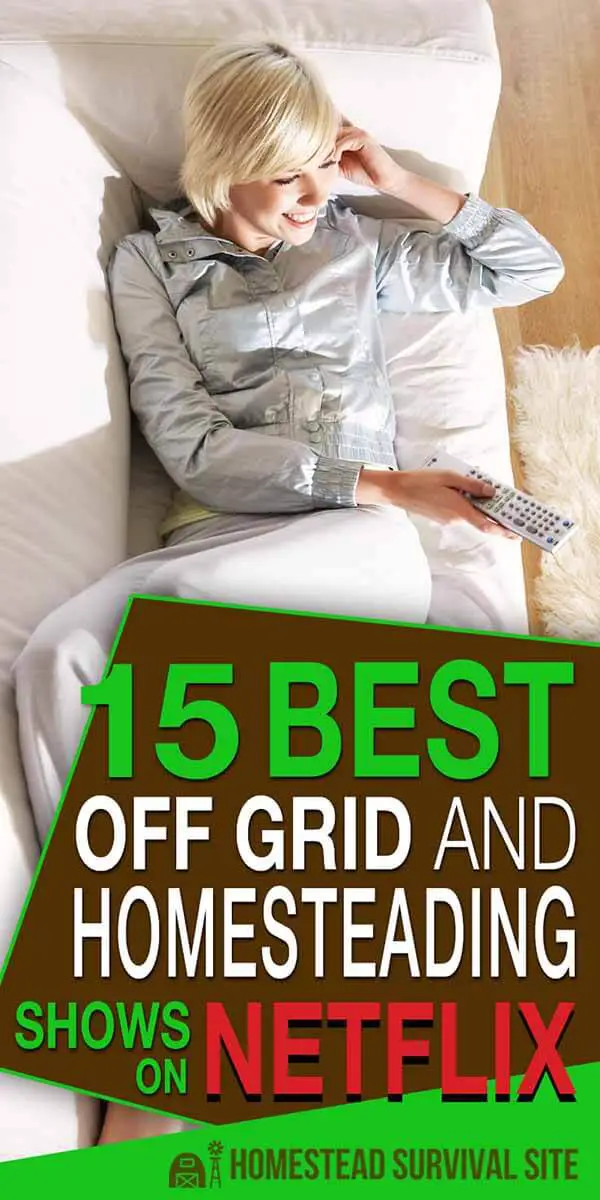 You've got two options to prep yourself for off the grid living: you can either spend three weeks in the wilderness butt ass naked where you bond with a pack of wolves who teach you how to survive, OR you can binge watch Netflix for an entire weekend.
Okay, those aren't your only options, but they're both pretty good. Let's assume you choose the lazy route: Netflix. Netflix has lots of survival/homesteading TV shows that offer valuable life skills you can apply to a sustainable off-grid lifestyle.
Whether you're planning on living a peaceful life on a homestead where children run around with flowers in their hair… or you're getting ready for a doomsday scenario filled with looters and zombies, you have full permission to binge watch all of these super valuable Netflix shows.
Animals
Scorpion stings, crocodile attacks, spider infestations… hear from animal experts and attack survivors as they detail firsthand encounters with some of the world's most lethal animals. Learn what to do when you find a snake in your bathroom and what not to do when you've got a big predatory cat in your yard.
This show follows Cyril Chauquet as he goes in search of huge and dangerous underwater creatures like alligators, barracudas, goliath groupers, and all sorts of amazing fish and reptiles. Cyril is an expert at boating and fishing, so even experienced fishermen will learn a thing or two from this show.
3. Planet Earth & Planet Earth II
Update: Unfortunately, Planet Earth I & II are no longer available on Netflix.
Complex ecosystems, ruthless food chains, and the survival of the fittest–understanding and respecting your environment will bring you closer to harmony. Living off the grid doesn't just mean living off the land. It also means living with the land. From jungle climates to the arctic tundra, Planet Earth is extremely educational and entertaining.
4. Wildlife SOS
Living off the land means becoming partners with your wild neighbors. Sometimes, that means going above and beyond to ensure their well-being. Follow a team of Wildlife specialists who rehabilitate sick and injured animals. Pick up a couple tips on how to create a stint for little limbs or how to pull porcupine quills dog's your dogs nose. All of these skills will prove valuable when you're hours away from a veterinarian.
Economy
How valuable are those pieces of paper in our wallets? Is money just a distraction? Do we actually have any pull in this economy or are we pawns in a corrupt game? The Netflix Series, Dirty Money, would have you believe the latter. At the end of this financial eye opener, it's clear that the only way to get ahead in today's world is to play dirty. If you can't beat em, join em. Or move to the woods and never return to the rat race again.
6. Filthy Riches
Produced by National Geographic – you know this show is going to be quality! Filthy Riches gives you an insider's look into the world of harvesting the Earth's most valuable goods, ones that require rolling up your sleeves and getting dirty. From digging worms out of the mud to mushroom hunting in the dirt, Filthy Riches will give you some ideas on how to get the most out of your land and possibly even start a side hustle selling your own filthy riches.
Update: Unfortunately, this show is no longer on Netflix.
Fiction
Anne of Green Gables! You remember her. The little red-headed orphan who is dropped into rural living under the tyranny of her adopted mother. Expecting to adopt a boy and turn him into a farmhand, Anne's new mother puts the challenge upon the young girl to do everything a boy can do. Luckily, this feisty little girl was up for the challenge to discover and learn how to thrive in the country. Watch her innovate and create a fun and fulfilling approach to homesteading.
This Netflix original series, set in the 18th-century, chronicles the North American fur trade. I know, it probably doesn't sound very exciting, but it's pretty awesome. The main character is an outlaw attempting to end the Hudson Bay Company's monopoly on the fur trade. This takes him deep into the frontier where he encounters all sort of dangerous people and situations.
The men are dead. The plague took em'. It's now up to women to tend to the farm, care for the children, heal the sick, and essentially carry the entire world on their shoulders. Set in the wild wild west, surviving nature comes easily for these fierce females. But can they survive the male outsiders who want to conquer their town?
Just a charming 'Gilmore Girls' style series of two sisters who live off the land. Watch them balance the farm, the horses, living in close proximity to their family and all the drama that comes along with that. Journey with the girls through death, tornadoes, and those everyday successes that make rural life absolutely worth it.
Jericho is the story of what happens to a small town after nuclear bombs are detonated all over the United States. The people there are cut off from the outside world and have to learn to survive without power or regular shipments from other cities. I've never met a prepper or homesteader who didn't like this show, so you should definitely give it a chance.
Food
This documentary series follows Steven Rinella as he travels through the wilderness hunting all sorts of animals such as bears, moose, deer, and more. You'll see some beautiful landscapes and learn that hunting different types of animals requires different strategies. The best thing about the show is where he shows how to butcher, process, and cook the meat, things anyone living off the grid needs to know.
If you weren't quite yet motivated to move away from the city and ditch your reliance upon commercial food, you will be after watching this Docu-series. Rotten chronicles the horrific, disgusting, and shocking reality of the food industry, both globally and locally. Uncovering these realities will inspire you to start growing your own produce and raising your own livestock ASAP.
Harsh Environments
14. Human Planet
This show is a lot like Planet Earth, except instead of focusing on animals in harsh environments, it focuses on humans in harsh environments. You'll learn how people have adapted to life in amazing and scenic locations like the Arctic, the Sahara Desert, the Brazilian jungles, and more. Update: As of May 2018, this show is no longer streaming and is now only available via DVD.
15. Life Below Zero
What's it like to live in an environment where everything is frozen? How do you hunt? How do you farm? How do you travel? And most importantly, how do you survive when you're the one being hunted? You're about to find out how civilizations survive and thrive in the remote Alaskan wilderness with Life Below Zero. Update: This show is no longer available on Netflix.
Plug in now so that you can unplug later! The key to successfully living off the grid is to be well-rounded in your areas of expertise. Become an animal whisperer, learn how to listen to the earth, strategize your escape from zombies, and be prepared for looters, your life now depends on binge-watching Netflix. And if anyone gives you a hard time about it… you can tell them that it's research.
You May Also Like: