This post may contain affiliate links.* As an Amazon Associate I earn from qualifying purchases. Click here to read our affiliate policy.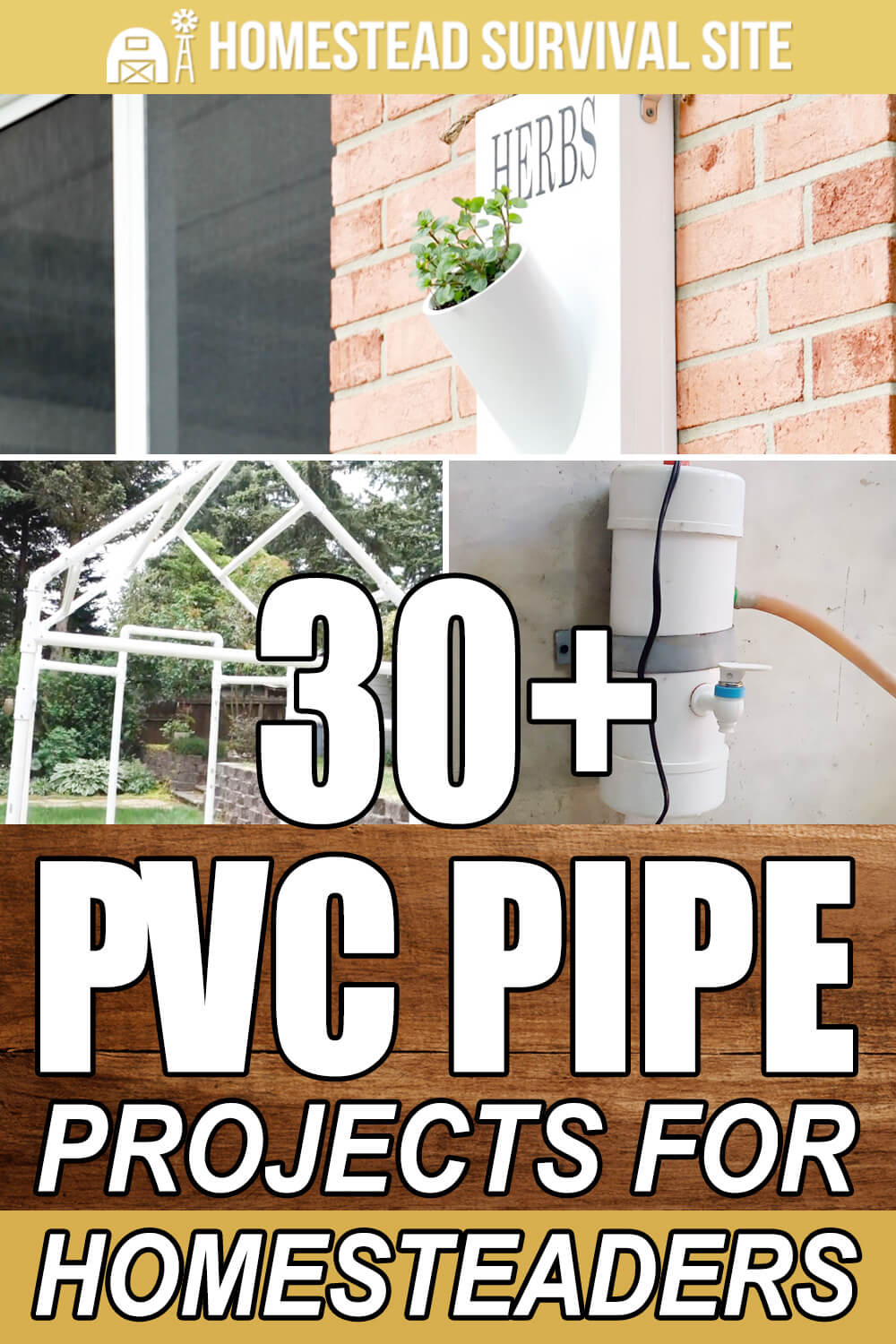 Some people think of PVC pipe as a kind of Lego for adults. The possibilities for using these inexpensive but durable white pipes are almost endless.
Short for Polyvinyl Chloride, PVC is the third most widely manufactured synthetic plastic polymer in the world. Nearly 40 million tons of vinyl tubing are produced each year. Although rigid PVC pipe is primarily used for plumbing in homes, the material also comes in a flexible form.
Want to save this post for later? Click Here to Pin It On Pinterest!
The versatile plastic can be used for windows, fencing, roofing, wall coverings, decking, and flooring. PVC does not corrode easily nor need frequent painting, and you can clean it with mild detergent.
We've rounded up some of our favorite PVC projects for homesteaders. Watch the videos below to see how to make each one.
1. Aquarium Fountain – Here's a fun way to make an attractive and useful fountain for your tabletop aquarium with PVC pipe, glass, a mini submersible pump, and just a few other accessories.
2. Awning – This quick video shows you how easy it is to create a shade awning for a window or doorway. As the narrator says, "It'll be fine as long as it doesn't snow."
3. Bed Frame – If you've got kids, you'll appreciate this video that demonstrates how to build inexpensive, durable bed frames with PVC pipe. Your kids can individualize them with stickers if they like. Written instructions are here.
4. Birdhouse – Your feathered friends will thank you when you take on this easy PVC project, which takes less than an hour.
5. Cat Scratching Post – Keep the kitty happy and away from your sofa by making this cat scratching tower with PVC. You can find written instructions here.
6. Chair – You don't need any special tools to create this PVC chair. It's not much on looks, but it would be a useful addition to a barn, shop, or porch.
7. Cherry Picker – They say, "necessity is the mother of invention." When this man's "dwarf" cherry tree grew to 20-feet tall, he got creative with PVC pipe.
8. Chicken Run – Got chickens? Got kids? We like how this video shows kids in on the action with a practical PVC project for homesteaders.
9. Chicken Waterer – Now that you've got those chickens corralled, here's an easy way to make them a waterer with more PVC pipe.
10. Clothes Rack – Who couldn't use an extra clothes rack in the bedroom or the laundry room? This PVC project is so simple that you'll want to get started on it right away.
11. Desk Lamp – Not only will you want one for your house, but this cool-looking PVC lamp is a great gift idea too.
12. Electric Fence – These homesteading brothers show you how to make inexpensive electric fencing to thwart their escape artist goats.
13. Farmhouse Shelves – You'll love the streamlined look of these wooden shelves that are supported by PVC pipe!
14. Fish Trap – Here's a unique way to trap and catch fish using PVC pipe.
15. Greenhouse – PVC pipe is a great choice for building the frame of a greenhouse. This speeded-up video shows you the process.
16. HAM Radio Tower – This homeowner wants to extend his HAM radio reception that is hampered by hills and trees. In the video, he shows us how to construct an inexpensive tower with PVC pipe.
17. Hanging Planter – You can use PVC pipe to create useful and attractive hanging planters. You'll see succulents in this video, but herbs would work well too.
18. Herb Garden – Speaking of herbs, here's a cool idea for an indoor/outdoor hanging herb garden. You can make one with PVC pipe, plywood, and just a few tools. Get the kids involved in this one!
19. Kitchen Rack – Watch this video for the how-tos on building a rack that is handy on a pantry shelf or inside a kitchen cabinet.
20. Pipe Bow – Here's an idea for PVC you may never have considered. This young man makes and demonstrates his shooting skills with a PVC bow.
21. Planters – This video shows how to create a planter from a wide PVC pipe. He plants petunias, but you could use many other plants for this inexpensive project.
22. Power Bank – Don't be put off by the annoying computerized voice at the start of this video. It doesn't continue. What does continue is a video showing how to make a pocket-sized power-bank that works as a flashlight too.
23. Raft – When you click on this video, you'll see that lots of YouTubers have made PVC rafts. Who knew? This video gives clear, concise instructions. You'll need to watch Part 2 to see how it floats.
24. Raised Garden Bed Cover – Garden bed covers are a great way to extend your growing season, and PVC is a natural for this project. Here are the written instructions.
25. Shelves – Shoes have a way of getting out of control petty quickly in a busy household. This video demonstrates an easy and cheap way to build shelves to organize and store your shoes.
26. Table Lamp – Here's another cool lamp project that uses PVC pipe. Once you gather all your materials, this one should only take about five minutes to complete.
27. Table – We've already looked at a PVC chair, but what about a PVC table? No problem. After watching this video, you'll see that making one of your own is pretty easy.
28. Tarp Shelter – You can use PVC pipe to construct a Quonset hut-type shelter for use as a shaded work area or as a carport.
29. Tricycle – If you have little kids, you'll want to take a look at this fun project. And, if nothing else, you'll enjoy watching adorable twins riding their new DIY tricycles.
30. Water Filter – This video is not in English, but the process is simple enough that watching the video is all you need to understand how to construct an emergency water filter with PVC pipe.
31. Water Heater – PVC pipe is amazingly versatile. You can even build a small electric water heater like this one using PVC pipe.
32. Water Pump – This DIY PVC hand pump works well for pumping water, compressing air, or creating a vacuum. Although this is one of the most complicated projects on our list, it also is one of the most useful.
We've barely scratched the surface with this list, but we hope we've gotten your creative juices flowing for PVC pipe projects. You can buy new PVC pipe online or at your local hardware or home improvement store.
Sometimes you can find used pipe for sale on eBay, and you might even score some for free if you check Craigslist and other classified ad sites. Good luck!
Like this post? Don't Forget to Pin It On Pinterest!
You May Also Like: