This post may contain affiliate links.* As an Amazon Associate I earn from qualifying purchases. Click here to read our affiliate policy.
Estimated reading time: 10 minutes
As the summer heat peaks, many of us homesteaders are looking forward to some cooler weather. While we planted our gardens in the spring, there is still plenty of planting and growth time left before winter arrives.
Depending on where you live in the country, the time window for fall gardening could be as short as a few weeks or as long as the entire winter. While summer gardens produce beautiful pumpkins, gourds, and melons as fall arrives, there are plants you can still sow into the ground as the leaves start to change.
Want to save this post for later? Click Here to Pin It On Pinterest!
Difference Between Warm and Cool Weather Crops
Vegetables are broken into either "warm weather" or "cool weather" crops. This determination reflects the plant's tolerance to heat. Cool-weather crops are usually planted in early spring for a quick harvest before temperatures start to rise. They also are planted in the early fall to take advantage of every ounce of the growing season. 
Warm weather crops can be started indoors in the spring and then moved outside once they are established. There are also warm weather plants that prefer to be sown in warmer soil as seeds. Some cool weather crops can also be started indoors to give them more of a chance to produce for short spring seasons.
How Do Spring and Fall Gardening Differ?
While spring and fall gardens can technically include the same cool-weather vegetables, there is a big difference between them. The looming winter season that follows up fall means that there is usually a firm stopping point for most fall garden growth.
The seeds that you planted in early spring could spill over into summer and may still do okay. However, any seedlings that don't make it to harvest by a winter frost are usually toast. 
It is also important to remember that, while spring and fall growing seasons have cooler temperatures than summer, they are opposite in temperature transitions. Spring starts cold and moves to warm, while fall starts warm and moves to cold. This simple transition could mean a world of difference depending on the vegetables you choose to plant.
Still, you can take advantage of the fall growing season with some careful planning and keeping an eye on those overnight temperatures. Check out these 11 best vegetables to plant for a fall garden this year.
Lettuce
As one of the easiest plants to grow, lettuce is the main star of the show when it comes to fall gardens. It requires only a little bit of space, and the seeds are tiny and easy to plant. Most varieties mature in about 50 days, and there isn't much guessing when it comes to determining if the veggie is ready to harvest or not. 
Plant lettuce in succession, meaning every few weeks, so that you have fresh greens from the garden all fall and into winter (and aren't drowning in lettuce that matures all at the same time!).
While all leafy greens aren't the same, spinach and arugula can be easily swapped in for lettuce with the same harvest rate and preferences as lettuce.
Radishes
As one of the most popular options for science fairs, radishes are known for their speed in germination and producing edible food. While they are a root vegetable, radishes are small enough that they can easily grow within just a few months.
Different varieties offer a wide selection of tastes, colors, and shapes. If you are late on harvesting the radishes, you can even let some radishes hang out all winter in the garden for an early spring harvest.
Kale
Another easy green and leafy vegetable to grow is kale. As a vegetable that is becoming more popular in stores and restaurants, kale is an excellent addition to the garden and is pretty easy to grow. The leaves are easy to see, and most varieties can handle a light frost with no issues.
In fact, the leaves actually get sweeter after a few touches of frost! Kale can do well in areas of the garden that have partial shade to full sun. Add the harvested leaves to soups and stews for a fresh taste at every fall meal!
Cabbage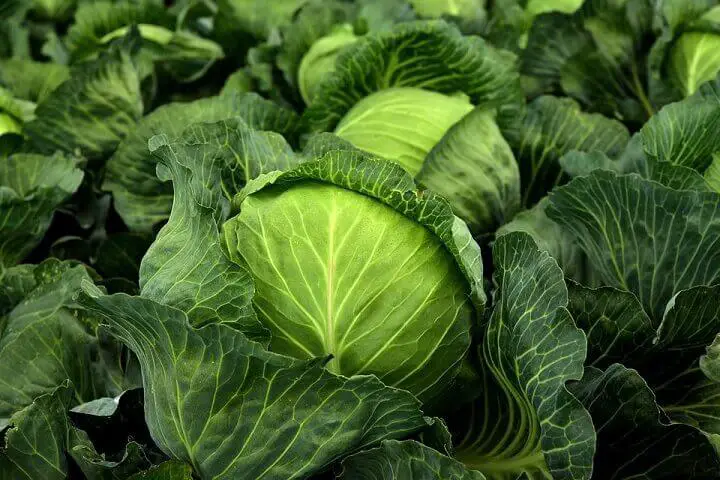 Another great cool weather vegetable for a fall garden is cabbage. While you can plant cabbage in the spring, the cooler fall temperatures that move from hot to cool help the head of the cabbage form well.
Cabbage is slower to grow to maturity, so it may be a good idea to start the seeds indoors and transplant them to the garden in mid to late summer. Cabbage is hardier than other fall vegetables and can stand up to frost if you keep an eye on them and cover when needed. 
Broccoli
Fall is the ideal time to plant broccoli seeds in the garden. The seedlings prefer warmer soil to establish, while the mature plant can handle the colder temperatures and occasional frost of early winter.
Broccoli is a bit of a slower grower, so choose a quick-growing variety to enjoy the florets before winter arrives. The cooler fall season creates sweet and tender heads compared to spring plants.
Turnips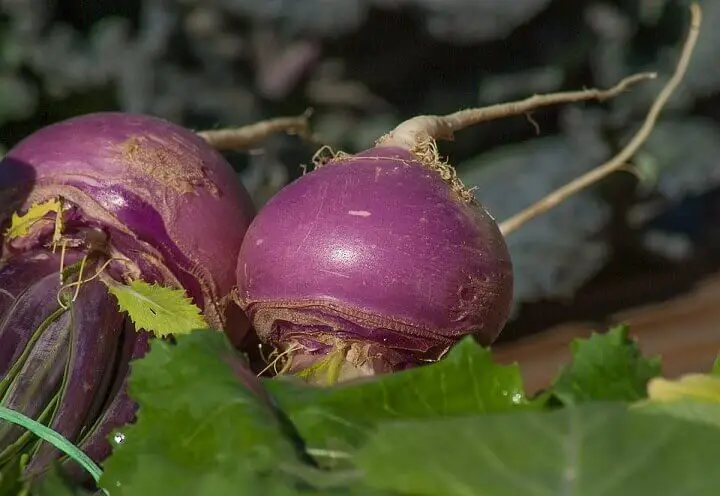 Often misunderstood and deemed a bit odd, turnips are the ultimate cool-weather vegetable to try in your garden this year. Turnips are a root crop that produces light purple bulbs with beautiful leafy tops. This humble vegetable is a fall staple for anyone wanting a solid fresh food that will last over winter. 
They grow in about 60 days, and various colors, sizes, and styles are available. Turnips can also hang out in the garden all winter long with a hefty dose of mulch to protect them from the winter cold. This also means that you can continue harvesting them throughout the cold months!
Bush Beans
There are two different categories of beans for the garden: pole and bush. Pole green beans are climbers and require more time to establish and produce beans for harvest. Bush beans, however, grow in small clumps and can produce green beans in about six weeks.
Bush beans are a great fall vegetable as they go so well with fall meals like casseroles and stews. They are still a bit picky about the frost, so make sure to cover them if they are still producing on cold nights.
Cauliflower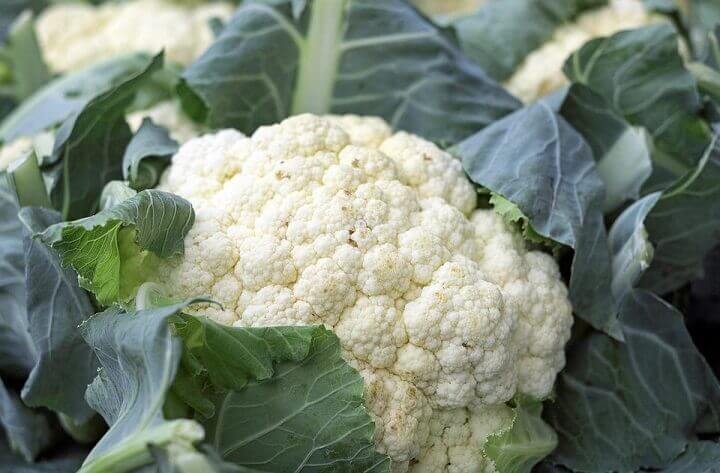 As a slow-growing plant, cauliflower is best for those gardens that are located in warmer locations with longer fall seasons. It is a great vegetable to grow in the fall because the cooler temps allow the heads to form in a tighter formation, making the finished product more tender.
It can take about three months for the cauliflower to grow large enough to harvest, so patience is key. The head can't handle much frost, so it is essential to keep an eye on the weather and pluck the head before it's too late.
Beets 
While beets can grow well during the summer, they are also a great option for the fall garden. Beets do best when started from seed, and this root vegetable can handle up to a deep frost as well. They produce a gorgeous red vegetable underground that also shoots up beautiful green tops that are also edible.
Try planting beet seeds again in late summer to see how they do in your climate over the fall period. Beets tend to be sweeter in the fall with better color as well!
Carrots
As a root vegetable, some carrot varieties aren't well suited for shorter fall growing seasons. However, there are a few smaller options, like Thumbelina or Tendersweet, that produce a cute little carrot that is sweet and perfect for cool weather gardening. Smaller varieties will be ready in about 50 days, and there is nothing more surprising or satisfying than pulling out a carrot from the garden!
For longer varieties, consider starting them in a deep pot indoors before transplanting out to a fall garden.
Peas
Another cool weather vegetable that is fun to harvest are peas. This delightful plant offers sweet pea pods that you can eat whole or open up to find little round pops of green inside. Peas really prefer cooler weather, so it is essential to plant them in an area that doesn't get a ton of sun. Consider protecting them from the sun with covers or find a new spot to grow them for the fall season. 
Peas like to climb, making them ideal for planting along fences, gates, or really anything that they can grab onto. Harvest the pea pods once they plump up, and you can feel the juicy peas inside.
The start of school time and the cooling of temperatures doesn't mean that the growing season is done! In fact, it is just the right time to get back into the garden and sow some cool weather seeds or transplants that love the cooler temperatures. 
Consider trying out any of these 11 best vegetables for a fall garden this year to extend your homestead's food production and find a new favorite fall veggie as well!
Like this post? Don't Forget to Pin It On Pinterest!
You May Also Like: