This post may contain affiliate links.* As an Amazon Associate I earn from qualifying purchases. Click here to read our affiliate policy.
Estimated reading time: 6 minutes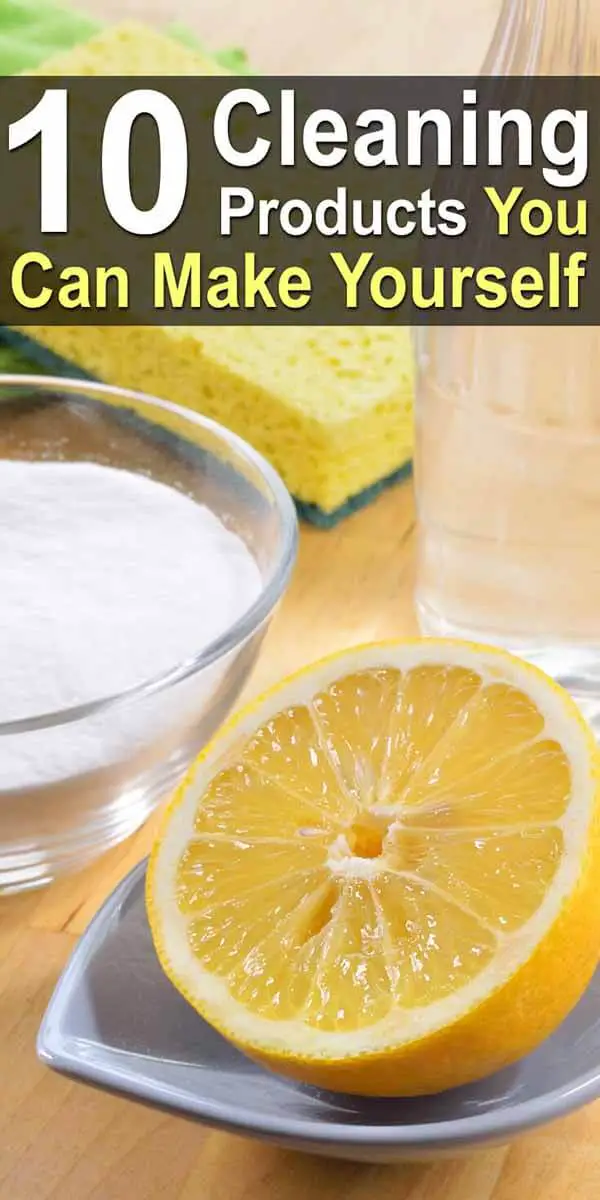 You go to the store, pick up a bottle of Febreeze, and take it home to spray all around your house. With one deep inhale, you take in those lovely fresh scents…but did you know that you're also taking in harmful lung and skin irritants? It's true.
Many "fresh smelling" air fresheners, window cleaners, and stain removers consist of harmful chemicals that can have long lasting effects on your health. Not to mention, these products can be costly and wasteful. Why take the risk when it's so simple and fun to make family-friendly cleaning potions at home?
Check out these easy-to-make cleaning solutions that will change the way you shop, clean, and live in a home fit for pets, babies, and families of all kinds.
Indoor Messes
1. Light Carpet Spot Cleaner
Light spills such as orange juice from the sippy cup, dirt from the pets, or washable markers from arts and crafts on the carpet are not a problem. You can whip up a quick spot treatment for your carpet with two household items.
Recipe:
Method:
Mix equal parts water and vinegar in a spray bottle and shake. Spray on the spot and rub with an old toothbrush until the spot fades. Dab with a damp rag intermittently to pick up the mess.
2. Heavy Carpet Spot Cleaner
Got a little too tipsy and spilled some red wine on the carpet? Kids had a spaghetti food fight? These materials can stain quickly and even permanently. Apply this heavy-duty carpet paste as soon as possible.
Recipe:
Method:
Mix the three-part mixture in a bowl until you form a paste. Use your fingers to massage this paste into the stain and let it sit for a few hours. Moisten with a damp rag and blot to pick the stain up. If possible, vacuum.
3. Natural Upholstery Cleaner
Our fabric chairs and couches are often the victim of our TV-dinner spills and late-night dessert slops. This natural cleaner will become your best friend for years to come!
Recipe:
Method:
Mix the 3-part mixture in a spray bottle and shake until integrated. Spray on the spot and use circular motions with a rag or toothbrush until the stain starts to lift. Then use a dry rag to extract the color and excess liquid.
4. Cookie Sheet and Baking Pan Revivers
Don't throw out your old sheets and pans just because they look ancient! Underneath that grime is a shiny pan that will look like new with a little TLC.
Recipe:
Method:
Place your sheets and pans in a deep sink or bucket and cover with the baking soda/hydrogen mixture and let it soak for an hour or two then rinse. If you're in a hurry, take a bristle brush and scrub!
5. Wood Furniture Polish
You'd be amazed at the difference a nice polish can do for the look and feel of your furniture. Just be sure to dust your furniture before embarking on this cleaning venture!
Recipe:
Method:
Mix the furniture cleaning mixture in a Tupperware or jar and shake until mixed. Dip a clean rag into the mixture and polish away! You can save this mixture to use for next time.
6. Shower Cleaning Tonic
Mildew and calcium build-up don't leave you feeling very fresh after a shower, do they? There is a simple fix to this musty problem…
Recipe:
Method:
Mix the first 5 ingredients into a spray bottle and fill the remainder of space with warm tap water. Shake. To use, simply spray the mixtures on the shower walls and floor after your shower and go. No need to scrub!
7. DIY Glass Window Cleaner
Make those windows shine by removing fingerprints, dust, and other miscellaneous window marks with this homemade concoction!
Recipe:
Method:
Take an ordinary spray bottle, fill with the first 3 ingredients and use tap water to fill the remainder of the bottle. Shake, spray, and wipe away just as you would with any regular window cleaner.
Household Fresheners
8. Air-freshening Spray
Create your own air freshening spray with a little magic potion. This will not only save you money but also, is an environmentally friendly alternative to throwing out bottle after bottle.
Recipe:
Method:
Pour the mixture into a spray bottle and fill to the top with hot tap water. Shake a spray around the room!
9. Dishwasher Freshener
The dishwasher cleans your dishes every day but when does the dishwasher get any love? Remove musky odors, polish away grease, and help residual gunk loosen up with this purifying mixture.
Recipe:
Method:
This is a 2-step process!
First, fill a dishwasher safe bowl or cup on the top rack of the dishwasher, fill with vinegar, and run the washer through one cycle without detergent.
Next, after the first cycle, mix 1 cup of baking soda with a Kool-Aid Lemonade Packet and sprinkle all over the bottom of the dishwasher. Run on one short cycle.
Both cycles work together to give you fresh smelling, looking, and feeling dishwasher for cleaner plates and dishes! Run this method once a month.
10. Bathroom Freshener
Keep the bathroom smelling fresh with a simple DIY air freshener that can last up to a couple weeks and add a nice pop of color to the space.
Recipe:
Method:
Follow this step-by-step guide to create your very own DIY bathroom freshener!
The best part about making homemade cleaning solutions is that you most likely have these ingredients in your home already. That means that the next time you have an emergency spill or unexpected company coming over, you can whip up a fresh potion in no time at all!
Don't forget that DIY cleaning solutions made with everyday ingredients are better bang for your buck and a better route for your health!
You May Also Like: