This post may contain affiliate links.* As an Amazon Associate I earn from qualifying purchases. Click here to read our affiliate policy.
Estimated reading time: 6 minutes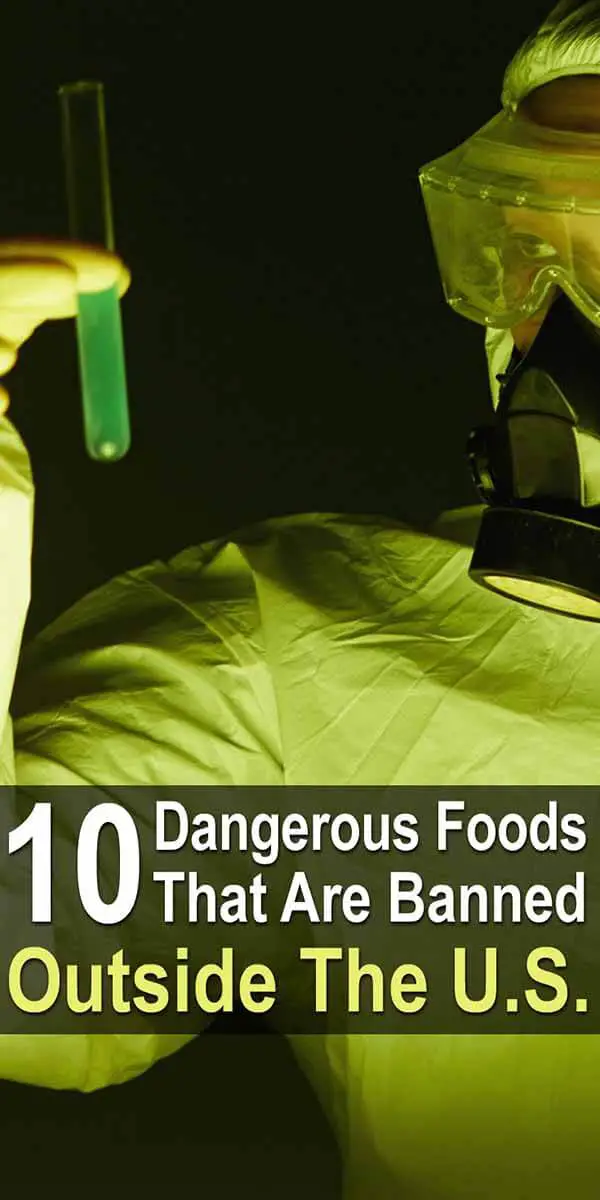 Since the passage of the Pure Food and Drug Act in 1906 — a measure that banned interstate trade in misbranded and/or adulterated foods and drugs — and the later formation of the Food and Drug Administration (FDA), Americans have come to rely on the federal government to protect them from harmful foods.
However, this trust may be misplaced. Did you know that many foods or food additives routinely sold in the U.S. are deemed unsafe in other countries? Some of these foods contain potentially harmful ingredients or additives.
Let's take a look at the top 10 offenders and how you can avoid consuming them.
1. Farm-raised Salmon – The term farm-raised sounds healthy, doesn't it? However, when it is applied to fish, it may mean anything but.
Farmed salmon do not spend their lives swimming free in the river. They usually are raised in large, densely packed contained systems or tanks. Whereas wild salmon have a bright pinkish reddish color from the natural carotenoids in their diet, farmed salmon, which are fed a diet of grains, can have a grayish tint.
To compensate for the unappetizing color, salmon farmers feed their fish a chemical cocktail that includes the synthetic astaxanthin, which is derived from petrochemicals that have not been approved for human consumption.
Farmed salmon is banned in Australia, New Zealand, and Russia. How can you avoid eating farmed salmon in the U.S.?
Look for sockeye salmon or Alaskan salmon, since these varieties are not farmed.
2. Hawaiian Papaya – It is a delicious and nutritious fruit, so how can papaya be bad for you? The staggering answer is that most papaya grown in Hawaii is genetically engineered so that it resists the pervasive ringspot virus.
Studies of the effects of consuming GMOs are ongoing, but research is beginning to reveal that they could potentially cause a wide variety of problems including birth defects, tumors, intestinal damage and even sterility.
Hawaiian papaya is banned in the European Union. You can avoid eating genetically modified papaya in the U.S. by choosing papaya that is certified organic.
3. The Drug Ractopamine, which is used to reduce the overall fat content of meat, may be found in 20 percent of all supermarket meats sold in the U.S.
Although nearly 160 countries have banned this drug, it is fed to pigs, cattle, chickens and turkeys in this country. Research shows that 20 percent of the drug remains in the meat after butchering.
Ractopamine is banned in Europe, Russia, and China. To keep this potentially harmful drug out of your family's diet, choose naturally raised, organic meats.
4. Citrus-flavored Sodas and Sports Drinks are a common site in the locker rooms of athletes or on the sidelines at athletic events. However, many of these drinks that are sold in the U.S. contain brominated vegetable oil (BVO), a synthetic chemical that was first patented as a flame retardant.
BVO, which can accumulate in human tissue and in breast milk, captures iodine in the body and can cause skin rashes, fatigue, and arrhythmias. In very large doses, it may cause reproductive and behavioral problems.
BVO is banned in Europe and Japan. To avoid BVO, become a strict label reader and be especially cautious of citrus-flavored sodas and sports drinks.
5. Thousands of food additives and food colorings that are commonplace in the U.S. are banned in other countries. Some of the worst offenders are in boxed macaroni and cheese, cheese-flavored crackers, children's cereals and gelatin dessert mixes. These and other products may contain popular food dyes, such as red 40, yellow 5, yellow 6, and blue 2, which research indicates may cause behavioral problems, birth defects, tumors, and other health problems in laboratory animals.
These dyes and many other additives are banned in Norway, Austria, and the UK. The European Union requires a warning notice on foods that contain dyes. To avoid dyes and preservatives, eat whole and unprocessed foods in as close to their natural state as possible.
6. Drugs that contain arsenic are routinely fed to farm animals in the U.S. Livestock raisers claim the drugs help the animals grow more quickly and help their meat appear "pinker" and "fresher-looking."
The FDA has approved a form of "organic arsenic;" however, studies reveal that "organic arsenic" can revert to its inorganic form, which is a known carcinogen.
The EU has banned arsenic-based drugs for food animals. You can avoid arsenic by eating only naturally raised (organically-fed) meats.
7. Potassium bromate is a common ingredient in flour used for hamburger and hotdog buns, bagels, and other baked goods in the U.S.
Commercial bakers claim it makes their dough more elastic and better able to mold and shape. However, research studies link potassium bromate to nervous system damage, thyroid problems, gastrointestinal discomfort, and kidney trouble.
Potassium bromate is banned in China, the EU, and Canada. To avoid this chemical, choose natural bread products or bake your own.
8. Olestra (or Olean), is a chemical made by Procter & Gamble as a fat substitute in their fat-free and cholesterol-free snack foods.
While these snacks are marketed as being healthy, the reality is that consuming olestra can cause many adverse reactions, including stomach cramps and diarrhea. What's more is that olestra can prevent the body from correctly absorbing vitamins A, D, E, and K, so much so that FDA requires that these vitamins be added to products containing olestra.
Olestra is banned in the UK and Canada. To avoid olestra, do not eat chips and snacks that contain this chemical.
9. BHT (butylated hydroxytoluene) and BHA (butylated hydroxyanisole) and are used as preservatives in many foods sold in the U.S., including baby food, breakfast cereal, butter spread, chewing gum, and dehydrated potatoes. However, both of these chemicals have been linked to dangerous diseases in laboratory animal tests.
BHA and BHT are banned in Japan and some of the EU. The UK has banned BHA in baby foods. Carefully read labels to avoid these preservatives.
10. A synthetic version of natural bovine somatotropin, RBGH, is commonly injected into U.S. dairy cows to increase milk production.
Widespread evidence shows that this hormone — and the use of antibiotics to treat the inflammation it causes in cows — has caused high rates of contamination in the U.S. milk supply. Although the FDA still maintains RBGH is safe, the chemical is banned in at least 30 other countries because of its danger to humans.
The best way to avoid RBGH is to purchase milk and other dairy products that clearly state "RBGH-free" or "No RBGH" on their labels.
Although these are the top 10 offenders, there are many other examples of foods and food ingredients that are potentially harmful to your health. In summary, here are the best ways to secure your family's safety with the foods you eat.
Avoid processed foods.
Choose organic, grass-fed, pasture raised meats and poultry and animal by-products (such as eggs).
Select wild-caught fish.
As you pursue a more natural way of living, of course, one of the best ways to avoid harmful additives is by growing your own fruits and vegetables and/or by raising your own farm animals. That way, you can forget about labels entirely and enjoy the benefits of natural, healthy whole foods.
Sources
You May Also Like: