This post may contain affiliate links.* As an Amazon Associate I earn from qualifying purchases. Click here to read our affiliate policy.
Estimated reading time: 8 minutes
Shelves? Check. Water? Check Rice? Check. Beans? Check. Canned vegetables? Check.
For many people, preparing an emergency food supply ends right about here. Okay, maybe you can add in granola bars, powdered milk, and trail mix as well. However, if you complete your preparations with these items, you are missing the opportunity to store many nutritious survival foods for your family.
Here is a list of often forgotten emergency foods to consider that offer extended shelf life and provide needed calories and nutrients in an emergency.
Want to save this post for later? Click Here to Pin It on Pinterest!
1. Dehydrated Meat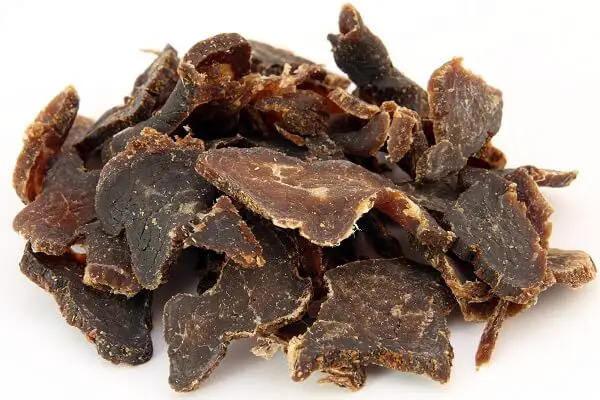 Jerky is a great source of protein and stores easily for long periods in your emergency pantry. You can make your own jerky in the oven, dehydrator, or even over a fire. Here's how to make beef jerky in a dehydrator. Scroll through the article for the video at the end.  
2. Pemmican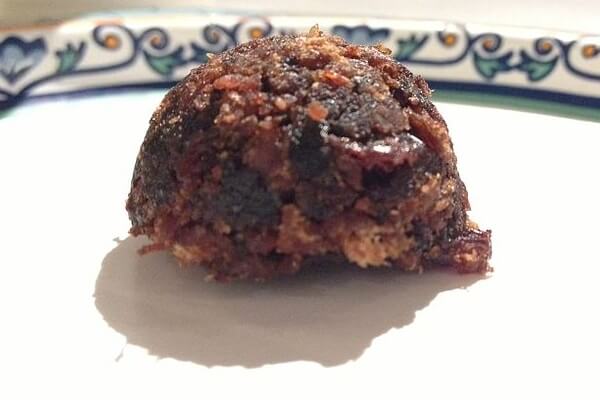 Often referred to as the ultimate survival food, pemmican was invented by Native Americans as a way to preserve venison and buffalo. However, you can use any low-fat dried meat and mix it with fat and berries before molding it into biscuit-sized shapes. Some pemmican is known to have stayed fresh for 50 years! Here's how to make pemmican.
3. Lentils
Whole dried lentils (not the split kind) store well for up to five years in air-tight containers. They are high in protein and easy to prepare. Contrary to what you might think, you do not need to presoak dried lentils, so they require less water than other beans. 
4. Quinoa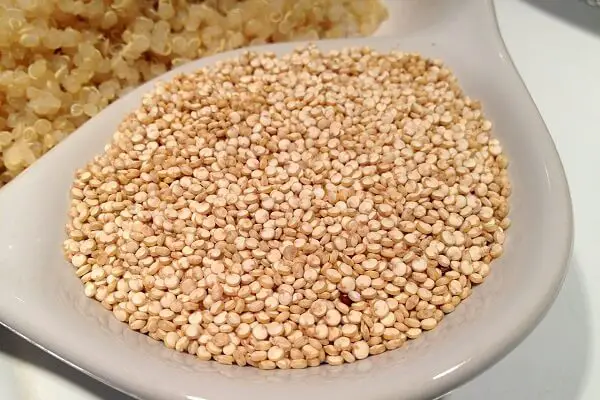 The ancient Incas knew what they were doing when they stored quinoa. This nutritious and filling grain contains eight essential amino acids and eight grams of protein per cup. Store uncooked quinoa in air-tight jars or bags in your pantry for six months or more. 
5. Rolled Oats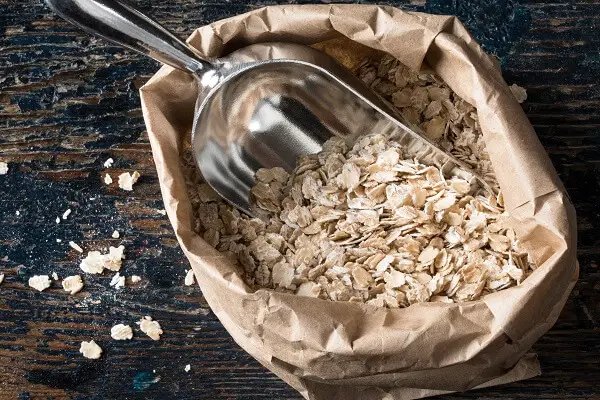 When stored in tight containers that are kept in dry, cool conditions, rolled oats can stay fresh for up to 30 years! Inexpensive and easy to cook, oats offer dietary fiber, iron, and thiamine.
6. Dried Fruit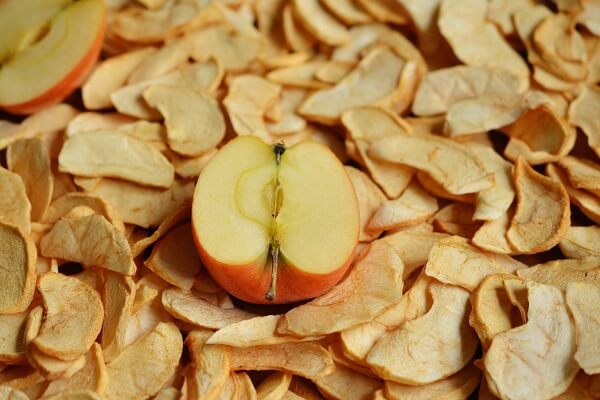 Raisin and dates are only two of the options when considering dried fruits for your emergency pantry. You can dry just about any fruit in your home dehydrator, oven, or even outside in the sunlight. When placed in mylar bags or air-tight containers, most dried fruits store well for up to five years.
Try dried cranberries, figs, cherries, banana chips, apricots, mango slices, plums or blueberries. Here's a video that shows just how easy it is to dry apple slices in the sun.
7. Dried Veggies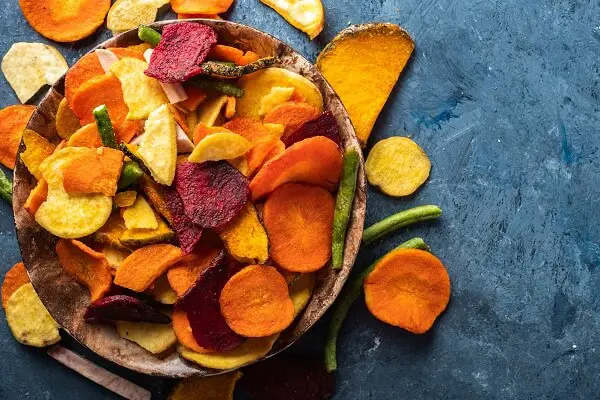 You may have some canned veggies already in your stockpile, but you might want to consider adding some dehydrated ones as well. Dehydrated carrots, for example, can stay fresh for 20 years, and dried corn can last for 10 years.  This video shows how to dehydrate vegetables.
8. Canned Tuna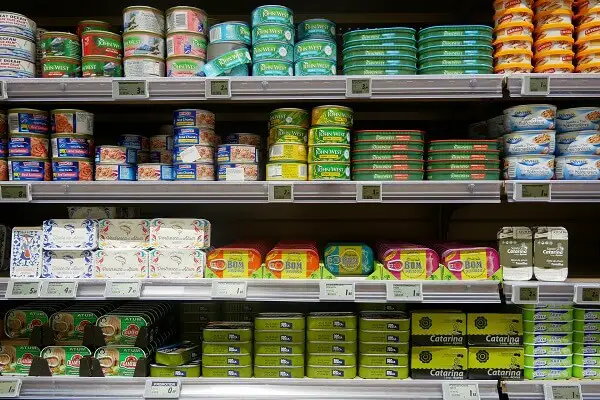 Canned light tuna (which has lower levels of mercury than other types of canned tuna) is an inexpensive, nutritious, and versatile addition to your stockpile. High in protein, you can eat it as-is on crackers, as a sandwich filling, or in a pasta dish. Most canned tuna stays fresh for up to two years. Check the expiration dates on your cans and rotate out as needed. 
9. Coconut Oil
Coconut oil has a shelf life of more than two years. Solid at room temperature, coconut oil can withstand the high cooking temperatures of a fire in a survival situation. Consider it as a replacement for butter in baking and cooking. A bonus is that you can also use coconut oil for other purposes, such as a skin moisturizer and a hair product. 
10. Chickpeas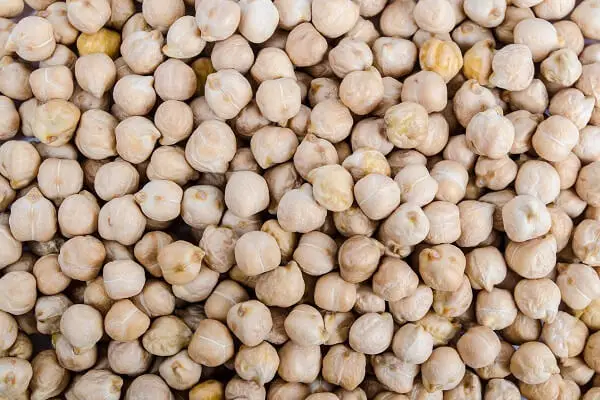 Rich in protein and flavor, dried garbanzo beans have a shelf life of 30 years or even more when stored properly. 
11. Honey
Don't make the common mistake of thinking honey spoils when it crystallizes over time. To get it back to its liquid state, just warm it and stir it briefly. Honey offers energy boosts and is a good replacement for sugar in a survival pantry.
12. Nut Butters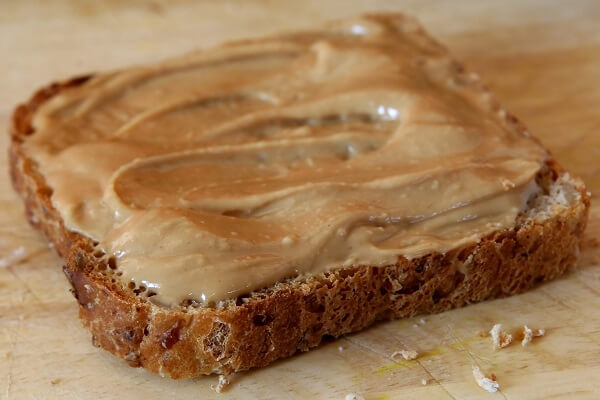 Peanut butter may already be on your emergency pantry list, but many preppers overlook the benefits of other nut butters. For example, sunbutter (made from sunflower seeds) and almond butter are quick and easy sources of energy and nutrition. They also are excellent for long-term storage. Here are instructions for making sunbutter.
13. Millet
If you want to avoid gluten or just want an alternative to wheat and rice, millet is an excellent choice. Millet provides protein, dietary fiber, healthy fats, vitamin B, potassium, iron, magnesium, calcium, and zinc.
14. Kamut
Another often overlooked grain, kamut is easy to digest and can contain 40 percent more protein than modern wheat. Sometimes called the "high-energy grain" because of its high lipid content, kamut is a good choice as a survival food.
Now that you have some fresh ideas of what to store in your emergency pantry, here are some other tips.
Be sure to have a hand-operated can opener available.

Store a flashlight and batteries nearby so you can find your food in the dark.

Store at least one gallon of water per family member per day.

Remember your pets and livestock need food and water too.

Prepare for baby and toddler nutritional needs.

An emergency is not the time to experiment with new foods; there will be enough stress. Store foods your family likes.

Monitor your pantry regularly, checking expiration dates and rotating as needed and watching for any signs of moisture or infestation.
Like this post? Don't Forget to Pin It on Pinterest!