This post may contain affiliate links.* As an Amazon Associate I earn from qualifying purchases. Click here to read our affiliate policy.
Estimated reading time: 5 minutes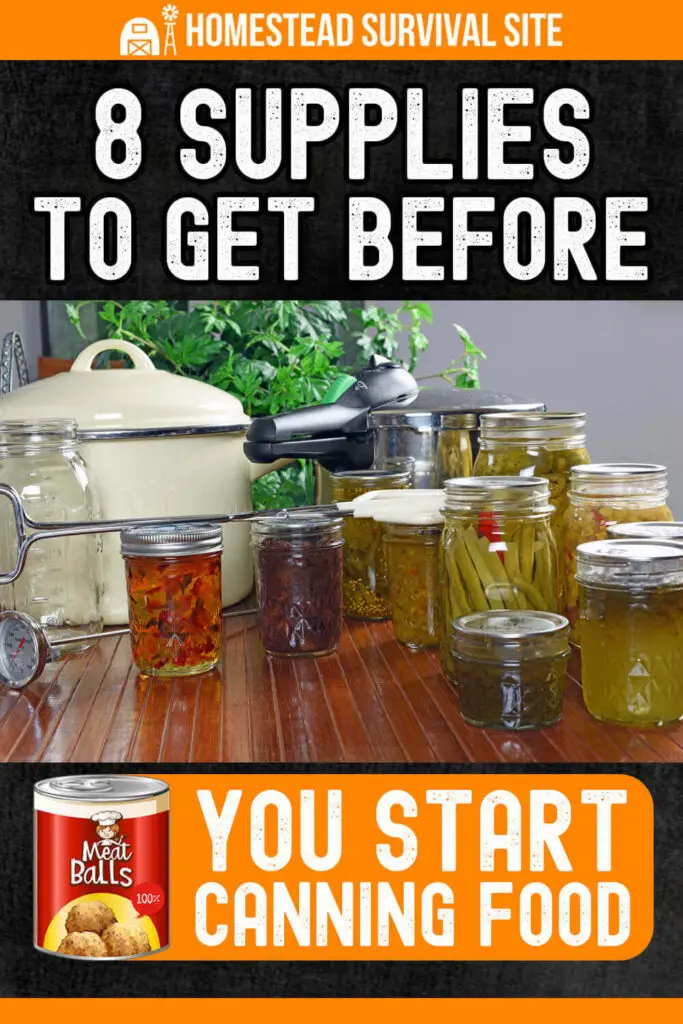 What do you do when the local shops have been looted, when your crops have been destroyed by climate change, or when a mudslide has left you cut off from access to a supermarket? Easy. You turn to your fully stocked pantry of canned foods–the one you've been adding to throughout the year.
When properly sealed and stored, canned fruit and salsa have a shelf life of up to 18 months, pickled veggies have a shelf life of up to two years, and jams can last even further than the two-year mark (although they may start to lose a bit of flavor).
The point is, canning your food at home isn't just a fun hobby; it's an insurance policy to fall back on if the world tips upside down.
You don't need a huge factory operation to get started. In fact, everything you need to start canning at home is easily available at your local hardware store or online.
Want to save this post for later? Click Here to Pin It on Pinterest!
Follow along as we list the most essential items to start canning food at home.
Canning Jars and Lids
For pickling, preserving, and storing–glass jars are the way to go!
Mason jars are the most common and readily available jars out there when it comes to canning. There are two types of Mason jars you will find: regular mouth and wide mouth.
Regular mouth Mason jars are smaller in comparison to wide mouth jars while ranging in size from 4oz (quarter pint) to 32oz (quart). These jars are ideal for pourable liquids such as soup or salsa and also jams which tend to be made in smaller batches. These compact sizes are convenient to store and organize.
Wide mouth Mason jars are much larger with the biggest size measuring up to a half-gallon. Their wide mouth and large size make canning whole vegetables or cuts of meat a lot easier and less messy. Many people find wide mouth Mason jars much easier to clean as well.
Most often, the mason jars you purchase will come packaged with their own lids. The lids are a two-piece set comprised of a flexible metal top that is sealed on in a hot water bath and a screw-style lid that keeps the sealed lid in place. Once in a while, you'll find that the lids are sold separately, so just be sure to double check that you've got both the jars and the lids before you check out.
You can pick and choose your jar size and style based on what you're canning. There is no 'right' or 'wrong' when it comes to the jars you choose. Some people prefer to use wide mouth jars for every product and some choose to can their food in a more methodical manner.
Pro Tip: If freezing your jar, leave a little headroom for expansion which will reduce the chances of your jar breaking.
Canning Tools
When dealing with boiling water and hot metal lids, some tools are absolutely necessary while canning food at home, and some tools just make the process a little bit easier.
You can purchase the whole kit and caboodle online, including the water bath canner, tour your local hardware store, or make do with tools and pots from around the house.
Some Extra Supplies
A Friend or Helper – Canning can be a long process and certainly involves many steps. Ask your family members or prepping buddies to join you in a day of canning.
Time – When you have all the time in the world, canning is enjoyable and even therapeutic. But when you find yourself in a time-crunch, it can be stressful and your finished product might end up being a little wonky.
Canning Cookbook – You'd be surprised by all of the foods you can can! A canning cookbook will take you beyond pickled cucumbers into the land of variety and flavor.
Remember; if you're in a pinch, you only really need three items to can. However, the other canning supplies on our list really make canning food at home an enjoyable, efficient, and safe process. Don't forget to enjoy some of the fruits (or veggies) of your labor by opening a jar of pickles once in a while. There doesn't have to be a disaster outside your doorstep for this hobby to pay off.
Like this post? Don't forget to Pin It on Pinterest!
You May Also Like: