This post may contain affiliate links.* As an Amazon Associate I earn from qualifying purchases. Click here to read our affiliate policy.
Estimated reading time: 8 minutes
You can live off the grid just about anywhere, but some locales are more suited for a self-reliant lifestyle than others.
There are many "best places to live off grid" lists floating around on the internet, but the majority of them focus on just one key aspect of setting up an off-grid homestead: weather. Yes, weather and climate are very important if you plan to use alternative energy to power an off-grid homestead or survival retreat. But only considering how much the sun shines or the wind blows is a recipe for an epic off-grid living fail.
For example, Hawaii tops many lists based upon weather alone. If you are going solar on your off-grid homestead, Hawaii might seem like the perfect choice. But it only takes a slightly closer look at the state to grasp how many negatives living in the state will bring.
In addition to an abundance of year-round sunshine, Hawaii also has a high cost of living, well above average land prices, high population density in most areas because of tourists, and it is under a frequent threat of destructive natural disasters.
Want to save this post for later? Click Here to Pin It On Pinterest!
Each of the locations in my list of best states to live off the grid are blessed in the following essential categories:
• Land Prices – The cheaper the land, the more you can purchase – or the more money you can save to fund a house or barn building project and/or purchase necessary equipment.
• Off Grid Friendly Laws – All the sunshine in the world won't help you live off grid if state laws are too strict. There could stringent building codes and required building materials, regulations against disconnecting from the electrical grid and sewage system, or penalties for refusing to connect to those systems when constructing a new home. Typically, you will find far fewer regulations when purchasing property in a rural area.
• Property Taxes – The cost of annual property taxes can greatly impact not only how much land you can buy, but if living on the land long term will be affordable, especially if you have to build a home or make other improvements.
• Weather and Climate – For an off the grid homestead to be successful and sustainable, you will need adequate growing seasons.
• Crime Rate – Protecting your investment will be far easier if you live in a low-crime area as well as a place that readily permits you to protect the land yourself if need be.
• Population Density – Important if your homestead is also going to function as a survival retreat or bugout location.
• Land Quality – Agricultural grade land and natural resources, especially the ready availability of water year round, is necessary. Desert and clear-cut land is exceptionally cheap for good reason…the vast reduction or complete absence of vital natural resources.
• Low percentage of Natural Disasters – A state with a high percentage or likely chance of hurricanes, tornadoes, flooding, tsunami, drought, or even volcanic eruption, are not prime locations for an off-grid homestead, even if land prices and property taxes are low.
• Cost of living – Being an off-grid homesteader means you will provide the bulk of what you need yourself, but there almost certainly will be things that have to be purchased, especially during the first several years. The state's cost of living is important to consider so you can avoid busting your budget long before the first harvest.
• Like-minded or Self-Reliant Neighbors – When living amongst your own, or at least in an agricultural community, you will not only make new friends and contacts, you will likely be able to barter goods and services and garner useful knowledge and skills.
Some states strictly prohibit off-grid living via laws that do not permit residents to live on a piece of property not connected to the electrical grid or sanitary sewage and water system – or both. These types of law can vary not only state-by-state but within local jurisdictions in a state.
Top 10 States For Living Off The Grid
1. Maine
Zoning and state laws are agreeable to off-grid living. In non-tourist and remote areas of the state, the land is inexpensive and the population density and crime rate are low.
Natural resources such as timber, water, and rock are typically in great abundance. The growing season is short compared to some midwestern and southern states, but crop production could be increased via greenhouse and indoor growing.
2. Texas
The affordability of land in remote regions of the state is just one great reason to choose Texas for your off-grid homestead. The state boasts a long growing season in most regions, with ample timber and rock to use as building materials.
Avoid purchasing land in desert areas or you will likely struggle with water availability and experience a decrease in hunting and fishing opportunities.
3. Montana
If you do not mind the cold, Montana can be a perfect location for off the grid living. The land is affordable, population density is definitely not an issue, and state laws are agreeable with the self-reliant lifestyle. The cost of living and crime rate for the state are also favorable.
The growing season is not as long as many of the other best off-grid living states, but it possesses prime grasslands and prairies for raising livestock. Building a greenhouse to expand the growing season is highly recommended. The windy nature of the states should make it ideal for using wind turbines as an alternative power source.
Except for the grasslands region of the state, you should be able to find enough standing timber on the property for structure building, furniture making, and firewood.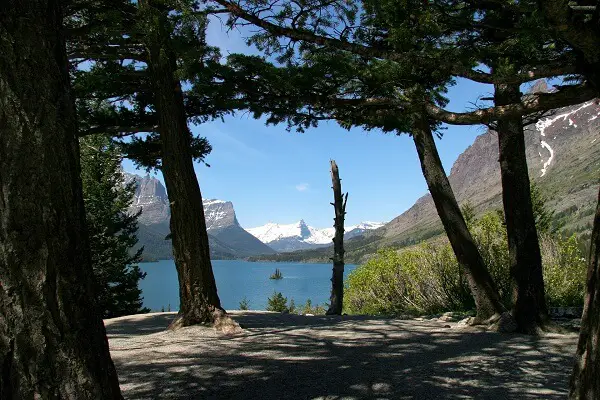 4. Ohio
For some baffling reason, the Buckeye State is often completely omitted from "best off the grid living" lists. The southern part of the state boasts incredibly low land prices, low property taxes, low crime rates, an incredibly low cost of living, and an abundance of natural resources
Some counties do not even have a permit office (outside of septic tank laws governed by the local health department) or any zoning laws at all. The growing season ranges from late May through the end of October for most crops.
5. Tennessee
Property taxes are incredibly low in Tennessee. The cost of living in rural regions is decidedly budget-friendly. Hunting and fishing opportunities abound and natural resources are plentiful.
A sufficient growing season (about 260 days a year) exists in all regions of the state and the temperatures are generally mild year round. The state has some of the least-stringent raw milk herd-sharing and rainwater collection laws in the country.
6. Arizona
The climate is mild and trees not quite so scarce in the northern regions of the state. Land prices in the same region are affordable, but water availability is still likely going to be an issue.
Drilling a well, buying property with a natural spring that can be dug into a sustainable pond, or hauling water to your property will be necessary. The growing season is long and their should be ample sunshine year around to power a solar energy system.
7. Vermont
Vermont is another great state to live off the grid. Land is plentiful and affordable. Water is available and not hard to come by as well as timber and rock for building. Resources are available and zoning is open to living off the grid in most counties.
Again, stay away from the larger cities and towns to find counties which are more open to living off the grid.
8. Missouri
Not only is off-grid living completely legal without a bunch of hurdles to jump through, the State of Missouri actually encourages the self-reliant lifestyle. Residents can collect rainwater without interference, and septic systems are not required to be present at homes within the state.
Natural resources for building a home and other structures are readily available on most plots of land in Missouri. The land in the state, by-and-large, is equally good for both ranching and farming.
9. Oregon
The Cascade Mountain region and the western area of the state offer quality and readily available natural resources. Plenty of hunting and fishing is available in the region. Property prices and taxes are affordable to low. Quality timber exists on many parcels of land in the Cascade Mountain region, as well.
The state appears to be welcoming to people who want to live off the grid. Two of the largest off-grid communities in the state are in the Three Rivers Recreation Area–which operates solar energy and water supply shared systems–and Breitenbush Hot Springs, which is now rapidly becoming a tourist attraction.
10. North Carolina
The non-coastal regions of the state boast quality land at an affordable price. A preparedness and homesteading community of significant size is growing in the Saluda and Black Mountain area. Each year, Prepper Camp, which is a 3-day hands-on homesteading and survival experience, takes place in September.
Regardless of where you choose to establish an off-the-grid homestead, do your homework and visit (at least once) the area so you truly get a feel for the overall environment – both governmental and natural.
Like this post? Don't Forget to Pin It On Pinterest!