This post may contain affiliate links.* As an Amazon Associate I earn from qualifying purchases. Click here to read our affiliate policy.
Estimated reading time: 13 minutes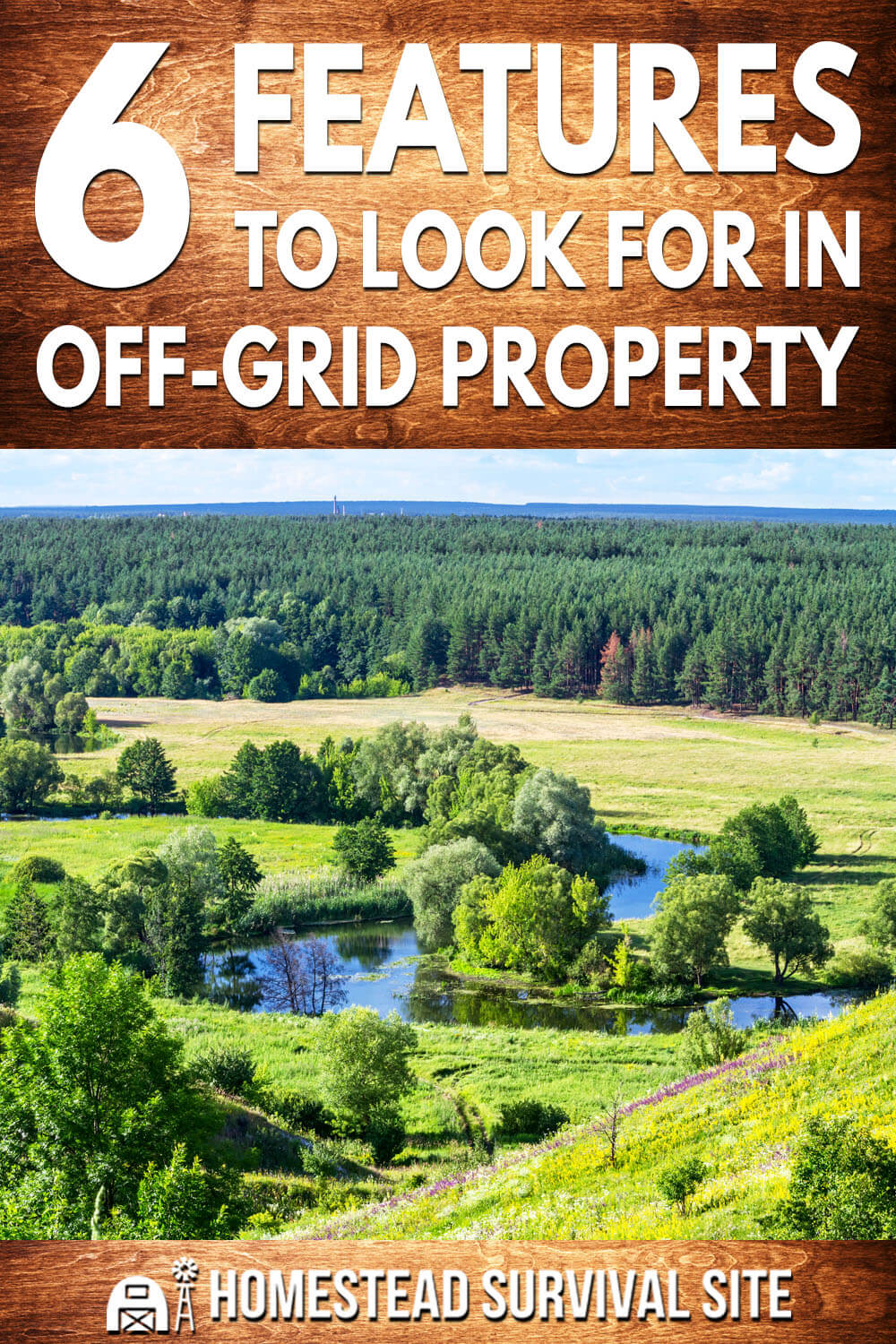 Finding the perfect off-grid property is a dream of many homesteaders and preppers. While disconnecting from modern conveniences can be done just about anywhere, to truly live off the grid in a sustainable manner requires a very specific type of land. 
Want to save this post for later? Click Here to Pin It On Pinterest!
Before searching for your dream land, you'll need a complete evaluation of your off-grid living skills, a loan limit offered by a lender, as well as a detailed outline of how you will work the land after buying it. A great deal on a fixer-upper is only a great deal if you possess the skills, money, and time to turn it into a working off-grid homestead.
Once you have determined how much time you can invest in the property and have taken a long hard look at your skillset, you will be far better prepared to determine how you can use the land and how much space you will need.
With all that in mind, here six features to look at in off-grid property:
1. Space And Usage
How Much Land Do You Need To Live Off the Grid?
You can live off-grid on the right piece of land whether it encompasses just one acre or 100 acres. All pieces of land were neither created equal nor with your specific wants and needs in mind. The natural assets and physical attributes of the land will play a substantial role in how it can be successfully used. 
A five-acre tract of land that is hilly and heavily wooded would be just fine for a person planning to live off-grid using hydropower and raise goats, but it would be entirely unsuitable for a homesteader who wants to rely solely on solar panels and keep horses or cattle. 
A 35-acre tract of land with pastures would allow you to raise cattle and horses and their own hay, but it would require a large tractor, hay rake, hay conditioner, and hay baler. If you are an off-grid prepper seeking to use the land as a retreat, being able to patrol and defend that much land will require far more than a significant other and a couple of children. 
The examples below will help guide you when attempting to determine how much land you need:
5 Acres
Grow a garden large enough to feed a family of six if vertical gardening and edible landscaping are worked into the food growing design.

Small and medium livestock could also be kept on such a small off-grid homestead. Rabbits, chickens, ducks, and even a few head of Pygmy or Nigerian Dwarf goats can exist on a 5-acre homestead, providing the house is small to moderate in size. Goats can browse for food in a wooded area and do not need a traditional pasture, but you will need to purchase hay to get them through the winter if you live in a four-season climate.
If a wood stove, fireplace, or wood cookstove will be used, there will not likely be enough offered by the land (even if it is wooded) for this type of heat source to be sustainable. Additional firewood will have to be purchased.
10 Acres
A traditional garden can be used to feed a family of six on this much land if it is not more than 30 percent wooded. To grow more food to put up or sell, using vertical gardening, container gardening, and edible landscaping is still highly recommended.

A dairy cow, a few head of miniature cattle, or two horses may be kept on a homestead of this size if the home is not large and adequate space for a small barn exists. While 10 acres can provide some grazing pasture, it will not offer enough space to bale hay to feed the livestock for the winter — additional hay will have to be purchased. Small and medium livestock are more ideally suited for a smaller off-grid homestead of this size. 

Building or buying a tiny home, a home built on "stilts" or using a basement to garner extra living and storage space will help keep the dwelling footprint on a small 10-acre parcel of land from inhibiting necessary activities and auxiliary structures.

A 10-acre homestead could provide a good bit more firewood for heating the home and cooking, but will still not offer enough for sustainable heating. 
15 to 20 Acres
An off-grid homestead of this size offers far more space for a home, garden, and livestock. A herd consisting of one dairy cow and four beef cows could be kept on a 20-acre plot of land. Hay production will be possible if not too much of the land is taken up by structures and gardening. Both the type and number of livestock you keep will determine if there is enough space to produce all of the hay needed to get the animals through the winter.

If 30 to 40 percent of the homestead is wooded, you may be able to harvest enough firewood to heat the home, water, and cook — or at least rely far less on purchasing firewood from an outside source. 

You could build a larger home or barn on this land and still have ample space to garden and keep medium-sized livestock. But, it would be a better use of space to build a 2-story house or a house with a basement than to take up more land that would be best used for food growing, raising livestock, and a water source. 
25 to 50 Acres
An off-grid property of this size (or larger) will provide not only significantly more space but, in most cases, an enhanced level of natural resources as well. Keeping cattle and horses and still owning enough land to put in hayfields is entirely feasible.

If a homestead of this size is at least partially wooded, you should possess enough of a renewable resource where firewood is concerned to both heat the home and cook.

A larger dwelling and barn, as well as land, will offer the opportunity to install multiple sets of large solar panels to help power the home. 

Putting in a greenhouse, butcher shop, etc. is also far more viable of a project on a larger piece of property due to a far lesser degree of space limitations.

Gardening using the traditional ground plot method and even growing grain crops such as wheat, sorghum, oats, barley, and field corn are also an option on an off-grid property that encompasses 25 acres or more. Growing these types of heavy space-using crops will not only help feed the family but make keeping livestock more sustainable by creating your own feed.
Related Article: How To Homestead On Less Than An Acre
2. Location
The one constant rule of real estate has always and will always be "location, location, location." That same old adage holds true when seeking an off-grid property. Not only should the amount and type of land be heavily weighed when planning to buy land, but the location will become a massive determining factor in its success. 
Living entirely off-grid requires you to live in a place where not only is such a lifestyle not prohibited by any local statutes, ordinances, resolutions, or codes, but also a place where land with natural attributes needed to live sustainably actually exists. 
Finding a creek or spring-fed pond in an urban or suburban patch of ground is simply not going to happen. Solar panels may or may not be allowed to be used either as a sole power source for the home or even to partially reduce reliance upon the grid. Land with enough trees to provide firewood even for a single month of home heating use also would not be even remotely possible.
In the rural county where I live, there are no zoning or permit offices. The only government intrusion into how you choose to build your home and use the land pertains to sanitary sewer installation. In my state, composting commodes are allowed as long as they meet the standards shared on the health department website. Having this type of flexibility in land use comes with selecting the proper location for the off-grid property.
If the off-grid plan is to also use the space as a survival homestead or prepper retreat, finding a secluded spot in a rural county is also highly advisable. The last property on a dead-end dirt road would be ideal. Our home and barns are located half a mile up our private winding farm road from the start of the property.
The one car per hour (at most) that drives along the road leading to our home would have no idea anyone even lived on our land when passing by. An off-grid setup like this provides the OPSEC that an off-grid homesteader desires. 
3. Terrain
Not only will the terrain be important for off-grid power source installation, but it will also play a mighty role in how the land is farmed, how food is grown, how water is obtained, whether the water is sustainable, as well as OPSEC for off-grid retreats. 
Land that is too rocky or too hilly or mountainous can impede your food growing and raising plans, as well as solar power projects. A potential off-grid property site that is not wooded at all or barely wooded, especially when it is a small acreage parcel, will not provide the amount of harvestable necessary to heat the home or for cooking. 
If hunting deer or turkey is part of the sustainable off grid living plan, the potential property will also have to possess terrain where these commonly hunted animals regularly roam.
4. Water
Buying water is not a viable option for daily off-grid living. A property that is not going to be attached to a municipal water system must at the bare minimum have a well that can be connected to a solar-powered or manual pump.
Relying on a gas, diesel, or kerosene-powered generator to pump the well water into the home will add a lot of extra expense to the homestead and is not really a sustainable option during a long-term disaster.
Some properties are more conducive to well-drilling than others, and this takes us back to the terrain feature, to some degree. But even properties with terrain that will permit well drilling does not mean you will hit a solid water source — or that the source will never run dry. 
Buying a property without an existing well and merely hoping that you can economically hit water and put in at least one well and have a backup water source is risky. If a well does exist, learning as much as you can about its age, depth, annual water collection, and the average length of well usage on the property and neighboring properties should be a top priority.
I could not recommend more highly the need to buy an off-grid property that has a natural water source in addition to a drilled well. A parcel of land that already has a spring-fed pond, a creek running through it, or borders a portion of a lake provides a sustainable water source on its own, even if the water has to be collected by bucket or with a gas-powered pump.
Related Article: How Much Land Does It Take To Be Completely Self-Sufficient?
5. Pastures – Hayfields
Not just any large open space of fairly level land is a pasture or a hayfield. Such a space can almost always be turned into one (unless the area floods – another terrain-related issue to research before buying land), but doing so will require both time and money.
The growing Amish community in my region does all of their pasture and field cultivation the old fashioned way either pushing the manual equipment themselves or using horses to pull seeders, conditioners, and balers. The expense of buying or leasing such equipment as well as the time and knowledge to use them should be factored into your overall property budget. 
If you are going to keep goats or sheep, the need to cultivate a pasture is not as significant. These types of livestock will not mind more rugged terrain and will do a lot of weed and brush eating to help reclaim the land. A year with sheep and goats on a piece of land will help clear out areas that could be turned into pastures or gardens. 
A hilly area will also be worn down by goats to help clear it to make getting to firewood easier and to help "grub" a hillside to eventually turn it into a grazing area for horses and, to a lesser degree, cattle.
Related Article: 5 Best Animals To Raise On Your Homestead
6. Soil
Dirt, just like land, is not all created equal. Doing a soil test on the land to determine its attributes will help you determine what will likely grow on the land as well as what steps need to be taken to improve its quality to prepare for garden planting and pasture or hayfield rehabilitation. 
Dream Land Natural And Governmental Attributes For Off Grid Living
A minimum of two natural water sources. A creek that is running the bulk of the year may also offer the option of using hydropower as an off-grid power source.

Partially wooded area on the property for firewood, hunting, and foraging.

Rich and well-draining soil with a fairly neutral pH balance that does not contain a high ratio of either clay or sand.

Natural fencing or barriers for OPSEC and self-defense purposes — briars, ravines, creek crossing, etc.

Southern exposure for not only crop growing or a greenhouse but also to make the best use of natural heat and light inside the off-grid home and for solar panel power.

The location should be in a region free from restrictive laws that would inhibit off-grid living and sustainability plans. The deed for the property should also be free from any restrictions of usage or indicate any claims against mineral rights or water rights.

Rainwater collection may be important on an off-grid property and not all states or municipalities either permit this activity or place intrusive restrictions on the amount of water that is collected. Purchasing land for an off-grid homestead in such an area could vastly limit your water sustainability and frugal living plans. 
Finding a single piece of land that suits all of your needs is going to be difficult, but it's possible if you are diligent and patient in your search. It took my beloved hubby and me three years to find our dream land. 
There were several parcels that were close and would have been perfect if we could have combined them together, but the exact right location with the terrain and natural attributes we needed took a significant amount of searching. Both of us having worked in real estate sales and appraisal did give us a distinct edge in looking for land and finding what we could afford. 
Working with an agent that specializes in land sales, especially agricultural land sales, can be highly beneficial. Although they are few and far between, there are real estate brokerages that specialize in prepper retreat, off-grid, and homesteading properties.
The folks who work at such brokerages should be far more attuned to your needs and list only land that will feature the natural attributes that your family will need to start living off the grid dream as soon as you sign the deed.
Like this post? Don't Forget to Pin It On Pinterest!
You May Also Like: