This post may contain affiliate links.* As an Amazon Associate I earn from qualifying purchases. Click here to read our affiliate policy.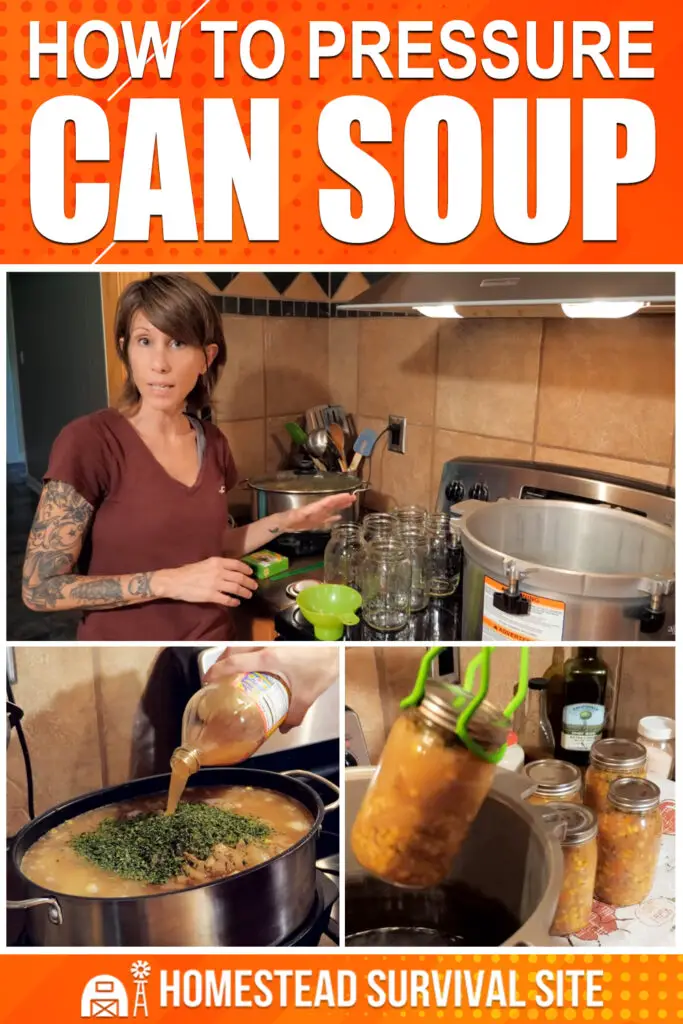 Whether you're a gardener with a huge harvest that needs to be preserved or just someone who wants to stockpile food for hard times, you understand the importance of canning food. Unlike freeze-dried or dehydrated foods, which have to be rehydrated, canned foods are ready to eat as soon as you open them.
However, you probably won't be eating carrots, tomatoes, green beans, and so forth right out of the canning jar. Instead, you'll be using them in various recipes. I would argue that if you're a prepper, you should try to can things that would taste good right out of the jar.
For example, if you've canned some ham and potato soup, then if you're living through some sort of disaster or grid-down scenario, all you have to do is open the can and start eating. You don't even have to heat it up. (Although if you do want to heat up, it would be as easy as putting it on a Sterno stove for a few minutes.)
Want to save this post for later? Click Here to Pin It on Pinterest!
Having plenty of canned meals during a crisis means you won't have to spend lots of time and energy cooking, which is great because you'll probably already have enough problems to deal with.
Anyway, now that I've made my case for canning soup, we need to talk about how to do it. Jamie from Guildbrook Farm has done this countless times, canning things like ham and potato soup, senate bean soup, ham and pea soup, ham and potato and corn soup, ham and green bean and potato soup, and more.
In this video she makes potato/ham/corn soup. Below are the basic steps. There are no exact measurements because it's not an exact soup. It just depends on your personal preferences.
Put a ham bone and water in the crockpot overnight.
Cut off the meat and discard the gristle, fat, and bones.
Strain all the bits of ham and fat out of the stock.
Blend some diced potatoes and ham stock.
Pour the resultant mixture into the crockpot.
Add some diced carrots and some corn.
Add the ham, and pour the ham stock over it.
Dice up an onion and stir-fry it. Add to crockpot.
Add a few sprinkles of garlic powder, salt, and pepper.
Add a lot of parsley and a splash of apple cider vinegar.
Stir it all up and let it cook in the crockpot for an hour.
She also shares some important rules for canning soup safely.
All soup needs to be pressure canned. A water bath canner won't do.
You can't can pasta or rice. It gets too soggy.
You can't can anything with dairy or creamer.
You can't can anything that's too thick.
You can't add any thickener to something you're canning.
Make sure everything is cooked before you can it.
To learn exactly how to can this soup, watch the video below. (She starts canning at about 12:45).
You May Also Like: