This post may contain affiliate links.* As an Amazon Associate I earn from qualifying purchases. Click here to read our affiliate policy.
Estimated reading time: 6 minutes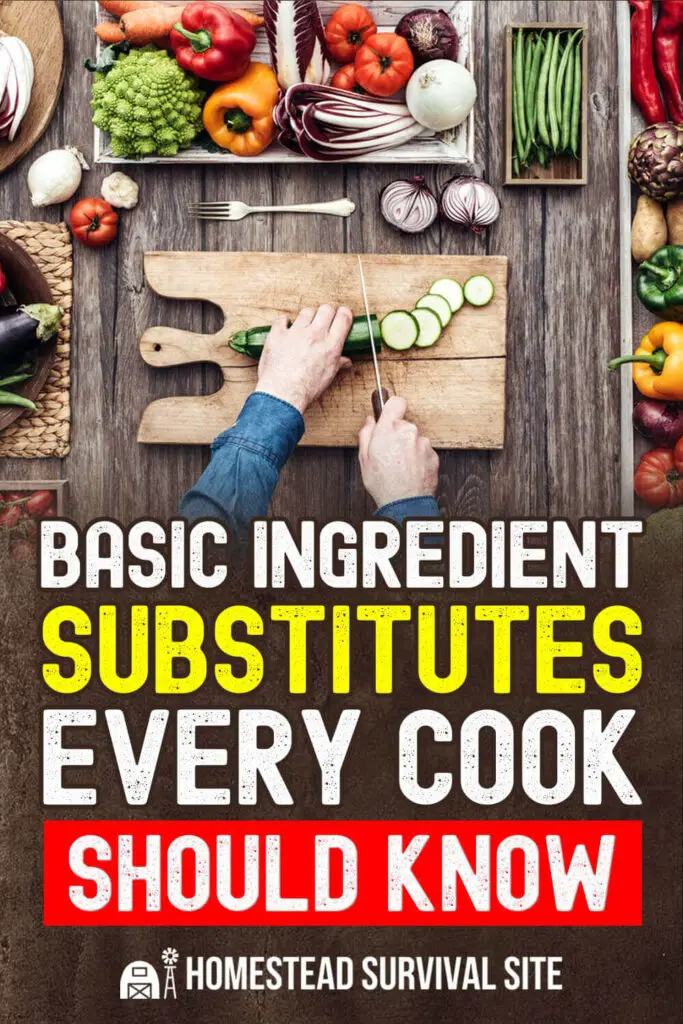 We've all been there. You start making a recipe and then realize that you are out of an ingredient that seems pretty important for the dish. Instead of running to the store for that one item, why not just look around for a substitute?
Knowing how to substitute common ingredients will not only save you time, but it also is a great skill to have for emergencies. When SHTF, you'll want to know how to utilize your food and ingredients to feed your family.
Check out these cooking ingredient substitutes and how to use them the next time you need them in a pinch.
Want to save this post for later? Click Here to Pin It On Pinterest!
Milk Products
Dairy is a staple for many of us, and plenty of recipes call for some kind of dairy ingredient like milk, butter, cream, or yogurt. As all of these common items start with milk, it is essential to know how you can fudge the recipe if you find that you are out of cow juice.
The beauty of milk is that you can substitute a higher or lower fat option if you need to without much of an issue. 
Milk (1 cup)
Substitutes: 
1 cup of heavy cream
Half-and-half thinned with water to make up 1 cup total
Half-and-Half (1 cup)
Substitutes: 
Add 1 tablespoon of flour or cornstarch to 1 cup of milk
Thin some heavy cream with water to create 1 cup total
Heavy Cream (1 cup)
Substitutes: 
¾ cup milk with ¼ cup melted butter
Whisk 2 tablespoons cornstarch or flour into 1 cup of milk to thicken
Buttermilk (1 cup)
Substitutes:
Add 1 tablespoon of lemon juice or white wine vinegar to a jar and then fill with milk to create 1 cup total
Mayonnaise (1 cup)
Substitutes:
1 cup sour cream
1 cup plain yogurt
Leaveners
Another ingredient that commonly runs out in kitchens are the leaveners that help baked items rise. There is a very important difference between baking soda and baking powder, which anyone who has accidentally switched them while baking could tell you.
While you can't switch them directly on a 1:1 ratio, you can adjust the measurements to make either work if you have one but not the other.
Baking Powder (1 teaspoon)
Substitute:
¼ teaspoon baking soda plus ½ teaspoon cream of tartar
Baking Soda (1 teaspoon)
Substitute:
3 teaspoons baking powder
Broths & Stocks
Recipes call for broths and stocks to help increase the overall flavor of the dish. All of these stocks are pretty interchangeable, but they will change the flavor a bit. Still, when cooking or needing to stretch out a meal to feed more hungry mouths, adding in any kind of flavor to the water will help ward off hunger. 
If you don't have any broth or stock, consider substituting other flavorful liquids like beer or add 1 tablespoon of soy sauce to every cup of water needed instead. You can also create your own bone broth after cutting down a chicken or use a beef bone from a past meal. 
Fats & Oils
The main thing to remember about fats and oils is that they all have different smoke points where they start to burn. Most fats and oils are interchangeable if you stay within the same smoke point or reduce the heat to accommodate a lower smoke point.
Neutral oils have a high smoke point and include canola, coconut, corn, peanut, grapeseed, vegetable oil, and ghee. Flavored oils like nut, olive, sesame, avocado, and sunflower have a medium-high smoke point. Solid fats like butter, bacon fat, shortening, and lard have low smoke points. 
Herbs
Adding flavor to your dish is one of the best parts of using herbs in cooking. However, while they all may look the same on the spice rack, these herbs have various flavors that could make (or break) your dish. 
Basil
Substitutes:
Cilantro
Dill
Italian seasoning
Mint
Oregano
Parsley
Bay Leaves
Substitute:
Herbes de provence
Oregano
Rosemary
Sage
Thyme
Chives
Substitute:
Cilantro
Garlic powder
Onion powder
Parsley
Mint
Substitute:
Basil
Cilantro
Dill
Parsley
Rosemary
Substitutes:
Bay leaves
Herbes de provence
Oregano
Sage
Thyme
Thyme
Substitutes:
Bay leaves
Herbes de provence
Oregano
Rosemary
Rage
Spices
Adding spices to a dish not only creates flavor and depth but also can mask bland or less than stellar ingredients. There are four different flavor groups for spices, so substituting one in the same group should do well.
Warm Spices:
Blended chili powder
Cinnamon
Cloves
Cumin
Dried chile
Nutmeg
Paprika
Peppery Spices:
Allspice
Dry mustard
Ground ginger
Peppercorns
Sumac
Earthy Spices:
Curry powder
Garlic powder
Onion
Turmeric
Floral Spices:
Cardamom
Coriander
Fennel
Lavender
Saffron
Star anise
Part of substituting spice in dishes is to experiment a little bit. Choosing a substitute with the same flavor profile will help with taste testing. 
Proteins
Most proteins are interchangeable but will require different cooking times and methods. When the SHTF, proteins will become sparse, so it is crucial to understand how you can provide protein to the family even if the freezer isn't full of meat. 
Beef
Any recipe that calls for beef should be pretty compatible with other proteins like chicken or pork. When swapping different cuts of beef, it is important to understand all of the cuts of a cow. The tougher cuts like roasts, chuck, and brisket will take longer to cook than tender cuts like strip steak or filet mignon. 
Ground Meat
Ground beef can be substituted with ground pork and vice versa without much difference. Ground chicken or ground turkey also works well in dishes that call for a ground protein. Just make sure to season the meat with spices to boost the overall taste. 
Poultry
Chicken cuts vary, but it doesn't change the overall protein. Knowing how to break down a chicken is actually a great skill to have when SHTF. Bone-in parts of the chicken have darker meat that is usually more flavorful as well. You can also swap in other poultry sources like turkey, duck, quail, or really any other bird.
Vegetarian
Knowing what vegetarian options offer protein is a skill that any homesteader should have when SHTF. Packing your backstock and pantry with cans of beans, lentils, and tofu could literally save your bacon. Working with and including these types of proteins in your dishes now is a great idea. 
Consider making a bean chili that substitutes more beans than beef, or learn how to cook and master tofu. Plan a weekly vegetarian meal to help strengthen this skill as well.
The most important part of substituting ingredients in the kitchen is understanding what the ingredient does for the dish. Does it add fat or flavor? Does it help the food rise or create a creamy base? 
Knowing what kind of substitute you'll need will help you understand what can be used and make your own substitution on the fly. Remember these cooking ingredient substitutes the next time you run out of something or when SHTF.
Of course, there are far more substitutes than the ones covered in this article. One of the best books for this is The Food Substitutions Bible: More Than 6,500 Substitutions for Ingredients, Equipment and Techniques. If you cook a lot, I highly recommend it.
Like this post? Don't Forget to Pin it On Pinterest!