This post may contain affiliate links.* As an Amazon Associate I earn from qualifying purchases. Click here to read our affiliate policy.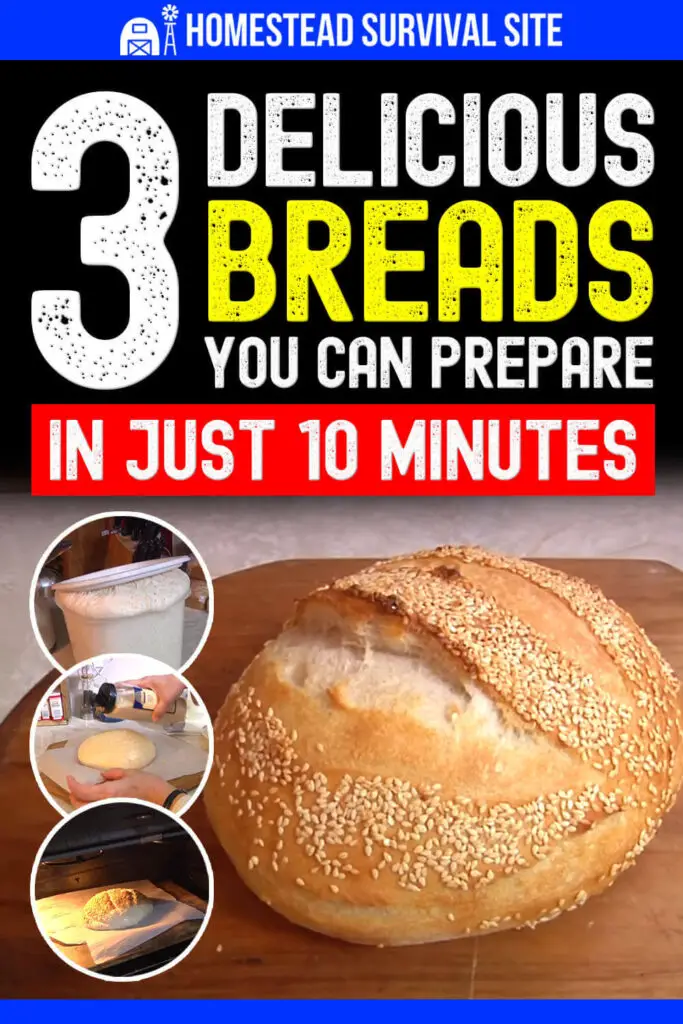 The first time I baked my own bread from scratch (back in college), I was very intimidated. I expected it to take a long time, and I was certain I would find a way to mess up the recipe or possibly burn the kitchen down.
To my surprise, it didn't take very long and wasn't nearly as difficult as I expected. I followed a recipe for French bread and it turned out just fine.
Whether you're experienced or a total newbie like I was, baking bread isn't that hard. In these videos, Big Family Homestead proves this by sharing three bread recipes that can be made in just 10 minutes each. Here they are…
Want to save this post for later? Click Here to Pin It On Pinterest!
Artisan No Sugar Bread in 8 Minutes Prep Time
Ingredients:
8 cups of bread flour
4 cups of warm water
2 tablespoons of dry active yeast
2 tablespoons of salt
Instructions:
EASY French Bread under 10 Minutes for 30 Cents
Ingredients:
6-7 cups of flour
2 1/2 cups of warm water
3 teaspoons of dry active yeast
4 teaspoons of sugar
4 teaspoons of salt
Optional: 1 egg
Instructions:
Amish White Bread – Easy and Delicious
Ingredients:
4 cups of water
1 1/3 cups of sugar
3 tablespoons of yeast
3 teaspoons of salt
1/2 cups of oil
10-12 cups of flour
Instructions:
Like this post? Don't Forget to Pin It On Pinterest!
You May Also Like: