This post may contain affiliate links.* As an Amazon Associate I earn from qualifying purchases. Click here to read our affiliate policy.
Estimated reading time: 9 minutes
One of life's greatest pleasures is slicing into a warm, crusty loaf of fresh bread. There are many different methods of bread baking, from the pizza oven to the conventional oven, to a Dutch oven. No matter how you bake it, homemade bread is simply delicious.
With all the ways to bake bread at home, did you know that you can also use your crockpot? That's right, homemade crusty bread can be made right inside of your slow cooker! With only a few simple ingredients (that are likely in your food storage anyway), you can create a hearty, tasty crockpot bread recipe.
Here is exactly how to make crockpot bread. This recipe only uses 5 ingredients that are easy to find and store for a rainy day. You will also need some parchment paper and, of course, your crockpot.
Want to save this post for later? Click Here to Pin It On Pinterest!
How to Make Crockpot Bread – The Recipe
Ingredients:
Instructions:
1. Set up all ingredients so that you can easily measure everything before starting.
2. Ready a large bowl. Add the flour, yeast, and salt. Mix with a whisk to combine all of the dry ingredients.
3. Microwave the water for 30-55 seconds until it is warm to the touch but not hot. Slowly pour in the warm water and mix the dough with a wooden spoon. 
4. A dough ball should form after 1-2 minutes of mixing.
5. Remove the dough to another large bowl that has been oiled with 1 tablespoon of olive oil.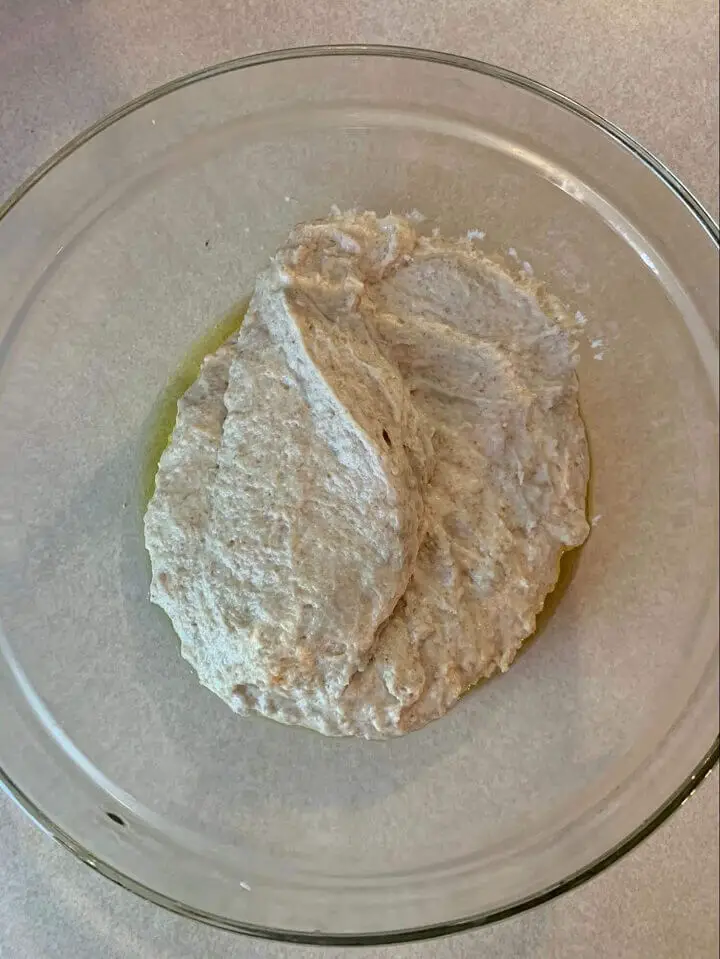 6. Cover with plastic wrap very tightly. You can also oil the underside of the plastic wrap just in case.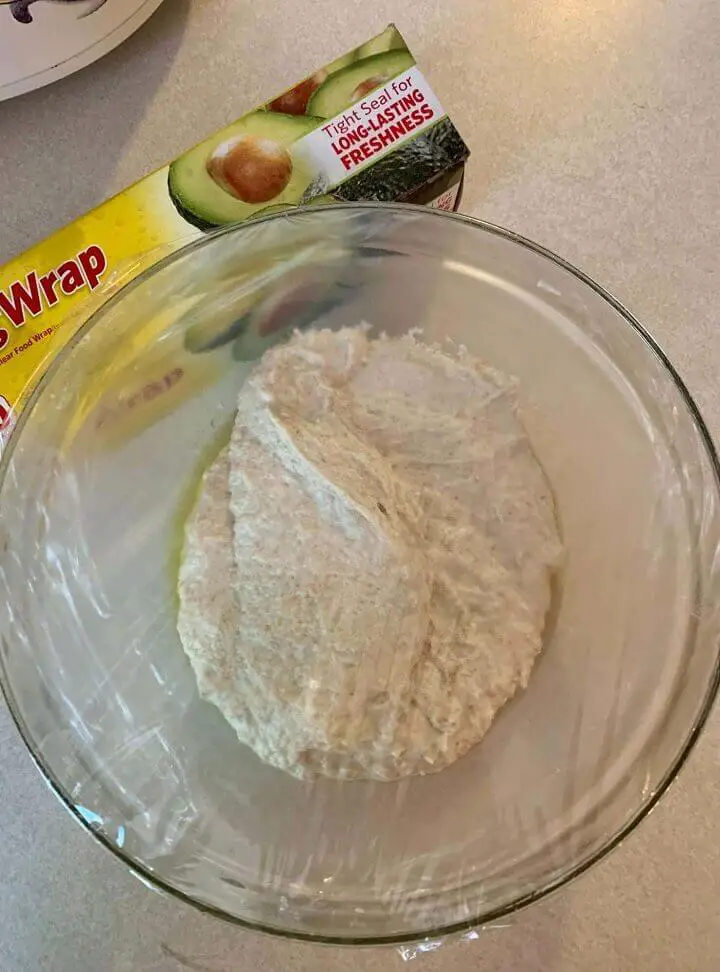 7. Place the dough in a warm place to rise for 6-8 hours, or overnight.
8. Once you are ready to bake, turn the dough out onto a floured board. Pinch and fold each end into the middle, forming a smooth underside of the dough ball.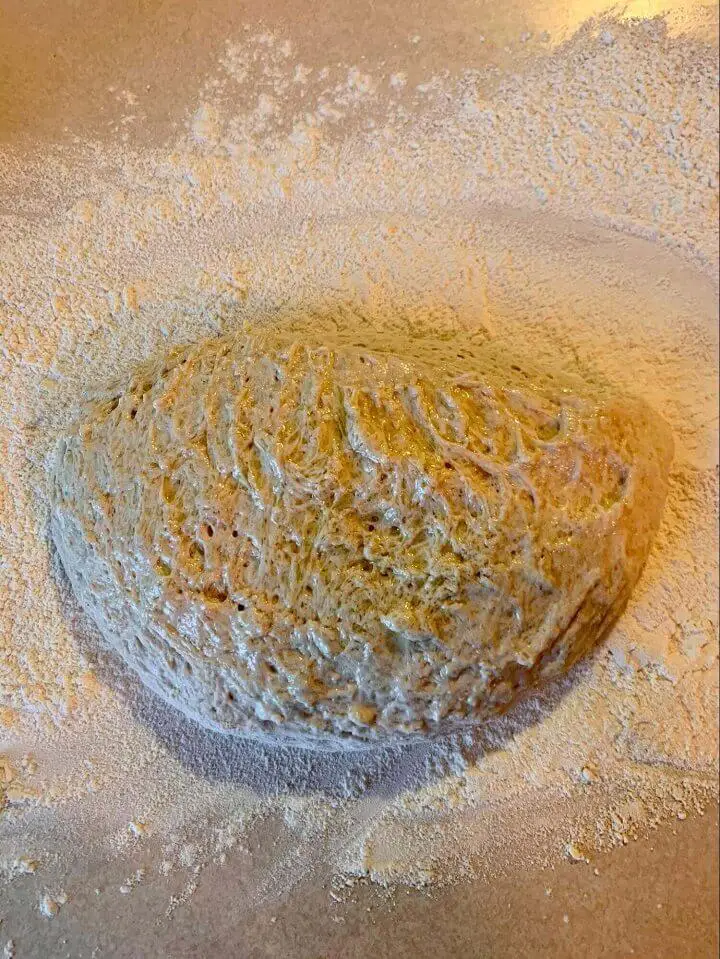 9. Invert the dough so that the smooth side is facing up. Place it on a large sheet of parchment paper. Carefully lift the corners of the parchment paper to lift the bread into the slow cooker. You may need to cut the parchment so it does not stick out of the crockpot.
10. Turn the slow cooker to its warm setting and cover it with the lid. Allow the bread to rise for 30 more minutes inside the cooker. Check to ensure the bread is not cooking from the warm setting.
11. After 30 minutes, remove the lid and turn the bread maker to the high setting. 
12. Place a clean kitchen towel on top of the crockpot and place the lid over the top. This will ensure no steam escapes. Cook for 1½ hours on high. After, turn the slow cooker off and allow the bread to sit inside for 30 minutes.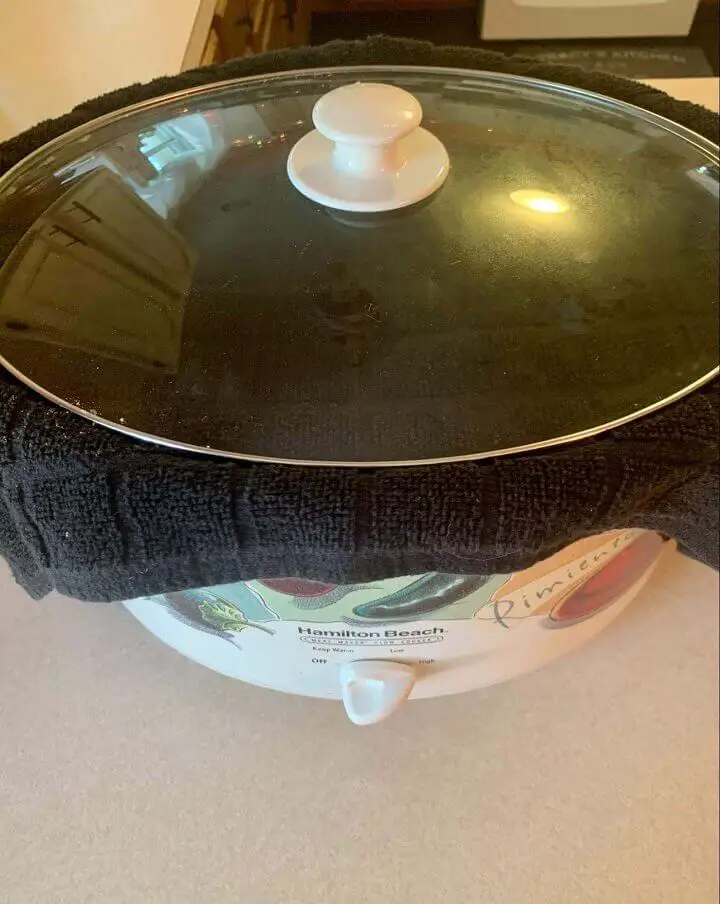 13. After 30 minutes, remove the bread from the crockpot using the sides of the parchment to lift it out.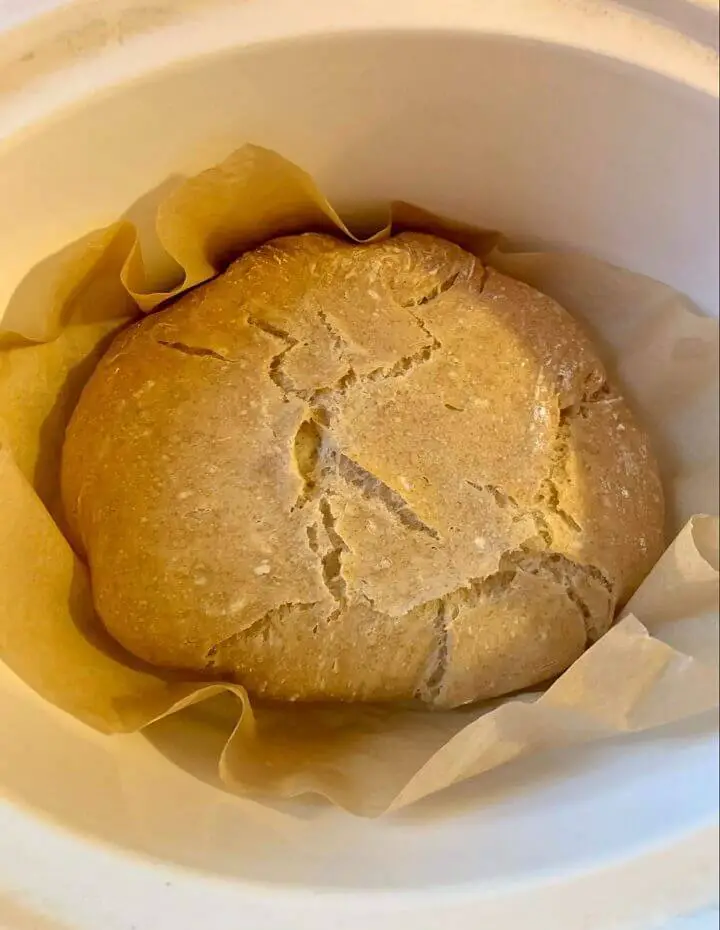 14. Place on a cooling rack and allow the bread to cool completely before slicing. Cutting the bread while it's still hot can lead to a hard, dry bread loaf.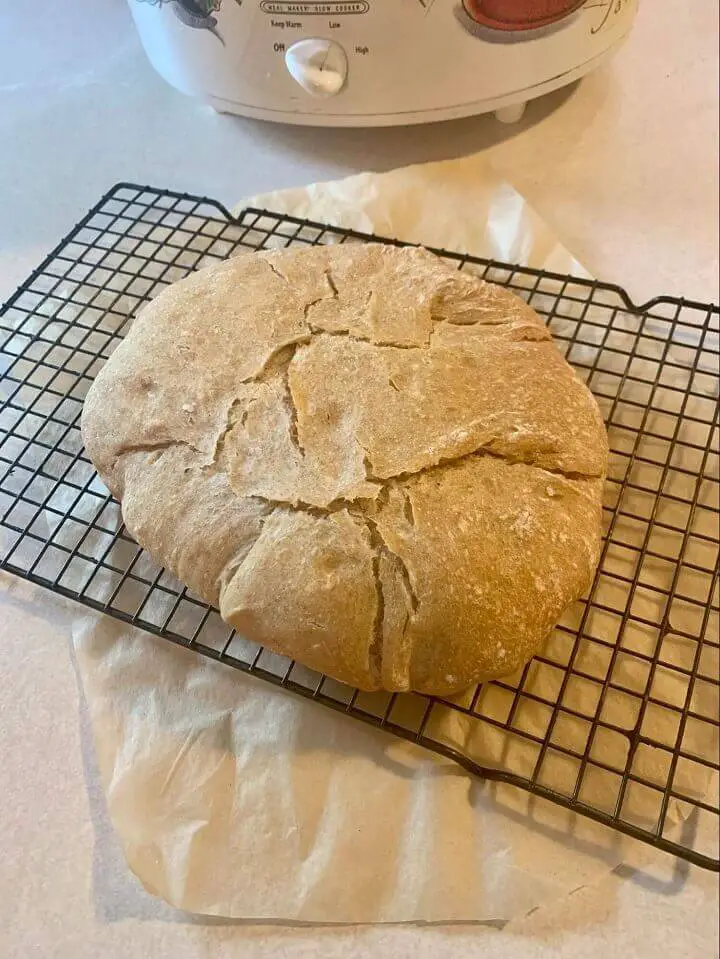 15. Once it has cooled, you can cut it in half and it should look something like this.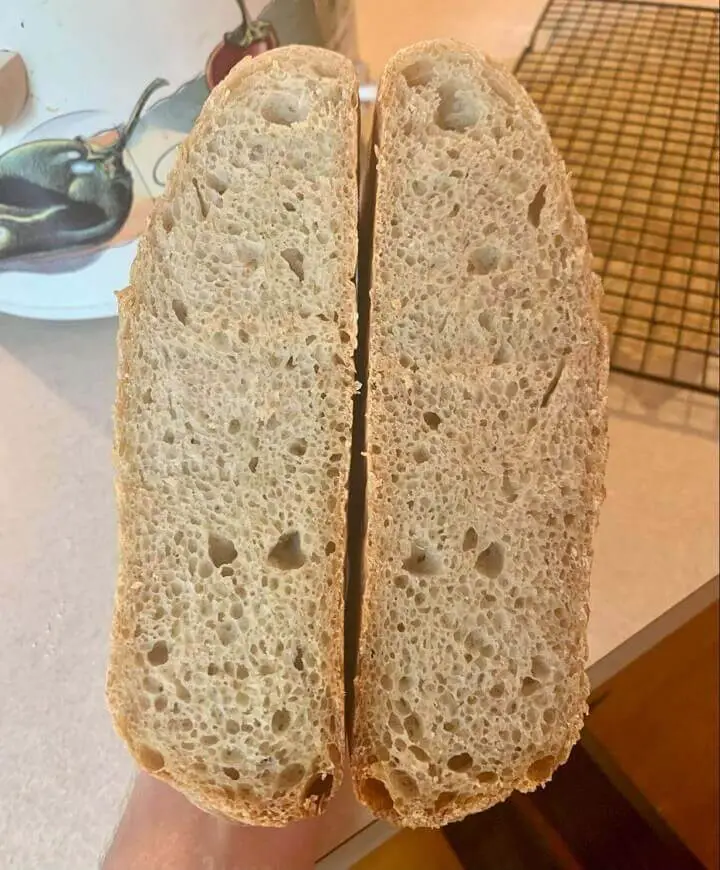 How to Store Homemade Crockpot Bread
Unless you're the type of person who can eat a whole loaf in one sitting, you will likely want to store your homemade bread. Home-baked goods generally have a shorter shelf life due to the pack of preservatives and chemicals inside the dough. This crockpot bread will last anywhere from 3-5 days before it gets stale.
To keep your crockpot bread fresh, wrap it tightly in plastic wrap, followed by a tight layer of foil. Do this when the bread is completely cooled. Cut a slice when you're hungry and wrap it back up when you're done. Do not place it in the fridge, otherwise you risk the bread drying out!
You can also freeze your crockpot bread. After you have wrapped your bread in plastic wrap and foil or freezer paper, simply place the completely cooled bread into the freezer. It will last about 6 months before the bread loses flavor and texture.
Uses for Crockpot Bread
You can make sandwiches and toast with your homemade bread, but there are tons of other inventive ways of utilizing loaves. Since this bread freezes so well, you can make quite a few loaves over a week to freeze for later. This is a great way to plan ahead, just be sure to use the bread before 6 months.
While the bread is fresh, use it as a side along with stews and soups. This crockpot bread has a moist crumb with a crusty outside, so it works very well with beans or gravies. One of the greatest uses is for simple beans on toast for breakfast or lunch.
If you have some stale bread left at the end of the week, there are tons of uses for that as well. You can always rehydrate the bread by running the crusty side under running water for a few seconds. 
The goal is to wet the outside of the bread without getting moisture into the cut middle. Bake the damp bread at 300 degrees Fahrenheit for 5-15 minutes to give it life again and it will come out good as new.
Instead of rehydrating, you can also use this bread for long-lasting breadcrumbs. Cut your stale bread into cubes and place in a low oven until the cubes are totally dry. Toss into the blender and blend into a fine crumb. Store in an airtight container for 1 month or in the freezer for 6 months.
Leave the bread in cubes and use them for croutons in your next salad. You can even season them with your favorite herbs or garlic. Utilize the crockpot bread for as many purposes as you need.
Conclusion
Today was learned how to bake bread in a very unconventional way – in the crockpot! This bread is great for a leisurely day of baking. It's also great for prepping because crockpot bread freezes so well.
You can keep as many loaves in your freezer as will fit! Homemade bread is the perfect healthy snack without any preservatives or chemicals, and it will keep your family full and nourished.
Like this post? Don't Forget to Pin It On Pinterest!
You May Also Like: