This post may contain affiliate links.* As an Amazon Associate I earn from qualifying purchases. Click here to read our affiliate policy.
Estimated reading time: 6 minutes
Bread is one of the easiest and most rewarding recipes you can make with few ingredients. All it takes is some yeast, salt, flour, and water to make a delicious, crusty, pillowy homemade bread. Having the ingredients necessary for bread in your pantry is easily attainable, especially for survivalists.
Many people shy away from making homemade bread due to the kneading, rising, and waiting that bread requires. This easy homemade no-knead bread is the perfect easy bread recipe for someone just beginning their bread baking skills. All it takes is a little patience and no kneading whatsoever and you have hot, crisp, fresh bread on your table!
Want to save this post for later? Click Here to Pin It On Pinterest!
Easy Homemade No-Knead Bread Recipe (serves 8-10)
Ingredients:
Instructions:
Begin by gathering all of your ingredients for the bread. The process moves quickly so it's nice to have everything laid out for yourself.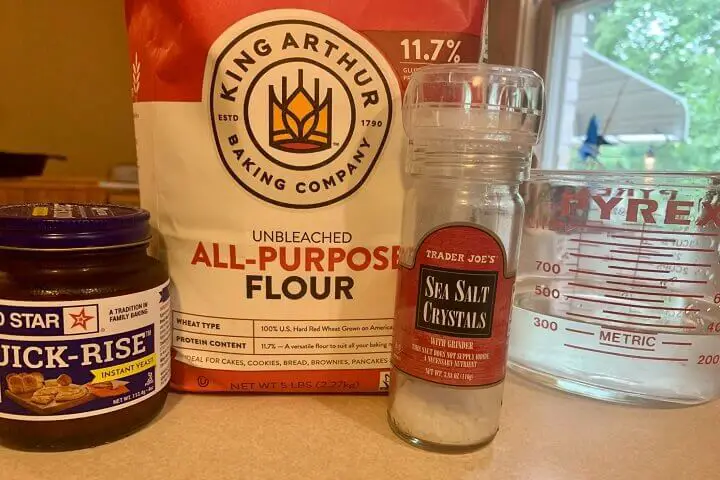 Add the flour, salt, and yeast to a large bowl. Whisk the dry ingredients together well.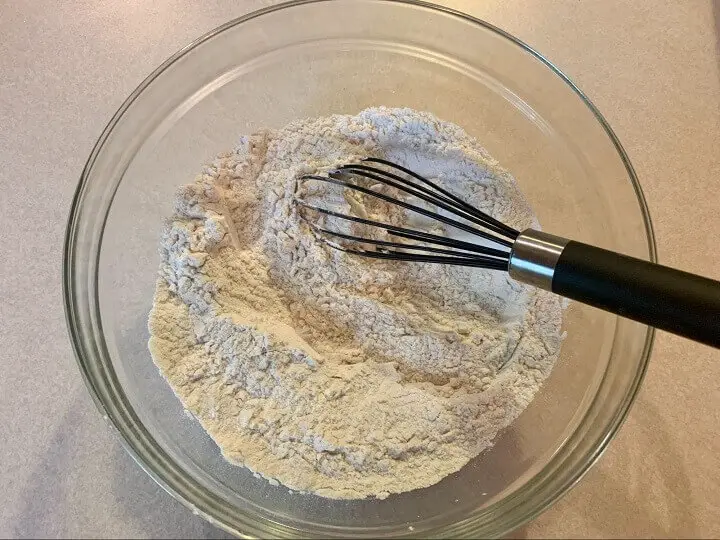 Using a spatula, stir in the water until the mixture forms a clumpy, shaggy dough. Fold the flour with the water until all of the flour is well hydrated but not wet.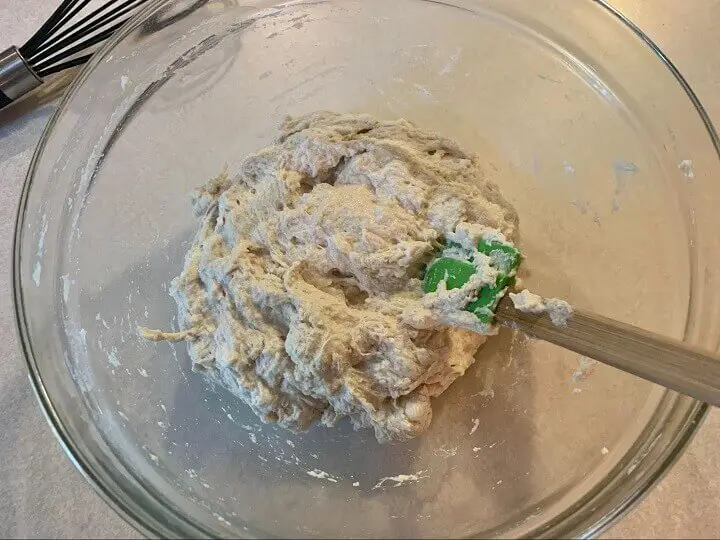 Form the dough into a ball in the same bowl. I like to make it neat so that there are no hard, rogue flour bits that are not incorporated. Cover with plastic wrap and allow the dough to rise for 12 hours. The dough will be very bubbly and active from the yeast when rising.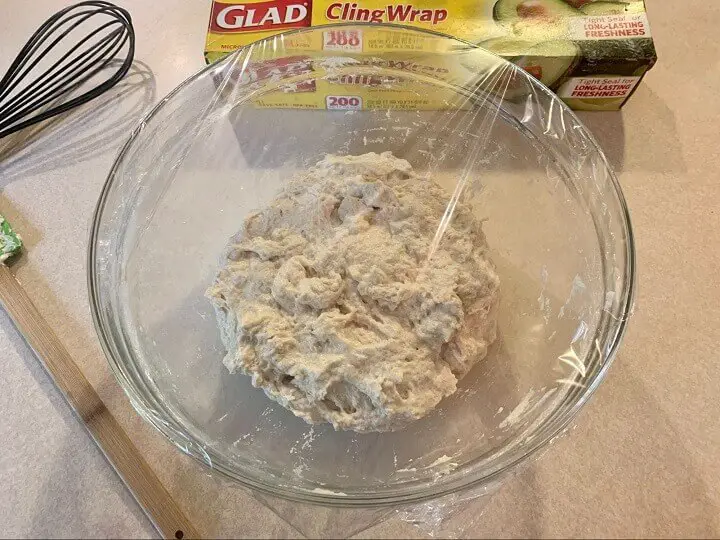 After 12 hours, preheat the oven to 450 degrees F. Place a 12-quart Dutch oven with a lid into the oven. This will heat the Dutch oven, which is the vessel in which we are baking the bread. The dough should have at least doubled in size.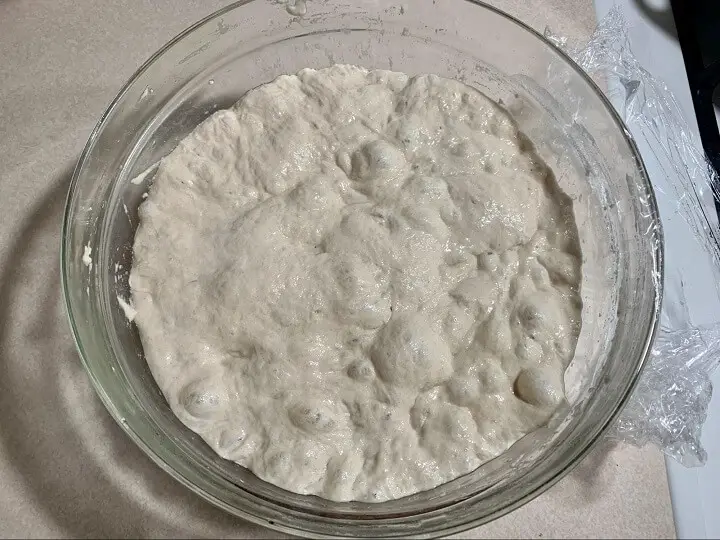 Once the oven is done preheating, remove the very hot Dutch oven from the scorching oven. Be careful as it is very hot.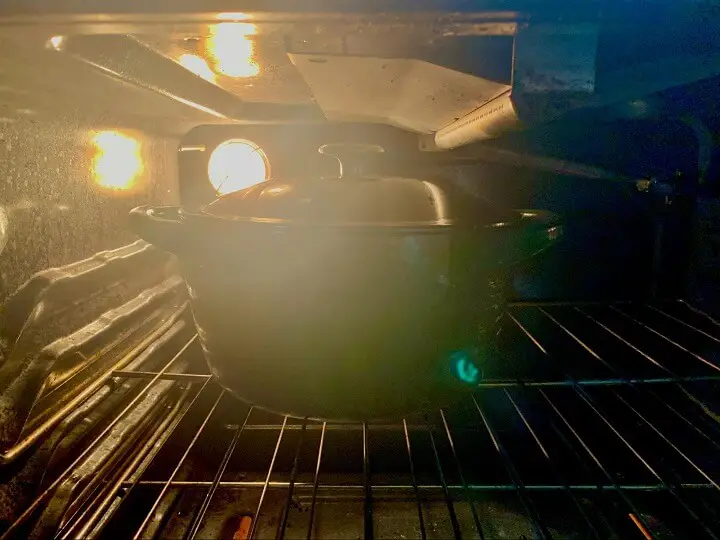 Layer a piece of parchment paper in the Dutch oven so that the bread doesn't stick to the pot.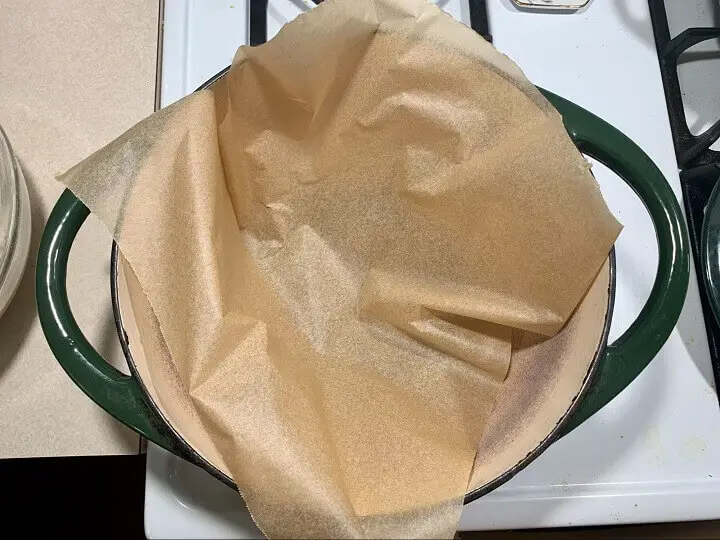 Using a spatula, carefully add the risen dough on top of the parchment in the Dutch oven. Using oven mitts, place the lid back on and place the entire vessel into your preheated oven.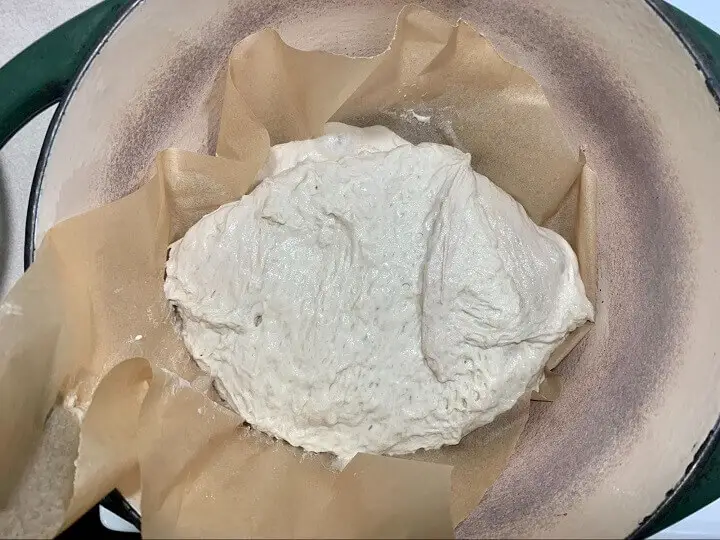 Bake for 30 minutes. Remove the lid and allow the bread to get browned and crisp on top, another 10-15 minutes.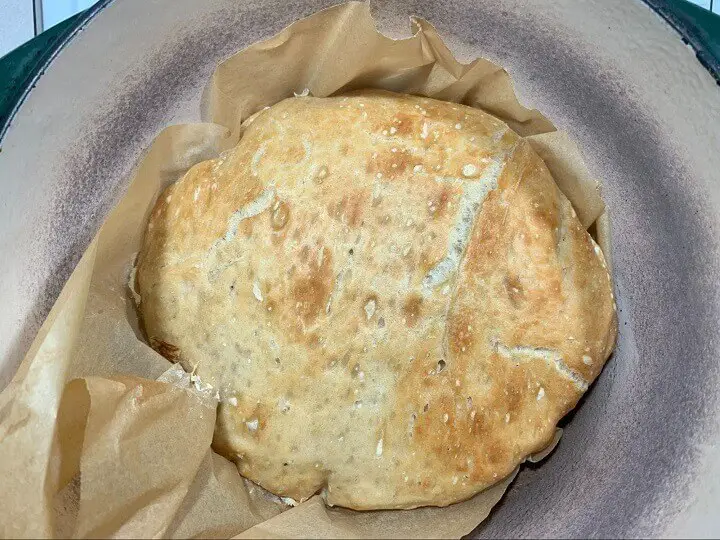 Remove from the oven and take the parchment-lined bread out of the Dutch oven.
Allow the bread to cool completely before serving.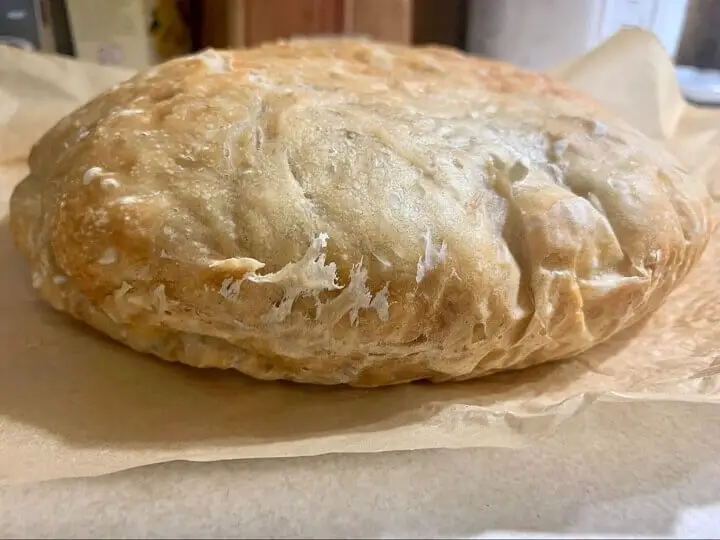 FAQ on Homemade Bread
What is the difference between no-knead bread and regular bread?
No-knead bread requires none of the heavy work that traditional bread needs. As you can see, this recipe did not call for any kneading whatsoever. Instead, the bread dough rose for at least 12 hours, providing a light and airy result. The yeast expands and creates air pockets, leading to a perfectly chewy, textured loaf of bread. Kneaded bread requires a stand mixer with a dough hook or lots of elbow grease.
Can any bread recipe be no-knead?
No, unfortunately not. Certain types of bread require tons of kneading for the perfect loaf. For example, brioche bread recipes require lots of kneading to develop that stretchy gluten. The kneading provides delicate texture in many bread recipes across the internet.
What does kneading do to bread dough?
Wheat flour contains gluten. Gluten acts like glue or a binder, which famously holds together delicious items such as bread and pasta. Kneading helps to develop that gluten, which turns it into a stretchy, springy dough that bounces back when poked. Kneading for long periods of time creates a delicate, familiar texture that we know and love from most bread recipes.
No Knead to Worry – Bread is Easy to Make!
After reading this simple recipe, you can see that no-knead bread is an easily attainable recipe with few ingredients. There is a little waiting time, but the payoff is great in the end.
There is nothing like crusty homemade bread to snack on or to make sandwiches. Bread is a sustainable, easy dish that can fill you up and keep you full. If you have never tried homemade bread before, this is the recipe to start with!
Like this post? Don't Forget to Pin It On Pinterest!
You May Also Like: