This post may contain affiliate links.* As an Amazon Associate I earn from qualifying purchases. Click here to read our affiliate policy.
Estimated reading time: 8 minutes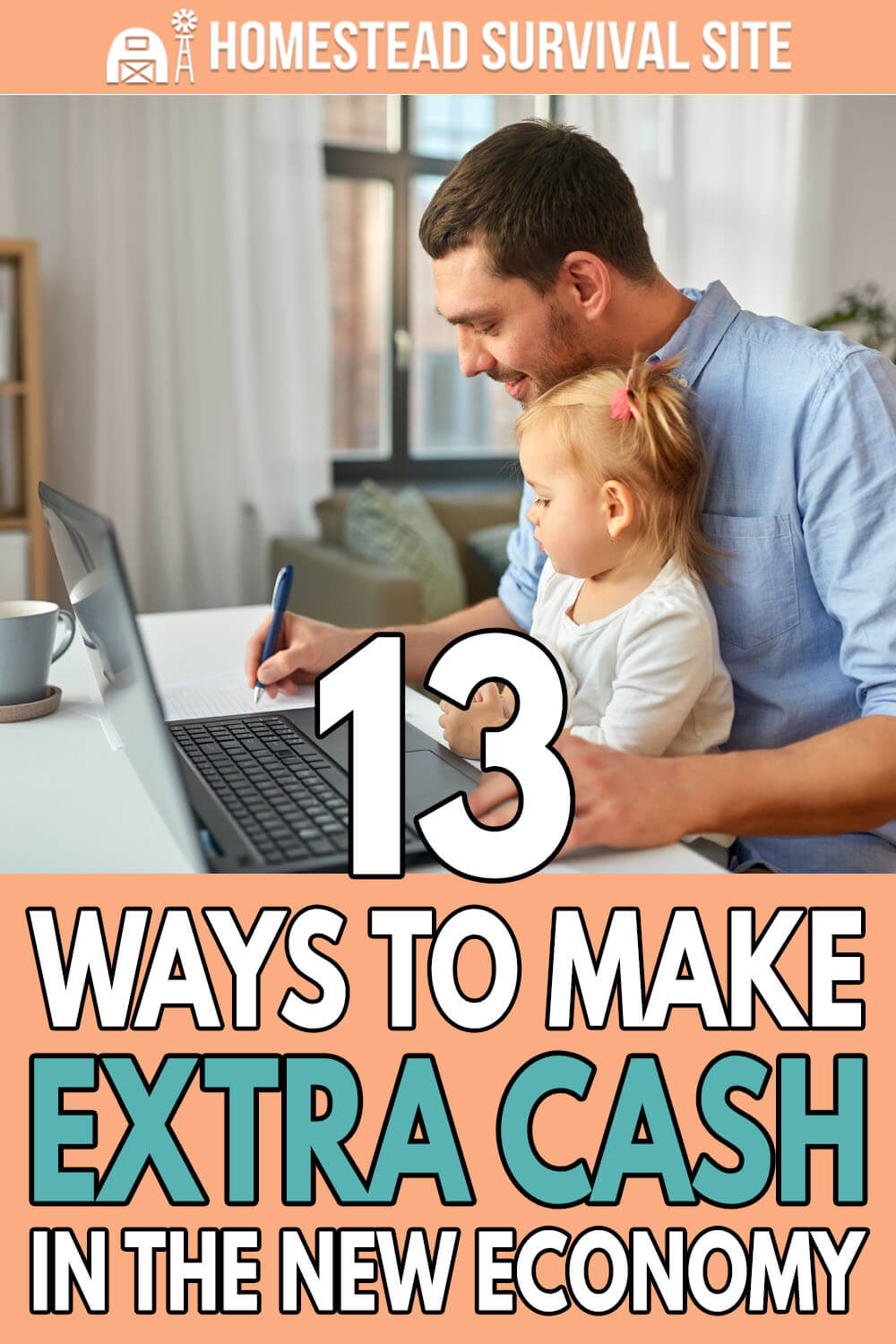 We're all facing uncertainty in today's world, and a record number of Americans are unemployed right now. It's an unprecedented event that has affected every human in the world.
Right now, you might be filled with worry and concern; I know I am. You might be worried about contracting the coronavirus or being unable to find a job. Whatever your reasoning, earning money at home is no longer a pipe dream like it was years ago. Every day people make full-time incomes without leaving their homes.
Want to save this post for later? Click Here to Pin It On Pinterest!
That can be you!
If you're ready to break out of the mold and make extra cash in the new economy that we're facing today, let's take a look at what you can try.
1. Become a Freelance Writer
I can tell you that freelance writing can bring you a full-time income. It takes time to develop a portfolio, but even newbies can make a substantial amount of money working part-time at home.
My first suggestion for you is to try to find a niche area that you can write about for clients, and find some available jobs on websites such as Upwork.com or Problogger.com. Get some experience working on entry-level jobs, which will help build up your portfolio and feedback.
The best thing about freelance writing is that you can determine how little or how much work you want to do. Also, you can work anywhere that has internet, which means you can work in your pajamas.
2. Freelance Editing and Proofreading
Similar to freelance writing, you can try freelance editing and proofreading. You don't need any previous experience, but I do recommend that you take a proofreading course to help ensure you know what you're doing.
Proofreading and editing are always needed skills online. We live in a digital world, and you can bring those skills to clients who value that.
3. Try Being a Virtual Assistant
You might be surprised to learn that many people need virtual assistants. If you're a busy worker with a lot of emails to answer and a calendar to balance, hiring a VA makes sense, and that VA can be you!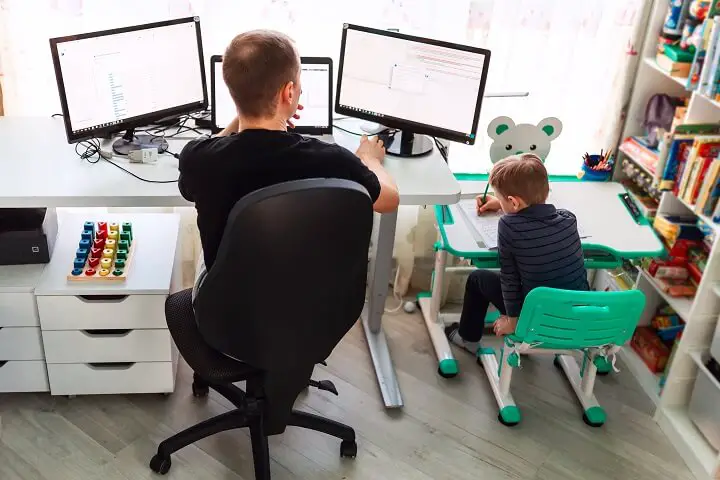 Like so many other online jobs, you don't need any experience to become a virtual assistant. A virtual assistant can do so much for you. If you have a blog, a VA can make pins for you, edit blog posts, schedule social media posts, and add affiliate links. Virtual assistants can manage inventories, book appointments, make travel arrangements, and much more.
All of these things can be done from home. I do suggest that you have an area that you set aside for working to help you stay organized!
4. Sell Used Items
If you can order or buy shipping supplies, you can sell your gently used items on eBay or other websites. The USPS will pick up your shipments; you can schedule pick-ups online.
What you might not need anymore, someone else could use. Now is an excellent time to sell collectibles and other things that you don't need anymore.
5. Write an E-Book
If you have a skill or something that you love talking about, you can write an e-book about it. I don't mean writing a romance or mystery novel, although if that's a dream, you should do it. You can write a self-help book.
It could be a gardening book to teach readers how to grow more food in small spaces. Or it might be a book about raising chickens in your backyard. If you write about it, chances are some people want to read it.
6. Garden and Sell Your Surplus
After the grocery store scare that we had at the start of the COVID-19 pandemic, more people turned to gardening. You might be a new gardener or someone who has had a garden for years. Either way, your surplus is a way to make money.
People love fresh food, which is why farmer's markets are booming each year. Customers want to know who is growing their food and how they're growing it.
You can use your garden to make money, but that doesn't mean you need to be in contact with people. I have a Facebook group where I sell my surplus and eggs. I post what I have for sale, and my customers pick it up at my house from a small cooler I put outside.
You could make a small roadside stand. So many small farmers have roadside stands that run on the honor system, which works surprisingly well.
7. Sell Your Crafts
Are you crafty? If so, look into selling your wares on Etsy or other craft websites. You can make a Facebook page and ship your crafts to customers. If you get the things needed for shipping, you can schedule USPS to pick up your packages from your house without needing to leave!
People appreciate handmade items. Can you crochet gifts for baby showers? Can you knit hats and blankets? You might be interested in woodworking and can create tables and other works of art.
Whatever you can create, you can sell to someone.
People love homemade soaps, salves, and candles. If you have the money to purchase the items needed upfront, you can easily make back what you invested into the products and then some.
8. Sell Your Knowledge Via Workshops
Do you have anything that you know inside and out? Perhaps you know how to make sourdough bread and have the equipment to create a workshop to teach others. Maybe the IT world is your jam, and you can come up with a workshop to show others what you know.
We are all experts in something; don't doubt yourself. And there are always people out there who want to gain new skills. With the economy right now, no one knows what will happen, and people want to add skills to their inventory.
9. Offer Online Mentorships
This idea is similar to workshops, but you'll offer mentorships instead. People pay a set price and enter into a mentorship with you. What you're teaching them will vary based on your skills.
For example, I could have a mentorship for freelance writers. I've been a writer for four years, and I could teach others how to do the same thing that I do. Another idea I could try is mentorship for new homesteaders.
10. Offer Mending and Sewing Services
Do you know how to sew? Right now, sewing fabric face masks is an easy way to make extra money, but that won't last forever. Your sewing and mending skills can come in handy as a way to make extra cash.
Now is a great time to offer mending services. That could be hemming pants, patching things, or sewing new things for people. Tote bags are easy to make and a fast seller. You can find so many awesome and easy ideas for things to sew and sell.
11. Start a Blog
Starting a blog is not a get-rich-fast type thing, but you can make plenty of money blogging if you do it the right way. Blogging is a great way to make extra cash, especially if you can teach people what they need to know in the new economy.
What can we expect in the new economy? Tha's the million-dollar question right now, but chances are we are going to see more people wanting to become self-sufficient. We'll also see more people learning how to make money from home and how to be more frugal, especially if the unemployment issue persists.
Can you help readers? If so, consider starting a blog and adding a mentorship program, workshops, or an e-book.
12. Sell Your Photography
Are you a budding photographer? You can turn your photographs into money. Websites such as Shutterstock let you upload your images to be sold to people who will use them on their blogs, shirts, or whatever they want.
Not all websites accept the same type of photographs. Some don't need more nature photographs, and others want more garden images. If you can take pictures of it, chances are one of the websites will accept the photos for sale.
13. Tutor Online
If you have good math, science, foreign language, or test-prep knowledge, you can set up a lucrative gig to tutor online as a private tutor. This is different than teaching ESL (English as a second language); you can tutor kids near you in a multitude of subjects.
Websites like Tutor.com and Care.com allow you to advertise your services, but you also can get started by posting on Facebook or Craiglist. You'll need a computer with a camera and a microphone to help the student, but you can tutor over the computer. You can share whatever you want, but it should be based on your experience and expertise.
Final Thoughts
Now is a better time than ever to start making extra cash at home. We have no idea what life will be like after the pandemic, but diversifying your income and having multiple streams is always a good idea. That allows you to stay afloat when others cannot.
Like this post? Don't Forget to Pin It On Pinterest!
You May Also Like: